371
The Canon EOS M3 in microscopy – an intriguing proposition
Canon's attempt to gain a foothold in the mirrorless system camera market with its EOS M (the forerunner of the EOS M3) was only moderately successful. This model has only limited utility for microscopy, as it lacks some of the features that are of particular importance in that specific field of application. Now, just a few years after debuting its first mirrorless camera, Canon has taken another stab at the mirrorless market with its EOS M3, and we were curious to learn about the improvements it offers compared to the previous model.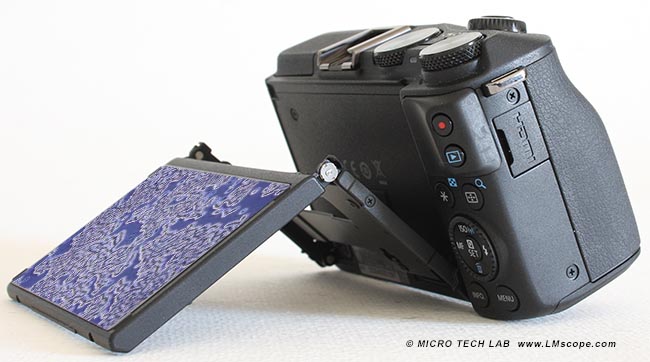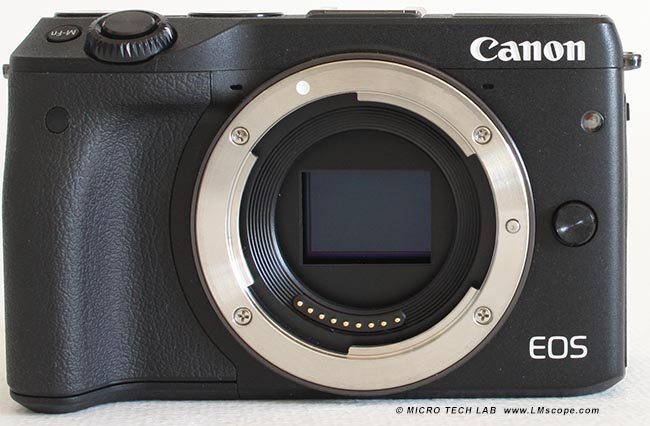 Despite its quite sturdy body, the Canon EOS M3 weighs in at just 366 grams. The camera's operating controls seem somewhat awkward, and compared to the Canon EOS 1200D, for example, do not facilitate smooth operation. The menu itself, designed with entry-level users in mind, offers only very basic options. The 3" screen is touch-sensitive and tilts up and down, but not side to side.
Internally, the camera uses a large 24-megapixel APS-C sensor, which has a lot to offer. For instance, sensitivity ranges from 100 to 12,800 ISO and can be extended manually to 25,600 ISO.
The EOS M3 also has an HDMI port that can be used to feed a Live View image to an external monitor. Other positive features include a zoom function available in Live View and auto exposure availability even without a lens mounted.
The Canon EOS M3 can be easily attached to the photo tubes of almost every conventional microscope using our LM digital adapters (a few additional accessories are required in some cases). We attached the camera to the photo tube of a Nikon Eclipse E600 microscope.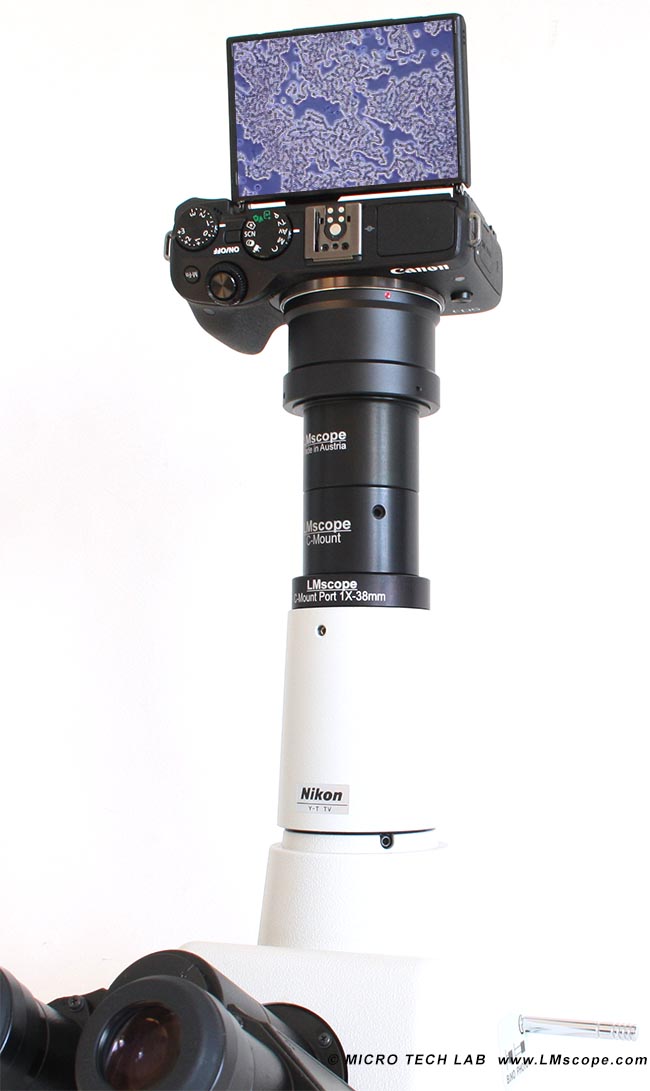 Of course, we also offer LM digital adapter solutions that enable cameras to be fitted to eyepiece tubes.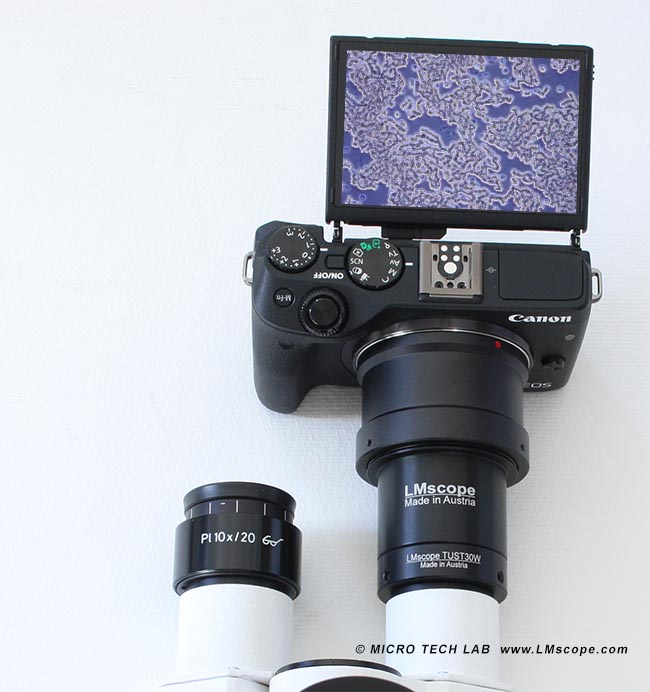 During our test of the Canon EOS M3, we noted a significant limitation: Canon's EOS Utility 3 software did not work. Specifically, the key function of tethered shooting was not supported. Notably, in microscopy applications, the option of remotely controlling the camera via PC or Mac often plays a decisive role, as it eliminates the image-degrading vibrations caused by physically pressing the shutter and is also far more convenient: all camera settings can be controlled and adjusted remotely – including image checking in Live View mode – via the computer monitor.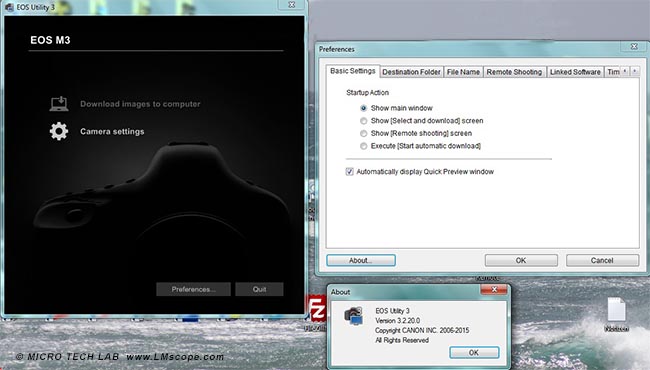 Conclusion:
The Canon EOS M3 is an appealing product in that it is a lightweight, mirrorless system camera with a large APS-C sized sensor and a tilting screen. These features certainly make it an attractive solution for beginning and hobby photographers who engage in photography as a leisure activity. Unfortunately, tethered shooting using Canon's Utility 3 software is not supported. As a result, we cannot recommend using the Canon EOS M3 for microscopy applications or in laboratory/studio settings. At least for the time being, Canon thus leaves the field of high-end system cameras to Sony, which means the success of Sony's Alpha series will remain unchallenged in the near term. For photomicrographic uses, other cameras are simply better suited than the EOS M3. Another lightweight camera that comes equipped with a large sensor and offers good value for money is Canon's EOS 1200D.
13.01.2015
New LM Digital Adapter for:
Canon EOS R6 Mark II / Canon EOS R8 / Canon EOS R5 / Canon EOS R6 / Canon EOS R / Canon EOS Ra (Astro) / Canon EOS RP / Canon EOS R7 / Canon EOS R10 / Canon EOS 1D X Mark III / Canon EOS 1D X Mark II / Canon EOS R100 / Canon EOS 1D X / Canon EOS 90D / Canon EOS 5D Mark IV / Canon EOS 6D Mark II / Canon EOS M6 Mark II / Canon EOS 250D / Canon EOS 850D / Rebel T8i / Canon EOS 6D / Canon EOS M200 / Canon EOS 5DS R ( without low-pass filter) / Canon EOS 80D / Canon EOS M50 Mark II / Canon EOS 5DS / Canon EOS M50 / Canon EOS 70D / Canon EOS 200D / Canon EOS 800D / Rebel T7i / Canon EOS 77D / Canon EOS 5D Mark III / Canon EOS 60D / Canon EOS 750D / Rebel T6i / Canon EOS 760D / Rebel T6s / Canon EOS 5D Mark II / Canon EOS 1D Mark IV / Canon EOS 7D Mark II / Canon EOS 600D / Rebel T3i / Canon EOS 650D / Rebel T4i / Canon EOS 700D / Rebel T5i / Canon EOS 2000D / Rebel T7 / Canon EOS 7D / Canon EOS 550D / Rebel T2i / Kiss X4 Digital / Canon EOS 1300D / EOS Rebel T6 / Canon EOS 4000D / Canon EOS 100D / Canon EOS 50D / Canon EOS 1200D / EOS Rebel T5 / EOS Kiss X70 / Canon EOS 1100D / Rebel T3 / Canon EOS 1D Mark III /