306
Much-awaited: the mirrorless Canon EOS M system camera on the microscope
We waited long and hard for Canon to enter the system camera market. All the other major camera manufacturers have had models representing them on the market for several years, some even in the second or third generation. Well, it finally is here – the Canon EOS M. The question now is whether the camera is suitable for the challenges of photomicrography.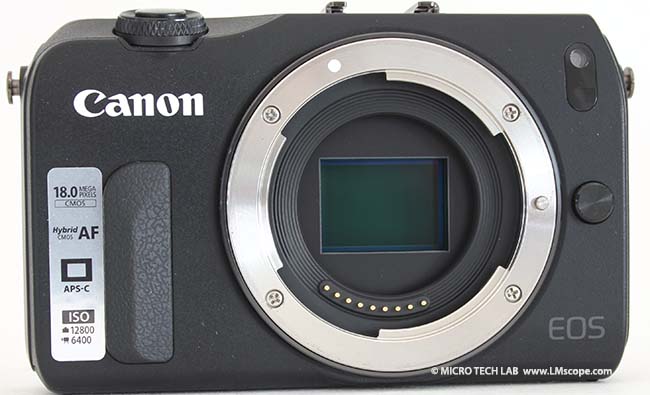 The first impression after unpacking the EOS M from the box is a good one. The camera is rather small, but looks very stylish and is well built, even using metal. The sensor is an APS-C unit with 18 megapixels. Operation of the display is almost exclusively by touch (touch screen), which without a doubt is highly practical for leisure photography. In photomicrography, however, we try to avoid touching the camera, as this leads to shaky and blurred images, and so for our purposes this function is only convenient in the beginning, until all of the settings have been configured.
To attach the camera to the microscope, we needed to remove the lens and attach the camera to the LM digital adapter. This was where the guesswork began. The Live View image was visible on the screen, but we were unable to release the shutter. After an intensive search, we finally found the "Custom Functions" item well hidden in the advanced menu (not the normal one). Here, the shutter lock function for lenses without CPU can be disabled.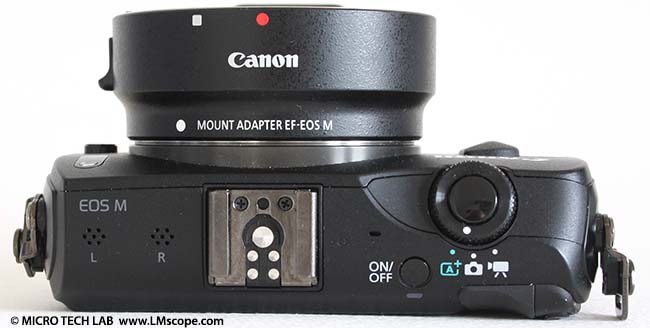 Image above: Canon EOS M with mounted Canon EF adapter (compatibel with EOS-EF lens range)
Deactivating the shutter release lock makes it possible to attach the Canon EOS M both to the eyepiece tube and the phototube of almost every conventional microscope.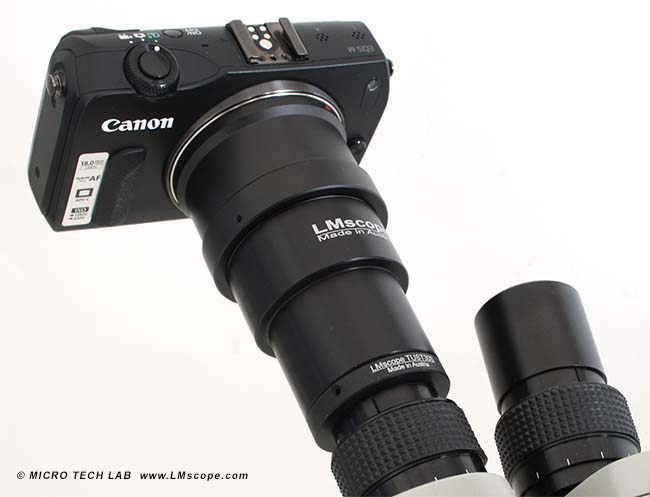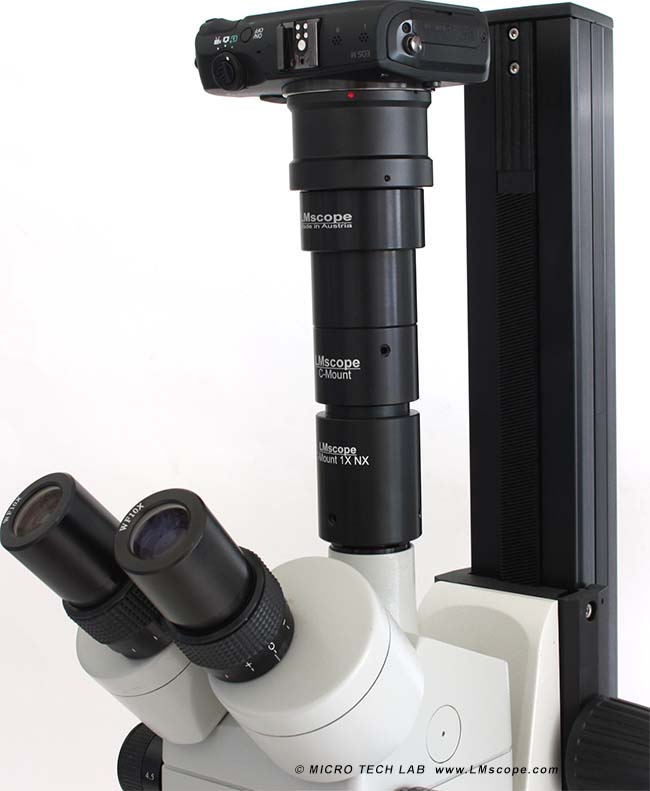 The magnification function in Live View mode only works via the touchscreen. Unlike with other DSLR cameras, there is no separate switch for this function. But what really amazes us is that the Canon EOS Utility software cannot be used. It is only possible to display images on an external screen via the HDMI port.
All things considered, Canon's entry into the mirrorless system camera market, even in the "beginners" target group, does not seem to be a success. Although its introductory price was € 690, the Canon EOS M is now already available from retailers for a cut-price deal of around € 300.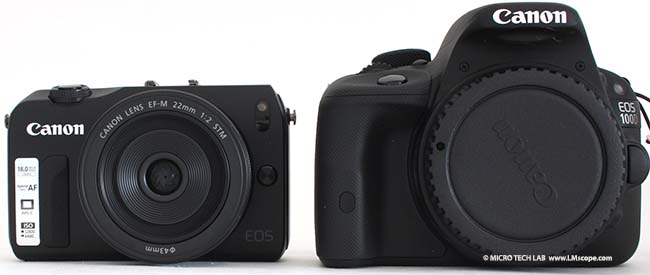 Conclusion:
We can only recommend the Canon EOS M mirrorless system camera for photomicrography to a limited extent. At present, system cameras are mainly designed by their manufacturers for the "beginners" target group. They come with significantly fewer setting options than digital SLR cameras. However, for photographers looking for a small yet good camera, the Canon EOS 100D is a better choice.
04.02.2014
New LM Digital Adapter for:
Canon EOS R3 / Canon EOS R6 Mark II / Canon EOS R5 / Canon EOS R6 / Canon EOS R / Canon EOS Ra (Astro) / Canon EOS RP / Canon EOS R7 / Canon EOS R10 / Canon EOS 1D X Mark III / Canon EOS 1D X Mark II / Canon EOS 1D X / Canon EOS 90D / Canon EOS 5D Mark IV / Canon EOS 6D Mark II / Canon EOS M6 Mark II / Canon EOS 250D / Canon EOS 850D / Rebel T8i / Canon EOS 6D / Canon EOS M200 / Canon EOS 5DS R ( without low-pass filter) /