277
Microscope photography with the Nikon SMZ1500 stereoscopic zoom microscope
The Nikon SMZ1500 stereoscopic zoom microscope is a very popular instrument, especially in the United States, and is also increasingly in demand in Europe. We tested it extensively with our products.
For our tests we used two different cameras: a Canon camera with APS-C sensor (first image) was connected to the microscope using our LM C-mount port 1x and our LM widefield adapter with planachromatic precision optics. To mount the Nikon fullframe-sensor camera (second image) we used a Nikon C-Mount TV adapter A (as an alternative to our LM C-Mount 1x Port) and our LM widefield adapter solution designed especially for fullframe-sensor cameras.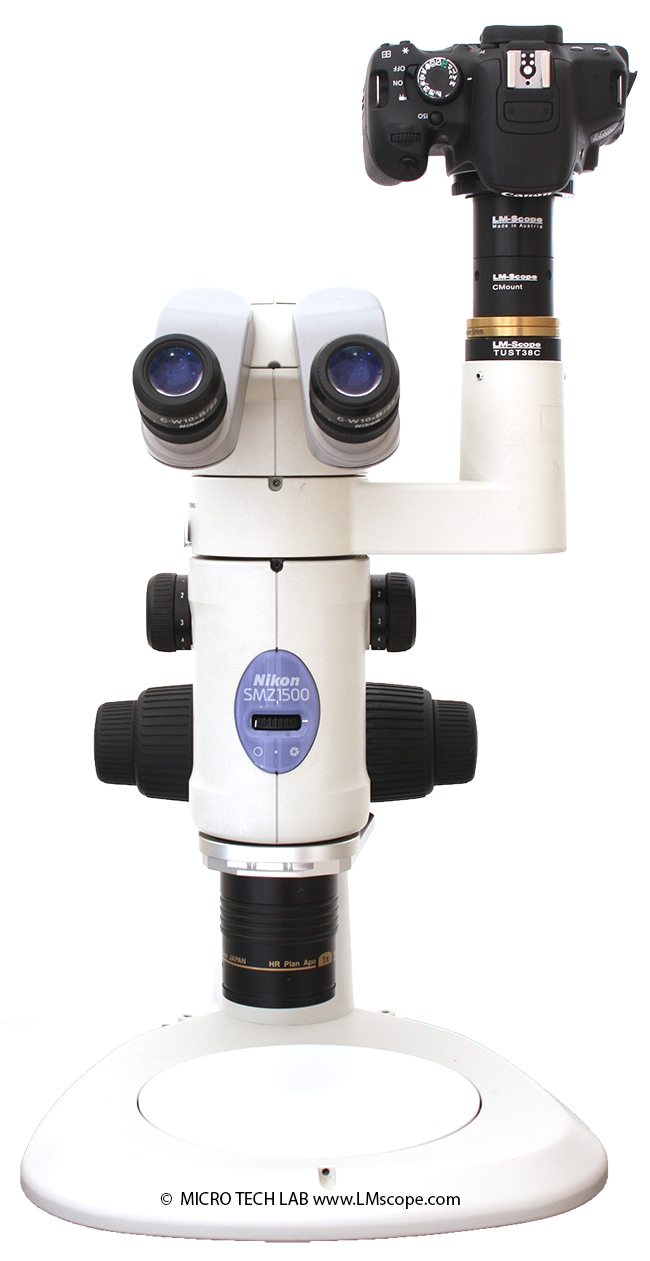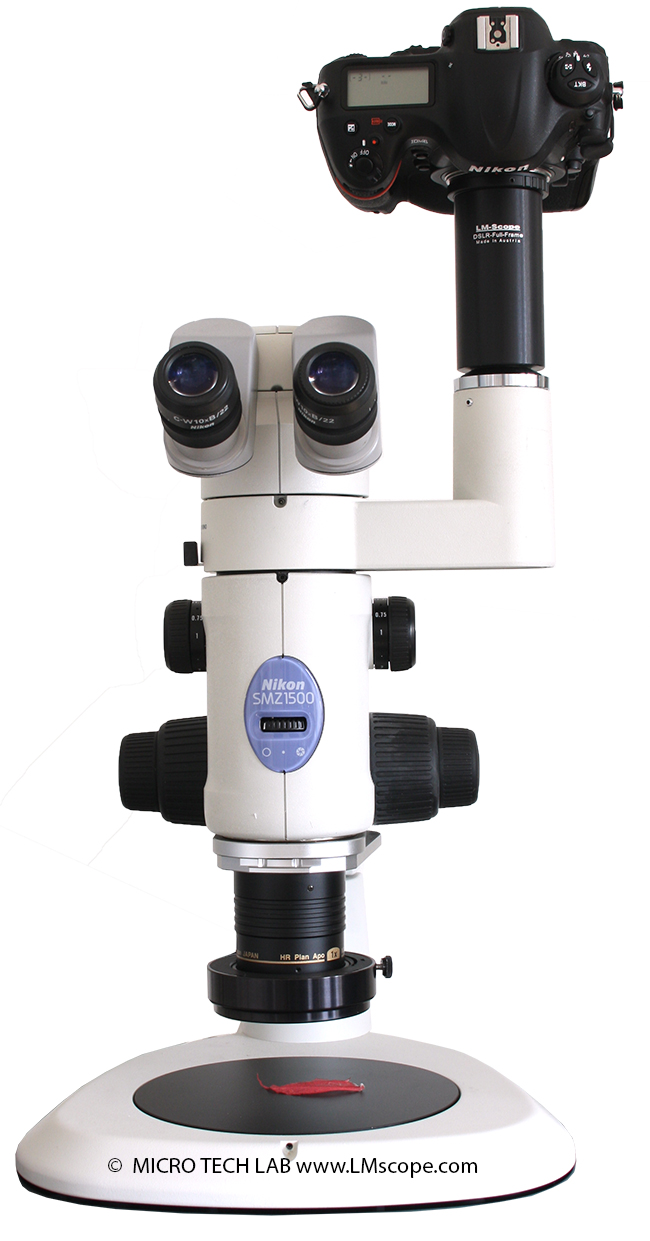 It is said that first impressions count, and our first impressions were very good. The Nikon SMZ1500 stereoscopic microscope is designed according to the telescope principle (Abbe principle). It is constructed from very high-grade materials and comes with a solid, stable stand. Furthermore, it has both a coarse and a fine coaxial focussing unit, which prevents backlash. Thanks to the large working distance (at high magnifications up to 50 mm), it also offers enough room for illumination and working. Its adjustable eyepiece tube (angle of incline from 0º to 30º) and low eye level make it very comfortable to work with. In addition, the eyepieces are equipped with built-in diopter adjustment.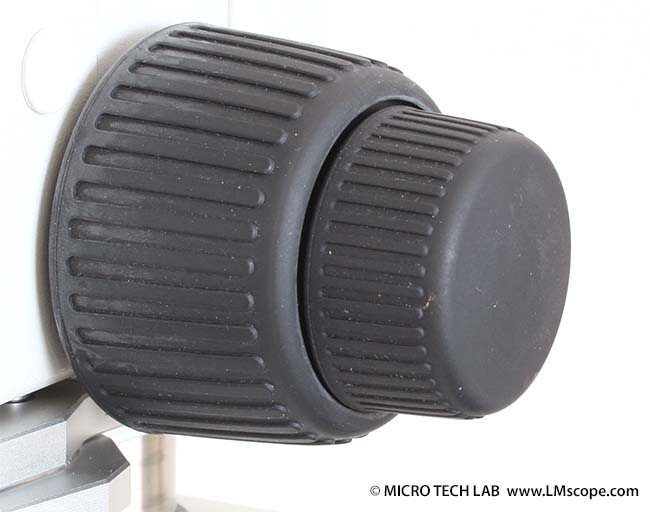 For our test series, we used the HR Plan Apo 1x and the standard C-W10x eyepiece with a field of view diameter of 22 mm. This combination yielded total magnifications of 7.5x to 112.5x. The resulting image field is very large and bright.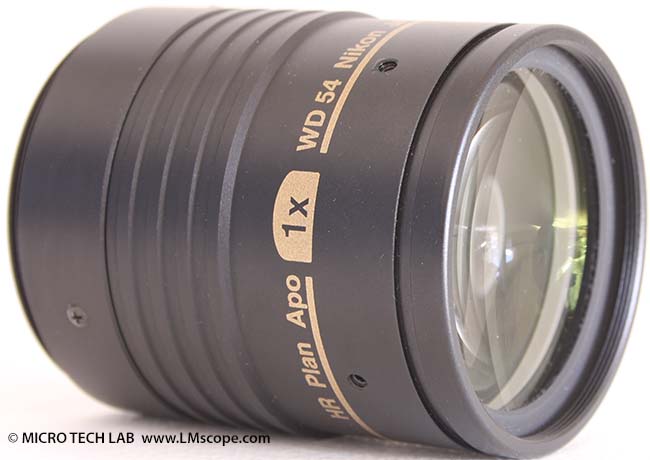 The optical quality of the Nikon SMZ1500 is excellent. With stereoscopic microscopes there are often field curvature issues and chromatic aberrations (colour fringing). But Nikon has solved this problem, with the images appearing flat and with no aberrations (see butterfly wing). Even with histological slides, the microscope delivers an excellent performance (see picture below).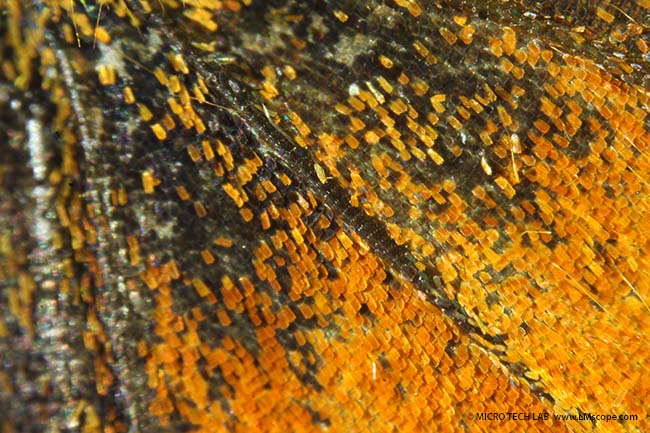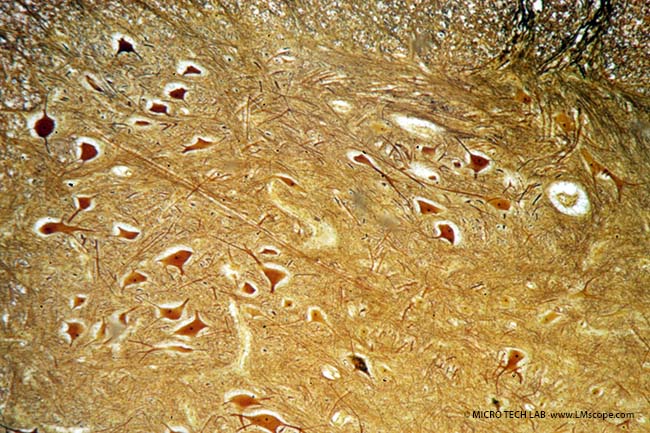 The built-in aperture diaphragm is very useful for adjusting the optimum depth of field.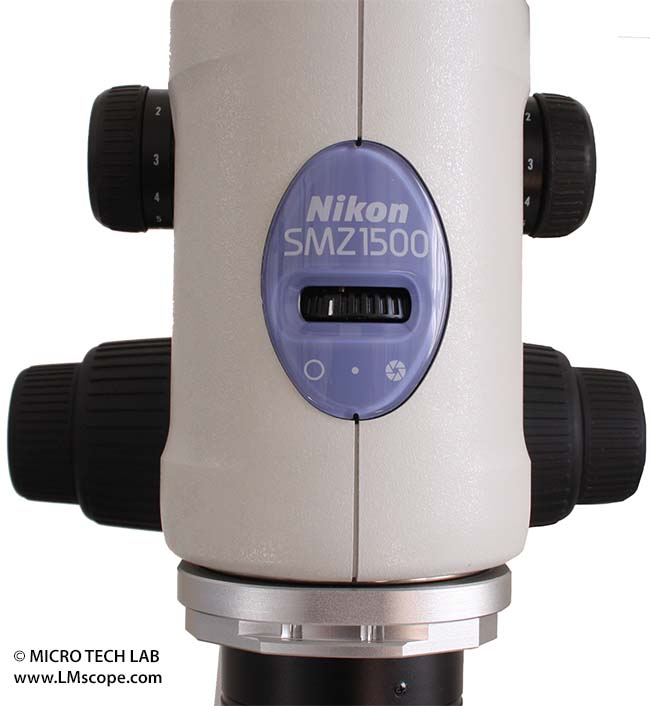 The zooming knob is very easy to operate. The microscope has an above-average zoom range of 0.75 to 11.25x. Lower priced entry models mostly only offer a zoom factor of 6x to a maximum of 10x. This selector knob eliminates the need to remove your eyes from the eyepiece while changing magnification.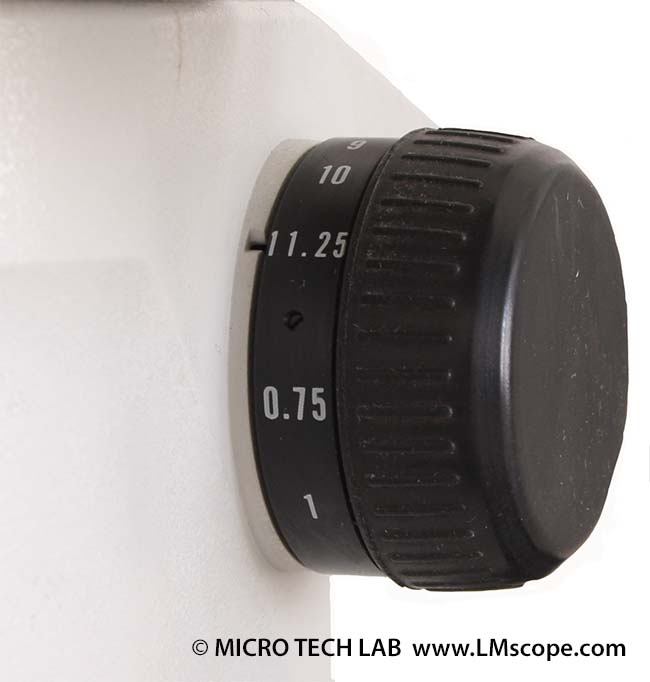 The Nikon SMZ1500 can be very easily fitted with a digital SLR or system camera (mirrorless with interchangeable lens mounts). Digital SLR cameras offer very high quality and have an excellent price-performance ratio. Using them enables the optical potential of this microscope to be utilised very well.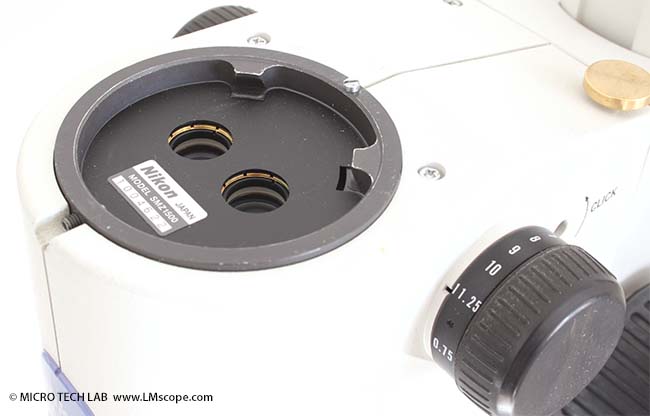 A factor 1x C-mount port (without built-in lens) is mounted directly onto the beam splitter, and the LM DSLR adapter, together with the DSLR camera body, is then screwed onto the port.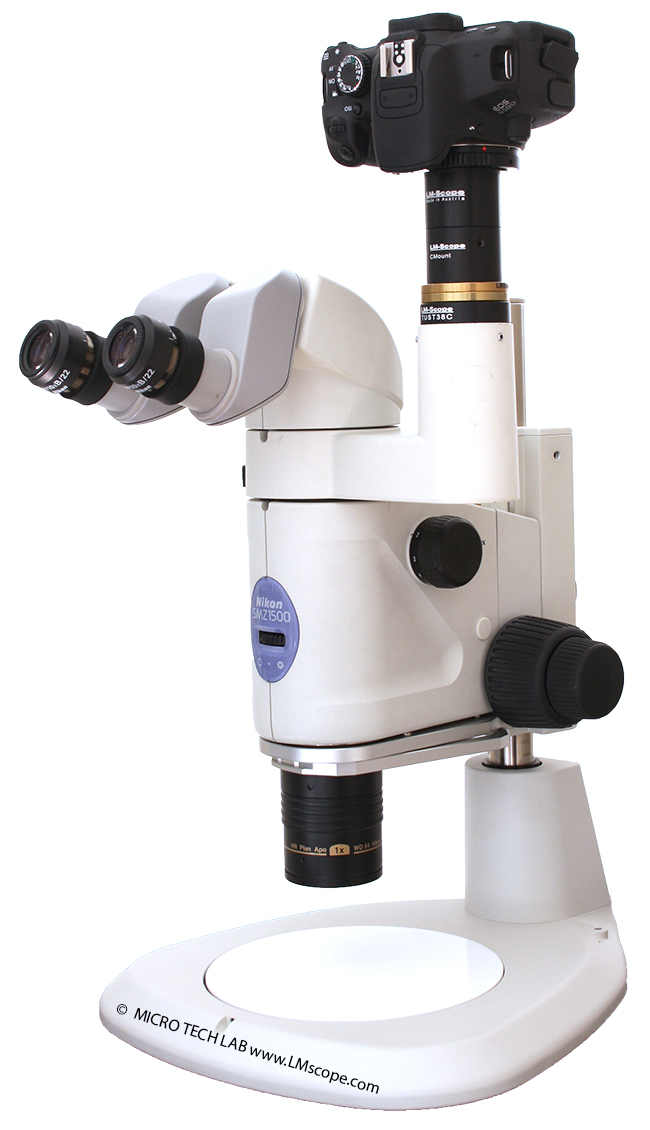 The Nikon SMZ1500 can also be equipped with the Nikon trinocular tube P2-TERGG.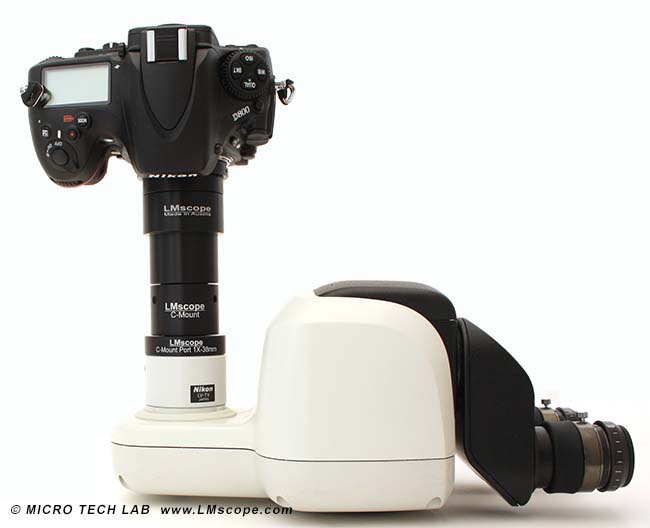 Following the original Nikon LT-TV adapter (white above) either the original Nikon video adapter A or our C-mount 1x adapter (TUST38C) is mounted. The main adapter with integrated optics is placed on top.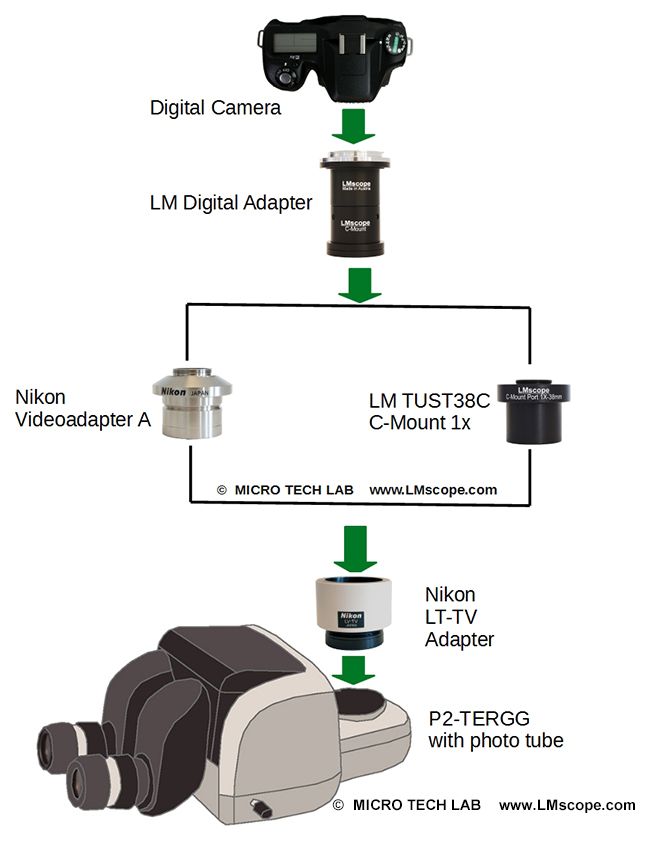 If there is no original LT-TV adapter available, we will be happy to offer you the appropriate C-mount connection (CMount1x_N_39mm). This is precisely matched to the photo tube.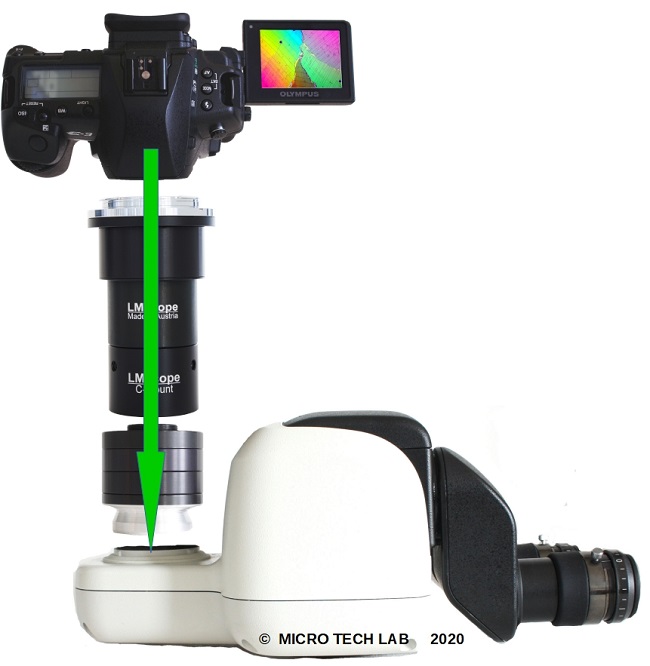 When choosing the ideal camera, you would do well to refer to our camera rankings for guidance. Especially at low magnifications (up to 20x), full-frame cameras achieve very good results. Nevertheless, cameras with smaller sensors also deliver a very decent image quality. Microscope c-mount cameras with small sensor can not compete at all.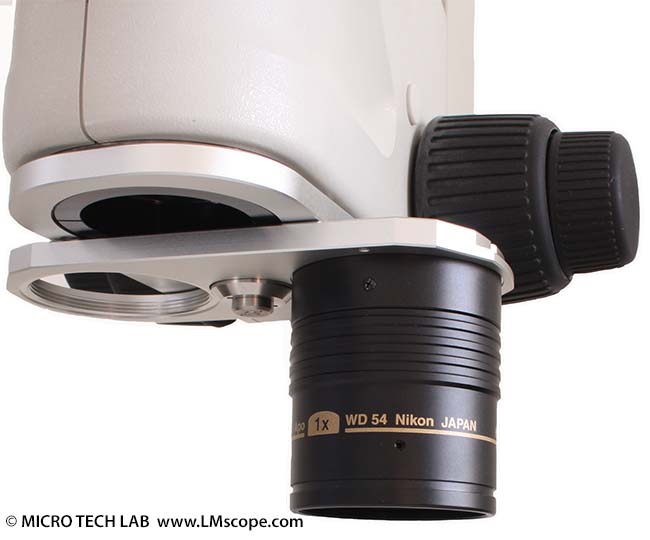 The magnification changer for using different lenses is a very convenient accessory.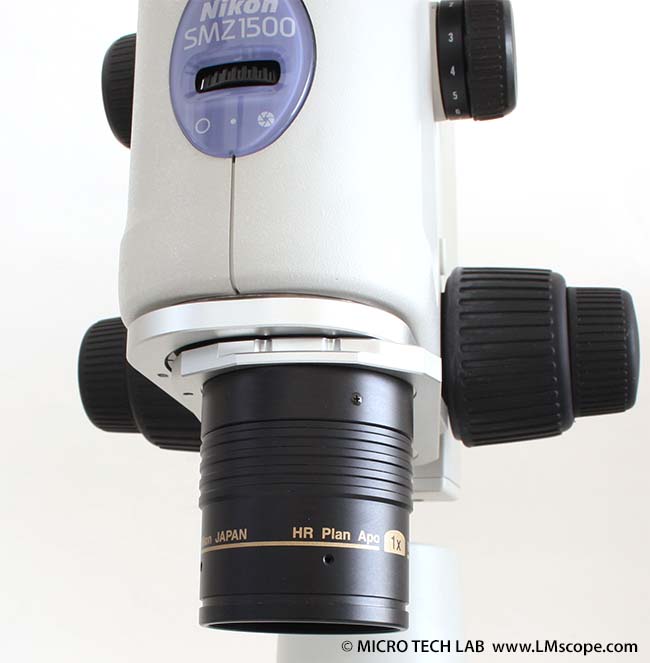 For photomicrographic images, the lens can be tilted. The lens can be positioned centric to the optical path, exactly where the camera is mounted. As a result, the area close to the axis of the plan apo lens is used, which is a prerequisite for focus stacking (z-stack). At high magnifications, in particular, the depth of field is very small due to physical limitations. For this reason, for three-dimensional slides, we recommend that you purchase a motorised version. This makes it possible to capture individual images at different levels that can then be combined using a special software program (e.g. Helicon, CombineZ) to produce a single image with an enormous focal range. The image below, for example, shows a butterfly wing magnified 125x its original size.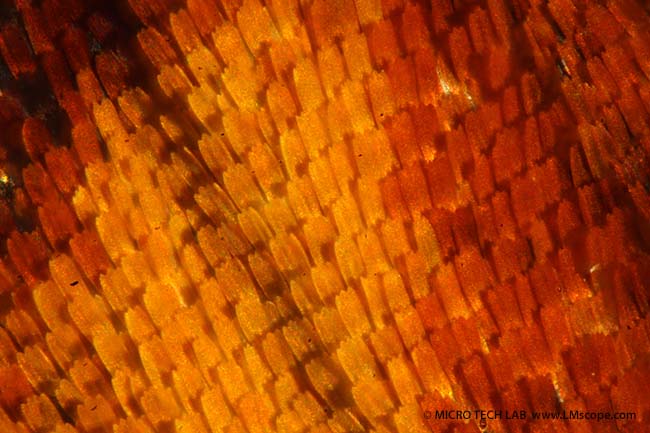 Conclusion: Working with the Nikon SMZ1500 is definitely very convenient. The advantages are obvious: it is very stable and well-built, offers a large zoom range (with one lens!), has a high degree of planarity with no image flaws and a large working distance. In addition, lots of accessories are available for purchase. The disadvantages of the Nikon SMZ1500 are its relatively high price and the fact that, due to the construction type (Abbe principle), it provides only a limited three-dimensional impression.
14.01.2013
Photography:
Fitting the microscope to digital single-lens reflex (DSLR), mirrorless interchangeable-lens cameras (MILC ), digital single-lens mirrorless (DSLM) or C-mount cameras is easy with our LM digital SLR adapters, which feature a plan achromatic optical system. Our products make it possible to capture top-quality microscope images. To help you select the adapter that is right for your camera, we have set up an online configurator on our website. You can also email us – ideally with attached photographs of your microscope.
Modern DSLR and single-lens mirrorless (DSLM) offer the latest technology and are generally very well suited for microscopy applications. Most of them can be controlled remotely via PC/Mac. Because of their high sales volumes, they offer an excellent price/performance ratio compared to special-purpose microscope cameras.
Features of top DSLR and single-lens mirrorless cameras (DSLM):
- Large, powerful full-frame sensors (36 x 24 mm)
- Sensor resolution of 61 megapixels or 240 megapixels with Pixel Shift technology
- High light sensitivity (ISO 400,000+)
- Extensive dynamic range (up to 15 aperture stops/f-stops)
- Short exposure times (1/8000 second) up to 1/32,000 seconds using the digital shutter
- 4K Ultra HD or 8K Ultra HD video function
- Live video capture on external monitors in ultra HD quality
In most cases, these cameras are significantly more powerful than microscope cameras with smaller sensors (1/2" or 2/3"). On our website you will find our current camera recommendations and a camera ranking which is specifically tailored to microscopy applications.

New LM Digital Adapter for:
Nikon Z9 / Nikon Z8 / Sony Alpha 7R V / Sony Alpha 1 / Sony FX3 Cinema Line / Sony Alpha 9 II (ILCE-9M2) / Sony Alpha 9 / Nikon D6 / Canon EOS R3 / Canon EOS R6 Mark II / Canon EOS R8 / Sony Alpha 7R IV / Canon EOS R5 / Sony Alpha 7S II / Sony Alpha 7S III / Sony Alpha 7R III / Canon EOS R6 / Nikon Z6 / Nikon Z6II / Sony Alpha 7R II / Nikon Z7 / Nikon Z7II / Canon EOS R / Canon EOS Ra (Astro) / Nikon Z5 / Sony Alpha 7C / Canon EOS RP / Sony Alpha 7S / Canon EOS R7 / Leica SL2-S / Canon EOS R10 /