66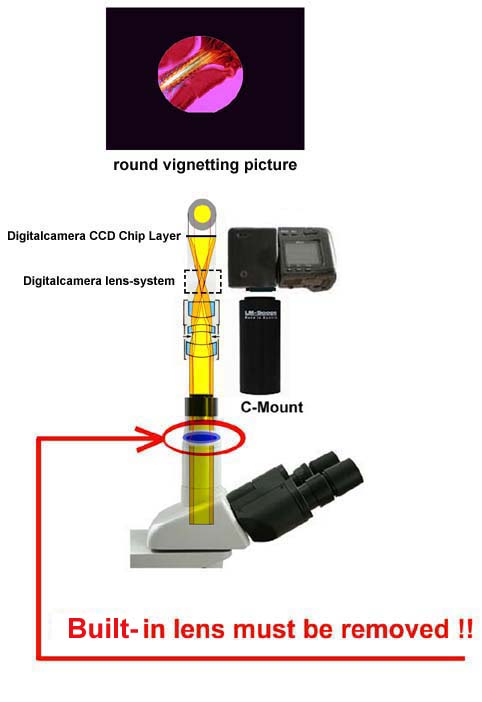 Unlike CCD video cameras, most digital cameras have an integrated optics. In combination with the optics of the LM Digital Adapter the digital camera´s chip is fully illuminated when the zoom is adjusted correctly.
Some producers have integrated a preliminary optical lens system in the C-Mount of their microscopes. The C-Mount connection has originally been designed for CCD video cameras without integrated optics. The function of this lens system is to project directly a temporary picture onto the chip of the video camera through using the integrated C-Mount optics.
Depending on the size of the CCD chips there are being offered different C-Mount lenses like e.g. C-Mount Adapter 1x, C-Mount Adapter 0,63x, C-Mount Adapter 0,50x or C-Mount Adapter 0,35x in order to illuminate perfectly the different video chips with the dimensions of 1", 2/3", ½" or 1/3".
These C-Mount optics cause interferences when being used with digital cameras or camcorders in combination with all types of LM Digital Adapters and therefore must be removed. Otherwise they might cause a strong circular vignetting effect.

1" 1/2 " 1/3 "
The integrated optics of the microscope´s C-Mount connection is normally used for the adjustment of the CCD video camera. The reduction factor (0,63x, 0,5x, 0,35x) depends on the chip size.
Such C-Mounts with integrated optics are therefore not suitable for the connection of digital cameras and must be replaced by C-Mounts without integrated optics (1x C-Mount)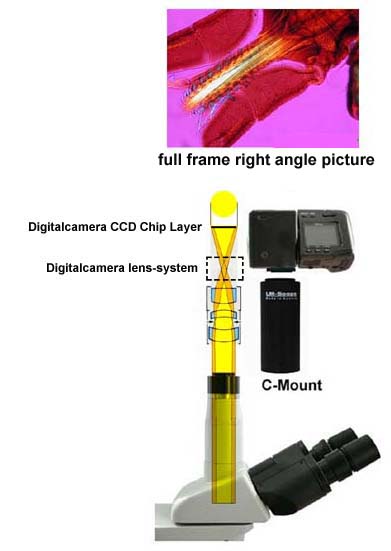 Using the optimal combination of C-Mount Adapter 1x without integrated optics,together with our LM Digital Adapter and a Nikon Coolpix, you will obtain a perfect, rectangularly illuminated digital camera´s chip.
New LM Digital Adapter for:
Nikon Z9 / Nikon Z8 / Sony Alpha 7R V / Sony Alpha 1 / Sony FX3 Cinema Line / Sony Alpha 9 II (ILCE-9M2) / Sony Alpha 9 / Nikon D6 / Canon EOS R3 / Canon EOS R6 Mark II / Canon EOS R8 / Sony Alpha 7R IV / Canon EOS R5 / Sony Alpha 7S II / Sony Alpha 7S III / Sony Alpha 7R III / Canon EOS R6 / Nikon Z6 / Nikon Z6II / Sony Alpha 7R II / Nikon Z7 / Nikon Z7II / Canon EOS R / Canon EOS Ra (Astro) / Nikon Z5 / Sony Alpha 7C / Canon EOS RP / Sony Alpha 7S / Canon EOS R7 / Leica SL2-S / Canon EOS R10 / Canon EOS 1D X Mark III / Nikon Z50 / Nikon Z30 / Nikon Z fc / Nikon D850 / Canon EOS 1D X Mark II / Nikon D780 / Olympus OM-1 / Sony Alpha 7III / Olympus OM-D E-M1 Mark III /