408
Photomicrography using the LM photo microscope with C-mount connector, the Nikon DS-Fi2 C-mount camera and the DS-L3 camera control unit
The LM photo microscope is a simple, no-frills unit developed especially for photomicrography and can be used with all conventional C-mount cameras (0.5" and 2/3" sensors). In our example application, we worked with the Nikon DS-Fi2 and the matching DS-L3 camera control unit.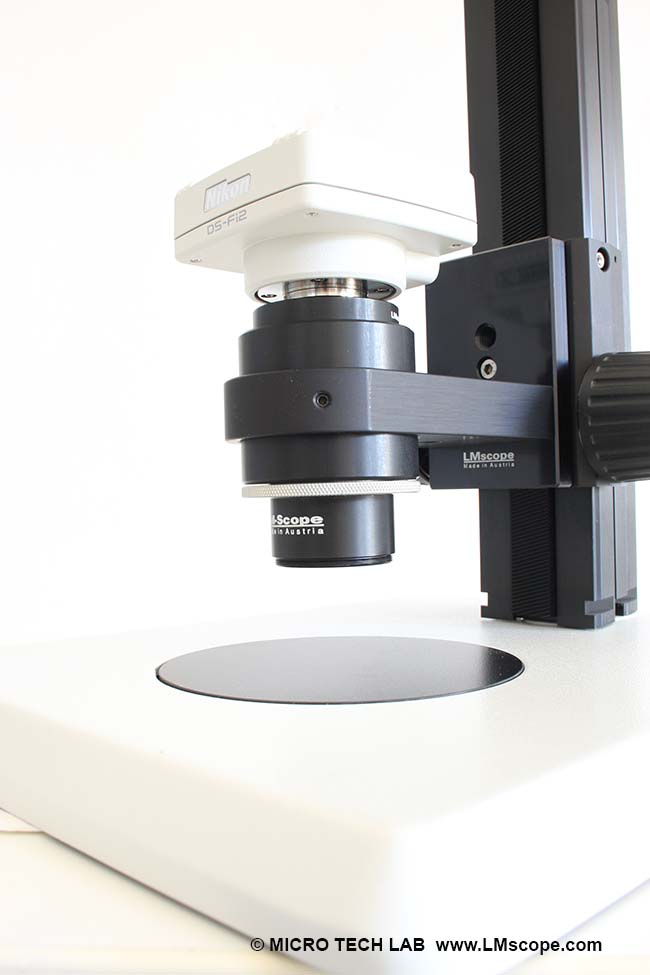 Compared with stereo microscopes based on the Greenough or Galileo optical design, the centric optical path makes it possible to capture images of significantly higher quality. A variety of objective lenses are available to suit the customer's needs. Lenses with a short working distance have a high numerical aperture and thus a very large image resolution. However, our range of LM microscope modules also includes long-distance objective lenses that provide extra-large working distances.
Due to its modular design, the LM photo microscope is extremely versatile and can be used in a multitude of applications. Depending on the objective selected, magnifications from 14x to 280x can be achieved.
The LM photo microscope features an integrated precision optical system designed specifically for high-performance C-mount cameras such as the Nikon DS-Fi2. Of note, the unit can be equipped with a variety of different objective lenses.

The Nikon DS-Fi2 is a C-mount colour camera with a 2/3" sensor (2560 x 1920 pixels) and 5-megapixel resolution. Burst shooting is possible at rates of about 4.4 images per second.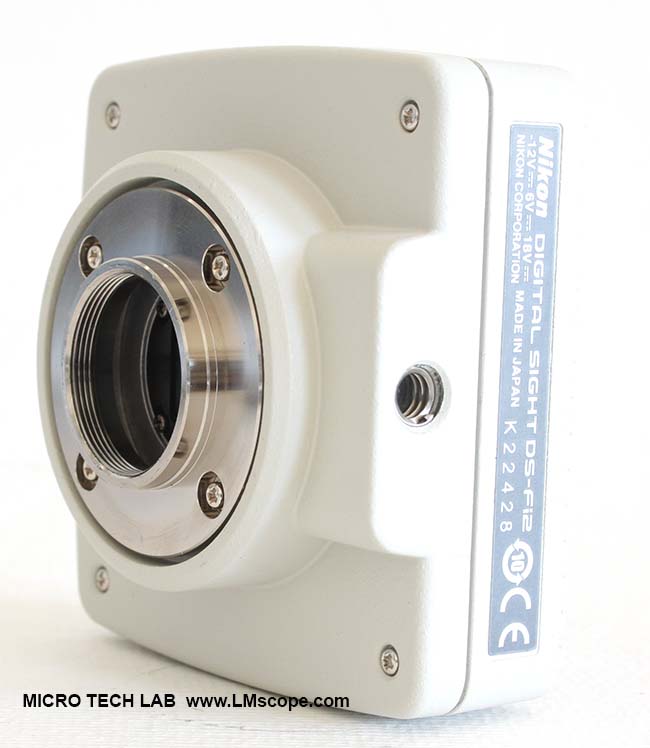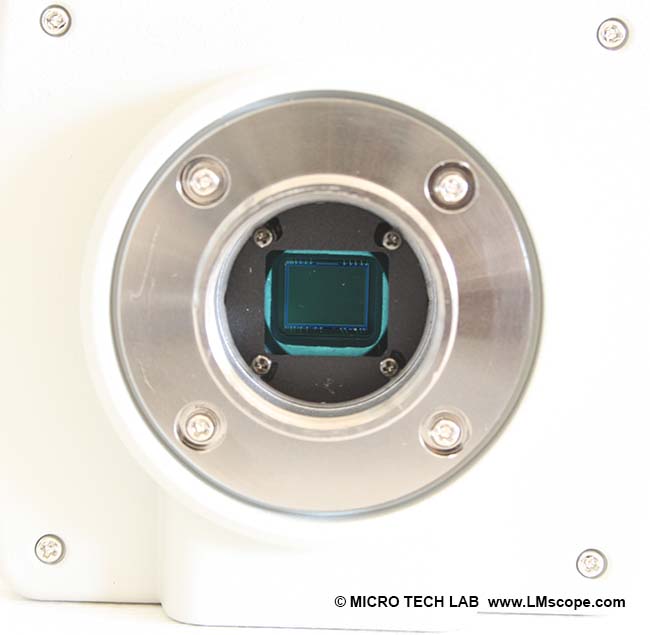 The Live View image is displayed on an 8.4" touchscreen via the standalone DS-L3 camera control unit. The small, compact DS-L3 controller also makes it possible to operate the camera without the use of a computer, and finished shots can be saved to an exchangeable flash card. Standard image measurements can be accomplished very conveniently directly on the touchscreen.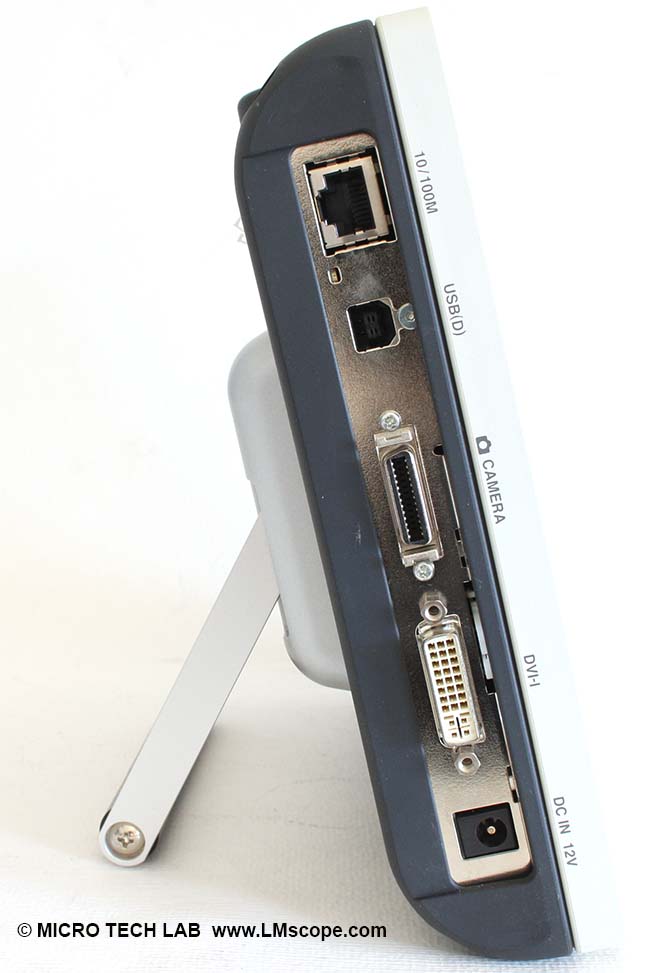 The LM photo microscope is particularly useful for applications in which a complete microscope is not required, such as measurement tasks, long-term studies and lengthy observations.
The LM photo microscope is also available without a stand. We offer an extensive range of suitable objective lenses for the LM photo microscope, including long-distance lenses that provide extra-large working distances.
The unit includes the following connections: network, USB, camera and DVI-F for external monitor interface.
Ordering code

Product description

Price

Price

Available




LM_Plan_Lens_10x

LM Plan Lens 10x: Fully corrected plan lens with infinite optic, magnification 10x, thread W0,8







LM_Plan_Lens_2x

LM Plan Lens 2x: Fully corrected plan lens with infinite optic, magnification 2x, Working distance 100mm







LM_Plan_Lens_4x

LM Plan Lens 4x: Fully corrected plan lens with infinite optic, magnification 4x, thread W0,8







LM_Plan_Lens_5x

LM Plan Lens 5x (2.5x): Fully corrected plan lens with infinite optic, magnification 2.5x or 5x, Working distance 40mm / 80mm







LM_P_M_Lens_M_CMount_100x

LM Photo microscope lens module 100x consists of module 1 and plan lens 10x: plan lens 10x lens, tube lenses are planachromatic, hard coated infinite optics







LM_P_M_Lens_M_CMount_50x

LM Photo microscope lens module 50x consists of module 1 and plan lens 5x lens, tube lenses are planachromatic, hard coated infinite optics



Info




Makrostativ4

LM macro stand 4 for working with high magnifications; extremely stable profile pillar with a length of 500mm, precise height adjustment with rack and pinion; macro-plate milled of airplan aluminium; massive lens holder; base plate is made of powder-coated aluminium cast. To be used with LM macroscopes and microscopes with an external diameter of 60mm;



Data Sheet




Makrostativ6

LM macro stand 6 for working with high magnifications; extremely stable profile pillar with a length of 500mm, precise height adjustment with rack and pinion; additionally more rows of mounting threads like an optical bank for the assembly of diverse accessory parts.extra large base plate, removable object disk



Data Sheet

For EU (European Union) VAT (IVA, TVA) not included
New LM Digital Adapter for:
Nikon Z8 / Sony Alpha 7R V / Sony Alpha 1 / Sony FX3 Cinema Line / Sony Alpha 9 II (ILCE-9M2) / Sony Alpha 9 / Nikon D6 / Canon EOS R3 / Canon EOS R6 Mark II / Canon EOS R8 / Sony Alpha 7R IV / Canon EOS R5 / Sony Alpha 7S II / Sony Alpha 7S III / Sony Alpha 7R III / Canon EOS R6 / Nikon Z6 / Nikon Z6II / Sony Alpha 7R II / Nikon Z7 / Nikon Z7II / Canon EOS R / Canon EOS Ra (Astro) / Nikon Z5 / Sony Alpha 7C / Canon EOS RP / Sony Alpha 7S / Canon EOS R7 / Leica SL2-S / Canon EOS R10 / Canon EOS 1D X Mark III / Nikon Z50 / Nikon Z30 / Nikon Z fc / Nikon D850 / Canon EOS 1D X Mark II / Nikon D780 / Olympus OM-1 / Sony Alpha 7III / Olympus OM-D E-M1 Mark III /