213
The Olympus SZ61 and SZ61TR stereo microscopes for microphotography with LM digital adapters and DSLRs or system cameras (mirrorless cameras with interchangeable lens mounts)
The Olympus SZ61 and SZ61TR are the optimised successors to the Olympus SZ60. The microscopes are available with a wide range of equipment: with or without phototube, various stands and lighting options (LED, side light, fibre optics), etc.
In the image below, we mounted the Olympus SZ61TR microscope body with phototube (2 kg in weight) to a conventional stand. For lighting, we used an IKEA halogen lamp. To attach a DSLR or mirrorless system camera to the microscope, we use an Olympus 1x C-mount port as well as a LM digital wide-field adapter.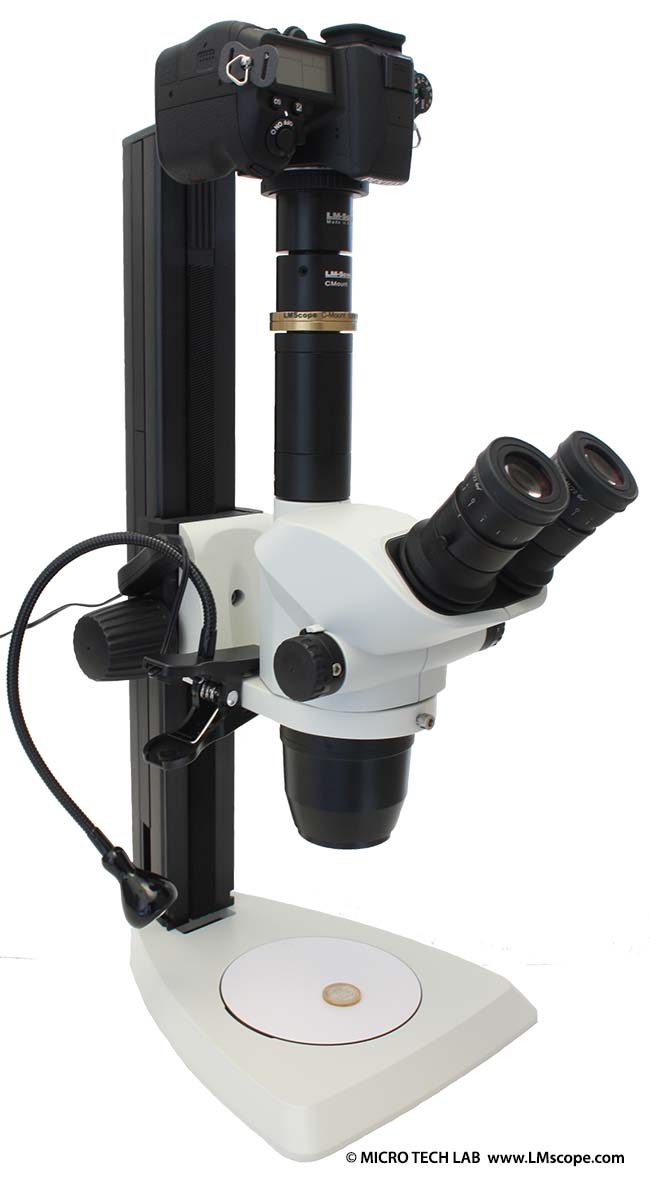 The SZ61TR is available with a C-mount phototube which has an integrated 0.5x lens for cameras with small image sensors (see image below). This lens is a fixed part of the microscope and reduces the size of the field of view by half. However, when using cameras with larger sensors, the field of view needs to be magnified rather than reduced. For this reason, we recommend removing the built-in lens and using a C-mount connection with a 1x optical zoom factor instead. Olympus provides the required modification instructions upon request. Our LM digital microscope adapters are the ideal mounting device for attaching cameras with larger sensors (DSLRs and system cameras) to this C-mount 1x connection.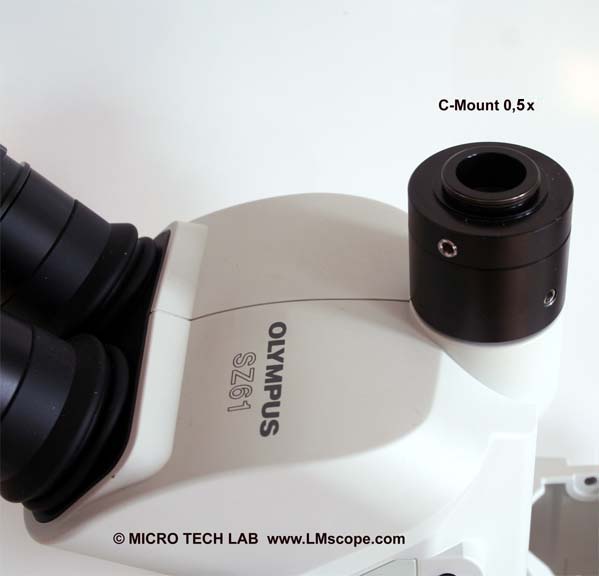 The Olympus SZ61/SZ61TR is a good entry-level microscope for users who are new to microscopy or, in our specific case, microphotography. It delivers high optical performance across the entire zoom range (6.7x to 45x) and features a Greenough-type optical system. Microscopes with this optical design produce a very tangible three-dimensional effect. As a result, the Olympus SZ61/SZ61TR is particularly suitable for preparative work under the microscope. Stereo microscopes have two completely separate optical paths which are inclined at an angle of 15°. The human brain is able to generate a three-dimensional image through the optical path and the angular offset.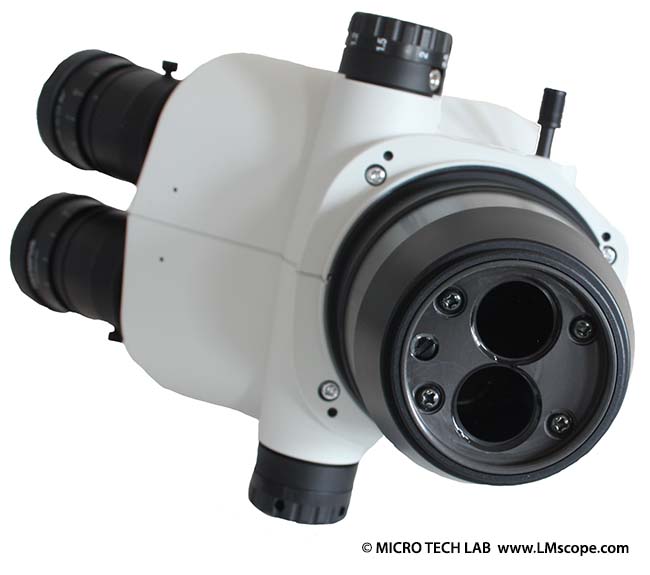 When using the Olympus SZ61 without phototube, there is the option of mounting the camera to the eyepiece tube (internal diameter 30 mm). The optical quality of the image is equally as good as the solution that uses the phototube. You simply remove an eyepiece and insert our LM digital microscope adapter in its place.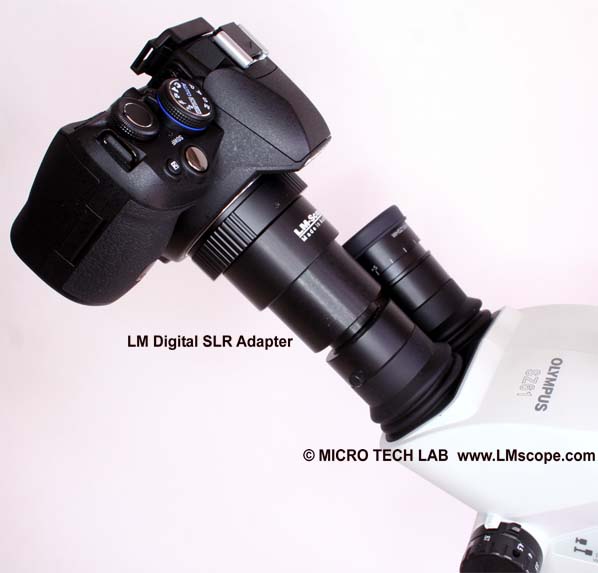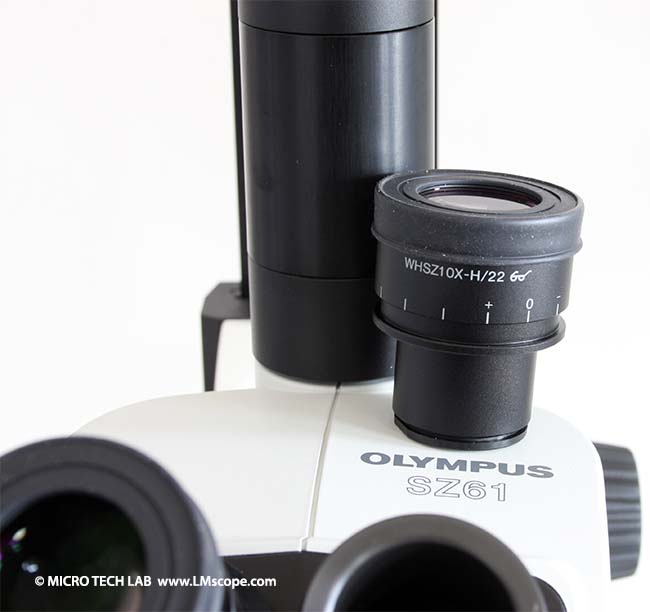 The optical performance of the SZ61 is comparable with that of the Nikon SMZ745, the competitor product. However, the Olympus SZ61 has the great advantage of allowing the user to remove the built-in C-mount 0.5x. The retrofit is a simple and quick task. Therefore, the Olympus SZ61 is better suited for taking photomicroscopy images with DSLRs and system cameras since it achieves a higher resolution and better peripheral definition.
However, the microscope lacks an observation tube with an adjustable viewing angle ("ergo tube"), which would make it possible to eliminate fatigue even over prolonged working periods. Olympus only provides this feature with its more expensive stereo microscopes (SZX 7/10/16).
Conclusion: The Olympus SZ61 is a handy entry-level model with good optical features. It features a Greenough-type optical system. Because it offers the option of replacing the C-mount connection it is also well suited for photographic documentation using DSLRs or system cameras.
Photography:
Fitting the microscope to digital single-lens reflex (DSLR), mirrorless interchangeable-lens cameras (MILC ), digital single-lens mirrorless (DSLM) or C-mount cameras is easy with our LM digital SLR adapters, which feature a plan achromatic optical system. Our products make it possible to capture top-quality microscope images. To help you select the adapter that is right for your camera, we have set up an online configurator on our website. You can also email us – ideally with attached photographs of your microscope.
Modern DSLR and single-lens mirrorless (DSLM) offer the latest technology and are generally very well suited for microscopy applications. Most of them can be controlled remotely via PC/Mac. Because of their high sales volumes, they offer an excellent price/performance ratio compared to special-purpose microscope cameras.
Features of top DSLR and single-lens mirrorless cameras (DSLM):
- Large, powerful full-frame sensors (36 x 24 mm)
- Sensor resolution of 61 megapixels or 240 megapixels with Pixel Shift technology
- High light sensitivity (ISO 400,000+)
- Extensive dynamic range (up to 15 aperture stops/f-stops)
- Short exposure times (1/8000 second) up to 1/32,000 seconds using the digital shutter
- 4K Ultra HD or 8K Ultra HD video function
- Live video capture on external monitors in ultra HD quality
In most cases, these cameras are significantly more powerful than microscope cameras with smaller sensors (1/2" or 2/3"). On our website you will find our current camera recommendations and a camera ranking which is specifically tailored to microscopy applications.

New LM Digital Adapter for:
Nikon Z9 / Sony Alpha 7R V / Sony Alpha 1 / Sony FX3 Cinema Line / Sony Alpha 9 II (ILCE-9M2) / Sony Alpha 9 / Nikon D6 / Canon EOS R3 / Canon EOS R6 Mark II / Canon EOS R8 / Sony Alpha 7R IV / Canon EOS R5 / Sony Alpha 7S II / Sony Alpha 7S III / Sony Alpha 7R III / Canon EOS R6 / Nikon Z6 / Nikon Z6II / Sony Alpha 7R II / Nikon Z7 / Nikon Z7II / Canon EOS R / Canon EOS Ra (Astro) / Nikon Z5 / Sony Alpha 7C / Canon EOS RP / Sony Alpha 7S / Canon EOS R7 / Leica SL2-S / Canon EOS R10 / Canon EOS 1D X Mark III / Nikon Z50 / Nikon Z30 / Nikon Z fc / Nikon D850 / Canon EOS 1D X Mark II / Nikon D780 / Olympus OM-1 / Sony Alpha 7III / Olympus OM-D E-M1 Mark III / Nikon D5 /