287
Microphotography with the Olympus SZ60 trinocular microscope and the LM digital adapters
The Olympus SZ60 trinocular stereo zoom microscope was built in the 1980s and is still very widely used today. Although photography technology has developed in leaps and bounds in the meantime, it is still very easy to create the photographic documentation you need using modern DSLR and system cameras (mirrorless cameras with interchangeable lens mounts).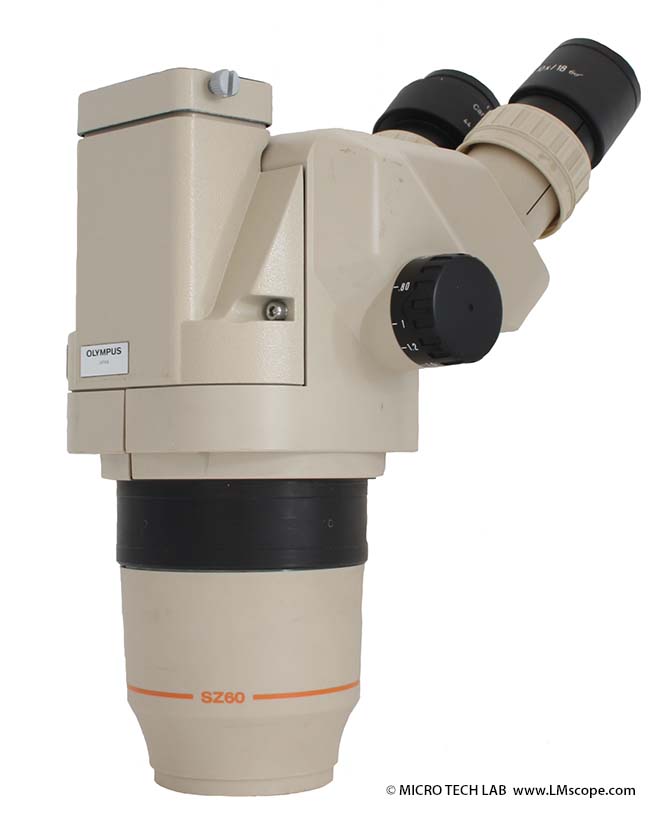 The Olympus SZ60 is an entry-level stereo microscope. The construction is based on the Greenough principle, which means that it has two completely separate optical paths. The microscope uses twin body tubes which are inclined at an angle of 15º to produce the stereo effect. This construction makes the image appear three-dimensional and high in contrast when looking through the eyepieces (with both eyes). A typical feature of Greenough-type microscopes is that only one optical path can be used for taking photographs. As a result, the image viewed through the eyepiece does not match the actual photograph and the three-dimensional effect is difficult to convey.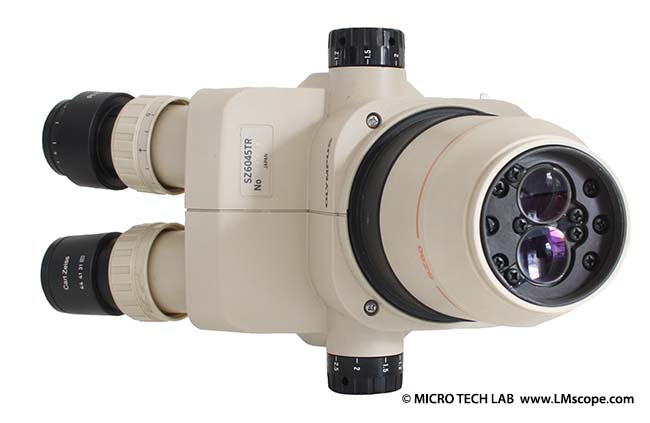 The size of the field of view is appropriate, and its quality is high. However, if you zoom into the image, it is no longer parfocal and needs to be refocused.
In our test series, we only used the SZ60's microscope head, which is made of plastic. A 1x zoom magnification results in an object field of view with a diameter of 17.5 mm when using the 10x/18 eyepieces; if you are using the 10x/20 eyepieces, then you get a 19 mm diameter. If the 6.3x zoom setting (equal to a magnification of 63x) is selected, the object field of view is 3 mm.
The Olympus SZ60 was designed for analogue photography, but it can be easily converted for digital photographic documentation: Simply remove the original phototube attachment (see image below) and replace it with the C-mount which has been specifically developed for this type of Olympus microscopes (TUST42C_SZ).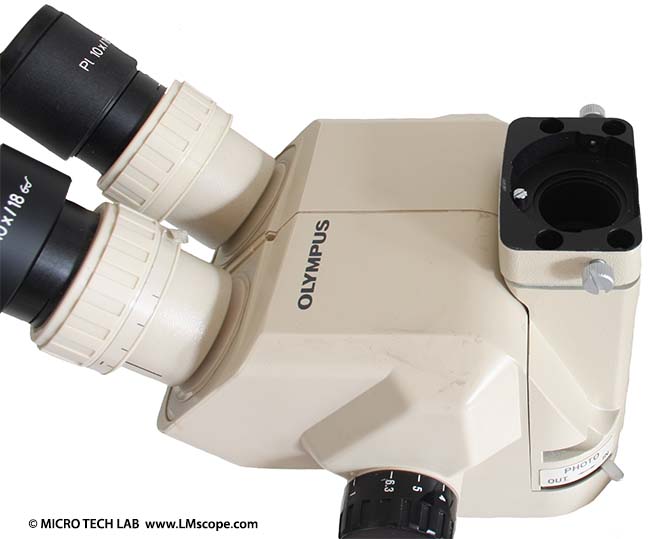 To attach our Canon Rebel T4i (EOS 650D) to the microscope, we used a TUST42C_SZ and the DSLRCTCW_Pro LM digital wide-field adapter. The beam splitter has a switch which can be used to change over to photography mode.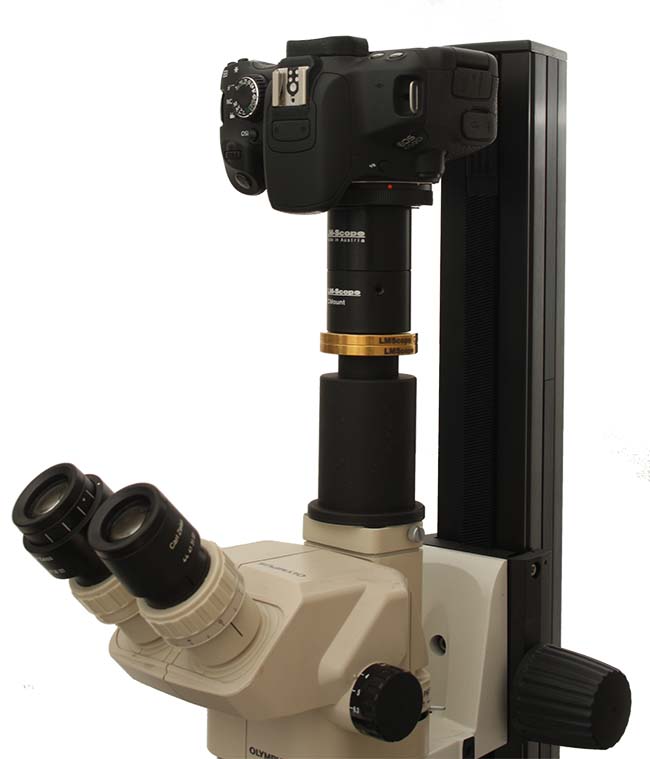 Of course, a camera can also be attached via the eyepiece if there is no phototube. We used a DSLRCTW to connect the Canon Rebel T4i (EOS 650D) to the eyepiece (30 mm diameter). The optical image quality is equally good as that produced when attaching the camera to the phototube.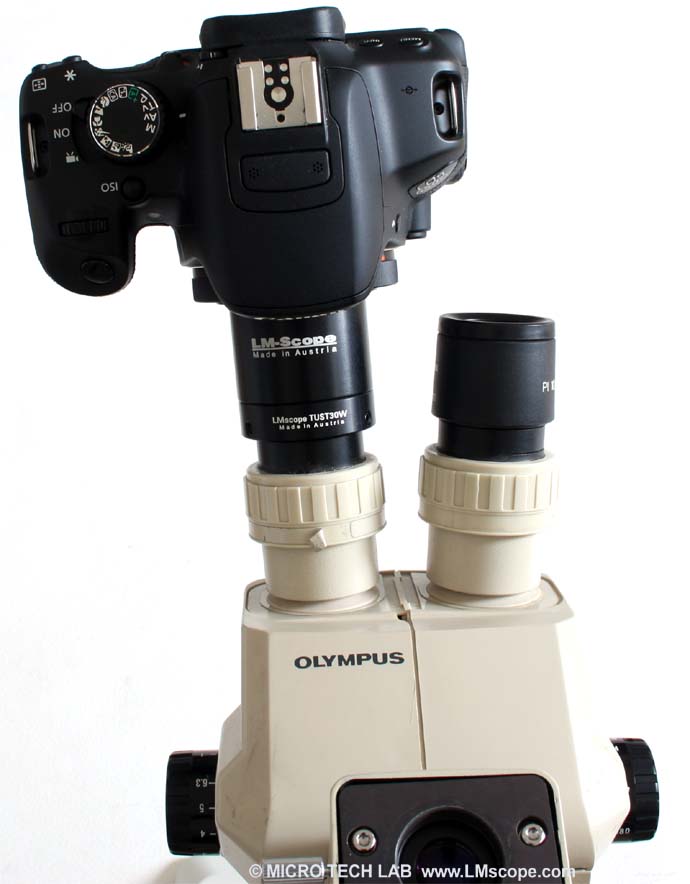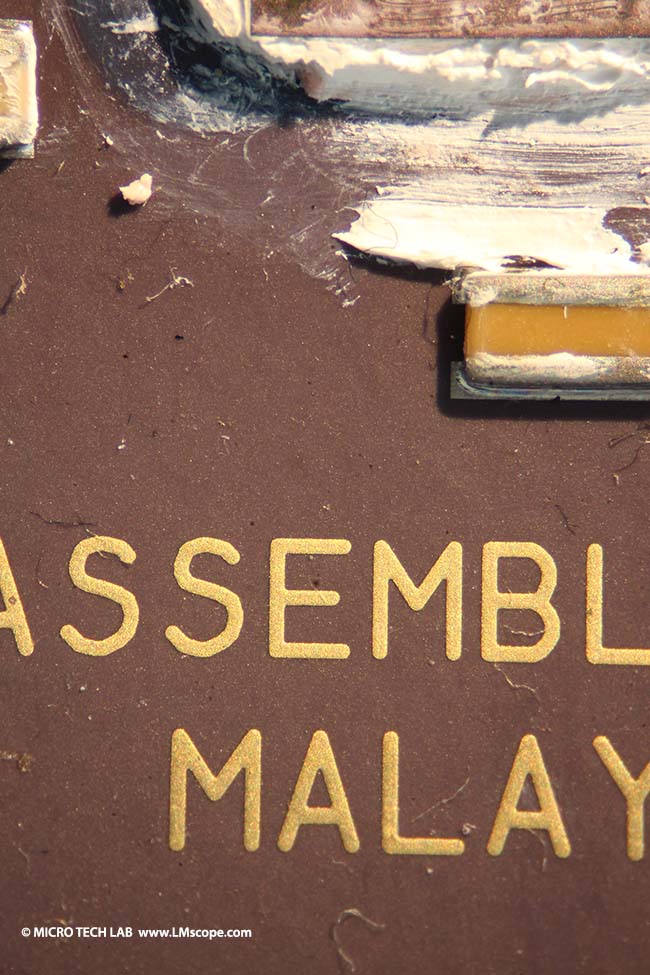 Conclusion: The Olympus SZ60 is a well-constructed stereo microscope. As it was originally designed for analogue photography, it needs to be converted for digital photographic documentation. This can be done within just a few moments using the TUST42C_SZ which has been specifically developed for this purpose. The image quality is very good and matches the microscope's price level.
19.04.2013
Photography:
Fitting the microscope to digital single-lens reflex (DSLR), system or C-mount cameras is easy with our LM digital SLR adapters, which feature a plan achromatic optical system. Our products make it possible to capture top-quality microscope images. To help you select the adapter that is right for your camera, we have set up an online configurator on our website. You can also email us – ideally with attached photographs of your microscope.
Modern DSLR and system cameras offer the latest technology and are generally very well suited for microscopy applications. Most of them can be controlled remotely via PC/Mac. Because of their high sales volumes, they offer an excellent price/performance ratio compared to special-purpose microscope cameras.
Features of top DSLR and system cameras:
- Large, powerful full-frame sensors (36 x 24 mm)
- Sensor resolution of 50 megapixels
- High light sensitivity (ISO 100,000+)
- Extensive dynamic range (up to 14 aperture stops/f-stops)
- Short exposure times (1/8000 second):
- Full/Ultra HD (4k) video function
- Live video capture on external monitors in ultra HD quality
In most cases, these cameras are significantly more powerful than microscope cameras with smaller sensors (1/2" or 2/3"). On our website you will find our current camera recommendations and a camera ranking which is specifically tailored to microscopy applications.

New LM Digital Adapter for:
Nikon Z9 / Sony Alpha 1 / Sony FX3 Cinema Line / Sony Alpha 9 II (ILCE-9M2) / Sony Alpha 9 / Nikon D6 / Canon EOS R3 / Sony Alpha 7R IV / Canon EOS R5 / Sony Alpha 7S II / Sony Alpha 7R III / Canon EOS R6 / Nikon Z6 / Nikon Z6II / Sony Alpha 7R II / Nikon Z7 / Nikon Z7II / Canon EOS R / Canon EOS Ra (Astro) / Nikon Z5 / Sony Alpha 7C / Canon EOS RP / Sony Alpha 7S / Canon EOS R7 / Canon EOS R10 / Canon EOS 1D X Mark III / Nikon Z50 / Nikon D850 / Canon EOS 1D X Mark II / Nikon D780 / Olympus OM-1 /