Microscopy and photography with the Motic SMZ-171 microscope and our tried and tested LM digital adapters
We are always on the lookout for favourably priced microscopes that are also suitable for creating high-quality photographic documentation. During our research, we came across the Motic SMZ-171 microscope, which we examined in detail.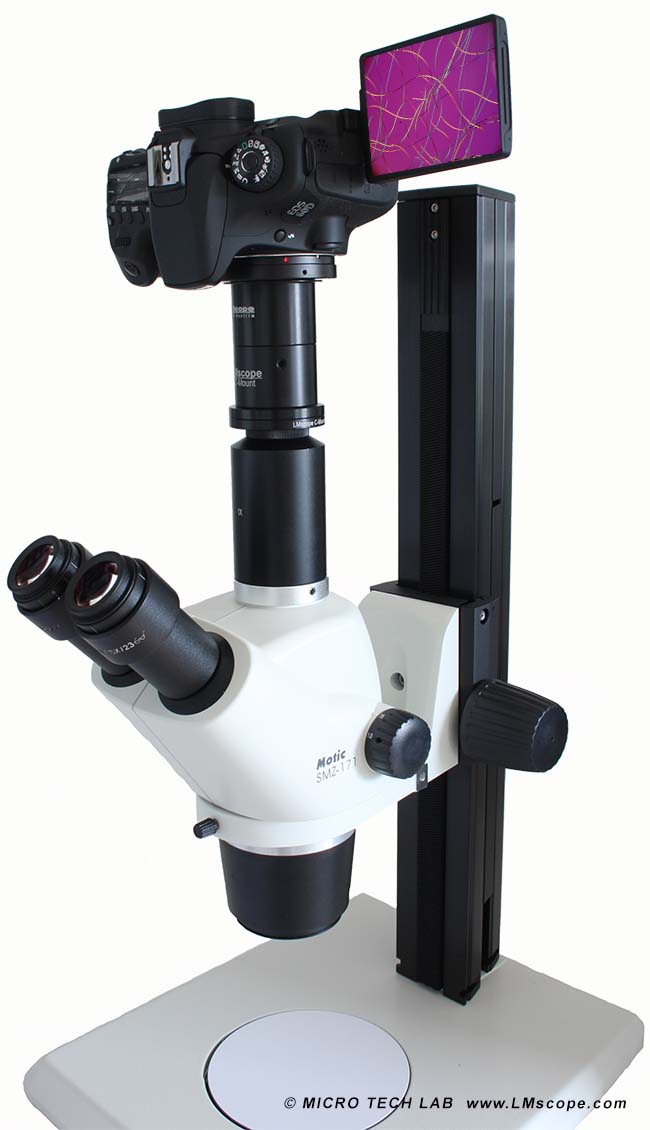 The Motic SMZ-171 is a very well built stereo microscope that features a Greenough optical system. This type of construction conveys a three-dimensional effect for the viewer when looking through the eyepiece, which is achieved when the human brain compiles the information it receives from the two optical paths and the angular offset into a single image. When taking photographs, however, the camera can only use one optical path, and therefore the three-dimensionality cannot be reproduced in the images.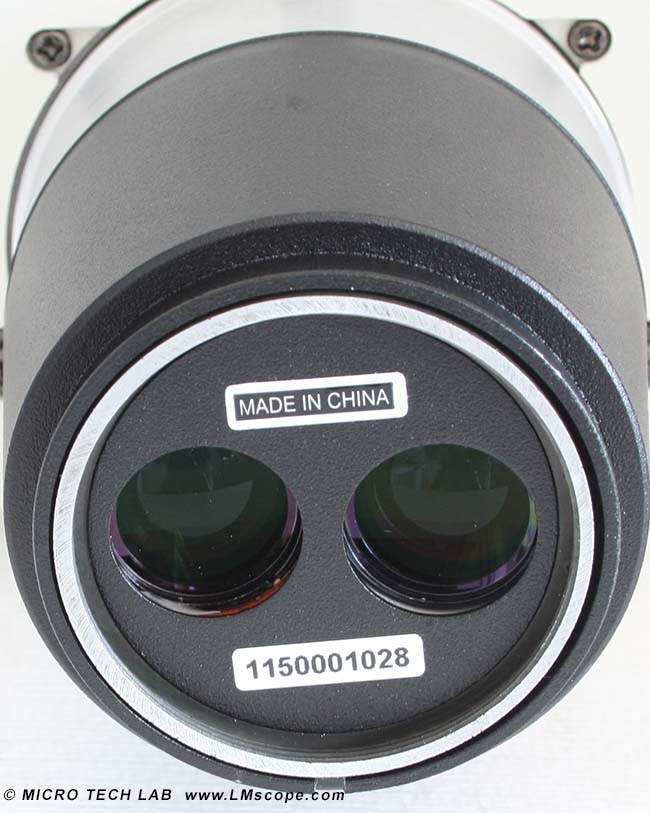 The Motic SMZ-171 covers a magnification range from 7.5x to 50x and is at a comparable level of performance with the Nikon SMZ745 or the Olympus SZ61. The zoom adjustment dial for setting the magnification has a 5-position click-stop mechanism. This enables an infinitely variable zoom with defined positions and facilitates the precise reproduction of magnifications. This mechanism is very convenient, especially for measuring tasks.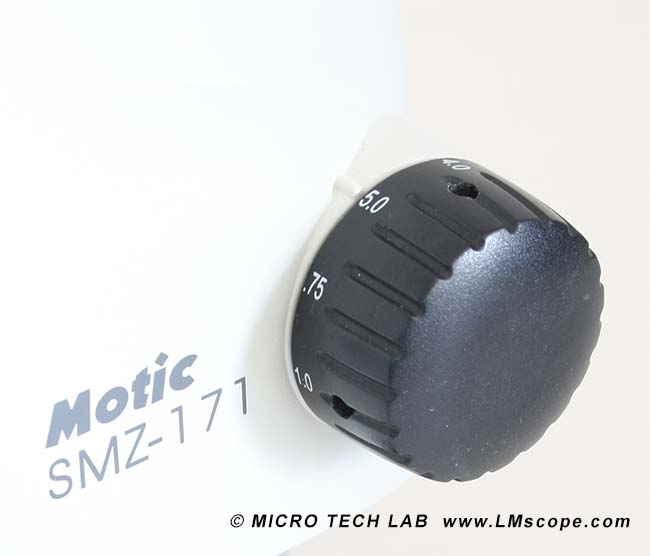 The microscope has wide-field eyepieces (30 mm external diameter) with dioptric correction (10x23 mm/diop. +/- 5°). This standard eyepiece dimension is not a customary feature, especially with instruments in the lower price category. In the entry-level segment, eyepiece dimensions are often very atypical. Because it has standard dimensions, the microscope is also compatible with other brands.
The instrument we tested has a lever for operating the beam splitter. If the microscope is set to photo tube (bottom symbol), the left optical path is diverted to the photo tube.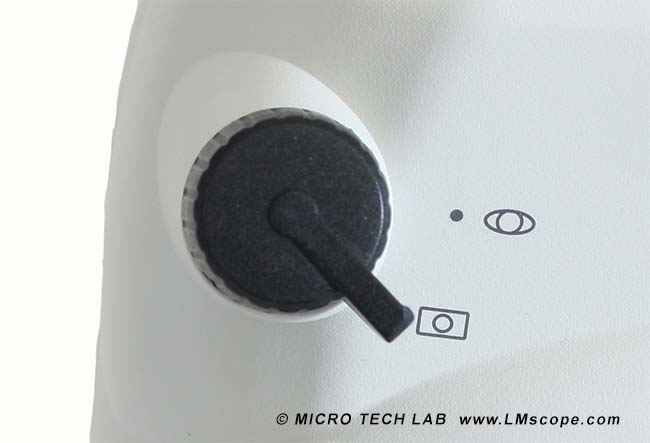 The Motic SMZ-171 offers good optical quality and has a flat image field with hardly visible image flaws in the available magnification range. This is of considerable importance for its use in photomicrography. Many image aberrations only become visible when photography is used.
If you plan to take photographs through the Motic SMZ-171, it is advisable to use a photo tube. We recommend a C-mount connection with a 1x optical factor, which serves as the basis for our LM digital adapter with a standardised C-mount connection. This has several advantages; among others, working is made more ergonomic and the camera can remain permanently mounted to the microscope if you want to look through the eyepieces again.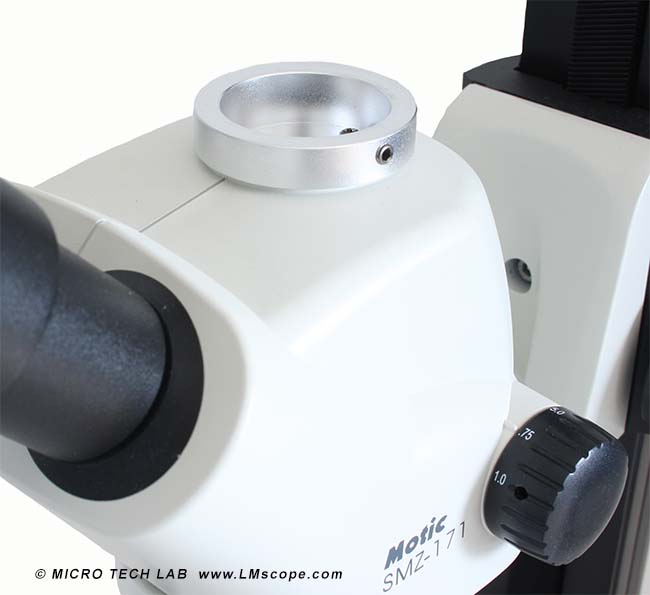 If there is no photo tube, we also offer LM digital adapter solutions which are designed for connection via the eyepiece. The optical quality of this option equals that of the photo tube method.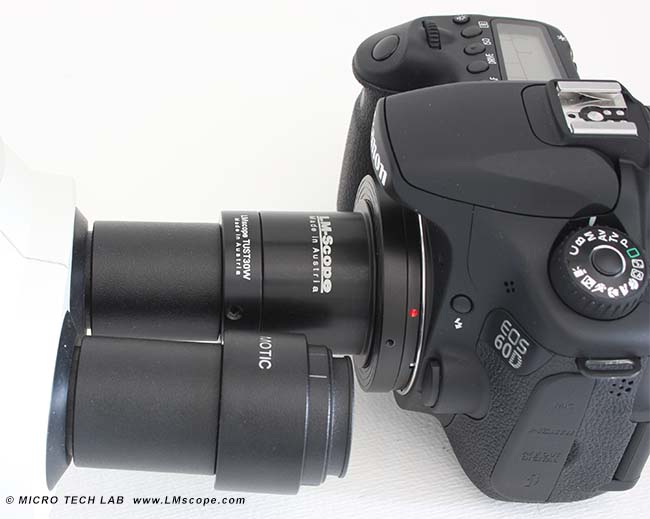 Modern digital SLR and system cameras are very well suited to microscopy applications and offer many advantages in comparison with C-mount cameras specifically designed for microscopy. They come with a multitude of professional features and offer excellent sensor quality. We have put together a guide to help you choose the camera that is best suited for your needs.
Of course, connecting a C-mount camera to the microscope for specialised applications is also a snap with our LM digital adapters.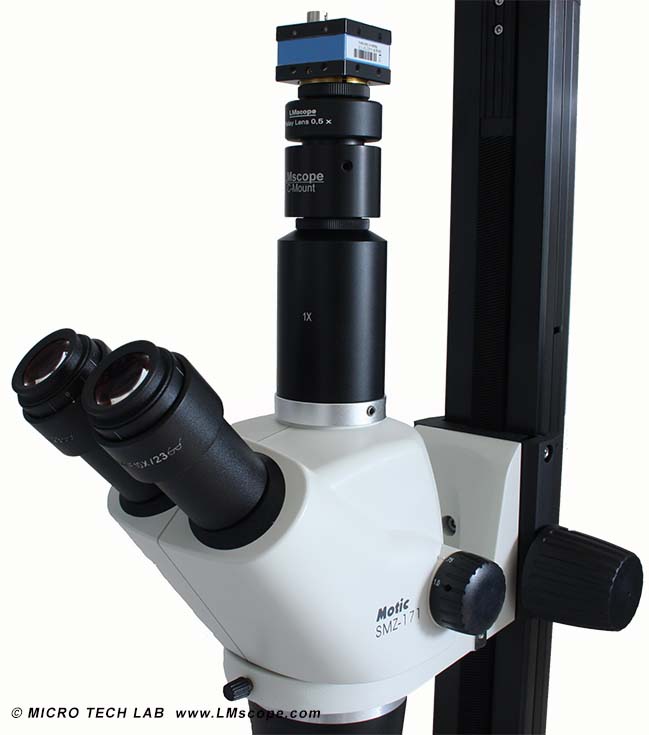 Conclusion:
The Motic SMZ-171 features an excellent price/performance ratio (price currently approx. € 1,000). It is very well built and delivers good optical quality. The 30 mm wide-field eyepieces are also a positive feature. With the current digital SLR and system camera models and our LM digital adapters, the Motic SMZ-171 is very well suited for creating photographic work.
05.11.2014
Fotografía:
Conectar una cámara réflex digital (DSLR), una cámara de sistema o una cámara de montura C resulta muy fácil con los adaptadores LM digital SLR con óptica plan acromática. Con nuestros productos se consiguen microfotografías de una calidad espectacular. Para elegir el adaptador adecuado a su cámara tiene a su disposición nuestro buscador de productos en línea. Igualmente nos puede contactar por e-mail, preferiblemente adjuntando algunas fotos de su microscopio.
Las cámaras réflex digitales y de sistema actuales disponen de la última tecnología y se adecuan generalmente muy bien al uso microscópico. La mayoría de ellas se pueden controlar cómodamente desde el PC/Mac. Gracias a su alto volumen de venta tienen una relación calidad-precio excelente.
Características de las cámaras réflex digitales y de sistema de alta gama:
- sensores de formato completo amplios y potentes (36 x 24 mm)
- resolución del sensor de 50 megapíxeles
- sensibilidad a la luz de más de ISO 100.000
- gran rango dinámico (aprox. 14 pasos)
- tiempos de exposición extremadamente cortos (1/8000 segundos)
- función de vídeo en Ultra HD (4k)
- grabación en vivo de vídeos en calidad Ultra HD en monitores externos
En la mayoría de los casos estas cámaras son considerablemente más eficientes que las cámaras de microscopios con sensores pequeños (1/2" o 2/3"). En nuestra página Web encontrará nuestras recomendaciones actuales de cámara y un ranking de cámaras elaborado especialmente para su uso en microscopía.
| | | | | | |
| --- | --- | --- | --- | --- | --- |
| | Código de pedido | Descripción del producto | Precio | Precio | Disponible |
| | DSLRMOT38 | LM Digital SLR Adapter con óptica refinada integrada, óptica planacromático precisión para para motic phototubos de 38 mm diámetro interior , incluyendo T2 cámara Canon Adaptador de montaje de lentes | | | |
Precio excluye I.V.A
Nuevo adaptador digital LM para:
Nikon D850 / Sony Alpha 7III / Sony Alpha 9 / Nikon D5 / Sony Alpha 7S II / Sony Alpha 7R II / Sony Alpha 7R III / Sony Alpha 7S / Canon EOS 5D Mark IV / Nikon D750 / Canon EOS 6D Mark II / Sony Alpha 6300 / Sony Alpha 6500 / Nikon D500 / Canon EOS 1D X / Nikon D810 / Nikon D4s / Nikon D800 / Nikon D800E / Nikon D4 / Nikon Df / Nikon D610 / Nikon D600 / Canon EOS 6D / Canon EOS 5DS R ( without low-pass filter) / Olympus OM-D E-M1 Mark II / Canon EOS 80D / Canon EOS 5DS / Sony Alpha 77 II / Canon EOS 70D / Nikon D7200 / Canon EOS 200D / Canon EOS 800D / Rebel T7i / Canon EOS 77D / Canon EOS 5D Mark III / Canon EOS 60D / Sony Alpha 7R / Sony Alpha 7 / Nikon DS-Qi2 (Microscope Camera) / Nikon D3x / Olympus OM-D E-M1 / Nikon D3S / Canon EOS 750D / Rebel T6i / Canon EOS 760D / Rebel T6s / Canon EOS 5D Mark II / Nikon D7100 / Pentax K-5 / Canon EOS 1D Mark IV / Nikon D7000 / Canon EOS 7D Mark II / Canon EOS 600D / Rebel T3i /

Enlaces relacionados

--