328
Microscopy and photography with the Motic SMZ-171 microscope and our tried and tested LM digital adapters
We are always on the lookout for favourably priced microscopes that are also suitable for creating high-quality photographic documentation. During our research, we came across the Motic SMZ-171 microscope, which we examined in detail.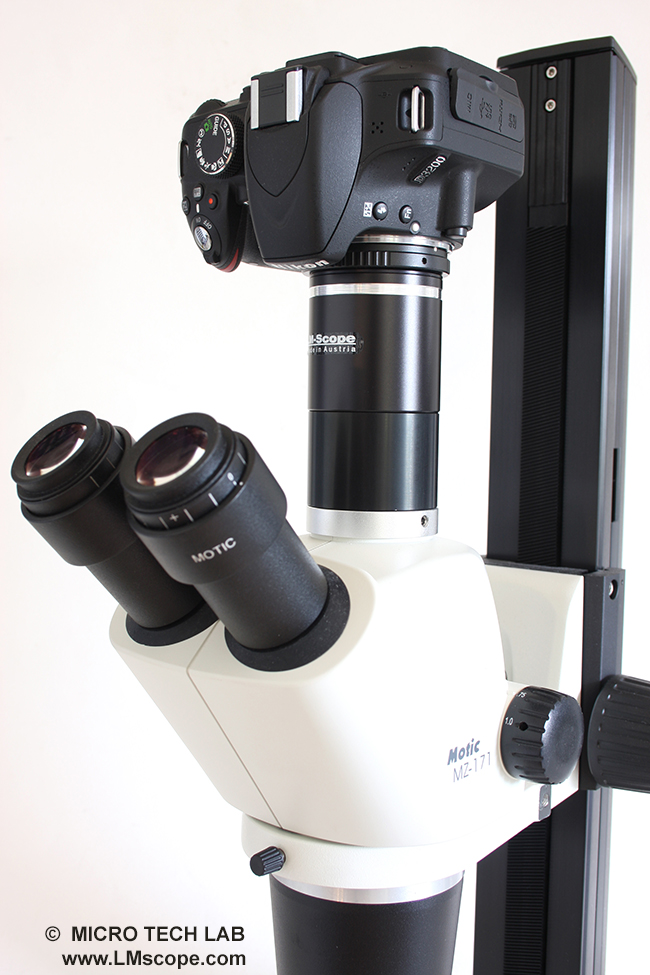 The Motic SMZ-171 is a very well built stereo microscope that features a Greenough optical system. This type of construction conveys a three-dimensional effect for the viewer when looking through the eyepiece, which is achieved when the human brain compiles the information it receives from the two optical paths and the angular offset into a single image. When taking photographs, however, the camera can only use one optical path, and therefore the three-dimensionality cannot be reproduced in the images.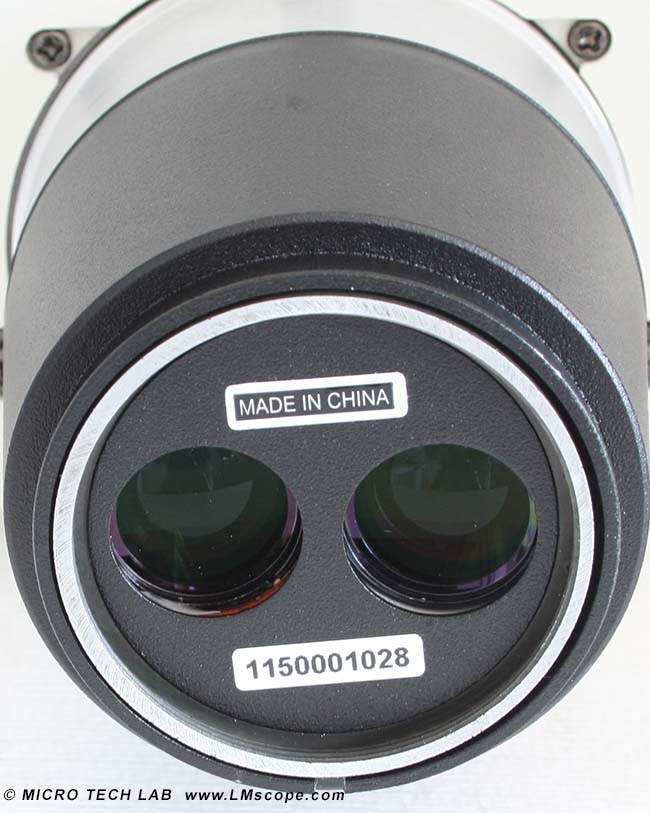 The Motic SMZ-171 covers a magnification range from 7.5x to 50x and is at a comparable level of performance with the Nikon SMZ745 or the Olympus SZ61. The zoom adjustment dial for setting the magnification has a 5-position click-stop mechanism. This enables an infinitely variable zoom with defined positions and facilitates the precise reproduction of magnifications. This mechanism is very convenient, especially for measuring tasks.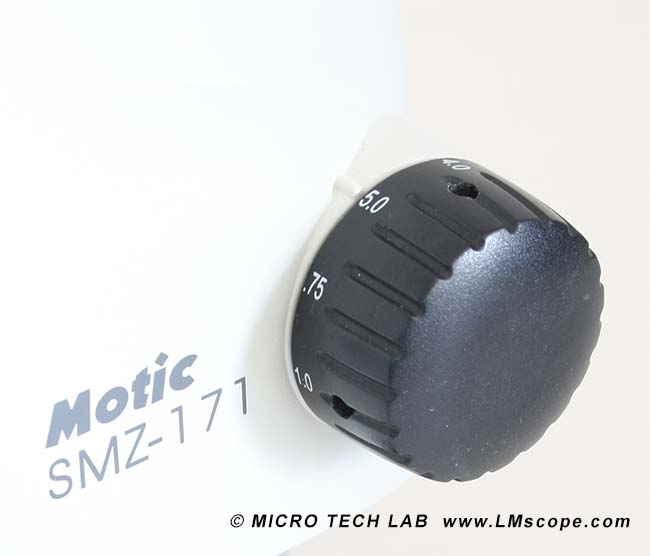 The microscope has wide-field eyepieces (30 mm external diameter) with dioptric correction (10x23 mm/diop. +/- 5°). This standard eyepiece dimension is not a customary feature, especially with instruments in the lower price category. In the entry-level segment, eyepiece dimensions are often very atypical. Because it has standard dimensions, the microscope is also compatible with other brands.
The instrument we tested has a lever for operating the beam splitter. If the microscope is set to photo tube (bottom symbol), the left optical path is diverted to the photo tube.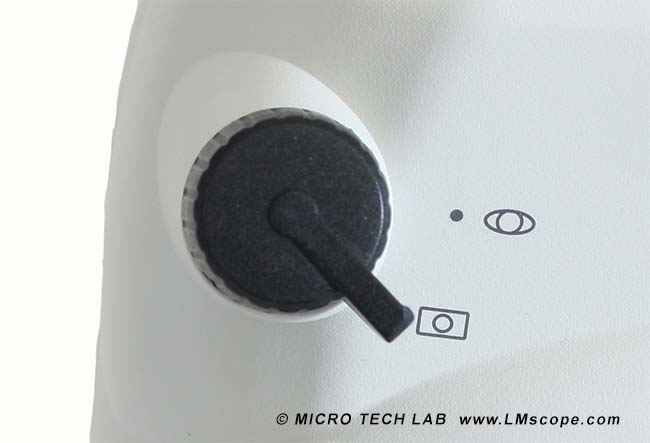 The Motic SMZ-171 offers good optical quality and has a flat image field with hardly visible image flaws in the available magnification range. This is of considerable importance for its use in photomicrography. Many image aberrations only become visible when photography is used.
If you plan to take photographs through the Motic SMZ-171, it is advisable to use a photo tube. Our LM Tuning Adapter with plan achromatic optics is ideal for working with the latest cameras and fits into the photo tube with inner diameter of 38mm.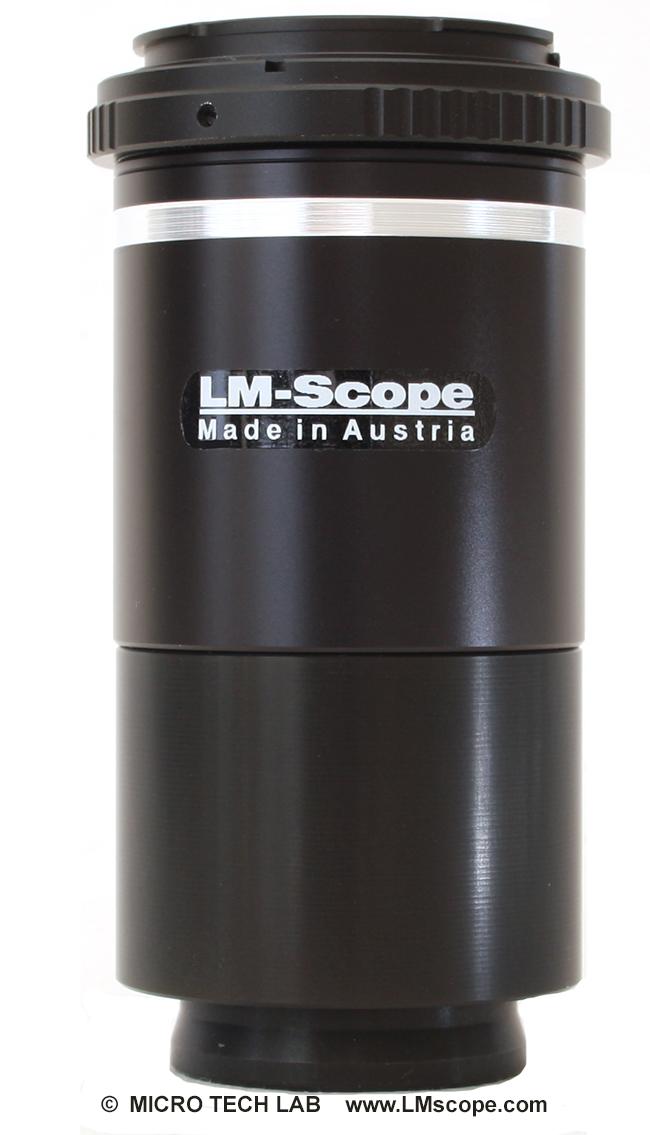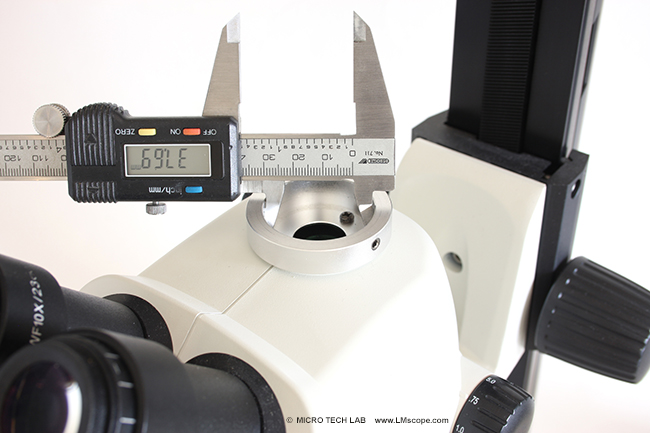 If there is a Motic C-Mount adapter with optical factor 1x, it is also possible to be used, the quality of the photos is not so good. The adapter is the basis for our LM digital adapters: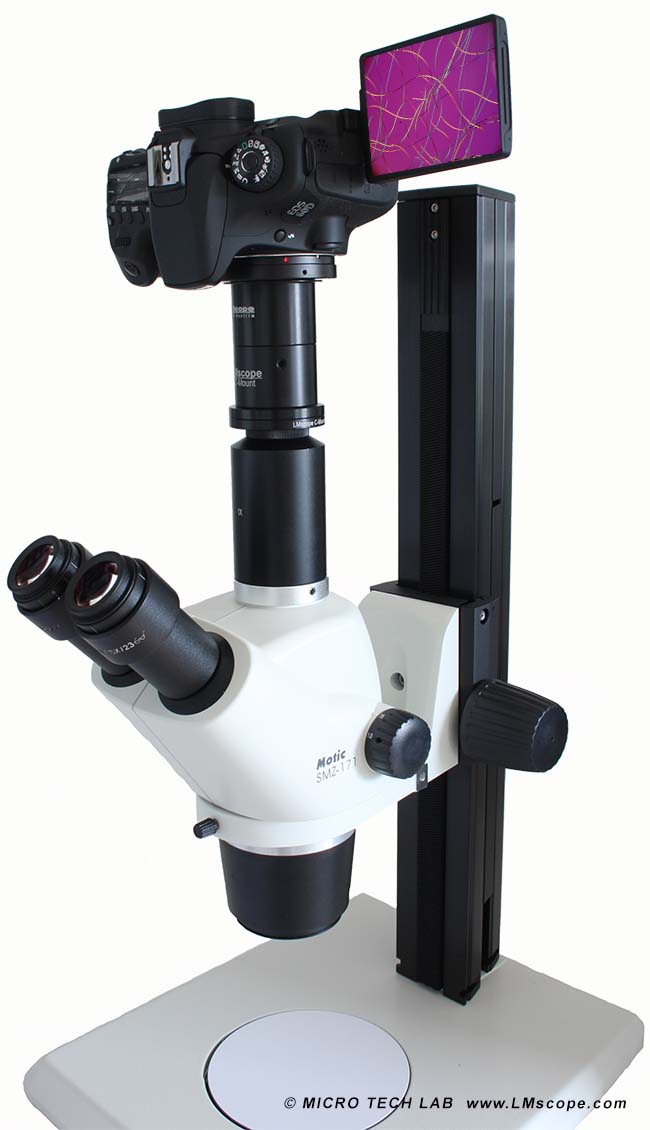 Adapter solution with motic c-mount 1x adapter (on photo port) and our LM digital adapter solution
Example application: vine fretters in action (Motic SMZ171 & Canon EOS 760D)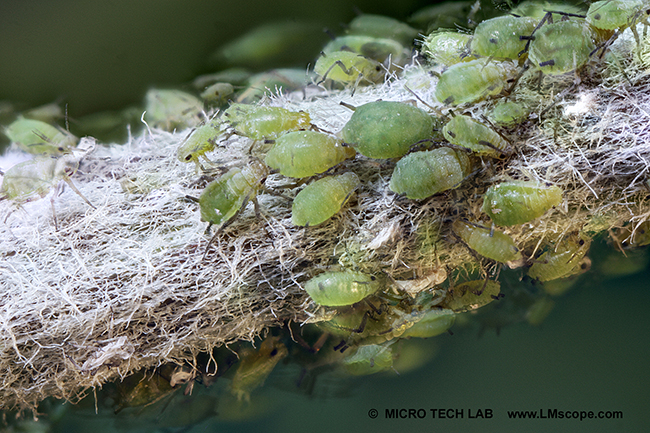 Especially with living specimen it's difficult to acheive high quality photos - also in photomicrography. Focus stacking technology doesn't work optimal, because the creatures moove! Anyway we could make this attractive photo of vine fretters.
If there is no photo tube, we also offer LM digital adapter solutions which are designed for connection via the eyepiece. The optical quality of this option equals that of the photo tube method. Working via photo tube is more ergonomic.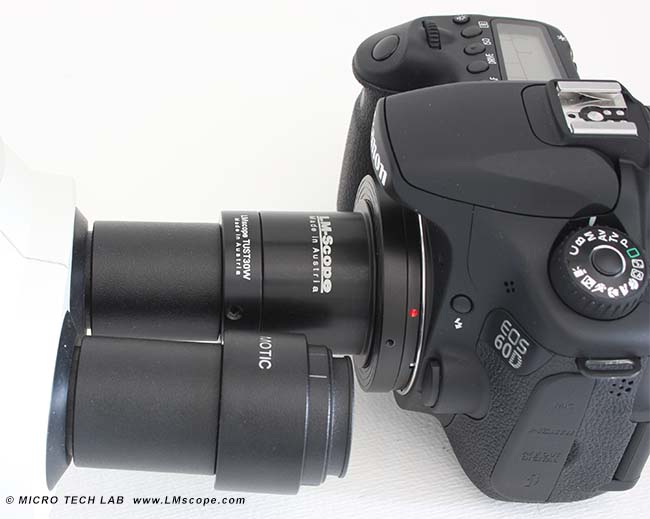 Modern digital SLR and system cameras are very well suited to microscopy applications and offer many advantages in comparison with C-mount cameras specifically designed for microscopy. They come with a multitude of advantages, which are described below. We have put together a guide to help you choose the camera that is best suited for your needs.
Of course, connecting a C-mount camera to the microscope for specialised applications is also a snap with our LM digital adapters.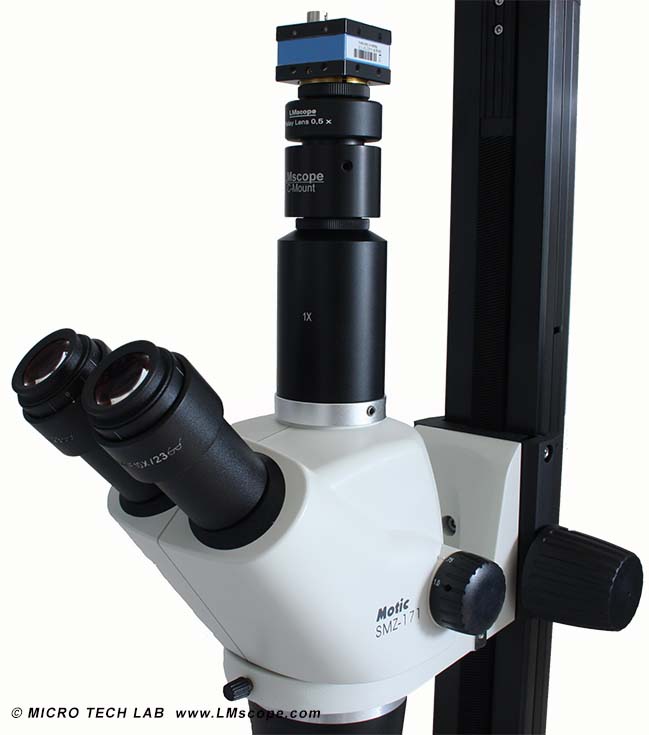 Conclusion:
The Motic SMZ-171 features an excellent price/performance ratio (price currently approx. € 1,000). It is very well built and delivers good optical quality. The 30 mm wide-field eyepieces are also a positive feature. With the current digital SLR and system camera models and our LM digital adapters, the Motic SMZ-171 is very well suited for creating photographic work.
Photographie :
Les appareils photo réflex numériques (DSLR), hybrides ou à monture C (C-Mount) peuvent être connectés très facilement aux adaptateurs LM numériques SLR dotés d´une optique planacromatique. Avec nos produits, vous réussirez à faire des photos d´une qualité étonnante au microscope. Pour choisir la solution d'adaptateur la plus appropriée à vos besoins, vous pouvez utiliser notre configurateur en ligne ou nous contacter par courriel (en nous envoyant une photo de votre instrument).

Les appareils photo réflex numériques à miroir et les hybrides disposent de la technologie la plus avancée et conviennent très bien aux applications de microscopie. La plupart d´entre eux peuvent être contrôlés depuis le PC / Mac facilement. En raison du nombre elevé d´unités vendues, ils offrent un excellent rapport qualité-prix.

Caractéristiques des appareils numériques réflex et hybrides haut de gamme :
- capteurs plein format grands et puissants (36 x 24 mm)
- définition de 50 mégapixels
- haute sensibilité ISO (100.000+)
- grande gamme dynamique (à peu près 14 valeurs d´ouverture)
- temps d´exposition courts (1/8000 secondes)
- fonction vidéo Ultra HD (4k)
- enregistrement vidéo en visée directe de qualité Ultra HD sur des moniteurs externes

Dans la plupart des cas, ces appareils photo sont nettement plus performants que des appareils photo de microscope avec des capteurs plus petits (1/2" ou 2/3"). Vous trouverez également sur notre site Internet nos recommandations actuelles et un classement des appareils photo élaboré spécifiquement pour la microscopie.

Code de commande

Déscription du produit

Prix

Disponible




DSLRMOT38

L'adaptateur LM numérique à revêtement, optique de précision planachromatique, pour phototubes motic de 38mm de diamètre intérieur, incl. caméra baïonette



instruction d´emploi

Prix de vente: TVA non compris
Adaptateurs numèriques LM pour:
Sony Alpha 9 II (ILCE-9M2) / Sony Alpha 9 / Nikon D6 / Sony Alpha 7R IV / Sony Alpha 7S II / Sony Alpha 7R III / Nikon Z6 with F-Mount Adapter FTZ / Sony Alpha 7R II / Nikon Z7 with F-Mount Adapter FTZ / Canon EOS R with Canon Adapter EF-EOS R / Canon EOS Ra (Astro) with Canon Adapter EF-EOS R / Canon EOS RP with Canon Adapter EF-EOS R / Sony Alpha 7S / Canon EOS 1D X Mark III / Nikon Z50 with F-Mount Adapter FTZ / Nikon D850 / Canon EOS 1D X Mark II / Nikon D780 / Sony Alpha 7III / Nikon D5 / Sony Alpha 6600 / Sony Alpha 6400 / Sony Alpha 6100 / Canon EOS 1D X / Nikon D4s / Olympus OM-D E-M5 III / Canon EOS 90D / Canon EOS 5D Mark IV / Nikon D4 / Nikon D750 / Canon EOS 6D Mark II / Sony Alpha 6300 / Sony Alpha 6500 / Nikon D500 / Nikon D810 / Nikon D800 / Nikon D800E / Nikon Df / Panasonic Lumix DC-G9 / Nikon D610 / Nikon D600 / Canon EOS 250D / Canon EOS 6D / Sony Alpha 99 II (SLT-A99 II) / Canon EOS M200 / Canon EOS 5DS R ( without low-pass filter) / Olympus OM-D E-M1 Mark II / Canon EOS 80D / Canon EOS 5DS / Canon EOS M50 / Sony Alpha 77 II /