489
The crowning discipline in professional photography: macro jewellery and gemstone photography
Whether you are looking to analyse pieces of jewellery and gemstones, show them off to a wider public, offer them for sale in online shops or present them in an artistic manner – our LM macroscope reveals even the smallest details and brings precious gems into focus with style.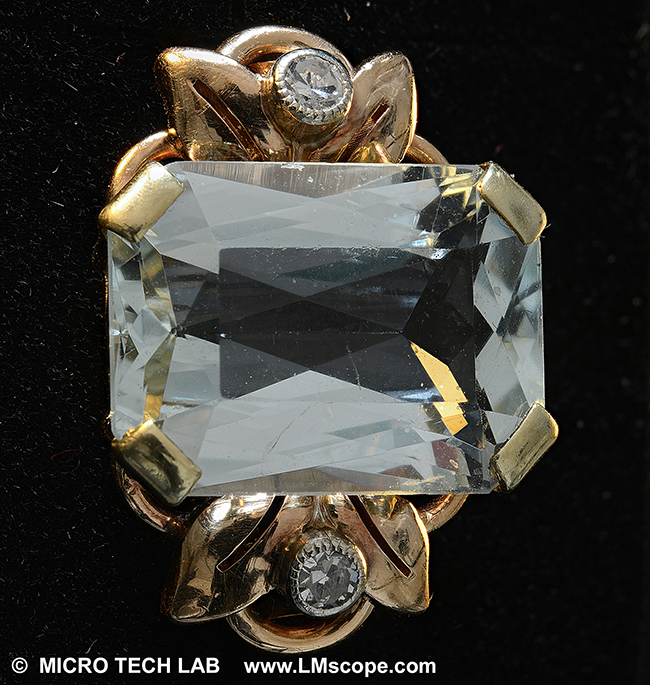 Taking macro shots of jewellery is a very demanding task for photographers since they must have experience in a wide variety of fields to achieve the best possible effect for each individual piece. Especially at higher magnifications (reproduction scale 1:1 and up), the very tiniest details of the item – and its flaws too – become visible. In addition to specialised technical equipment, design skills and creativity are also called for. Only the combination of technical and design possibilities, the optimum viewing angle and the ideal illumination (diffuse lighting, playing with colours) will produce the right result. Particularly in the case of product photography for online shops, the goal is to rouse viewers' interest and make them want to own the item they are looking at.
In our sample application, state-of-the-art camera technology is used to depict small pieces of jewellery in an especially appealing and stylish way. We took a closer look at two pieces of jewellery using our LM macroscope: a gold brooch decorated with gemstones and a ring. To capture the images, we used the LM macroscope with a stand, a StackShot rail, the Helicon Remote software and a Nikon D800 DSLR camera.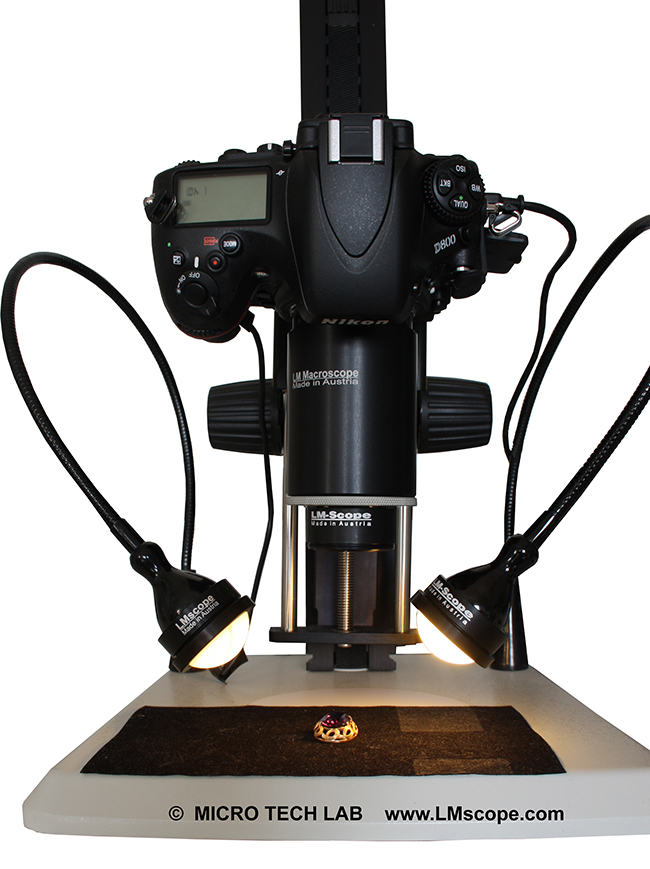 The image above shows the setup: the macroscope is equipped with two gooseneck LED lamps which provide flexible lighting. The LM macroscope has been specifically developed for high-quality photography with DSLR and system cameras up to a microscopic magnification of around 30x.
Achieving the greatest possible resolution capability and maximum optical quality is a key aspect of the macroscope's lens design. We recommend using the focus stacking technique to obtain greater depth of field: multiple images are taken at different focus distances and then merged, using a simple software program (Helicon Remote), to create one perfect composite image. This makes it possible to achieve extended depth of field and superb image sharpness simultaneously. To automate the process of taking a sequence of images, the LM macroscope can be equipped very simply and easily with a motorised focus rail (such as the StackShot rail). With a focus rail, large image stacks (z-stacks) containing around 100 individual images can be created with the same step size. For our area of use, we recommend the shorter version of the focus rail.
For our first sample image, we photographed a gold brooch decorated with gemstones at 20x microscope magnification. The piece as a whole is approx. 20 mm long. We photographed the transition from the gold clasp to the gem. A very demanding specimen, but really lovely!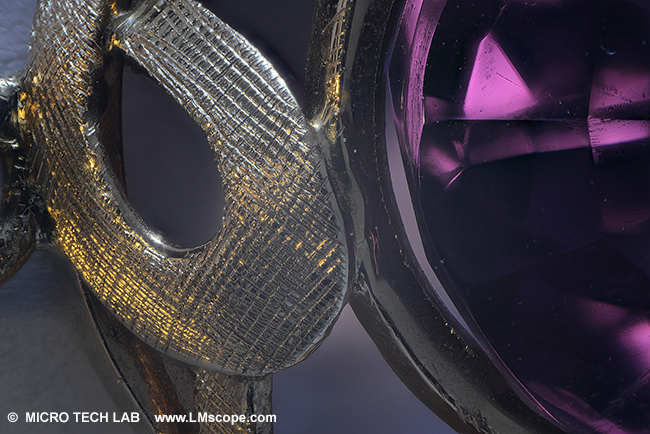 Of course, the question as to which jewellery materials are best suited for photography is very important. The answer is: pretty much any material – be it rose gold, white gold or conventional gold, Sterling silver, matte or pure silver, diamonds, pieces of jewellery set with precious gems or stainless steel (which is often used with watches) – will produce a high-quality image. When it comes to jewellery photography, there are no limits to your creativity!
The macroscope stand also offers the option to tilt the optical axis. This enables the photographer to choose different viewing angles when using automated image capture. When photographing reflective metal surfaces and transparent or semi-transparent gemstones, this added benefit of allowing creative freedom is of great importance. Only the skilled illumination of the image field really brings out the true beauty of each piece.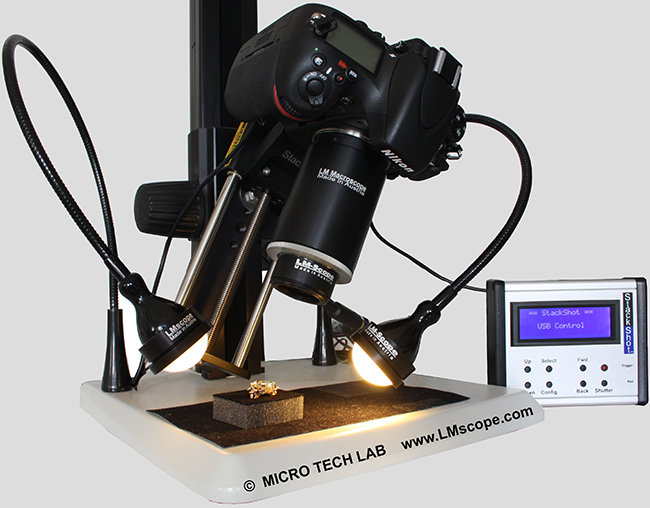 Below are a couple more photos of our jewellery pieces under the LM macroscope: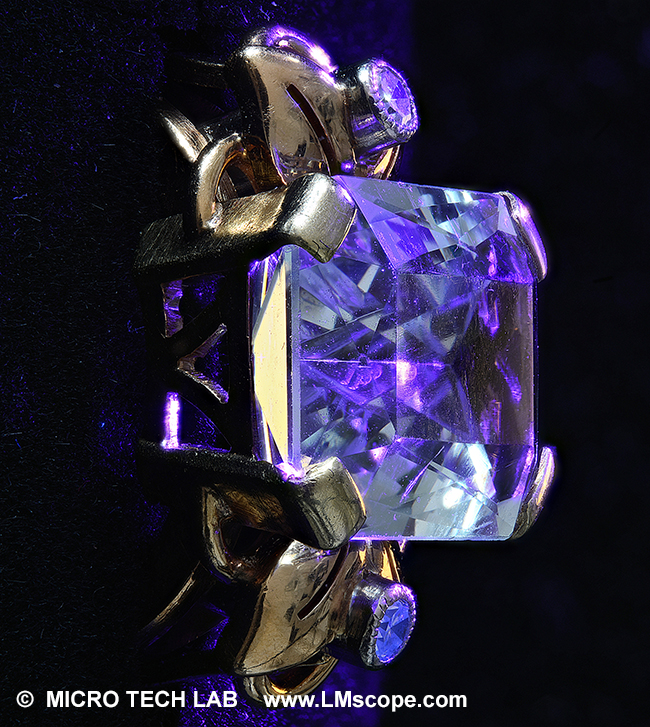 Here you can see the same ring as shown at the beginning of this article, only with different lighting. We used the LM macroscope again.
The higher magnification of the LM macroscope also makes the small flaws in a piece of jewellery more visible. What's more, jewellery sparkles and shines, and although the right lustre is desirable, the photographer should take care to avoid reflections of the camera lens showing up in the image.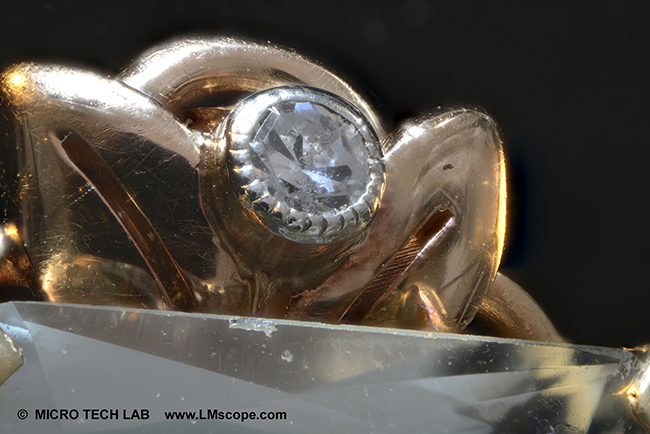 We used the following equipment for our macro jewellery shots:
Full-frame DSLR or mirrorless system camera

LM macroscope

Motorised StackShot rail

Helicon software (Focus and Remote)
New LM Digital Adapter for:
Nikon Z9 / Sony Alpha 7R V / Sony Alpha 1 / Sony FX3 Cinema Line / Sony Alpha 9 II (ILCE-9M2) / Sony Alpha 9 / Nikon D6 / Canon EOS R3 / Canon EOS R6 Mark II / Sony Alpha 7R IV / Canon EOS R5 / Sony Alpha 7S II / Sony Alpha 7S III / Sony Alpha 7R III / Canon EOS R6 / Nikon Z6 / Nikon Z6II / Sony Alpha 7R II / Nikon Z7 / Nikon Z7II / Canon EOS R / Canon EOS Ra (Astro) / Nikon Z5 / Sony Alpha 7C / Canon EOS RP / Sony Alpha 7S / Canon EOS R7 / Leica SL2-S / Canon EOS R10 / Canon EOS 1D X Mark III / Nikon Z50 / Nikon Z30 / Nikon Z fc / Nikon D850 / Canon EOS 1D X Mark II / Nikon D780 / Olympus OM-1 / Sony Alpha 7III / Olympus OM-D E-M1 Mark III / Nikon D5 / Sony Alpha 6600 / Fujifilm X-H2S / Fujifilm X-S10 / Fujifilm X-E4 / Fujifilm X-Pro3 / Olympus OM-D E-M1X / Sony Alpha 6400 / Sony Alpha 6100 / Sony ZV-E10 / Canon EOS 1D X / Nikon D4s / Olympus OM-D E-M5 III / Canon EOS 90D / Canon EOS 5D Mark IV / Nikon D4 / Nikon D750 / Canon EOS 6D Mark II / Fujifilm X-T4 / Fujifilm X-T3 / Sony Alpha 6300 / Sony Alpha 6500 / Nikon D500 / Nikon D810 / Nikon D800 / Canon EOS M6 Mark II / Nikon D800E / Nikon Df / Panasonic Lumix DC-G9 / Nikon D610 / Nikon D600 / Canon EOS 250D /