510
Photographing biological specimens with the LM macroscope and a DSLR/DSLM camera – an application example
Turn your DSLR or DSLM camera into a microscope and use focus stacking to maximise depth of field at the macroscopic level.
The imaging sensors in modern cameras deliver high-resolution performance and an extensive dynamic range. A quality optical system that is specifically designed to meet the requirements of macroscope photography is needed to utilise the full potential of these cameras. The normal stereo microscopes that are commonly used for this low power magnification range do not produce the desired results when it comes to image capturing at the macroscopic level. This is where the LM macroscope comes in: it has been specially developed for use with modern interchangeable lens mount digital cameras.
To maximise our depth of field, we use focus stacking: a digital image processing technique that combines multiple images (up to 100 individual frames) into a "stack" of images. Once the stack is completed, it is processed with a special software tool. The result is one composite image that is sharply focused from the foreground all the way to the background.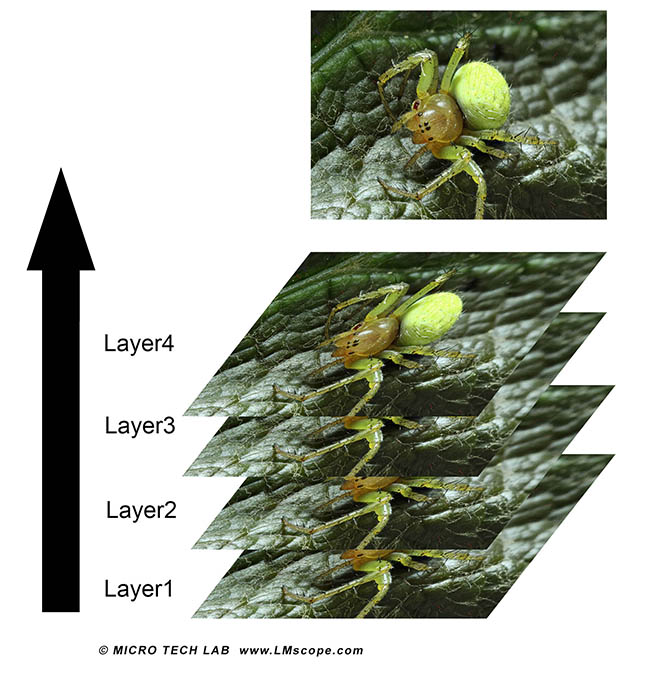 The following images show a sunflower photographed at different powers of magnification:
The common sunflower (helianthus annuus) belongs to the aster family (asteraceae). It is a large annual forb that reaches typical heights of 1 to 3 metres and in rare cases can grow even taller. Its nodding heads are 10 to 40 centimetres in diameter. The photo below shows an image section of 60 mm x 40 mm: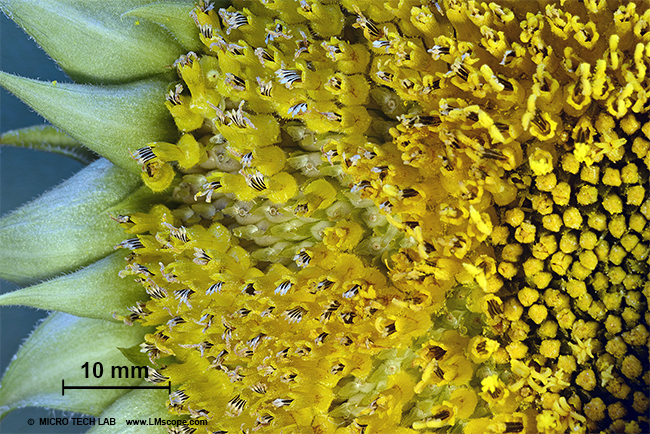 The sunflower head is actually composed of up to 15,000 individual flowers joined together. Image section: 35 mm x 23 mm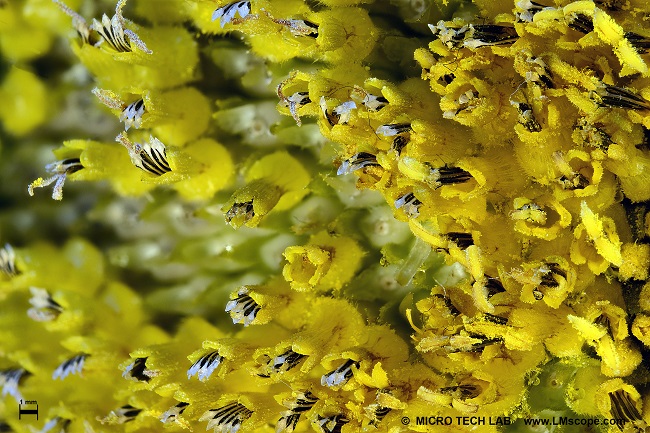 Image in high resolution
The next photo shows an excellent close-up view of the pollen grains. Image section: 6.3 mm x 4.2 mm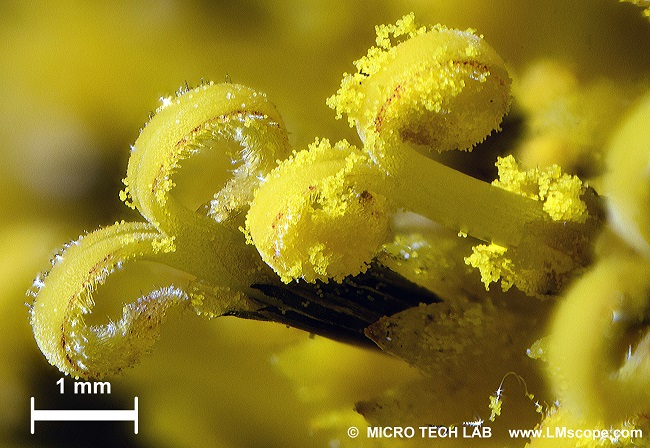 Image in high resolution
Prior to domestication, wild sunflowers were spread throughout the North and Central American continents. They were introduced to Europe in the 16th century. The sunflower plant offers additional benefits besides beauty: its seeds are popular as snacks with humans and animals alike, and are also a good source of oil. In many countries, especially in Asia, sunflower sprouts are eaten like vegetables. The photo below shows an image section of 10 mm x 6.6 mm.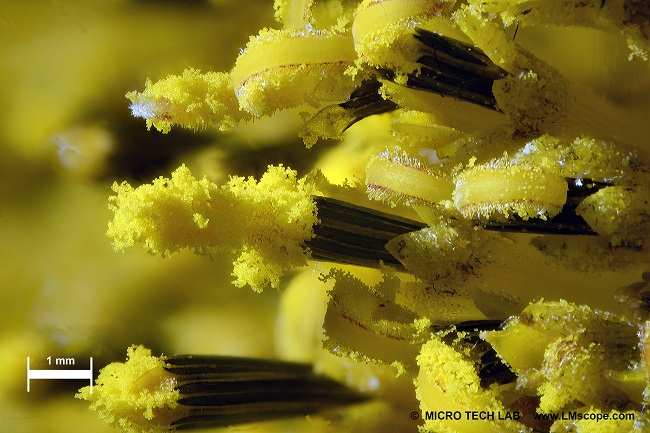 Image in high resolution
Particularly interesting photos can be created if the object is illuminated with UV light: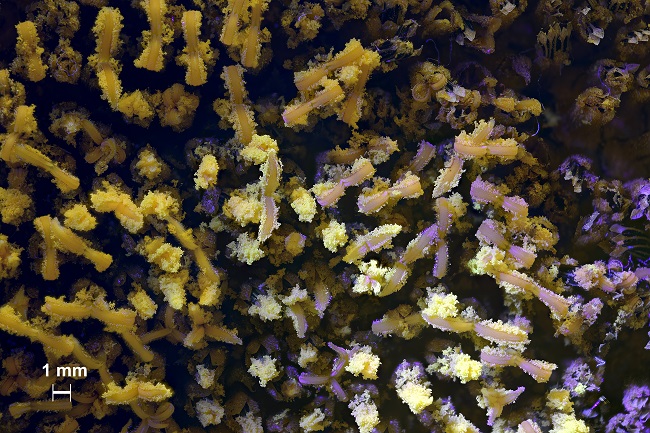 Image in high resolution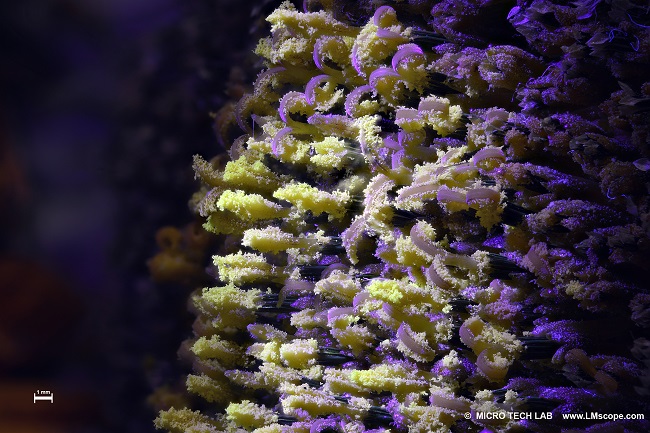 Image in high resolution
As already mentioned, we used focus stacking to get these images. Focus stacks can be created by turning the micrometer screw and repeatedly triggering the shutter, but a much more elegant and less complicated solution is to use a motorised focusing rail. The LM macroscope is factory-ready for installation of a motorised focusing rail.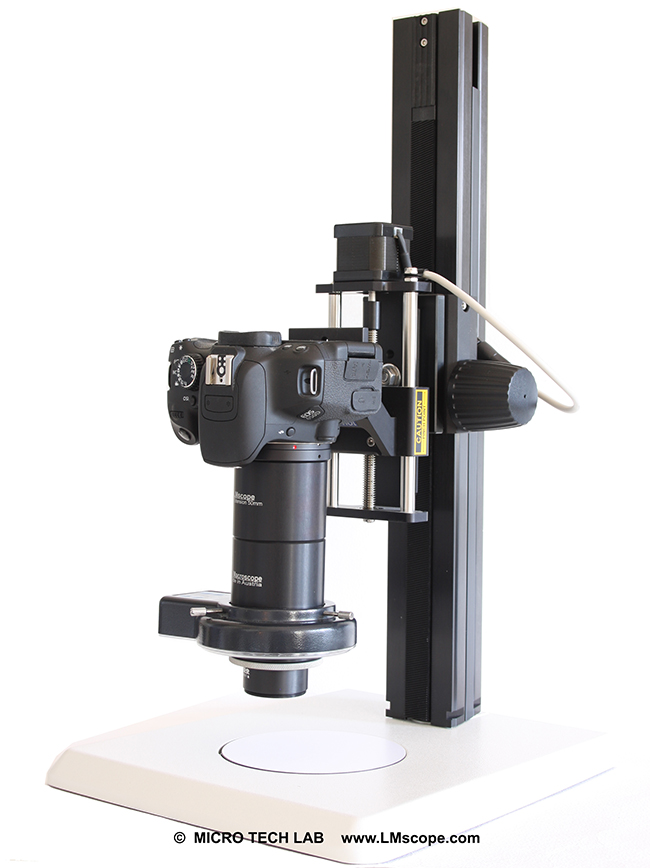 StackShot, developed by a US company, is a high-quality macro rail system available at a very attractive price (around € 550). Attaching the StackShot motorised focusing rail to the LM macroscope is simple and can be accomplished in a few easy steps. We recommend the Helicon software for controlling the image capturing process: it renders excellent results, is easy to use and works great in combination with the StackShot focusing rail.
New LM Digital Adapter for:
Nikon Z9 / Nikon Z8 / Sony Alpha 7R V / Sony Alpha 1 / Sony FX3 Cinema Line / Sony Alpha 9 II (ILCE-9M2) / Sony Alpha 9 / Nikon D6 / Canon EOS R3 / Canon EOS R6 Mark II / Canon EOS R8 / Sony Alpha 7R IV / Canon EOS R5 / Sony Alpha 7S II / Sony Alpha 7S III / Sony Alpha 7R III / Canon EOS R6 / Nikon Z6 / Nikon Z6II / Sony Alpha 7R II / Nikon Z7 / Nikon Z7II / Canon EOS R / Canon EOS Ra (Astro) / Nikon Z5 / Sony Alpha 7C / Canon EOS RP / Sony Alpha 7S / Canon EOS R7 / Leica SL2-S / Canon EOS R10 / Canon EOS 1D X Mark III / Nikon Z50 / Nikon Z30 / Nikon Z fc / Nikon D850 / Canon EOS 1D X Mark II / Nikon D780 / Olympus OM-1 / Sony Alpha 7III / Olympus OM-D E-M1 Mark III / Canon EOS R100 / Sony Alpha 6700 / Nikon D5 / Sony Alpha 6600 / Fujifilm X-H2S / Fujifilm X-S10 / Fujifilm X-E4 / Fujifilm X-Pro3 / Olympus OM-D E-M1X / Sony Alpha 6400 /