536
A closer look at macro photography featuring a cornflower: using the LM macroscope with up to 24x microscope magnification to capture stunning nature photos with outstanding resolution and contrast.
Knapweed (Centaurea) is a large genus of about 500 species of annuals, biennials, perennials, and subshrubs in the aster family (asteraceae). It is native to Europe, the Mediterranean region and the Near East. The best-known form is probably the cornflower, which is typically found in fields and meadows.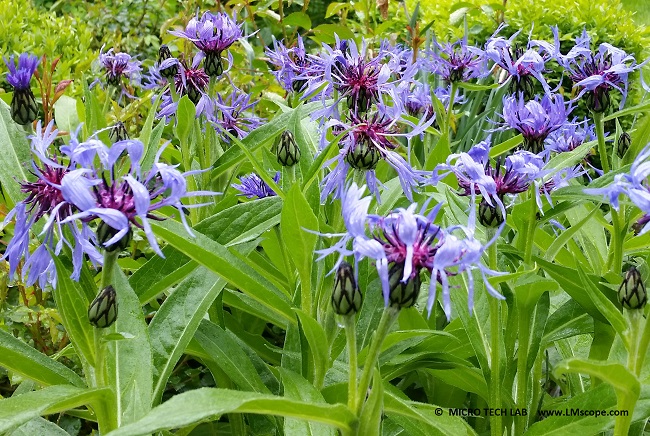 The mountain cornflower (Centaurea montana) shown in the photo above begins to bloom as early as May, even if the weather is still cool and changeable. It reaches heights of growth from 20 to 50 centimetres and usually has a single crown stem.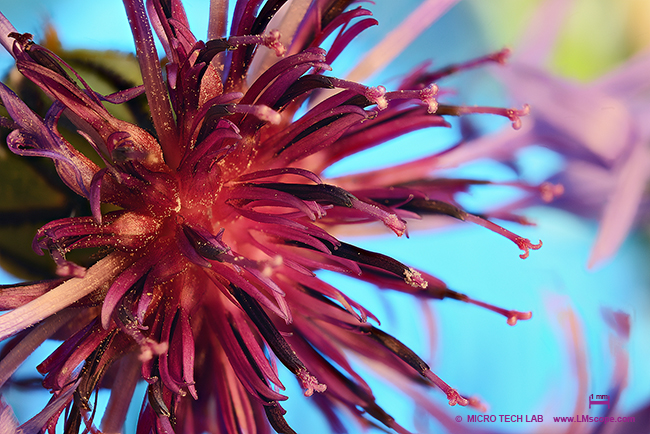 <High resolution image>
The photo above shows a cornflower at 6x microscope magnification; it was taken with our LM macroscope and a full-frame camera. Compared to conventional stereomicroscopes, our LM macroscope, which has been specially developed for photography, can produce much better image quality. Stereomicroscopes have two separate optical paths which transfer the image from the eyepieces to the objective lens, thereby creating a focused and high-contrast image. However, looking through only one optical path (as is the case in photography, where the camera is attached to one ocular) results in a much poorer image quality. Our LM macroscopes have a parallax-free, central optical path (which eliminates the problem outlined above) and are equipped with high-quality plan achromatic precision optics – they can thus create image quality that no conventional stereomicroscope can match. Thanks to their modular construction, they are extremely flexible and enable a multitude of magnification combinations, depending on which configuration of tube elements is used.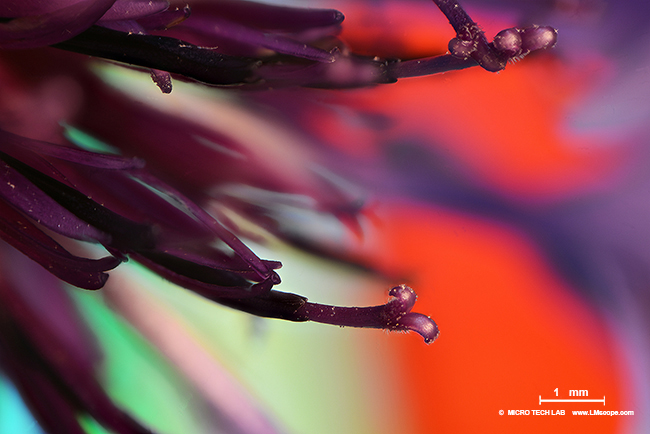 <High resolution image>
This photo shows an image section of our cornflower at about 20x microscope magnification. We used focus stacking – a digital image processing technique that combines multiple images (up to 100 individual frames) into a "stack" of images – to obtain the ideal depth of field.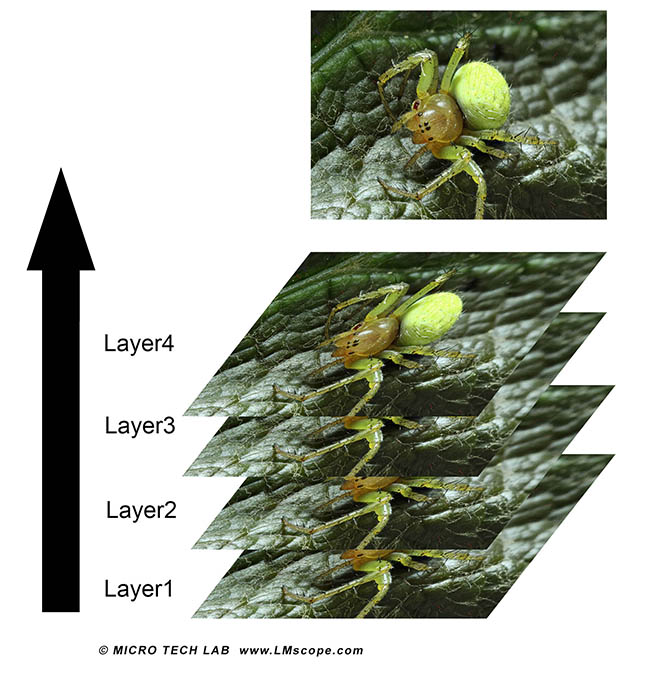 The focus stacks can be created by turning the micrometer screw and repeatedly triggering the shutter, but a much more elegant and less complicated solution is to use a motorised focusing rail and a compatible stacking software.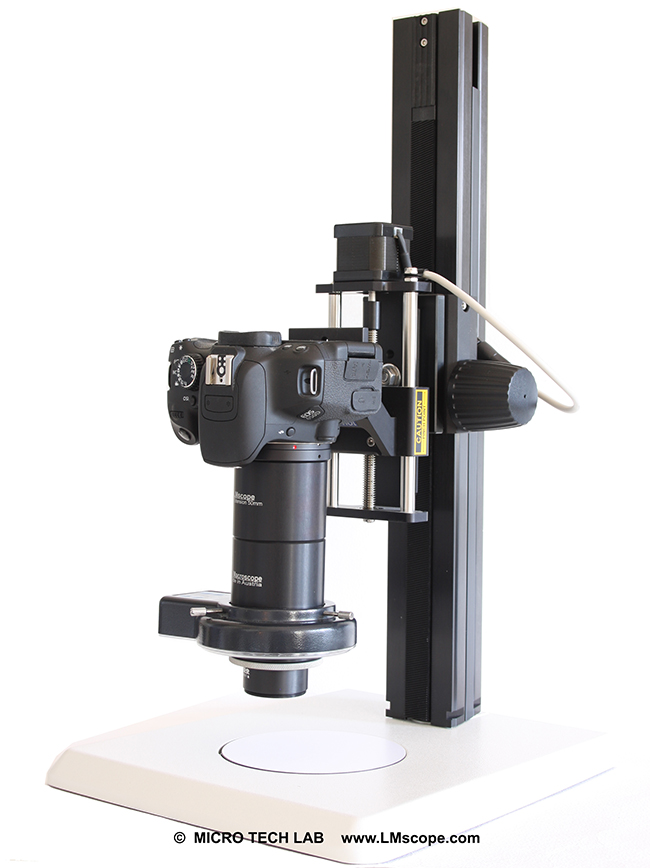 After the stack is captured, the software is used to blend the captures into a single image. We recommend the StackShot focusing rail in combination with the Helicon software. The LM macroscope is factory-ready for installation of a motorised focusing rail. The result is one composite image that is sharply focused from the foreground all the way to the background.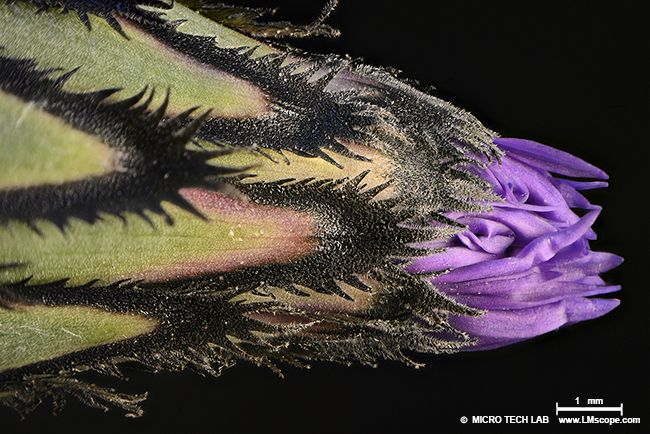 <High resolution image>
This photo also shows a cornflower, but in a different (budding) stage, at about 20x microscope magnification. An important prerequisite for focus stacking is to use a sturdy, stable stand that can withstand possible vibrations. We recommend one of our LM macro stands for this.
New LM Digital Adapter for:
Nikon Z9 / Nikon Z8 / Sony Alpha 7R V / Sony Alpha 1 / Sony FX3 Cinema Line / Sony Alpha 9 II (ILCE-9M2) / Sony Alpha 9 / Nikon D6 / Canon EOS R3 / Canon EOS R6 Mark II / Canon EOS R8 / Sony Alpha 7R IV / Canon EOS R5 / Sony Alpha 7S II / Sony Alpha 7S III / Sony Alpha 7R III / Canon EOS R6 / Nikon Z6 / Nikon Z6II / Sony Alpha 7R II / Nikon Z7 / Nikon Z7II / Canon EOS R / Canon EOS Ra (Astro) / Nikon Z5 / Sony Alpha 7C / Canon EOS RP / Sony Alpha 7S / Canon EOS R7 / Leica SL2-S / Canon EOS R10 / Canon EOS 1D X Mark III / Nikon Z50 / Nikon Z30 / Nikon Z fc / Nikon D850 / Canon EOS 1D X Mark II / Nikon D780 / Olympus OM-1 / Sony Alpha 7III / Olympus OM-D E-M1 Mark III / Canon EOS R100 / Sony Alpha 6700 / Nikon D5 / Sony Alpha 6600 / Fujifilm X-H2S / Fujifilm X-S10 / Fujifilm X-E4 / Fujifilm X-Pro3 / Olympus OM-D E-M1X / Sony Alpha 6400 /