509
Extreme macro photography: Sample application for biological specimens using the LM macroscope and a DSLR/DSLM camera
The LM macroscope has been specially developed for use with modern interchangeable lens mount digital cameras. The imaging sensors in these cameras deliver high-resolution performance and an extensive dynamic range. A quality optical system that is specifically designed to meet the requirements of this type of application is needed to utilise the full potential of these cameras. Usually, normal stereo microscopes are used for this magnification range. However, they do not produce the desired results when it comes to image capturing. LM macroscopes, by contrast, deliver superb image quality and depth of field, and are easy to use.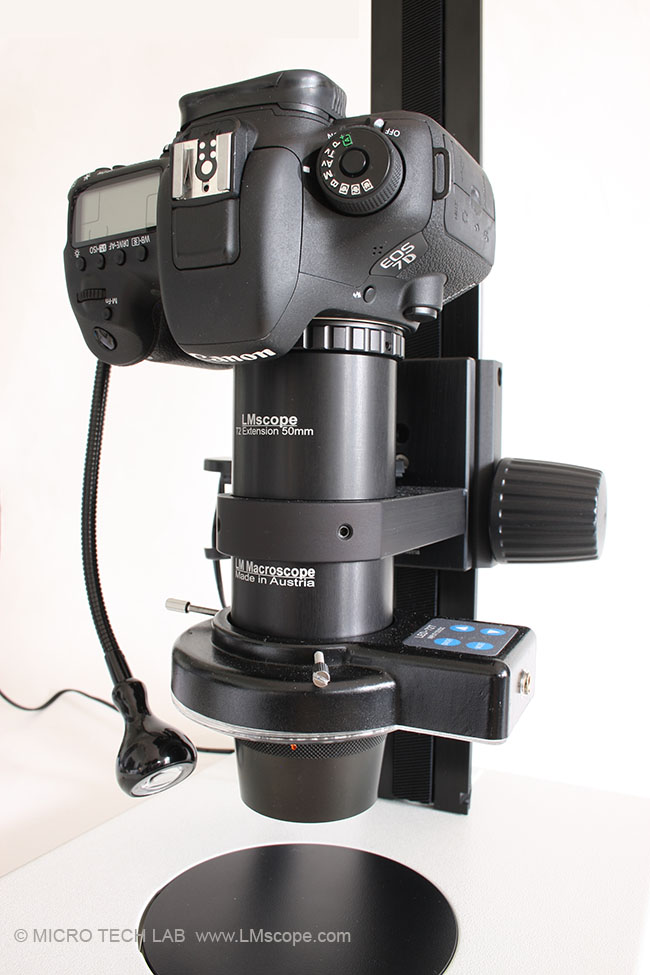 The following images show a chestnut photographed at different powers of magnification:
1.) Chestnut on the tree
The sweet chestnut is a deciduous tree of the beech family that produces starchy edible nuts. It was voted tree of the year 2018.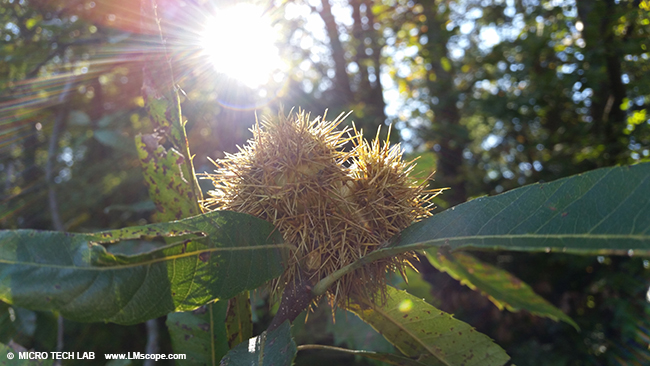 2.) General view of a chestnut, 60mm x 40mm FOV
The edible fruits of the tree are broadly referred to by the generic term 'chestnuts'. Another name for chestnuts is 'marrons' – 'Maroni' in Austria – although they are actually only a subspecies of the sweet chestnut. The burrs are green while growing and then change to a yellow-brown colour (as shown in the image) when ripe.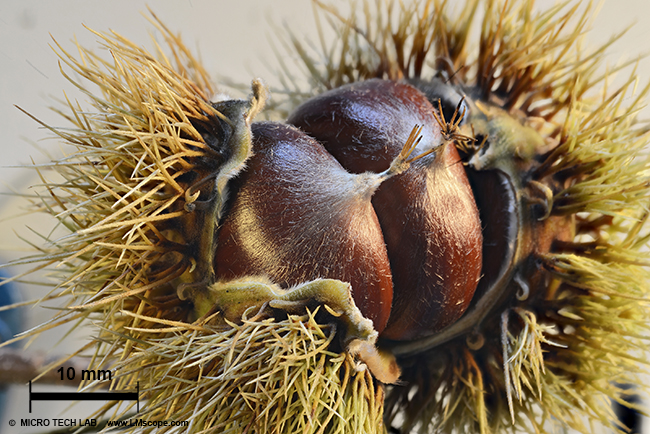 For a high-resolution image, click here
3.) Detailed view of a chestnut, 35mm x 23mm FOV
The chestnut has three nuts in a bur, covered with a shiny, dark brown hull. As opposed to horse chestnuts – which are not related to the actual edible chestnut – sweet chestnuts have a pointed end with a small tuft of hairs and an attachment scar on the other side.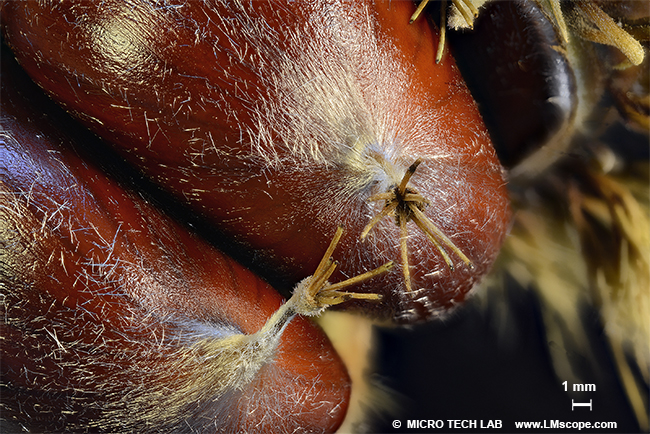 For a high resolution image, click here
4.) Detailed view of a chestnut, 35mm x 23mm FOV
Chestnuts are rich in carbohydrates, starch and sucrose.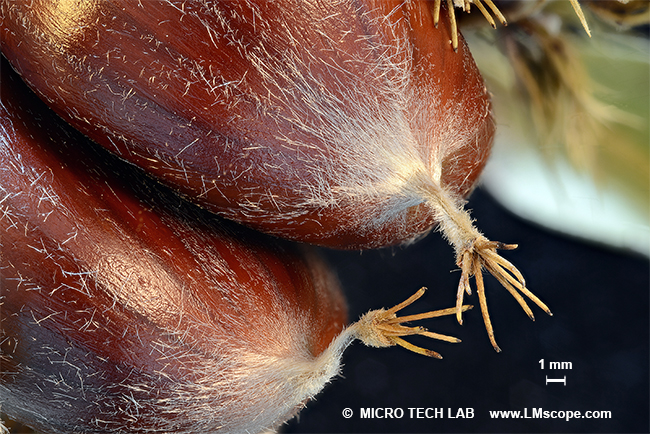 For a high resolution image, click here
5.) Detailed view of a chestnut, 10mm x 6.6mm
Another image of the hairy tip at a higher magnification. The radicle (primary root) is located near the tip of the chestnut kernel.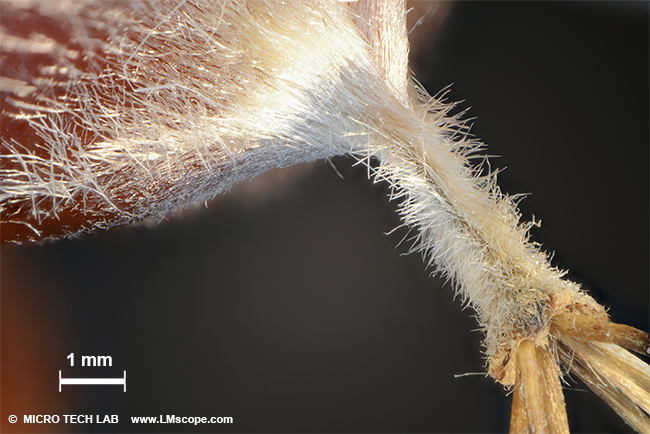 For a high resolution image, click here
LM macroscopes have been developed for sophisticated imaging techniques. We recommend focus stacking to create images with maximum depth of field: multiple images are taken at different focus distances and combined into a stack, which is then processed with a special software tool. The result is one composite image that is sharply focused from front to back.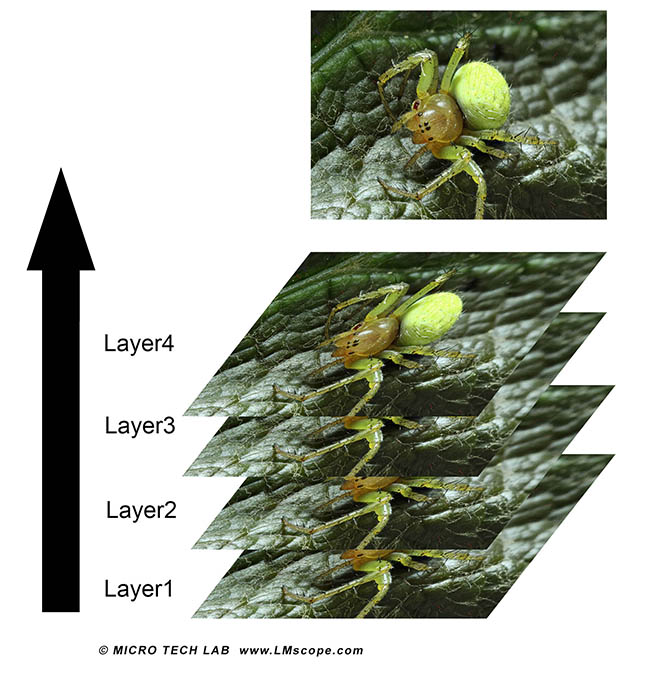 The image stacks can be created by turning the micrometer screw and repeatedly triggering the shutter. A much more elegant and less complicated solution for creating a focus stack is to use a motorised focusing rail. The LM macroscope is factory-ready for installation of a motorised focusing rail.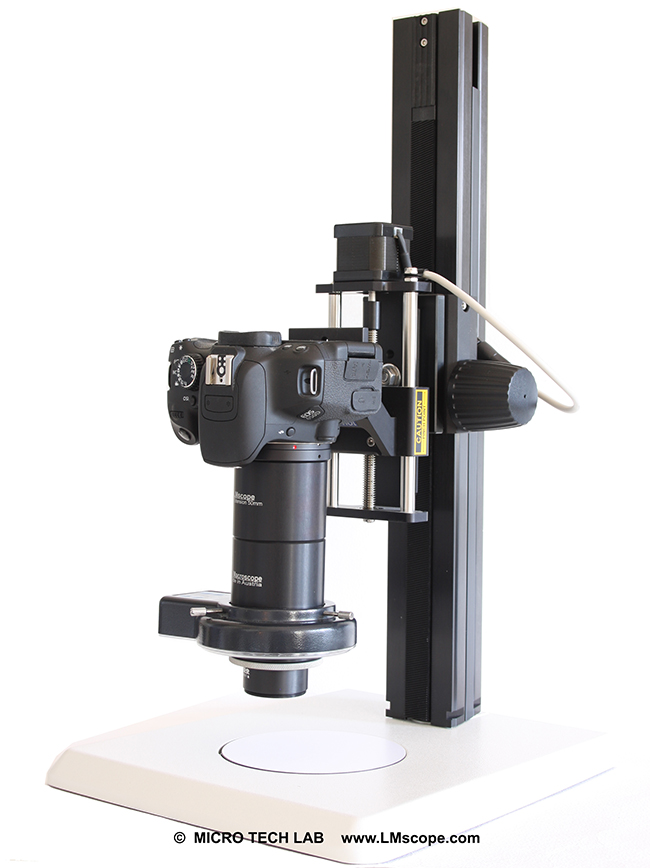 StackShot, developed by a US company, is a high-quality macro rail system available at a very attractive price (around € 550). Attaching the StackShot motorised focusing rail to the LM macroscope is simple and can be accomplished in a few easy steps. We recommend the Helicon software for controlling the image capturing process: it renders excellent results, is easy to use and works great in combination with the StackShot focusing rail.
New LM Digital Adapter for:
Nikon Z9 / Sony Alpha 1 / Sony FX3 Cinema Line / Sony Alpha 9 II (ILCE-9M2) / Sony Alpha 9 / Nikon D6 / Sony Alpha 7R IV / Canon EOS R5 / Sony Alpha 7S II / Sony Alpha 7R III / Canon EOS R6 / Nikon Z6 / Nikon Z6II / Sony Alpha 7R II / Nikon Z7 / Nikon Z7II / Canon EOS R / Canon EOS Ra (Astro) / Nikon Z5 / Sony Alpha 7C / Canon EOS RP / Sony Alpha 7S / Canon EOS 1D X Mark III / Nikon Z50 / Nikon D850 / Canon EOS 1D X Mark II / Nikon D780 / Sony Alpha 7III / Nikon D5 / Sony Alpha 6600 / Sony Alpha 6400 / Sony Alpha 6100 / Sony ZV-E10 / Canon EOS 1D X / Nikon D4s / Olympus OM-D E-M5 III / Canon EOS 90D / Canon EOS 5D Mark IV / Nikon D4 / Nikon D750 / Canon EOS 6D Mark II / Fujifilm X-T4 / Fujifilm X-T3 / Sony Alpha 6300 / Sony Alpha 6500 / Nikon D500 / Nikon D810 / Nikon D800 / Canon EOS M6 Mark II / Nikon D800E / Nikon Df / Panasonic Lumix DC-G9 / Nikon D610 / Nikon D600 / Canon EOS 250D / Canon EOS 850D / Rebel T8i / Canon EOS 6D / Sony Alpha 99 II (SLT-A99 II) / Canon EOS M200 / Canon EOS 5DS R ( without low-pass filter) / Olympus OM-D E-M1 Mark II / Canon EOS 80D / Canon EOS 5DS / Canon EOS M50 / Sony Alpha 77 II / Canon EOS 70D / Nikon D7200 / Pentax K-1 Mark II / Canon EOS 200D / Canon EOS 800D / Rebel T7i / Canon EOS 77D / Canon EOS 5D Mark III / Canon EOS 60D / Sony Alpha 7R / Sony Alpha 7 / Nikon DS-Qi2 (Microscope Camera) / Olympus OM-D E-M5 II / Nikon D3x / Olympus OM-D E-M1 / Pentax KP / Nikon D3S / Canon EOS 750D / Rebel T6i / Canon EOS 760D / Rebel T6s / Canon EOS 5D Mark II / Nikon D7100 / Pentax K-5 / Canon EOS 1D Mark IV / Nikon D7000 / Canon EOS 7D Mark II / Canon EOS 600D / Rebel T3i / Canon EOS 650D / Rebel T4i / Canon EOS 700D / Rebel T5i / Canon EOS 2000D / Rebel T7 / Canon EOS 7D / Canon EOS 550D / Rebel T2i / Kiss X4 Digital / Canon EOS 1300D / EOS Rebel T6 / Canon EOS 4000D / Canon EOS 100D / Nikon DS-Ri2 (Microscope Camera) / Canon EOS 50D / Canon EOS 1200D / EOS Rebel T5 / EOS Kiss X70 /