516
Stereomicroscope or LM macroscope? Advantages and examples of use (extreme macro shots)
As a rule, stereomicroscopes are used at low and medium magnifications. A budget priced, no-frills stereomicroscope with good optical characteristics is highly recommended as a starter device. However, if you wish to take high-quality photographs, our LM macroscopes are certainly ahead of the competition. Our macroscope systems have a central optical path and are thus considerably more powerful than conventional stereomicroscopes. Because they use two separate optical paths, stereomicroscopes enable realistic, three-dimensional visualisation of the sample being examined. When taking a photograph, however, the camera can only use one optical path, which means that the three-dimensionality cannot be reproduced in the image, which appears flat and generally lacks quality. In addition, the working distance is too large, which in turn reduces the resolution capability. For this reason, the quality of the photos is usually disappointing.
Thanks to their modular construction, LM macroscopes are extremely flexible and enable a multitude of magnification combinations (3x to 20x), depending on which configuration of tube elements is used. The objective lenses are also available without a tripod. We have already presented a range of examples of use on our website. Here, we'd like to show you the fascinating results that can be achieved with our LM macroscope 9x in the field of nature photography. This time, we used a burdock as a subject.
Burdock (arctium) belongs to the aster family (asteraceae). It is native to the temperate zones of the Old World, but a few species are neophytes worldwide.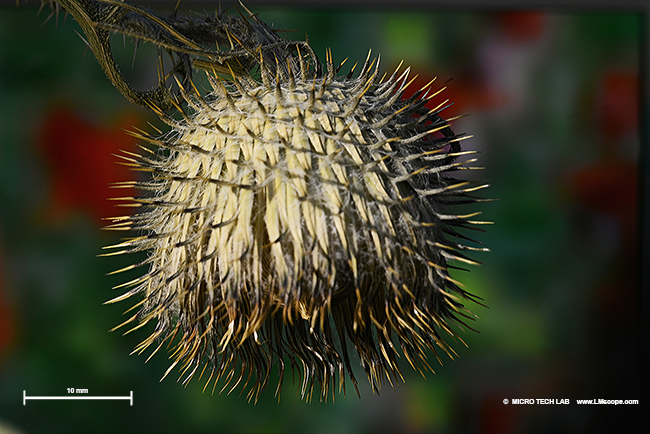 The most common species is greater burdock (arctium lappa), which grows along roadsides and riverbanks and on waste and neglected areas. Its stem and branches are covered with grey-cottony hairs, and the flowers are reddish to purple in colour. The flower heads (up to 4 cm across) are composed of disc florets surrounded by rows of overlapping hooked bracts.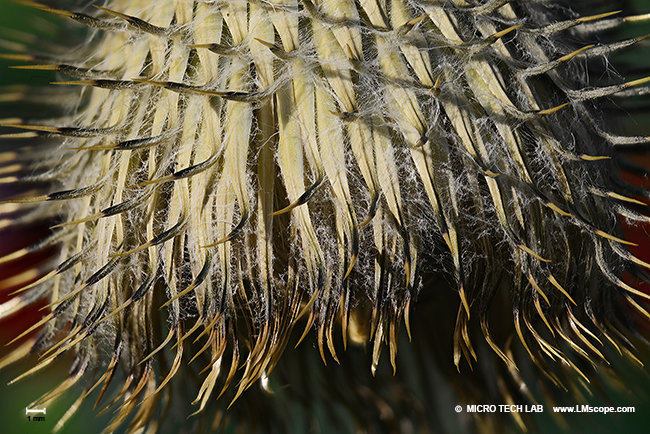 Image in high resolution
The flower heads, which are covered with a cobweb-like down, are very impressive.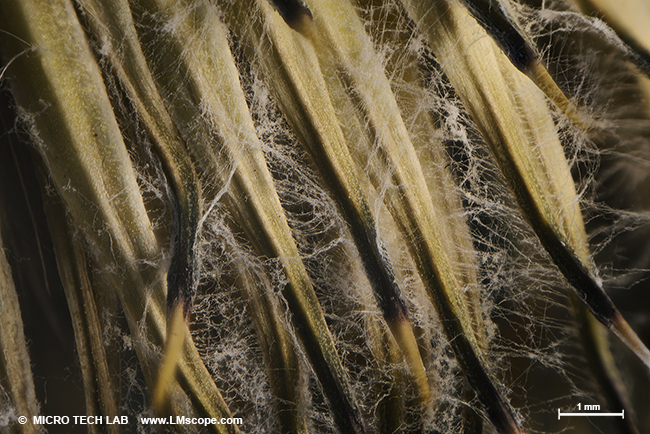 Image in high resolution
Burdock is a biennial, herbaceous plant.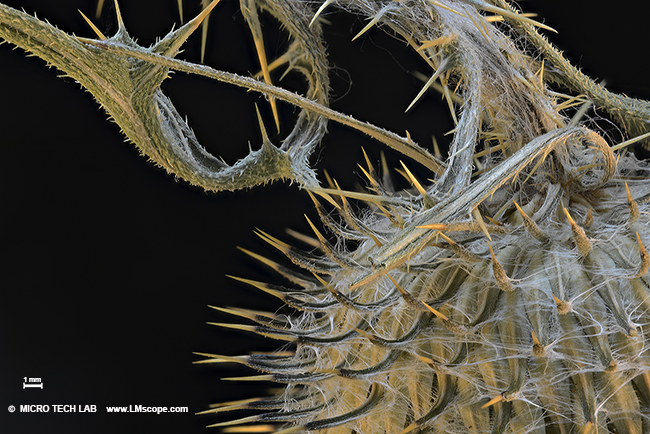 Image in high resolution
The photos were taken with the LM macroscope and a full-frame camera. We used the focus stacking technique and collected the images with a motorised focusing rail. For controlling the camera and the focusing rail, we recommend the Helicon software. We really like this software, and the manufacturer has responsive, knowledgeable customer service staff who are very helpful in case there are any difficulties or questions. The Helicon software consists of two modules: the control software Helicon Remote and the Helicon Focus module for the actual focus stacking process, where a stack of images is merged to create one perfect composite image. However, focus stacking can also be done manually, by just moving the point of focus over the subject in a number of very small increments.