513
Sample application for the LM macroscope: fascinating macro shots of a thistle reveal nature's perfection
Particularly in autumn, it is exciting to get out in nature and look for subjects that are good candidates for examination with the LM macroscope. We did not have to venture far, as we found a plant right outside our front door that appealed to us with its beauty and diversity: a thistle in bloom. The thistle is an herbaceous, biennial plant that grows to between 30 and 120 cm in height and is found in Central and Eastern Europe, the Near East and China. In addition, it is a neophyte in North America, New Zealand, Argentina and Uruguay.
In autumn, the thistle reveals its beauty in many different ways: as a purple blooming member of the composite family, it attracts insects of all kinds: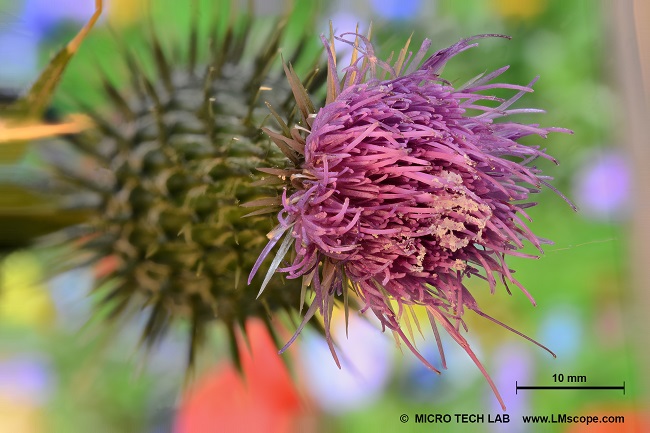 The photo above shows an image section (FoV) of 60 mm x 40 mm and was taken with our LM macroscope and a full-frame camera. We used the focus stacking technique to obtain the ideal depth of field. Focus stacking is an image processing technique that combines multiple images (up to 100 individual frames) into a "stack" of images. Focus stacks can be created by turning the micrometer screw and repeatedly triggering the shutter, but a much more elegant and less complicated solution is to use a motorised focusing rail. The LM macroscope is factory-ready for installation of a motorised focusing rail. Once the stack is completed, it is processed with a special software tool. The result is one composite image that is sharply focused from front to back.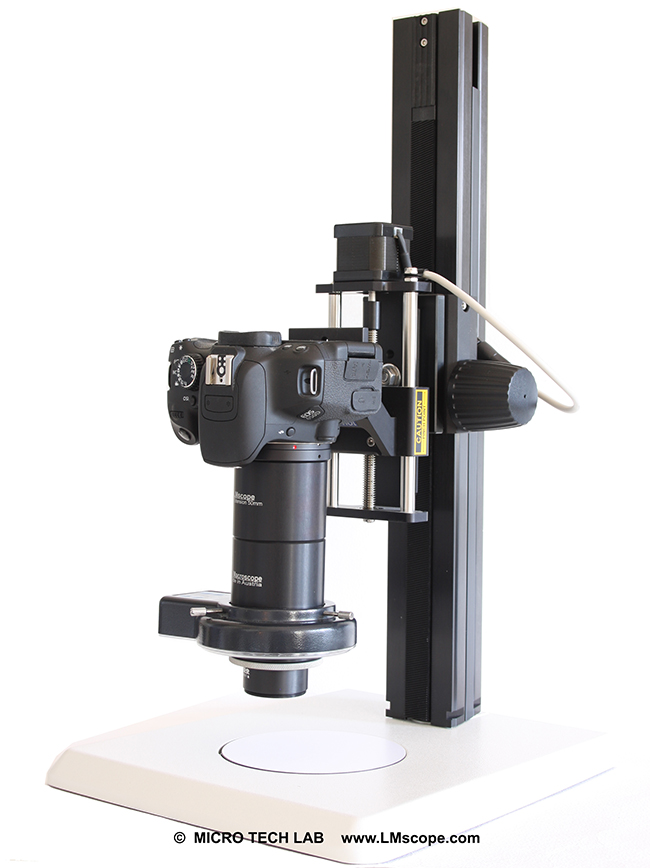 With a higher magnification and a smaller image section (FoV) of 10 mm x 6.6 mm, the pollen that coats the tips of the flower is clearly visible: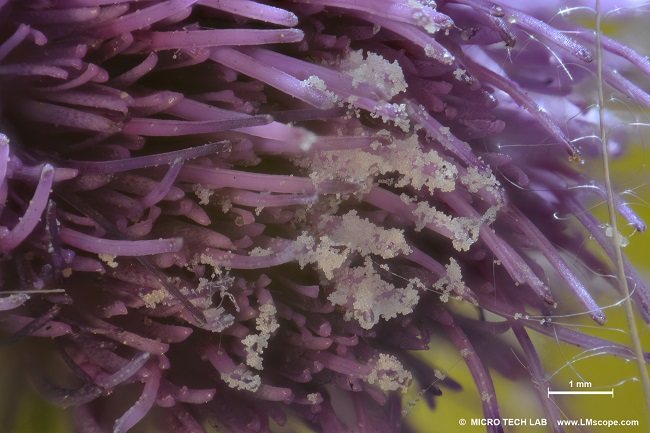 If the background is changed, the overall impression of the plant changes completely: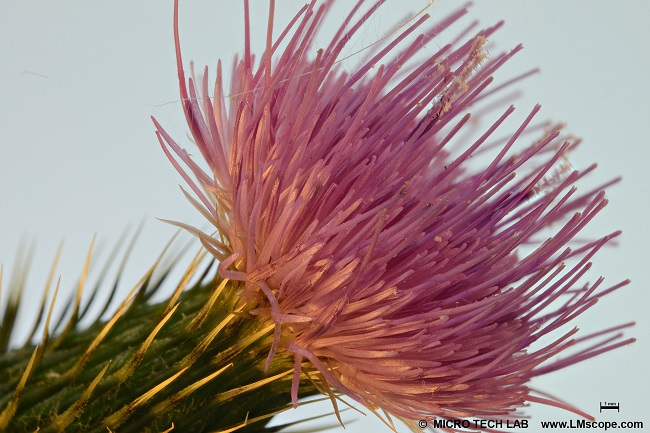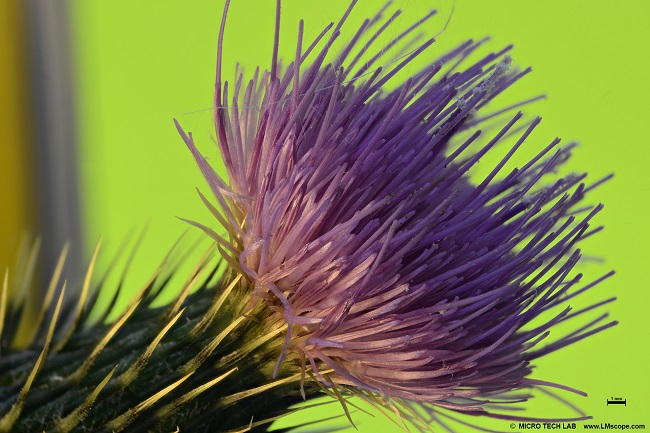 Field of view: 35 mm x 23 mm
After a couple of days, the thistle begins to seed. This is when the feathery pappus hairs and fruit body appear.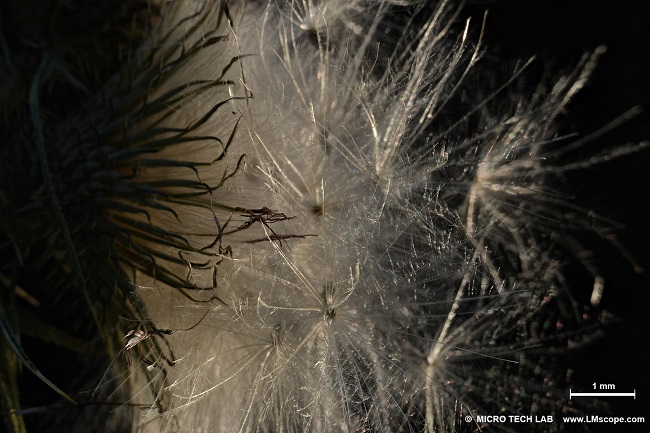 The image below shows a beautiful close-up of the pappus with seed attached: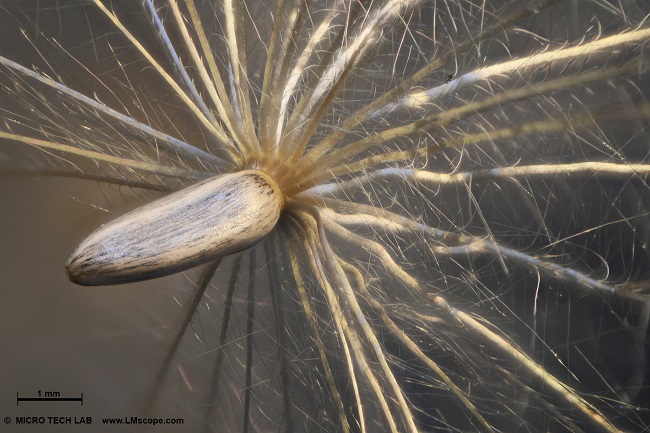 The LM macroscope has been specially developed for use with modern interchangeable lens mount digital cameras. The imaging sensors in these cameras deliver high-resolution performance and an extensive dynamic range. A quality optical system that is specifically designed to meet the requirements of this type of application is needed to utilise the full potential of these cameras. Usually, normal stereo microscopes are used for this magnification range. However, they do not produce the desired results when it comes to image capturing. LM macroscopes, by contrast, – especially when used with a full-frame sensor DSLR – deliver superb image quality and depth of field, and are easy to use.
New LM Digital Adapter for:
Nikon Z9 / Sony Alpha 1 / Sony FX3 Cinema Line / Sony Alpha 9 II (ILCE-9M2) / Sony Alpha 9 / Nikon D6 / Canon EOS R3 / Sony Alpha 7R IV / Canon EOS R5 / Sony Alpha 7S II / Sony Alpha 7S III / Sony Alpha 7R III / Canon EOS R6 / Nikon Z6 / Nikon Z6II / Sony Alpha 7R II / Nikon Z7 / Nikon Z7II / Canon EOS R / Canon EOS Ra (Astro) / Nikon Z5 / Sony Alpha 7C / Canon EOS RP / Sony Alpha 7S / Canon EOS R7 / Leica SL2-S / Canon EOS R10 / Canon EOS 1D X Mark III / Nikon Z50 / Nikon Z30 / Nikon D850 / Canon EOS 1D X Mark II / Nikon D780 / Olympus OM-1 / Sony Alpha 7III / Olympus OM-D E-M1 Mark III / Nikon D5 / Sony Alpha 6600 / Fujifilm X-H2S / Fujifilm X-S10 / Fujifilm X-E4 / Fujifilm X-Pro3 / Olympus OM-D E-M1X / Sony Alpha 6400 / Sony Alpha 6100 / Sony ZV-E10 / Canon EOS 1D X / Nikon D4s / Olympus OM-D E-M5 III / Canon EOS 90D / Canon EOS 5D Mark IV / Nikon D4 / Nikon D750 / Canon EOS 6D Mark II / Fujifilm X-T4 / Fujifilm X-T3 / Sony Alpha 6300 / Sony Alpha 6500 / Nikon D500 / Nikon D810 / Nikon D800 / Canon EOS M6 Mark II / Nikon D800E / Nikon Df / Panasonic Lumix DC-G9 / Nikon D610 / Nikon D600 / Canon EOS 250D / Canon EOS 850D / Rebel T8i / Canon EOS 6D / Sony Alpha 99 II (SLT-A99 II) /