154
Quality features and benefits of LM digital adapters
We take pride in a long and successful track record of manufacturing our LM digital adapters for connecting digital cameras to microscopes. Many renowned universities, research institutes and companies worldwide use and value the high quality of LM digital adapters.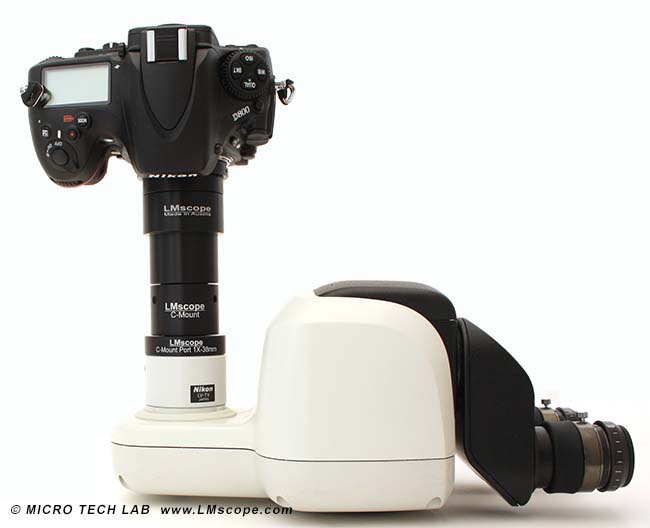 All of our digital adapters are equipped with a high quality, plan-achromatic optical system which enables users to capture photographs with excellent image quality (high resolution, focus and colour contrast) that yield a flat field of view without loss of focus at the edges. Particularly in high grade microscopes equipped with plan-fluorite, plan-achromatic or plan-apochromatic lenses, this type of precision optics is a big advantage when it comes to producing high quality photographic images and videos.
Since we correct the lenses in our LM digital adapters, they can deliver images that are not marred by vignetting, chromatic aberrations (colour fringing) or barrel-shaped distortions. In addition, they are equipped with an anti-reflex system to prevent glare, reflections and hot spots.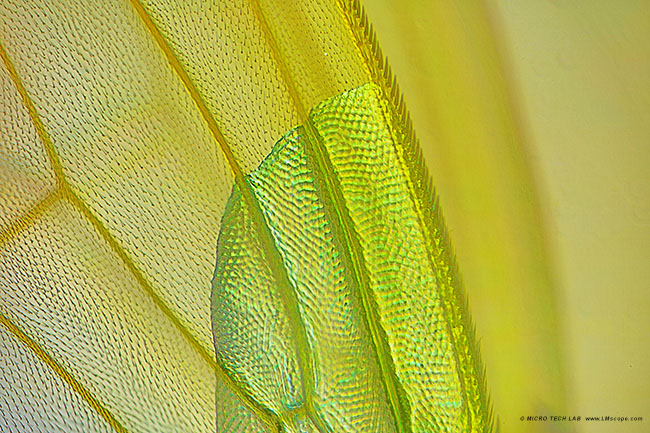 Each of our adapter solutions is optimised to the sensor size of the respective camera. As a result, the sensor achieves the best effect and the largest possible field of view (FoV). For cameras with full-frame and APS-C sensors, we also offer adapter solutions with a special wide-angle lens for an extra-large FoV. For more information, please review the infographic (comparison of Figure 5 with Figure 8).
The "Pro" range of adapters consists of several modules. These not only allow the adapters to be focused, but they also enable an optical adjustment of the image viewed through the eyepiece with that of the camera image. In the case of some microscopes, the way the photo tube is manufactured may deviate slightly from the C-mount standard. With our focusable LM digital adapters, this can be easily adjusted.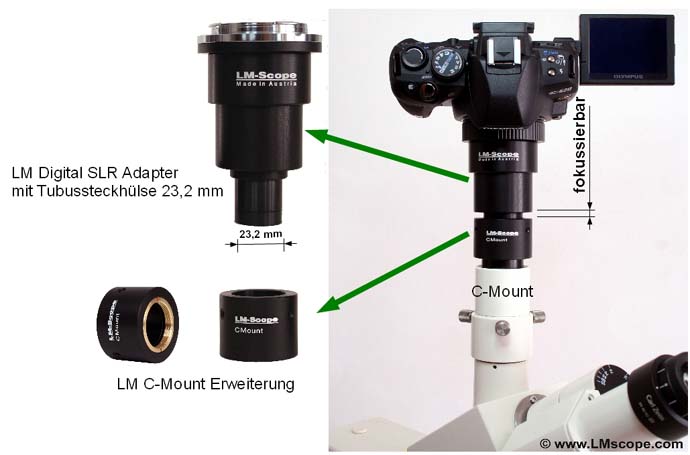 The modular construction of our adapters allows for a maximum of flexibility and easy pairing with many microscopes from different manufacturers (Zeiss, Nikon, Olympus, etc.), using small accessory parts. In fact, the same adapter solution can be used on the eyepiece tube and the photo tube of the microscope concerned. Even when changing cameras, such as from Nikon to Canon, our products can still be used after a simple and cost-effective bayonet adapter change.
We place tremendous importance on quality and sustainability, which is why we use only high quality materials such as CNC machined aircraft-grade aluminium or brass parts for our adapters.
All of our adapters are hand-made in Austria, and we subject all of our products to stringent quality controls. Before shipment, each item is once again checked microscopically prior to being packaged under clean-room conditions. This way, we can ensure that no troublesome particles have made their way into the adapter or onto the lenses.
Development, production, advice and sales are all combined in one Austrian location. This gives us the ability to offer our customers the best possible product for each individual application. If requested, we can also develop and produce customer-specific adapter solutions.
We also offer a comprehensive camera and microscope advisory service. Our website offers – at no cost – numerous current and detailed analyses of cameras and microscopes we have tested for photomicrography and macrophotography suitability.
22.10.2015