250
High-quality photographic and HD video documentation with the Zeiss slit lamp and Zeiss Surgical microscopes (OPMI)
The LM digital adapter for Zeiss slit lamps and surgical microscopes (SL120, SL130) makes it possible to produce high-level photographic and video material of up to 36 megapixels using DSLR cameras and system cameras without any difficulty. It is also very easy to transmit live feeds to an HD monitor.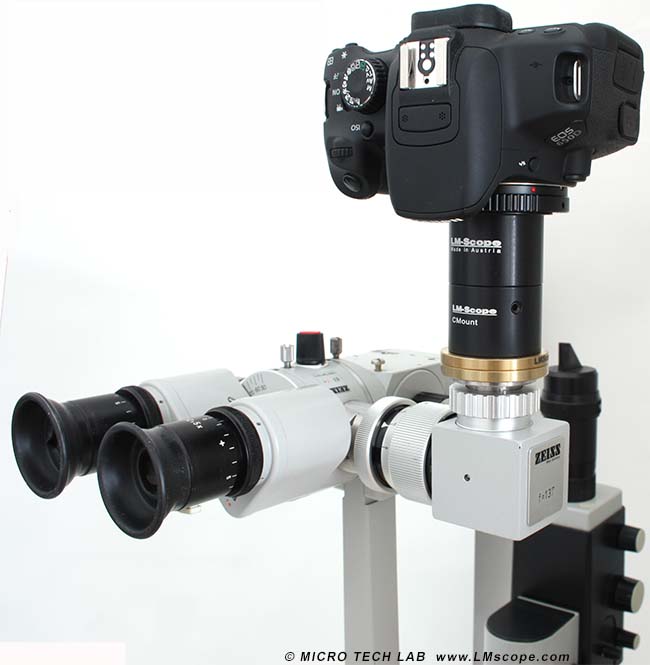 Compared to C-mount cameras with small sensors (1/2", 1 1/8", 1 2/5"), digital SLR and system cameras offer great advantages. The most obvious difference is the sensor size. C-mount cameras with small sensors (left-hand image) cannot utilise the full potential of the camera.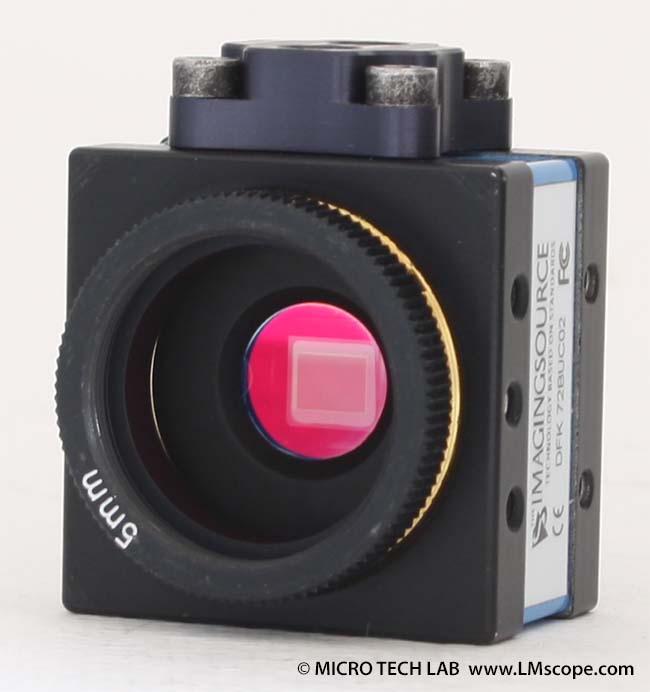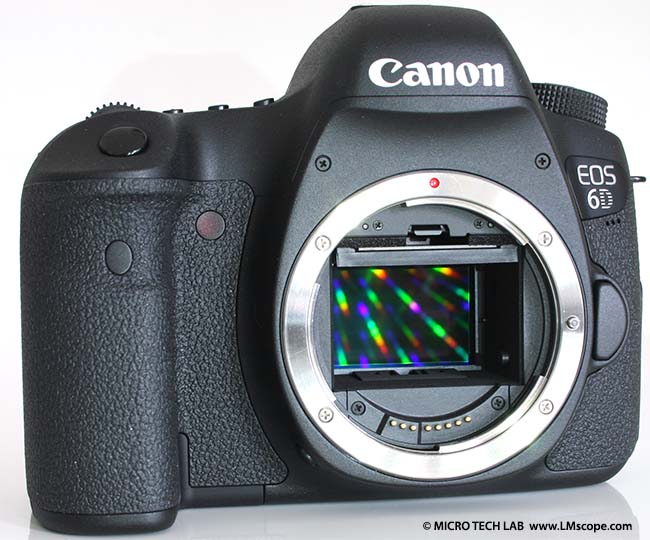 In comparison to them, DSLR and system cameras have very large sensors, something that is clearly evident from the image quality. The most important advantages of DSLR and system cameras are summarised below:
Price-performance ratio
Colour depth: the maximum possible number of colour tones is higher (up to 42 bits)
HDMI port: Live View feed in HD quality to an HD monitor or projector
ISO sensitivity: excellent image quality even when light conditions are poor
Focal plane shutter: due to the shorter exposure time (up to 1/8000 s), even moving objects can be captured in sharp focus
Control via computer, smartphone or iPad: Canon and Nikon models
For Zeiss slit lamps and surgical microscopes (OPMI), Zeiss itself offers original beam splitter modules.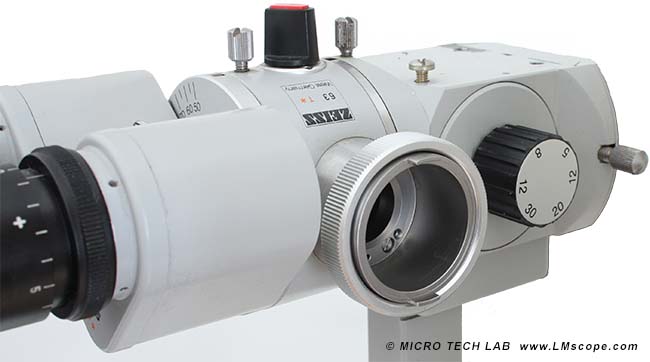 These connections have an internal diameter of 33 mm and come with a cap nut for attaching the devices together.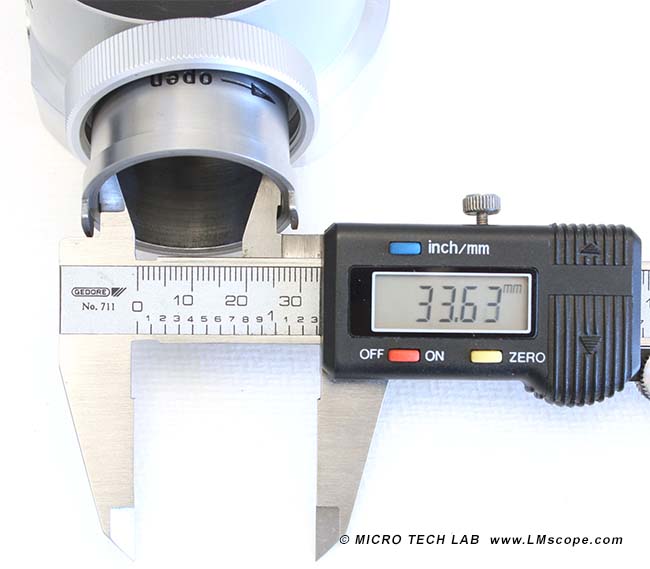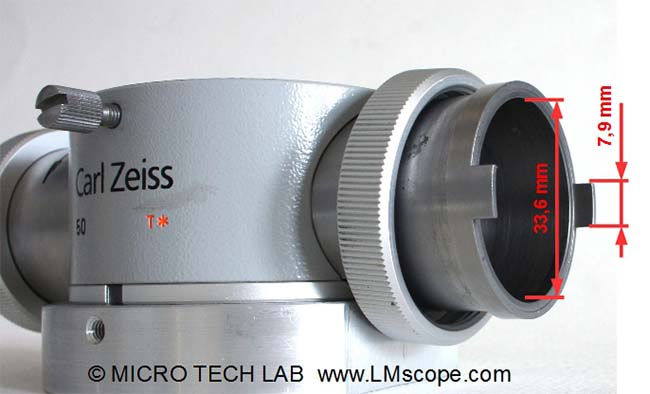 For this connection we offer a simple, high-quality adapter solution, which is fitted directly onto the beam splitter.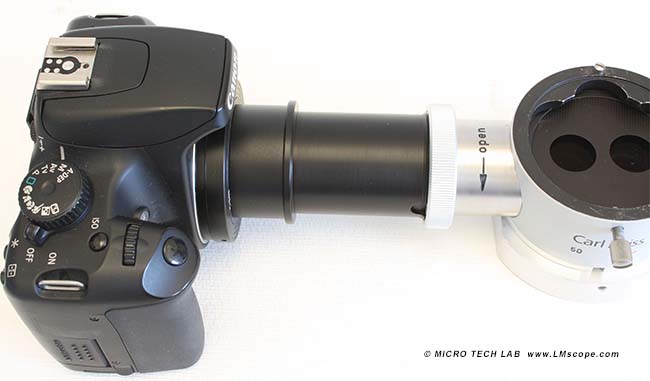 This solution makes it possible to use all conventional DSLR and system cameras with the instrument (Zeiss slit lamp and OPMI). Only the camera body (without lens) is needed for the connection. The LM DSLRFOPMI adapter is the ideal solution for cameras with APS-C and four-thirds sensors. The largest possible image field is obtained without peripheral darkening (vignetting).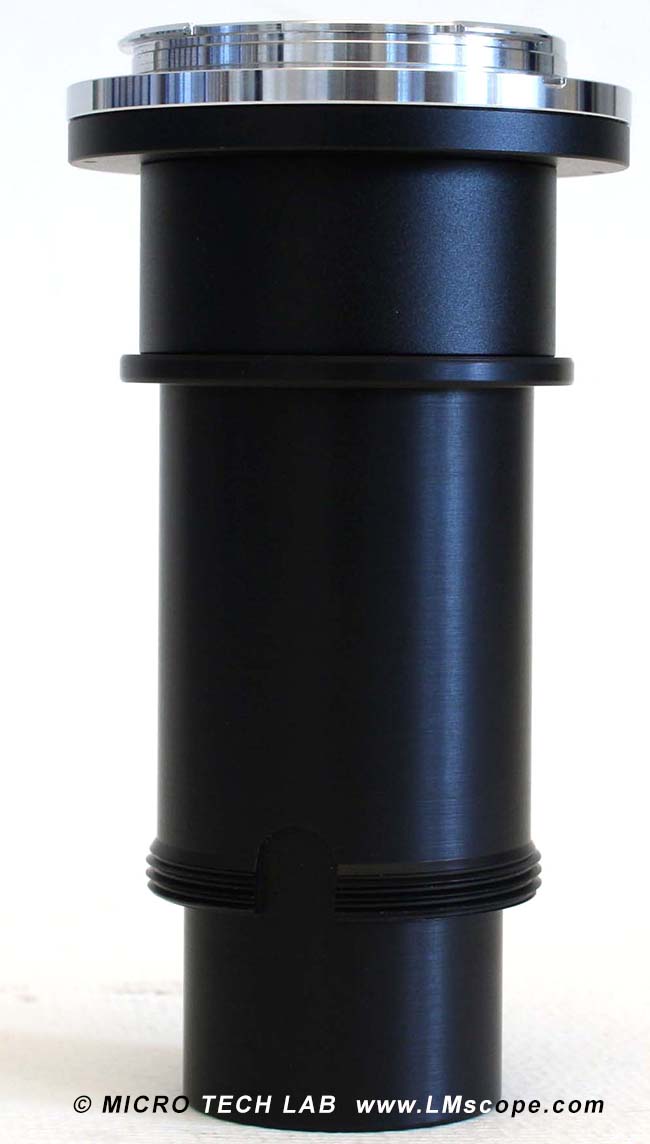 If, in addition to the beam splitter, a photo adapter (video adapter) is also available, there are other possible solutions. Zeiss offers this photo adapter with different focal lengths (from 85 mm to 140 mm) with a standardised C-mount connection.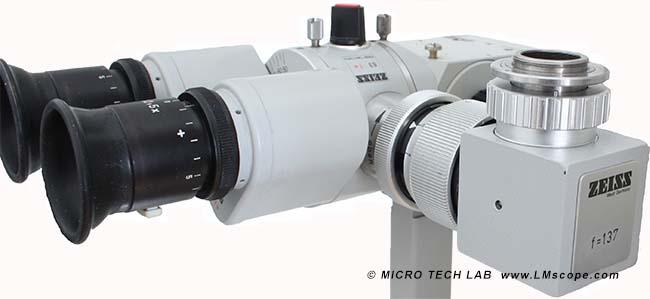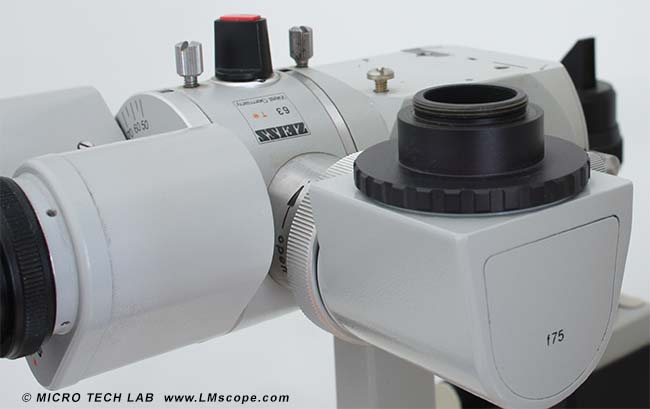 The C-mount connection is a standardised connection for cameras with an external diameter of 25.4 mm. Due to this industry standard it is possible to use a large number of C-mount and USB cameras. As a rule, these cameras have a very small sensor (1/2" in most cases). However, using the LM digital adapter, DSLR and system cameras can be attached to this photo adapter with C-mount connection without any difficulty.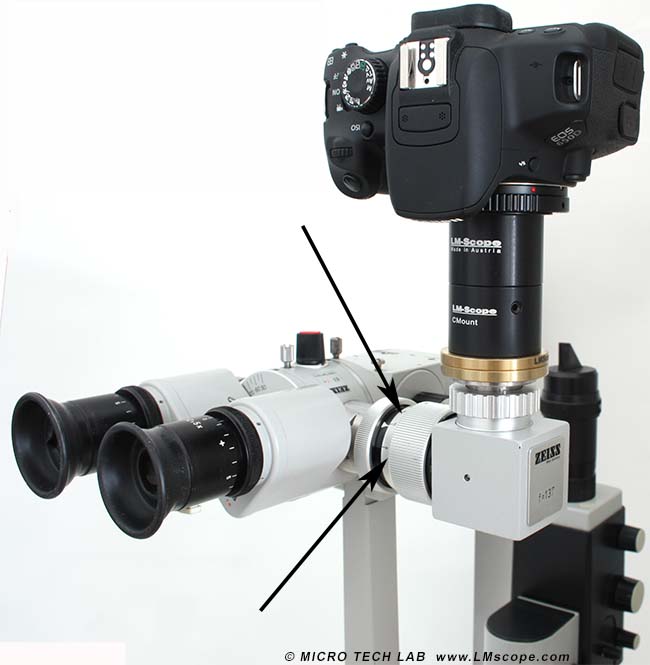 The adapter solution depends on the camera used and the focal length of the photo adapter. In each case, the image should be full frame and there should be no peripheral darkening. Photo adapters with integrated iris diaphragms (see arrows in the image above) deliver better image quality, as the depth of field can be increased through the iris diaphragm.
Conclusion: Thanks to the development of the LM digital adapters, it is now very easy to use DSLR cameras with slit lamps and surgical microscopes (OPMI). DSLR and system cameras feature a very good price-performance ratio and are easy to operate. The possibility of transmitting high-resolution videos (HDMI) via live feed through the output port to a large HD monitor for discussion during presentations is particularly interesting. If interested, we will be pleased to assist you in selecting the optimum adapter and camera. To help you choose the camera that is best suited for your needs, we have put together a guide and a list of camera rankings with up-to-date test reports on our website.
13.03.2014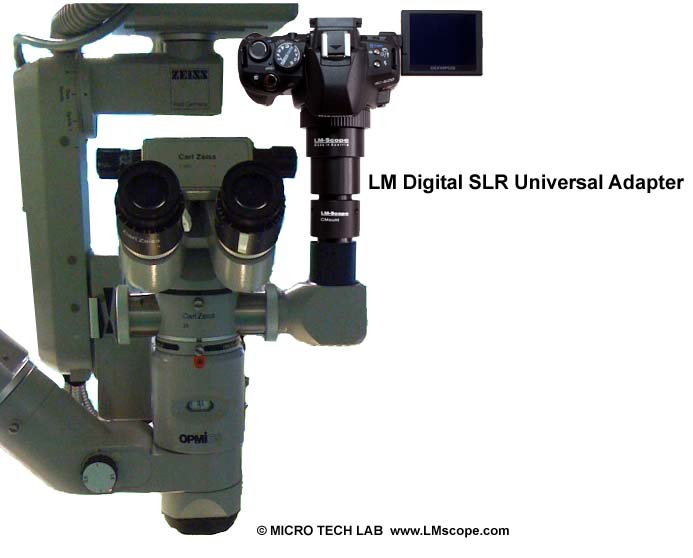 New LM Digital Adapter for:
Nikon Z9 / Nikon Z8 / Sony Alpha 7R V / Sony Alpha 1 / Sony FX3 Cinema Line / Sony Alpha 9 II (ILCE-9M2) / Sony Alpha 9 / Nikon D6 / Canon EOS R3 / Canon EOS R6 Mark II / Canon EOS R8 / Sony Alpha 7R IV / Canon EOS R5 / Sony Alpha 7S II / Sony Alpha 7S III / Sony Alpha 7R III / Canon EOS R6 / Nikon Z6 / Nikon Z6II / Sony Alpha 7R II / Nikon Z7 / Nikon Z7II / Canon EOS R / Canon EOS Ra (Astro) / Nikon Z5 / Sony Alpha 7C / Canon EOS RP / Sony Alpha 7S / Canon EOS R7 / Leica SL2-S / Canon EOS R10 / Canon EOS 1D X Mark III / Nikon Z50 / Nikon Z30 / Nikon Z fc / Nikon D850 / Canon EOS 1D X Mark II / Nikon D780 / Olympus OM-1 / Sony Alpha 7III / Olympus OM-D E-M1 Mark III /