273
Digital photodocumentationen with Zeiss Axio Lab.A1 microscope
The Zeiss Axio Lab.A1 is designed for the microscopic examination of materials. It is particulary well suited for routine laboratory applications in metallography as well as for quality controls and inspection tasks in product manufacturing. With the help of the Axio Lab.A1 it is not only possible to investigate the surface characteristics, but also to discover cracks and impurities.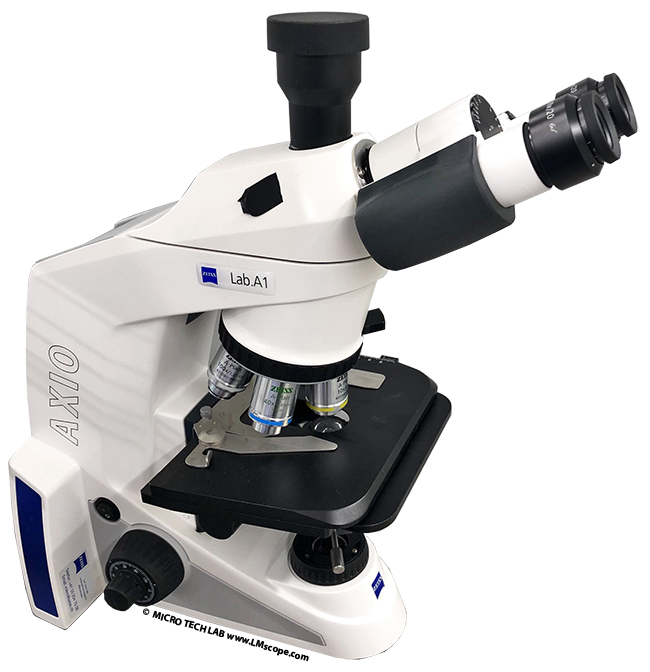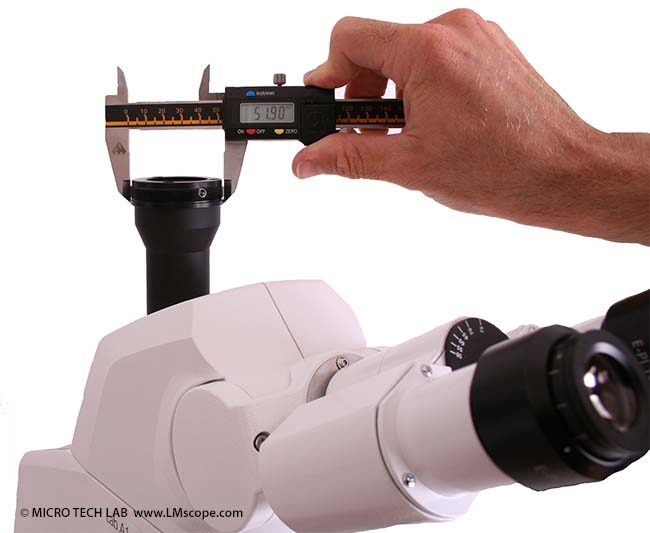 Microscopic methods:
| | |
| --- | --- |
| Brightfield | |
| Darkfield | |
| Simple polarization contrast | |
| Flourescence contrast | |
| Phasecontrast | |
| Interference-contrast | |
Tripod:
Upright microscope tripod with integrated transmitted light illumination mit integrierter Durchlichtbeleuchtung
Weight:12 kg
Dimension: 440 x 410 x 195 mm
Optic: infinite
Focus adjustment:
Manuell, coaxial coarse and fine drive (30mm Hub)
Stage:
Rotary stage polarization, 360° with clamping device
Light source:
Standard: Halogen reflector luminaire HAL 35 / 12 V 35W
Optional: LED
Nosepiece:
5-position for brightfield and polarization. Lens thread M27
Field of View: 20 or 22
Others: Tool storage and cable test in the stand back flap. As it is a newer model there are a lots of accessories available.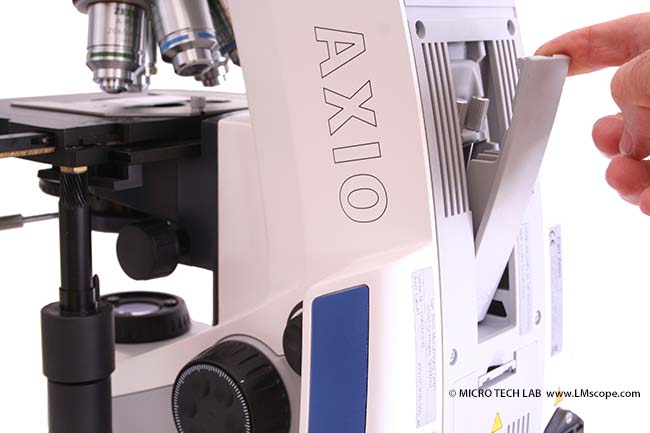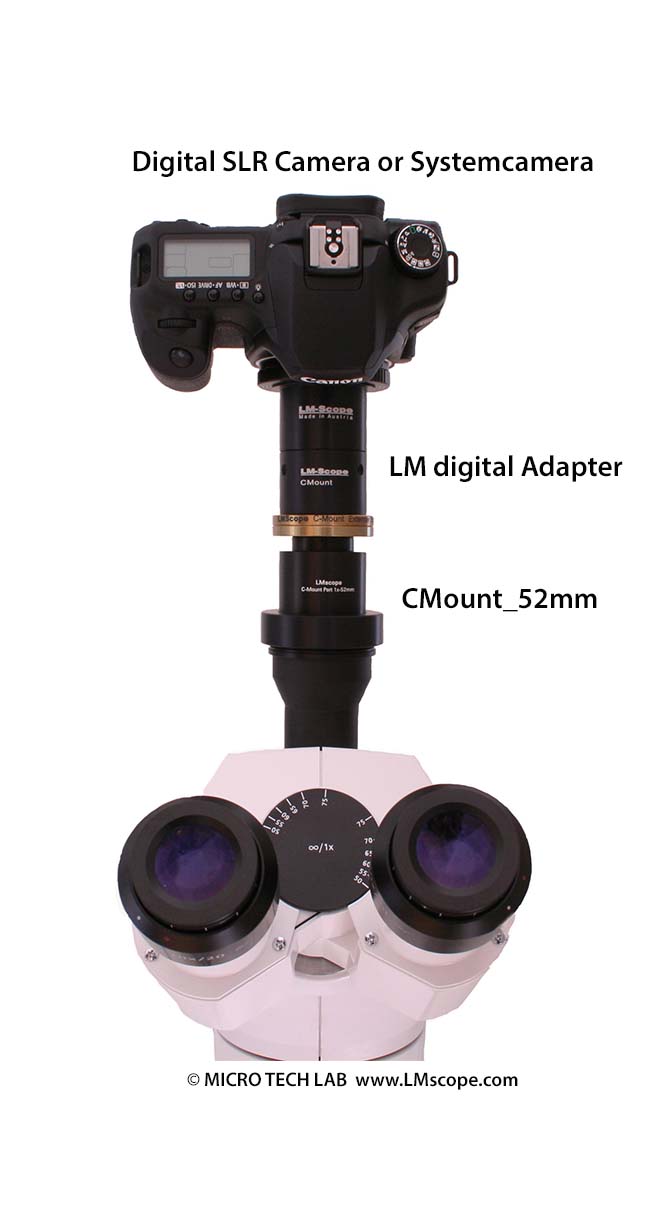 Update: 16.10.2012
Photography:
Fitting the microscope to digital single-lens reflex (DSLR), mirrorless interchangeable-lens cameras (MILC ), digital single-lens mirrorless (DSLM) or C-mount cameras is easy with our LM digital SLR adapters, which feature a plan achromatic optical system. Our products make it possible to capture top-quality microscope images. To help you select the adapter that is right for your camera, we have set up an online configurator on our website. You can also email us – ideally with attached photographs of your microscope.
Modern DSLR and single-lens mirrorless (DSLM) offer the latest technology and are generally very well suited for microscopy applications. Most of them can be controlled remotely via PC/Mac. Because of their high sales volumes, they offer an excellent price/performance ratio compared to special-purpose microscope cameras.
Features of top DSLR and single-lens mirrorless cameras (DSLM):
- Large, powerful full-frame sensors (36 x 24 mm)
- Sensor resolution of 61 megapixels or 240 megapixels with Pixel Shift technology
- High light sensitivity (ISO 400,000+)
- Extensive dynamic range (up to 15 aperture stops/f-stops)
- Short exposure times (1/8000 second) up to 1/32,000 seconds using the digital shutter
- 4K Ultra HD or 8K Ultra HD video function
- Live video capture on external monitors in ultra HD quality
In most cases, these cameras are significantly more powerful than microscope cameras with smaller sensors (1/2" or 2/3"). On our website you will find our current camera recommendations and a camera ranking which is specifically tailored to microscopy applications.

New LM Digital Adapter for:
Nikon Z9 / Nikon Z8 / Sony Alpha 7R V / Sony Alpha 1 / Sony FX3 Cinema Line / Sony Alpha 9 II (ILCE-9M2) / Sony Alpha 9 / Nikon D6 / Canon EOS R3 / Canon EOS R6 Mark II / Canon EOS R8 / Sony Alpha 7R IV / Canon EOS R5 / Sony Alpha 7S II / Sony Alpha 7S III / Sony Alpha 7R III / Canon EOS R6 / Nikon Z6 / Nikon Z6II / Sony Alpha 7R II / Nikon Z7 / Nikon Z7II / Canon EOS R / Canon EOS Ra (Astro) / Nikon Z5 / Sony Alpha 7C / Canon EOS RP / Sony Alpha 7S / Canon EOS R7 / Leica SL2-S / Canon EOS R10 /