546
Test: the Hollywood-quality Blackmagic Pocket Cinema Camera on the microscope
The versatile Blackmagic Pocket Cinema Camera 4K is ideal for long shoots!
Although the Blackmagic Pocket Cinema Camera is primarily a video camera, its extensive dynamic range, excellent light sensitivity and the option to choose between a 4K and a 6K version also make it a very good choice for microscopy applications. And one of its features comes in especially handy where "normal" DSLRs and mirrorless system cameras are forced to give up: its unlimited recording time. Our LM adapter solutions with integrated precision optics make attaching the camera to a microscope or macroscope a snap and deliver excellent image quality.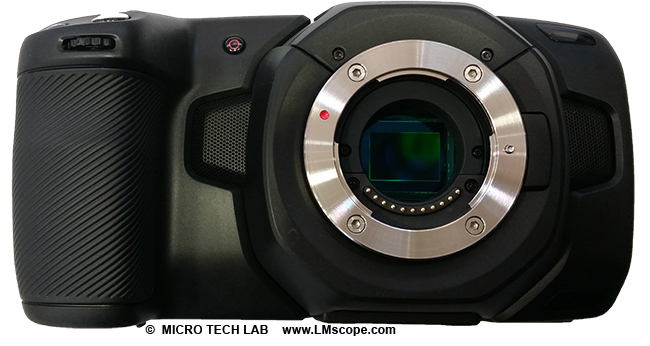 The Blackmagic Pocket Cinema Camera comes in 4K and 6K versions. The 4K model sells for a relatively moderately price (around EUR 1,300, body only) and features a 4/3 image sensor and an MFT lens mount, making it compatible with a large range of lenses. As an alternative, the camera can also be fitted with an EF bayonet, to which our adapter solutions can be attached without an additional intermediate ring.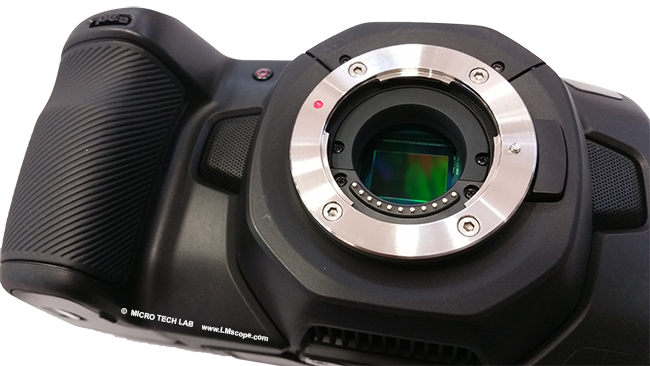 The image sensor of the Blackmagic Pocket Cinema Camera 4K has a resolution of 4096 x 2160 pixels. The Four Thirds sensor format is the perfect compromise for filmmaking, because it delivers solid image quality at an attractive price.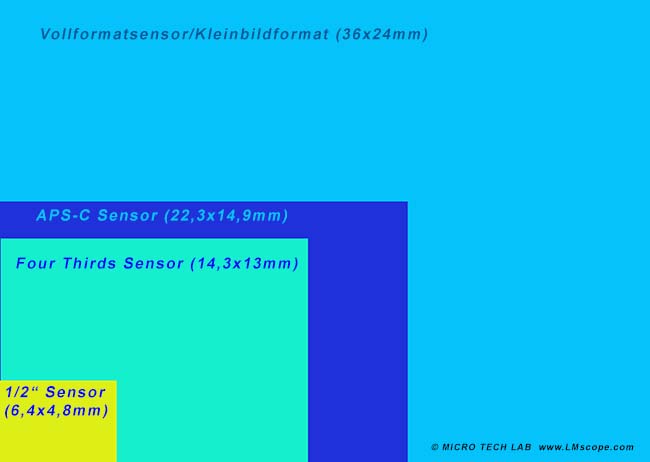 Made from lightweight carbon fiber polycarbonate composite, the camera weighs only 900 grams and is therefore ideally suited for attaching it to the phototube of the microscope.
Application example of the Black Magic Pocket Camera used as USB microscope camera on the microscope:
The camera body is attached directly to the LM microscope adapter. The LM "Pro" adapter solution delivers the best possible image quality, because it enables the camera to capture a large field of view without any vignetting and with sharp focus all the way to the edges. Because it features a modular design, the adapter is focusable.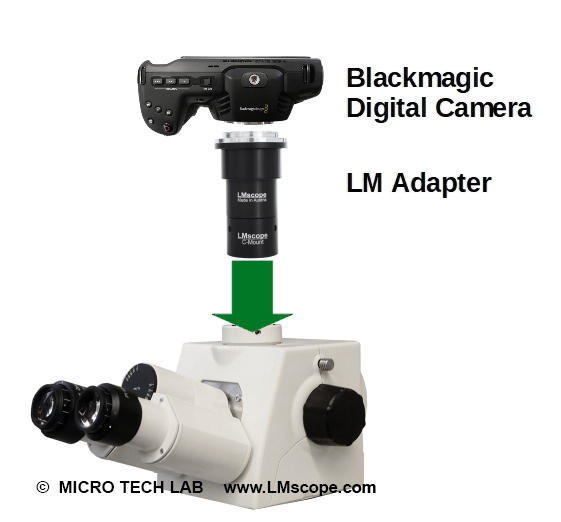 The camera has a large 5 inch LCD touchscreen for fast and accurate focus. It fills almost the entire back of the camera, which is large enough to frame shots and get sharp focus in your microscope images.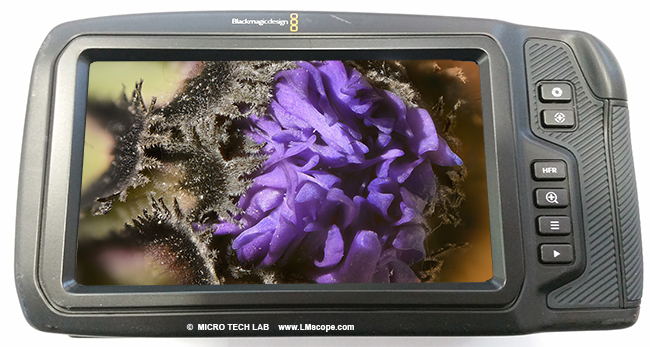 Important settings such as ISO, white balance, etc. can either be adjusted directly on the screen or via easy-to-reach, large buttons. User assignable function keys and control buttons make work easier and more efficient.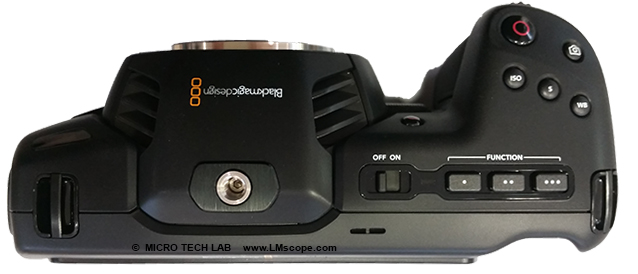 The touchscreen also displays critical information while you're shooting, menus for setting up the camera and intuitive touch-to-focus controls. On-screen overlays show status, time, a histogram, playback controls and more.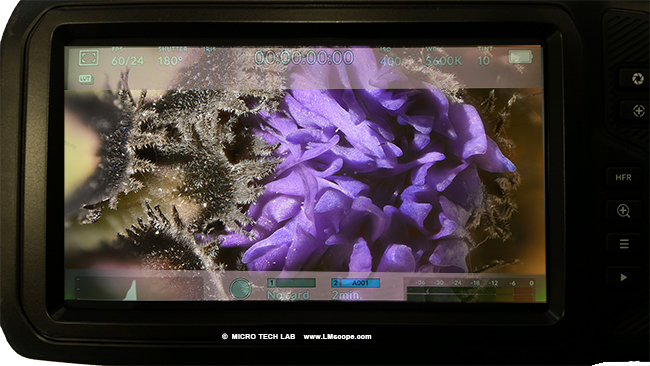 In professional video making, high resolution and a wide dynamic range are critically important factors. The dynamic range is the measurement between the darkest and lightest tones in an image. The Blackmagic Pocket Cinema Camera has a super wide dynamic range of 13 stops (manufacturer's specs), combined with a highly detailed 4K resolution.
The camera lets you shoot up to 60 fps in full resolution and at 120 fps in windowed mode (which introduces a crop factor) for slow motion. At higher frame rates, there is still relatively little motion blur, and the shot looks crisper and sharper than with comparable DSLR or system cameras.
Another great feature of the Blackmagic Pocket Cinema Camera is that it offers unlimited recording time beyond the usual 30 minute limit. This means that the camera is able to stay in continuous operation over an extended period of time without shutting down automatically. Due to tariff regulations, the maximum recording time of many DSLR and system cameras is limited to just under 30 minutes to distinguish them from video cameras, which carry a higher tax rate.
The camera can also record image and video data, even in RAW format, to an external drive. Blackmagic has even created its very own format called "Blackmagic RAW", which also saves camera settings as metadata, so you can override settings such as ISO, colour temperature, contrast, saturation, etc. later while editing on the PC. Of course, this is a challenge for any storage device. Modern flash drives are ideal for this purpose because they are durable and have incredible storage capacity. This gives you more options and flexibility for post-processing to get the best results out of your shots.
Because the Blackmagic is actually designed for extended use on set, an external power supply is almost a must. The camera's 5-volt USB port can be used for external battery powering, and the fact that it also takes 12 volts in – which means that it can be charged with a car charger – adds even more flexibility. Of course, you can also charge it using a normal wall plug.
Keeping the camera on for longer periods of time often increases the sensor temperature, which in turn increases the read noise. In situations where you shoot with a higher ISO, such as fluorescence microscopy, this produces poor imaging results. According to the manufacturer, the sensor in the Blackmagic Pocket Cinema Camera is designed to reduce thermal noise and offers native ISO up to 25,600 for outstanding low light performance.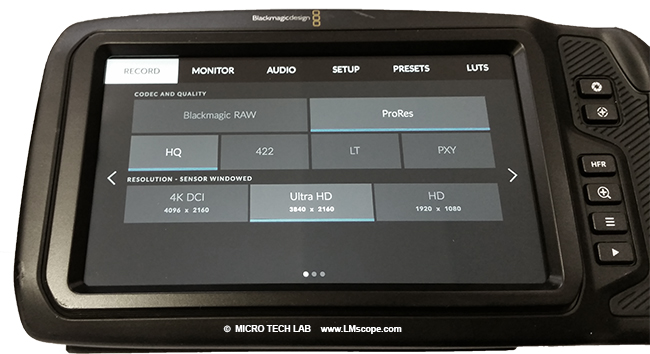 The recording quality is easy to define in the menu.
Depending on the model, the Blackmagic Pocket Cinema Camera can shoot in all standard resolutions from HD up to 6K. You can shoot still photos at 21.2 megapixels on the 6K model and 8.8 megapixels on the 4K model. For high-resolution stills, you simply need to press the dedicated stills button. Still images are saved as fully uncompressed DNG frames, which makes them easy to edit later on.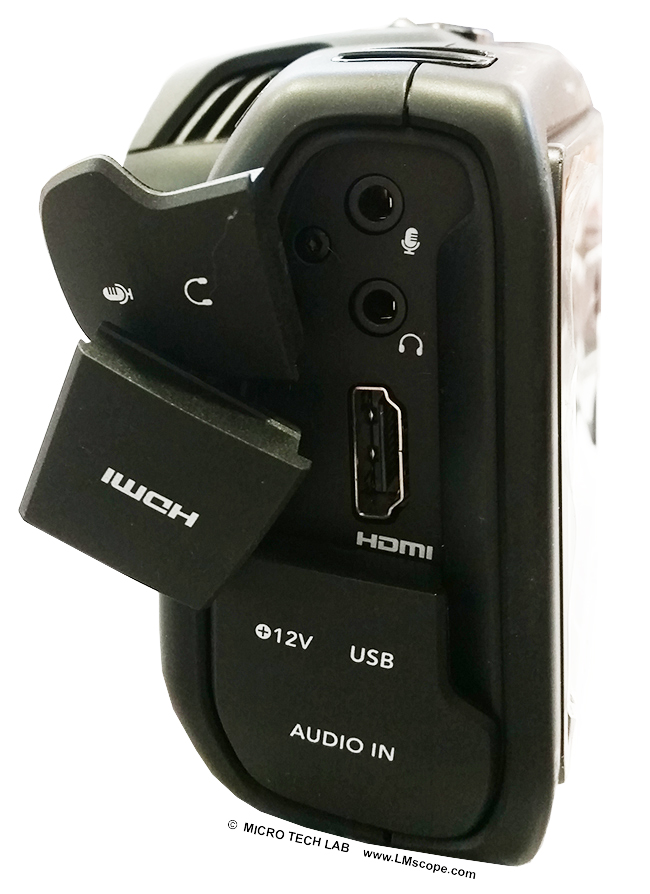 The Blackmagic Pocket Cinema Camera also offers plenty of connectivity options: it includes a full-size HDMI port for connecting a larger display for live monitoring of images, and a USB-C 3.1 connection for fast data transfer and charging the camera.
In addition, you can get full control via Bluetooth from up to 10 metres away, which is a great way to avoid image blur. There is even a Blackmagic Camera Control app for the iPad, which, however, doesn't offer Live View.
In addition to the 4K model, the Blackmagic Pocket Cinema Camera is also available in a 6K version which retails for around EUR 2,100. The 6K model features a larger, Super 35 image sensor (similar in size to an APS-C sensor), an EF lens mount and a native resolution of 6144 x 3456 pixels.
CONCLUSION: The Blackmagic Pocket Cinema Camera is a versatile video camera that shoots extremely high quality footage and works great on the microscope. It gives you a lot of professional features in a portable and affordable design that can be used anywhere. And because our LM adapter solutions make it very easy to attach it to almost any microscope – either via the phototube, C-mount port or eyepiece tube – the Blackmagic Pocket Cinema Camera is an exciting alternative to DSLR and C-mount cameras.
14.11.2019