598
A flagship among mirrorless full-frame cameras: the Canon EOS R3 on the microscope
With our LM digital adapters with built-in precision optics, Canon's powerful EOS R3 can be attached to almost any microscope – either via the eyepiece tube or (if available) the phototube.
Compared to conventional microscope C-mount cameras, which have very small sensor formats, the image quality produced by the EOS R3 is much higher. The large full-frame sensor on the R3 is exceptionally light sensitive and features a wide dynamic range. We can thoroughly recommend Canon's professional full-frame camera systems for all applications where maximum image quality is required (for example for scientific work, lectures, etc.).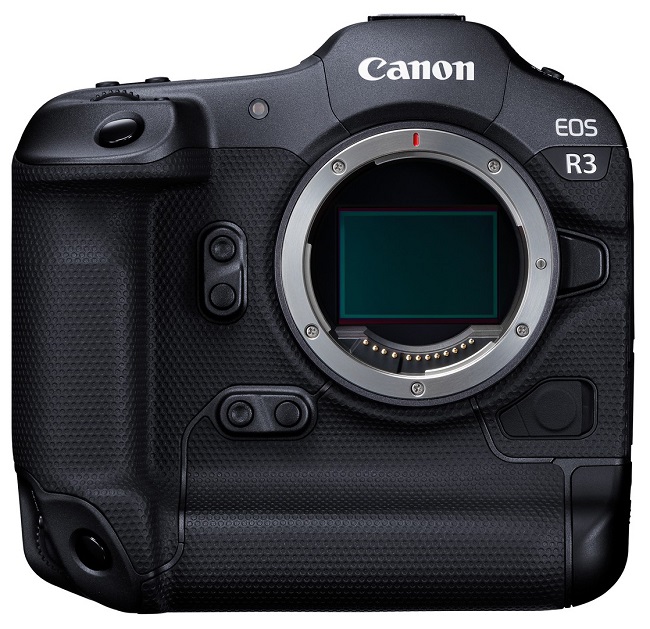 (c) Canon
Since mid-2021, Canon has launched a new generation of hybrid cameras which blend the advantages and qualities of professional DSLRs with those of mirrorless models. The sophisticated sensor technology and powerful electronics of these cameras opens up new areas of application in microscopy, such as live science imaging, fluorescence microscopy, medical imaging, materials science, macroscopic imaging or pathology. This contributes to increased cost efficiency, because just one camera system can be used for a wide range of applications.
Key specifications of the EOS R3:
24 MP full-frame sensor (back-illuminated)

New stacked design: image sensor with signal processor (DSP) and fast memory form one unit

Shutter speed (digital) up to 1/64,000 of a second

ISO range of 100 to 102.400 (expandable to 102,400)

Fully articulating screen

Video format: 6K RAW

Slow-motion video in Ultra HD: 4x slow motion / 4K 120p
With the LM Microscope adapter, modern mirrorless hybrid cameras with interchangeable lens mounts can be attached to the phototube of a microscope in a few easy steps.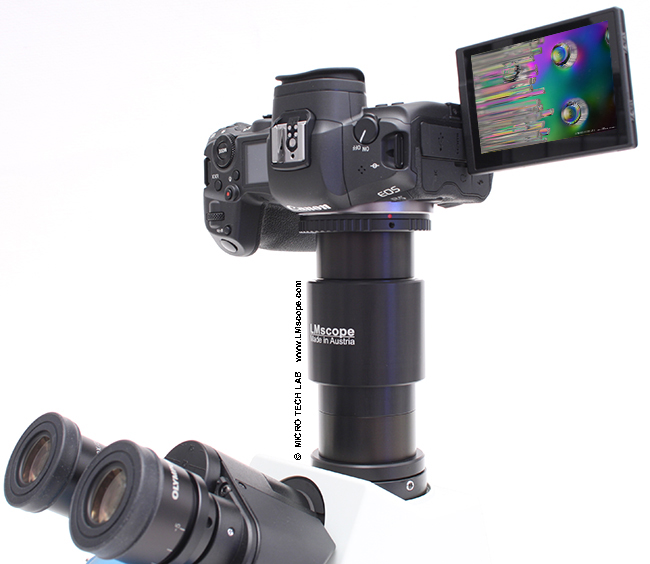 If that's not possible, we also offer an adapter solution for the eyepiece tube. This is particularly useful if the microscope doesn't have a phototube or if you want to attach a second camera to the microscope.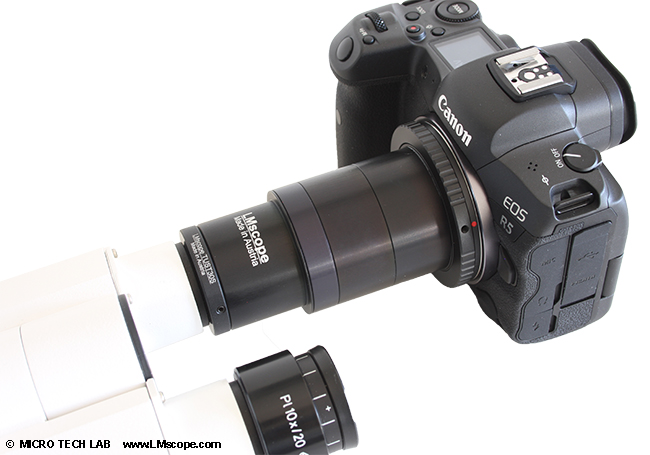 The heart of the camera is a modern, back-illuminated sensor with 24 million pixels. To increase performance and speed, Canon positioned a fast memory with signal processing on the back of the image sensor. The short electronic paths allow digital data to be processed near-instantaneously. One of the highlights of the camera is its shutter speed, which offers a range of up to 1/64,000 of a second when utilising the digital shutter. This enables photographers to keep fast-moving objects in sharp focus. Previously, only a shutter speed of 1/8,000 of a second was possible with a mechanical shutter. Continuous shooting is available at up to 30 frames per second in full resolution.
This is a huge benefit, especially when capturing images of moving objects under the microscope, such as aquatic animals or microorganisms in liquids, but also for evaluation tasks in materials research (documenting chemical processes, for example).
The EOS R3's video performance is another highlight, as it is capable of recording 6K RAW video that uses the entire width of the sensor (6000 x 3164 pixels) to the internal CFexpress card. In the slightly smaller 4K format, video can be captured in 4x slow motion. Canon also notes that the R3 can outdo the 30 minutes of continuous recording most cameras are capable of. Due to tariff regulations, the maximum recording time of many cameras is limited to just under 30 minutes.
The screen can be rotated and swivelled, which is another plus of the EOS R3 that is particular important for photographic work on the microscope. When working on the computer, the user can adjust the screen so that it can be observed from the workstation without having to change positions. The touchscreen display with 4.1 million pixels is high-resolution. Many professional SLR cameras in the past did not have a fully articulating screen because the camera had to be as compact as possible for mobile use. For stationary use in the laboratory or photo studio, this was a disadvantage. Luckily, the new Canon EOS R3 has a fully articulating touchscreen that can be set to almost any angle.
For routine tasks in a laboratory or studio setting, we recommend controlling the camera remotely from the computer with Canon's EOS Utility software. The camera is connected to the computer via USB cable, and the live image can be viewed conveniently from the computer screen. While viewing the image on the screen, the display can be magnified, which makes it easier to fine-tune the focal plane and make focus adjustments as required. After the shot has been taken (remotely, via the computer), the images are transferred directly to the hard drive and stored there. Alternatively, the EOS R3 can also be controlled remotely via Wi-Fi from a smartphone or tablet. The camera's capability of being charged using the USB-C port is another convenient feature, since no special power supply unit is necessary. Charging the battery is also possible via the USB port.
Conclusion: The Canon EOS R3 is a highly capable camera and excellently suited for microscopy applications. Its outstanding speed and performance open up new possibilities for laboratory documentation. The camera (body-only) retails for around € 6,000 (as of September 2021) and is aimed at professionals or ambitious photography enthusiasts. With its state-of-the-art technology, it is lightyears ahead of most C-mount microscope cameras. Even without active cooling, it delivers superb image quality and excellent light sensitivity. Thanks to its design and features, it offers a high level of flexibility in both mobile and stationary settings – with and without a computer.

15.10.2021
Photography:
Fitting the microscope to digital single-lens reflex (DSLR), mirrorless interchangeable-lens cameras (MILC ), digital single-lens mirrorless (DSLM) or C-mount cameras is easy with our LM digital SLR adapters, which feature a plan achromatic optical system. Our products make it possible to capture top-quality microscope images. To help you select the adapter that is right for your camera, we have set up an online configurator on our website. You can also email us – ideally with attached photographs of your microscope.
Modern DSLR and single-lens mirrorless (DSLM) offer the latest technology and are generally very well suited for microscopy applications. Most of them can be controlled remotely via PC/Mac. Because of their high sales volumes, they offer an excellent price/performance ratio compared to special-purpose microscope cameras.
Features of top DSLR and single-lens mirrorless cameras (DSLM):
- Large, powerful full-frame sensors (36 x 24 mm)
- Sensor resolution of 61 megapixels or 240 megapixels with Pixel Shift technology
- High light sensitivity (ISO 400,000+)
- Extensive dynamic range (up to 15 aperture stops/f-stops)
- Short exposure times (1/8000 second) up to 1/32,000 seconds using the digital shutter
- 4K Ultra HD or 8K Ultra HD video function
- Live video capture on external monitors in ultra HD quality
In most cases, these cameras are significantly more powerful than microscope cameras with smaller sensors (1/2" or 2/3"). On our website you will find our current camera recommendations and a camera ranking which is specifically tailored to microscopy applications.

New LM Digital Adapter for:
Canon EOS R3 / Canon EOS R6 Mark II / Canon EOS R8 / Canon EOS R5 / Canon EOS R6 / Canon EOS R / Canon EOS Ra (Astro) / Canon EOS RP / Canon EOS R7 / Canon EOS R10 / Canon EOS 1D X Mark III / Canon EOS 1D X Mark II / Canon EOS R100 / Canon EOS 1D X / Canon EOS 90D / Canon EOS 5D Mark IV / Canon EOS 6D Mark II / Canon EOS M6 Mark II / Canon EOS 250D / Canon EOS 850D / Rebel T8i / Canon EOS 6D / Canon EOS M200 / Canon EOS 5DS R ( without low-pass filter) / Canon EOS 80D / Canon EOS M50 Mark II / Canon EOS 5DS / Canon EOS M50 / Canon EOS 70D / Canon EOS 200D / Canon EOS 800D / Rebel T7i / Canon EOS 77D /