599
Sony ZV-E10: a quality vlog camera for use with a microscope
When it comes to use with a microscope, Sony's ZV-E10 vlog camera scores with large sensors, a built-in microphone and easy handling for online communication and live streaming. The ZV-E10 also features an E-mount interchangeable lens system, which, together with our LM microscope adapter with integrated precision optics, enables easy mounting of the camera to almost any microscope.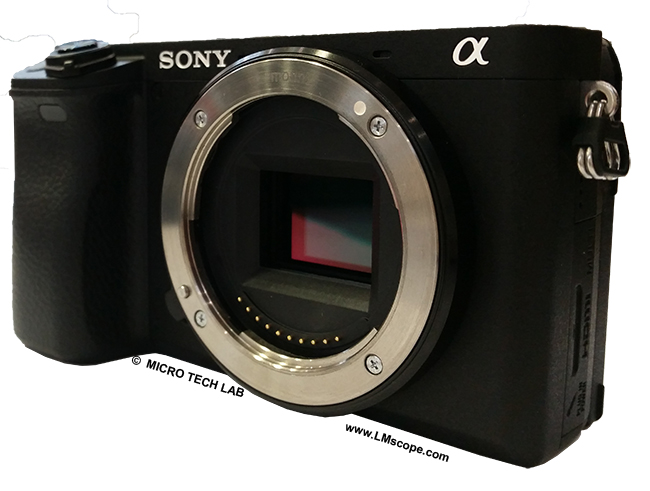 Vlog cameras are designed specifically for video bloggers who want to upload and share content on their blogs and social media channels. Fast and uncomplicated connectivity to mobile devices and computers is a key requirement in a vlogging camera, as is easy streaming. To meet these requirements, Sony provides a variety of tools and apps designed to increase productivity and streamline workflow. These vlog camera features are also highly beneficial when the camera is used with a microscope, both for mobile tasks and in a stationary lab setting.
The Sony ZV-E10 has an interchangeable lens mount system with an E-mount connection, which can be used to attach the camera body directly to the LM microscope adapter, which has a built-in optical element. We can offer a high-quality, professional adapter solution for almost any microscope. The most straightforward solution is to connect the camera directly to the phototube of the microscope, for example the microscope's C-mount connection or the standard 23.2 mm internal diameter phototube.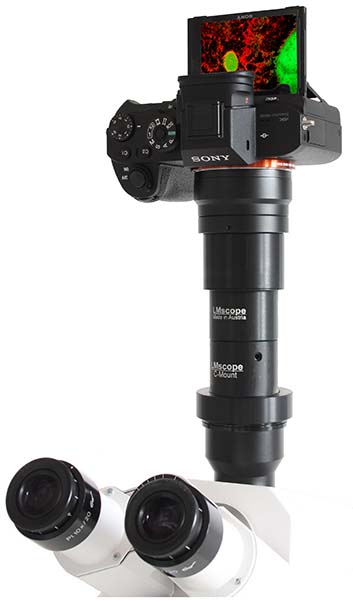 If the microscope doesn't have a phototube, connection via the eyepiece tube is also possible: To attach the camera, one eyepiece is removed and the camera, together with the adapter unit, is inserted into the tube where the eyepiece was. The image quality is as good as that achieved using the phototube solution.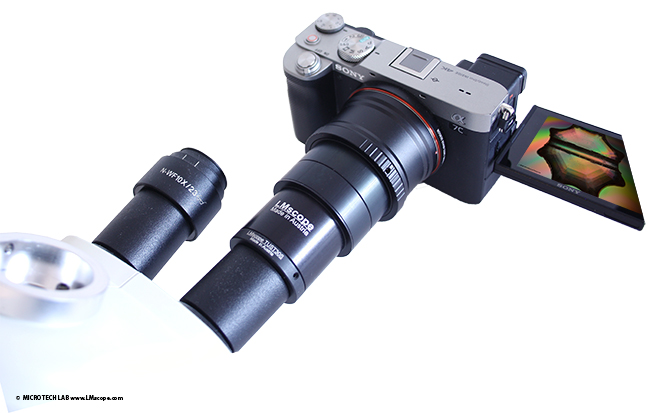 The Sony ZV-E10 is equipped with a high-quality APS-C sensor.
Camera features:
24.2 megapixel CMOS sensor, APS-C format

Interchangeable E-mount lens system

Light sensitivity range: ISO 50 to ISO 51200

Fully articulating camera screen

High-resolution 4K (Ultra HD) video

Option: High Dynamic Range in 4K video mode (4K HDR)

4x slow motion capture in 4K video mode (120p in 4K)

Built-in directional 3-capsule microphone with windscreen to reduce wind noises when shooting outside

External power supply via USB-C

Up to 125 minutes of continuous movie shooting
Sony's ZV-E10 is equipped with state-of-the-art technology. The camera (body only) is priced at around € 750 (as of October 2021). For its mid-tier price point, the ZV-E10 has a lot of great features to offer. At the heart of the camera is a 24 MP Sony image sensor in APS-C format with a wide dynamic range and high ISO sensitivity. The sensor resolution is perfectly adequate for standard microscopy tasks.
The camera's fully articulating screen is another great feature. When working without a computer and with the camera attached to the microscope, the screen can be tilted to get the best view angle for the user. For stationary use in a laboratory or studio setting, we recommend controlling the camera remotely from the computer. With Sony's Imaging Edge Desktop software, the camera can be comfortably controlled from the computer while looking at the Live View image on the monitor. The software provides control over the camera settings, and the ability to transfer photos directly to the computer significantly enhances workflow efficiency. The images can be viewed directly on the large computer screen and/or discussed by a team of several persons.
The ZV-E10 performs very well in video mode and supports high resolution UHD 4K video recording. For a particular wide dynamic range, the camera also includes the option to shoot 4K HDR (High Dynamic Range) movies. It offers high-speed shooting capabilities with up to 120 frames per second in 4K mode, allowing for a 4x slow-motion effect. It also has a feature for creating time lapse videos with a speed of up to 60x.
The camera supports external power via a USB Type-C connector, either with a USB power supply in stationary use or with an external mobile battery power pack.
Sony offers a number of software communication tools for the ZV-E10, for both desktop and mobile devices. These tools, which can be downloaded from the Sony website, make working with a microscope considerably easier and are particularly beneficial for professional settings. The Sony website also lists minimum requirements and tested devices. Before installation, always make sure that your computer or mobile device meets the applicable requirements because these applications require very powerful processing capabilities!
Software communication tools:
Imaging Edge Desktop™ for controlling the camera remotely from a PC or MAC

Software Imaging Edge Mobile: allows sharing videos immediately after capture (for Android / IOS)

Sony Movie Add-On (video editing application for Android / IOS)

Streaming options: UVC/UAC (USB Video/Audio Class) are supported

Imaging Edge Webcam (MS Windows)
Conclusion: Sony's ZV-E10 is a versatile and well-performing camera with premium build quality and state-of-the-art camera technology. At about € 750, it is priced in the medium segment. The ZV-E10's power reserves are sufficient for most microscopy applications. With our LM microscope adapters, the camera can be attached to almost any microscope. We are also able to provide custom-made solutions for special applications.
For more sophisticated requirements, Sony also offers even more powerful, full-frame sensor cameras whose larger sensor format translates into a greater dynamic range.
16.02.2022
New LM Digital Adapter for:
Sony Alpha 7R V / Sony Alpha 1 / Sony FX3 Cinema Line / Sony Alpha 9 II (ILCE-9M2) / Sony Alpha 9 / Sony Alpha 7R IV / Sony Alpha 7S II / Sony Alpha 7S III / Sony Alpha 7R III / Sony Alpha 7R II / Sony Alpha 7C / Sony Alpha 7S / Sony Alpha 7III / Sony Alpha 6700 / Sony Alpha 6600 / Sony Alpha 6400 / Sony Alpha 6100 / Sony ZV-E10 / Sony Alpha 6300 / Sony Alpha 6500 / Sony Alpha 99 II (SLT-A99 II) / Sony Alpha 77 II / Sony Alpha 7R / Sony Alpha 7 / Sony Alpha 68 / Sony Alpha 99 (SLT-A99) / Sony Alpha 7II / Sony Alpha 6000 / Sony Alpha 77V / Sony Alpha 580 / Sony Alpha 5100 / Sony Alpha 5000 / Sony Alpha 55 / Sony Alpha 33 / Sony Alpha 35 / Sony NEX-7 / Sony NEX-6 / Sony Alpha 57 / Sony Alpha 37 / Sony NEX-5N / Sony NEX-C3 /