542
Canon's new EOS 90D promises interesting capabilities for microscopy applications
With the EOS 90D, Canon has launched a successful update of the EOS 80D, a trusty member of Canon's line-up of mid-range APS-C DSLRs – and we can supply the adapter solutions you need to attach the 90D to your microscope.
Mid-range cameras are widely used for professional microscopy applications because they offer a good price-performance ratio. The EOS 90D improves on its predecessor, the EOS 80D, with cutting-edge technology. Notably, its new APS-C sensor bumps resolution up from 24 to 32 megapixels.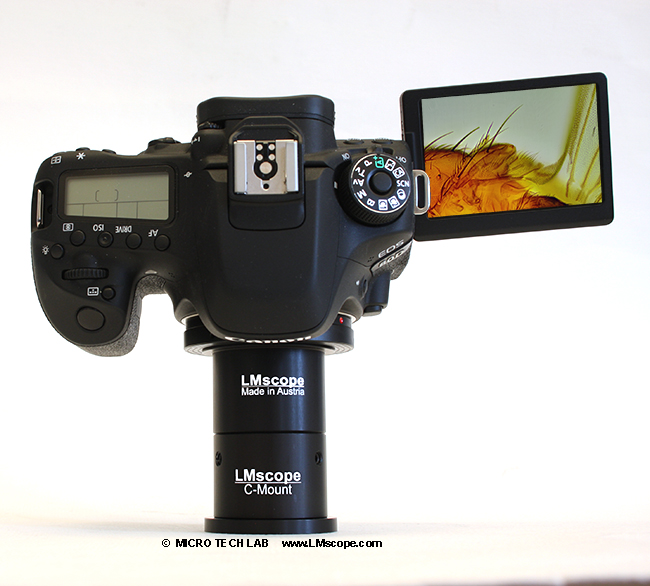 4K video shooting (Ultra HD) has been extended to just under 30 minutes, same as in top-of-the-line DSLR and system cameras. The 90D also allows users to shoot Full HD videos at 120 fps, and via its digital video port (HDMI), you can easily export the camera's Live View feed to an external 4K monitor. This is a useful feature for presentations and educational activities, because the images to be discussed with the audience can be displayed in high quality. Its high ISO sensitivity of up to 51,200 also makes the EOS 90D an optimal fit for low-light microscopy applications, such as fluorescence microscopy.
Only the camera body, without lens, is required to connect a camera to a microscope. The LM microscope adapter is attached directly to the camera body. Canon has set the introductory price of the EOS 90D at EUR 1,290 (body only), but experience tells us that this is going to drop significantly after a few months and will probably come closer to that of the EOS 80D, which currently retails at around EUR 790. As an alternative, you may also consider the EOS RP, a full-frame mirrorless system camera, which has the same price tag (EUR 1,290).
The EOS 90D has a vari-angle touchscreen with 1 megapixel in resolution (unchanged from the 80D), which is very convenient when working with a microscope.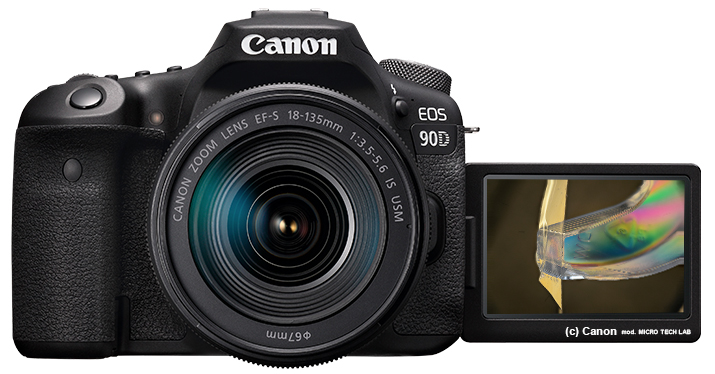 Of course, the camera can also be controlled remotely from a PC/Mac with Canon's proven EOS Utility software, which makes it possible to display the Live View image on a large monitor.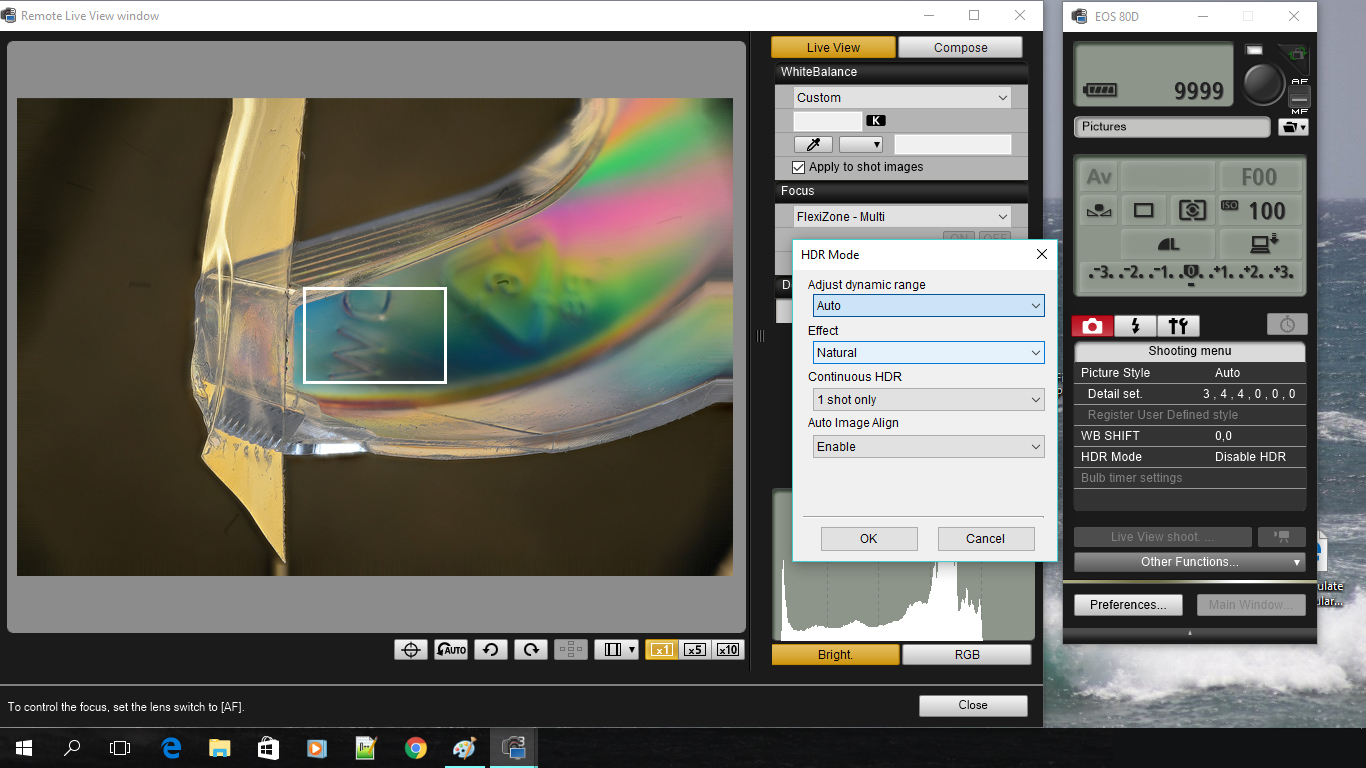 A detailed discussion of the EOS Utility software can be found in our review of the Canon EOS 80D.
In addition, Canon's Camera Connect app offers the option to control the camera via smartphone or tablet through Wi-Fi. This is very useful in a variety of applications, for example during presentations or in the operating room (four eyes see more than two). After connecting the camera to a tablet or smartphone via Wi-Fi, you can change camera settings and transfer images remotely (without a wired connection).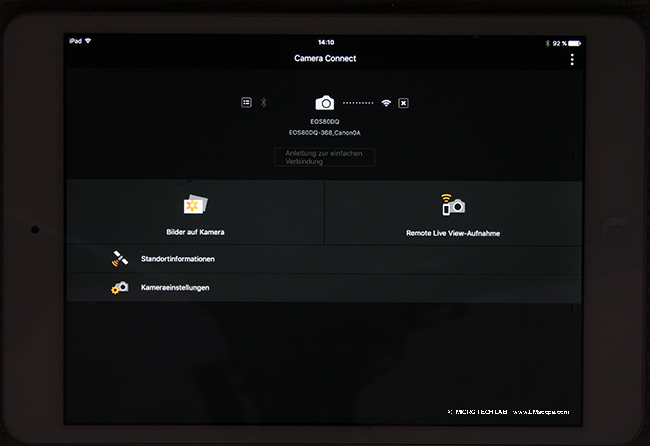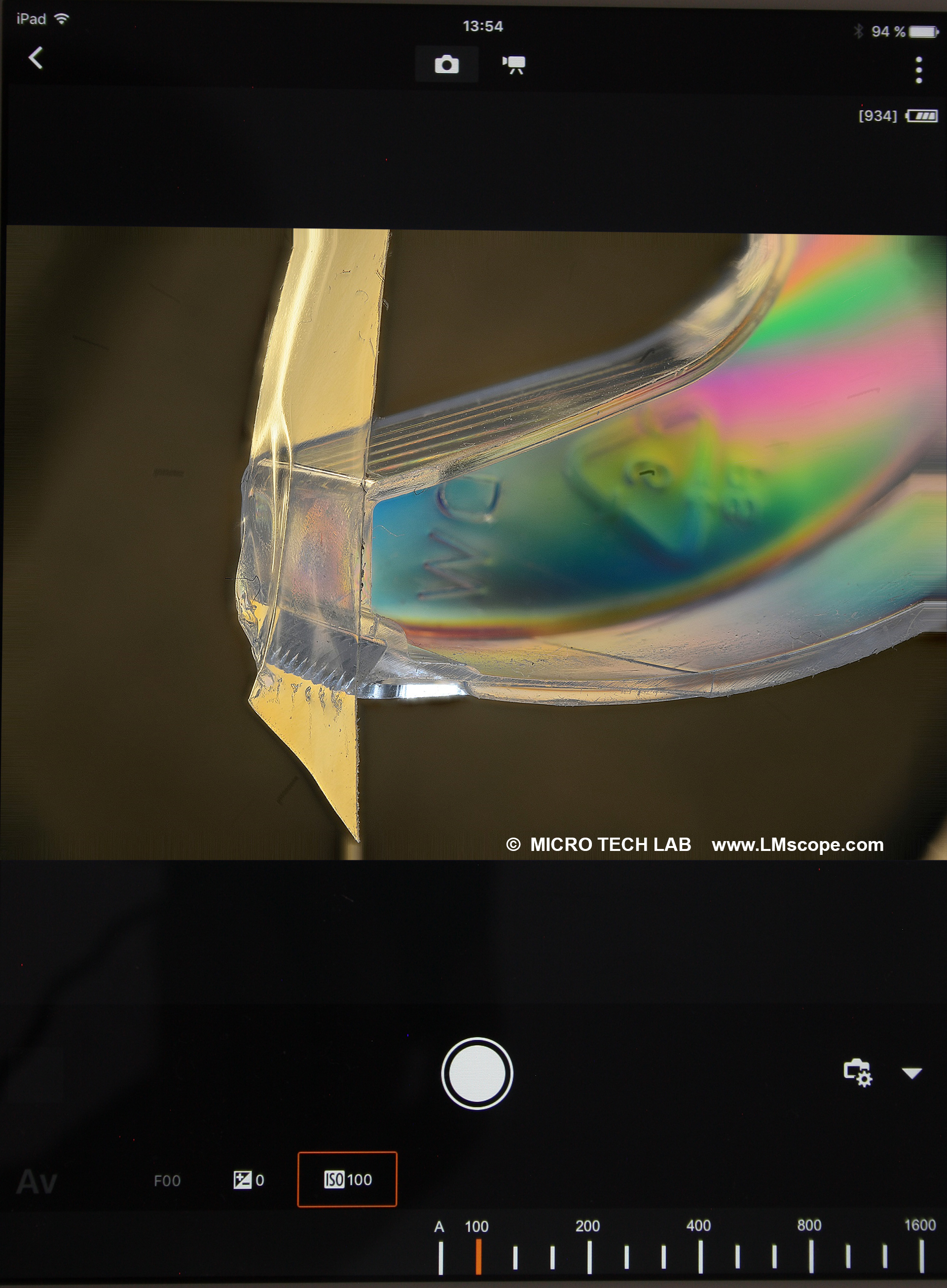 DSLRs have a distinct advantage over mirrorless cameras in that they consume less power and thus have a much longer battery life. For stationary operation, we recommend powering the camera from an external power supply using a dummy battery (an empty battery that connects an alternative power source to the battery pins in the camera). Unfortunately, the EOS 90D does not yet support USB charging.
Along with the EOS 90D, Canon also introduced the EOS M6 Mark II, which we will be reviewing in the near future.
The image below shows the camera connected to the microscope using a C-mount adapter solution for a C-mount camera port with a 1x optical factor. Notably, this camera port does not have a reduction lens.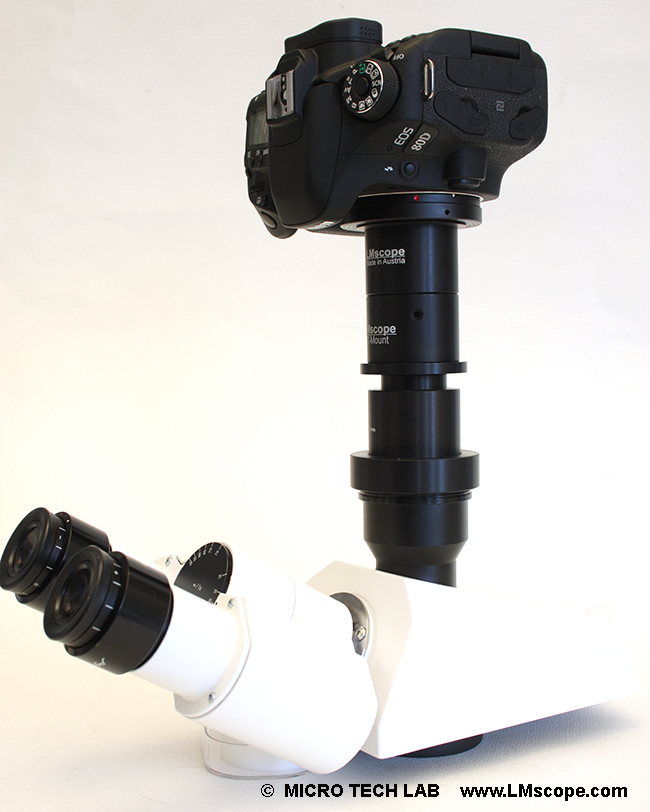 For microscopes not equipped with a phototube, our adapter can also be used to connect the camera to the eyepiece tube – and the optical quality of the images is as good as that achieved using the phototube solution. By adding just a few accessories, this solution can also be used on the C-mount connection.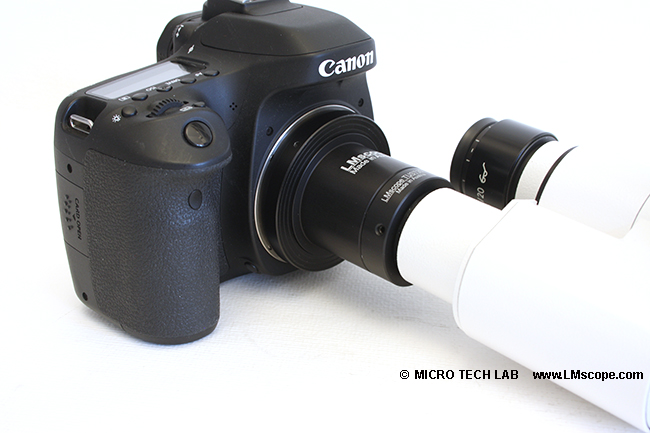 Summary of the EOS 90D's key features
Very compact body (701 grams with battery)

3-inch vari-angle LCD monitor with 1.04 million dot resolution and full touchscreen capability

APS-C sensor with Dual Pixel CMOS AF technology with ultra-high pixel density (highest pixel density in an APS-C sensor)

4K UHD video with 30 fps and a maximum recording time of 29 minutes 59 seconds per clip

120 fps in full HD video mode (the maximum continuous recording time is 7 minutes 29 seconds)

Noiseless electronic shutter capable of speeds up to 1/16,000s

1/8,000s mechanical shutter

ISO 100 to 51,200

Built-in Wi-Fi and Bluetooth

High-speed continuous shooting at up to 11 fps (buffer for up to 54 images)

Micro USB port (charging not supported), mini HDMI
Conclusion:
The EOS 90D is a worthy successor to the 80D. We are very excited to see how it performs when we test it on a microscope with our LM adapter solutions. In any event, we expect it to deliver a solid photography experience.
05.09.2019