297
Almost a classic – the Canon EOS 1000D
In our opinion, compact cameras are not particularly well suited for use in microscopy. However, due to the generally more moderate prices and supposedly easier handling, many customers tend to use them. For this reason, we consider it important to also test older, cheaper digital SLR cameras as an alternative pricewise. One option is the Canon EOS 1000D, which can currently be found on the second-hand market for less than € 200.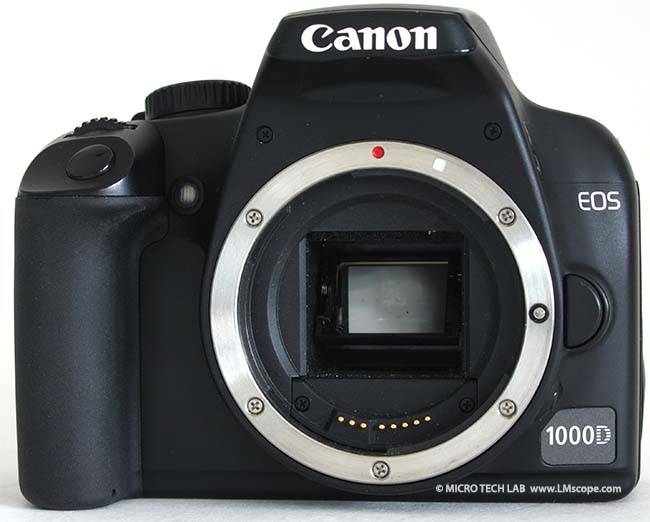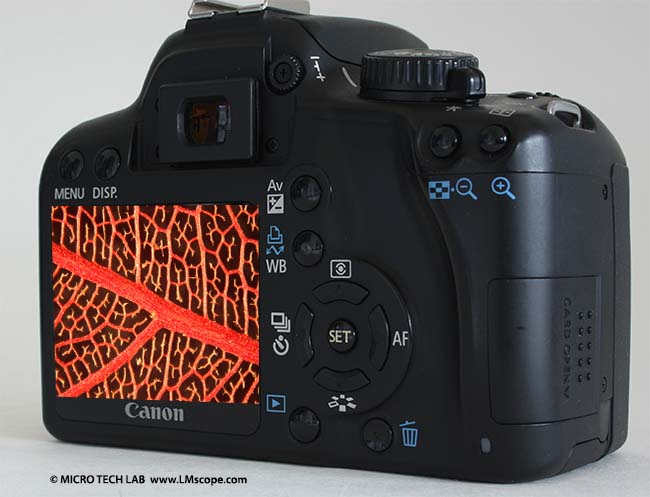 Since the Canon EOS 1000D was introduced to the market in 2008, quite a few years have passed. In terms of external appearance, it bears a strong resemblance to the Canon EOS 450D. The camera is relatively light, weighing only around 500 grams, and is very comfortable to hold. The control layout on the rear of the camera is clear and easy to follow. The LCD display is 2.5" and has 230,000 pixels, but unfortunately cannot be rotated.
The Canon EOS 1000D is equipped with a 10 megapixel APS-C sensor. That might not seem to be very much at first glance, but considering that the image resolution in microphotography is limited by the numerical aperture of the microscope lens, 10 megapixels are certainly enough. Current cameras that have been specifically designed for microscopy, such as the AxioCam ERc 5 from Zeiss, have only 5 megapixels and a colour depth of 24 bits.
The light sensitivity is automatically set between 100 and 800, and manually, the ISO speed can be increased to 1,600. The colour depth is 36 bits.
Of note, the Canon EOS 1000D does have one of the most important features for microscopy and macroscopy: the magnification function in Live View mode. The Live View mode must first be activated in the menu, but once this has been done, it can be controlled without difficulty using the SET button. The image magnifier works with magnifications of 5x and 10x.
In addition, the camera also works extremely well with the Canon EOS Utility software which enables it to be conveniently controlled from the computer. Thus, the Canon EOS 1000D satisfies two main requirements in terms of suitability for microphotography. However, it would be a big plus if it also had an HDMI port.
Furthermore it should be pointed out that the Canon EOS 1000D is better suited for microscopy than the lower-priced Nikon DSLR models (e.g. Nikon D5000, D5100, D3000, etc.), as it also recognises non-CPU lenses and thus all of the automatic functions can be used.
It is very easy to attach the camera to 23.2 mm, 30 mm and 30.5 mm eyepiece tubes with our digital LM DSLRCT adapter.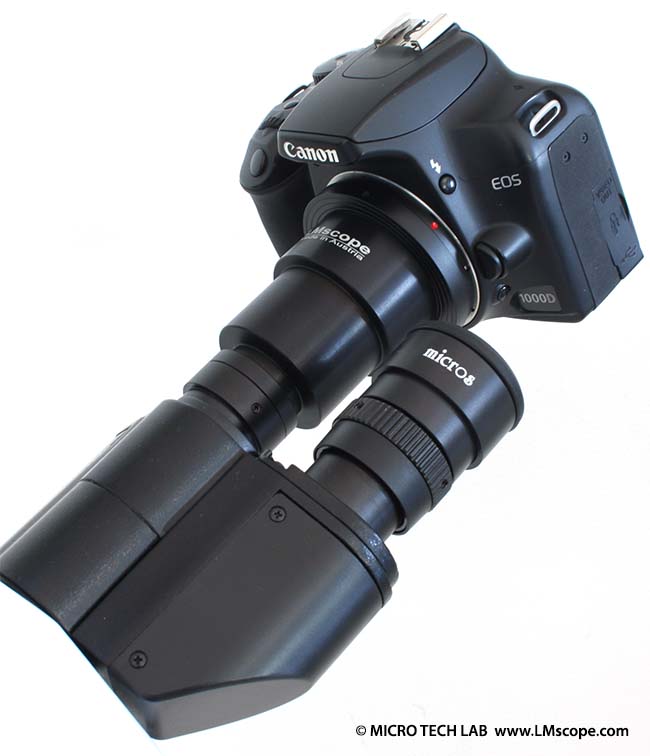 To connect the Canon EOS 1000D to the phototube of the Lotus Micros MCX51, we also used the LM DSLRCT adapter plus the TUSTB tube adapter.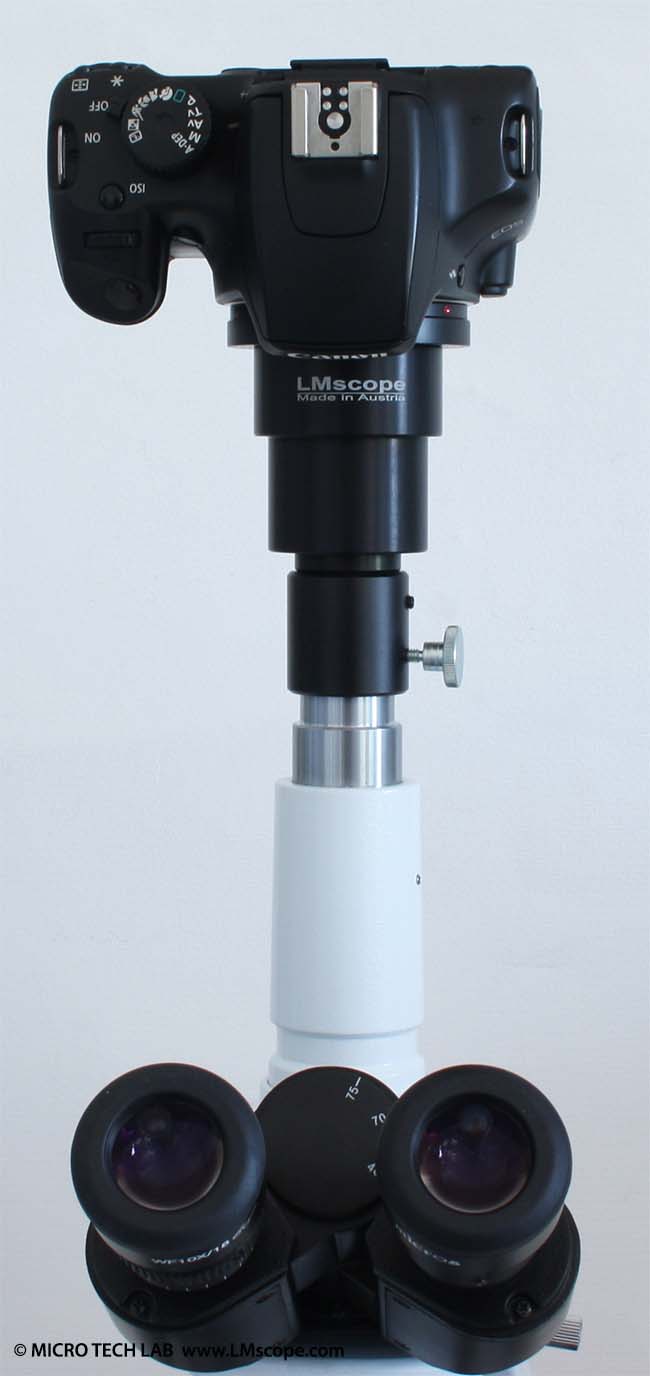 The most significant differences between the Canon EOS 1000D and newer, higher-quality cameras can be summarised as follows:
At 10 megapixels, the number of pixels is, of course, somewhat spartan from today's point of view, and the majority of cameras have considerably higher pixel counts. But, as we have already stated, this is not a game breaker in microscopy. However, larger numbers of pixels are indeed desirable at lower magnifications (below 10x) for both macroscopy and stereomicroscopy applications.
LCD displays have increased in size and also feature more pixels (the EOS 650D's display, for example, is 3'' and has 1.04 million pixels).
Hardly any cameras still have a colour depth of less than 42 bits. While newer cameras might deliver better colour reproduction, this is, of course, reflected in the price.
Nowadays, an HDMI port comes as standard, and we really regret the absence of this feature in the Canon EOS 1000D.
It is not possible to shoot HD videos at all. So, if you would like to make films with your camera, you will need to find another alternative.
In recent years, camera sensors have developed in leaps and bounds, meaning that more sensitive sensors are used in today's cameras, which enable higher ISO settings. With higher ISO values it is possible to take better pictures when the light conditions are poor.
| | | | | |
| --- | --- | --- | --- | --- |
| | Canon EOS 1000D | Canon EOS 650D | Nikon D7000 | Zeiss AxioCam ERc 5 |
| Year of introduction | 2008 | 2012 | 2010 | 2012 |
| Megapixel | 10 | 18 | 16 | 5 |
| Colour depth | 36 | 42 | 36 | 24 |
| ISO (autom.) | 100-800 | 100-6.400 | 100 - 6.400 | k.A. |
| Sensor | 22.7 x 15.1 mm | 22.7 x 15.1 mm | 22.7 x 15.1 mm | 5.7 x 4.28 mm |
| Price only body in € | rd. 200 (used) | rd. 550 | rd. 670 | rd. 1,200 |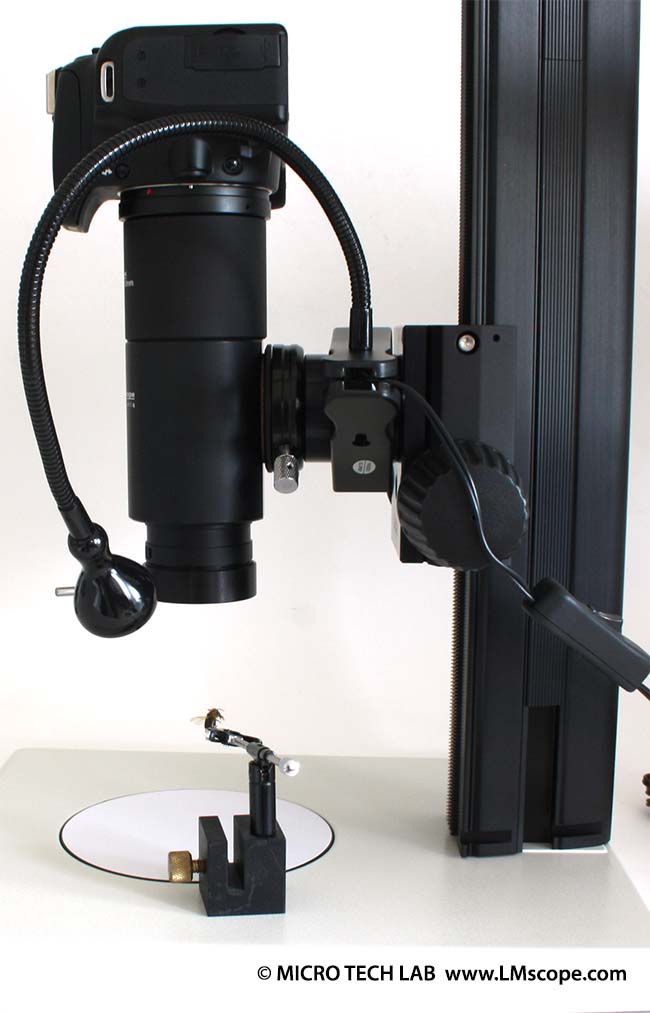 Conclusion: These days, the Canon EOS 1000D has a few years under its belt, but nevertheless it is still a sensible alternative to low-priced compact cameras. The image quality is good and the price-performance ratio is unbeatable at any rate. The only fly in the ointment is the lack of an HDMI port, which only became standard after the Canon EOS 1100D.
22.07.2013
New LM Digital Adapter for: