275
Testing report: Nikon D5100 on a microscope
We have long been interested in finding out if it is possible to take good microphotographs with low-priced DSLR cameras. For this reason we chose the Nikon D5100, which is available from retailers at a price starting around as little as € 450 (body only).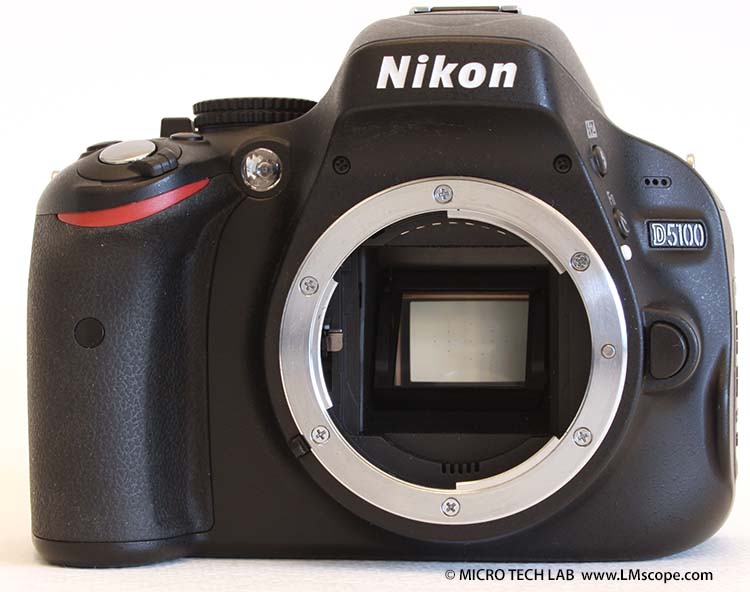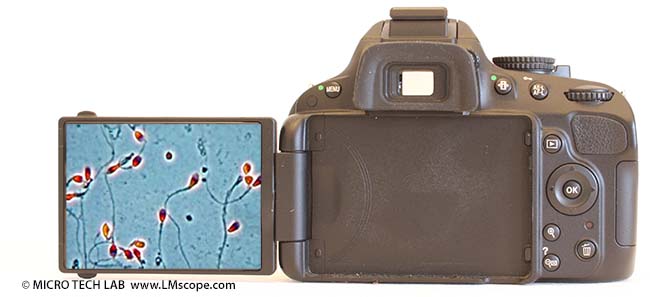 The camera sits well in the hand, and is very small and light (420 grams). Although it is made of plastic, the material is very high-grade and well manufactured. The screen pivots on a side hinge, and can also be rotated. This is very convenient if no external monitor is attached.
The other key technical data also appear very promising. With 16.2 megapixels, the sensor resolution is more than adequate for microphotography. Videos can be shot in full HD (1,920 x 1,080 pixels). The camera's ISO settings range from 100 to 25,600; in extended mode, ISO can even be adjusted to 51,200. The colour depth is 42 bits.
So much for the theory, now for the practice. We used a Micros Lotus MCX51 microscope for our tests and connected the camera to the microscope via the photo port. To do this we used a TUSTB as well as an LM DSLRNT adapter. Of course, the Nikon D5100 can also be connected via an eyepiece tube, but with the Micros Lotus MCX51 we chose not to make use of this possibility. The right-hand image shows the adapter solution for an eyepiece tube with a 30 mm diameter. A TUST30S is required, as well as an LM DSLRNT adapter.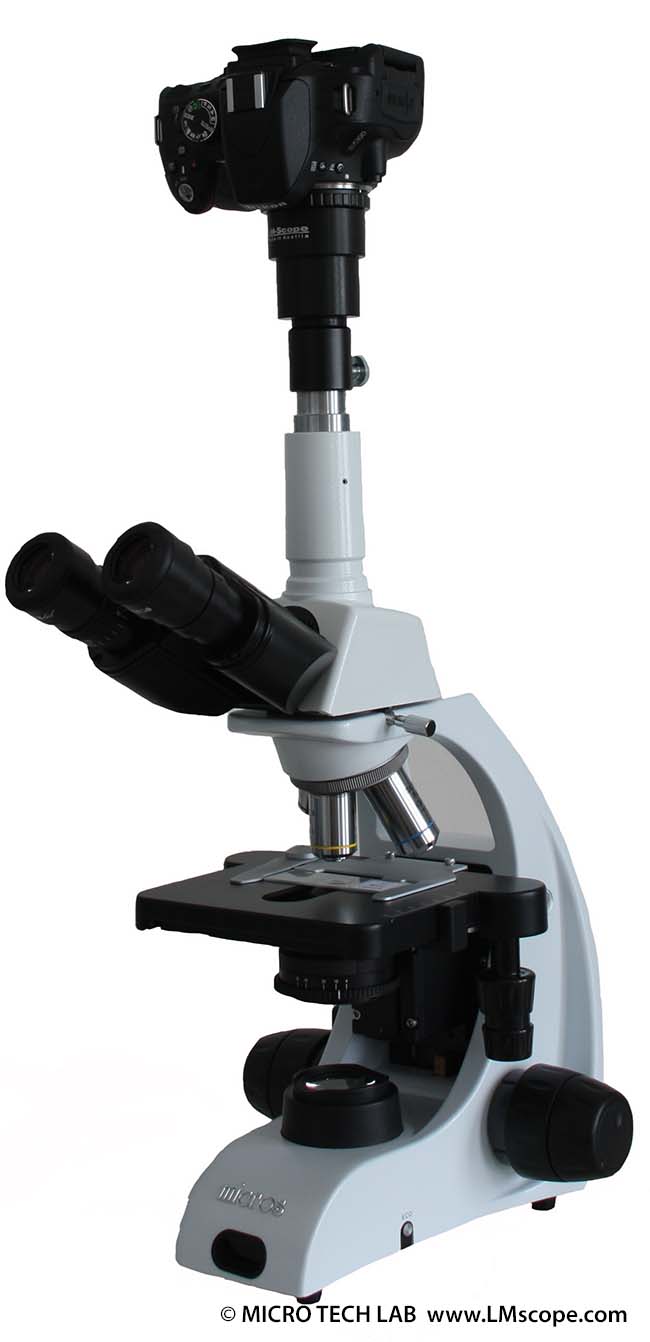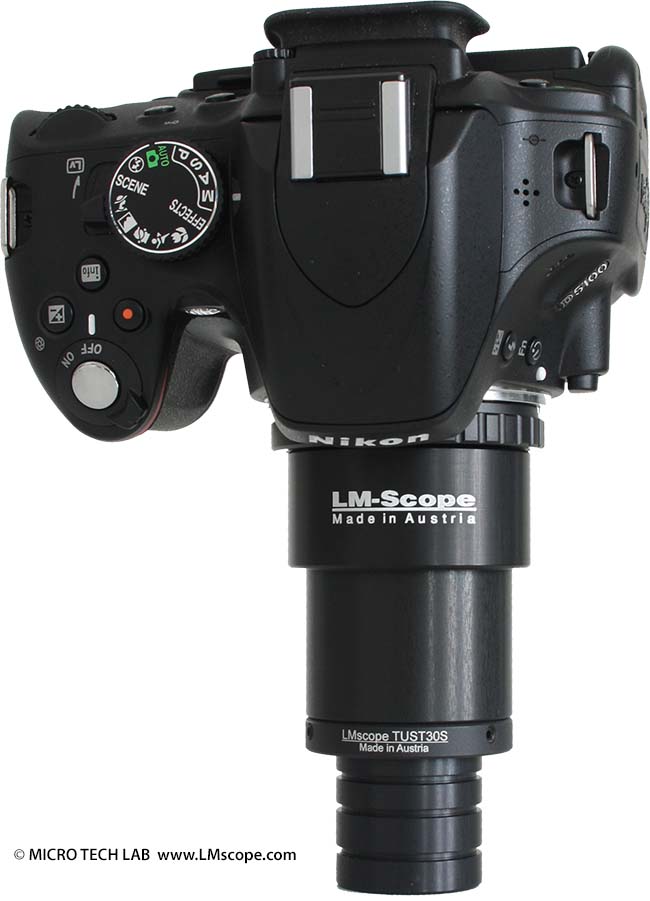 After connecting it to the microscope, we experienced our first moment of disillusionment as soon as the camera was switched on. The Nikon D5100 only recognises CPU lenses, i.e. its own and a few others made by third-party manufacturers (a list is included in the manual). With this message on the display ("Lens not attached", see image below) it is clear that all auto functions are locked and that it will only be possible to capture images in (M)anual mode.
This makes microphotography more difficult, as it is necessary to go through the complicated process of setting the correct exposure time manually. If, however, your light conditions and settings (e.g. in the case of material inspections) are always the same, it is sufficient to work out the exposure time once and then save it for all eternity. The higher priced NIkon cameras as i.e. Nikon D7000 and the Nikon D800, also recognise non-CPU lenses.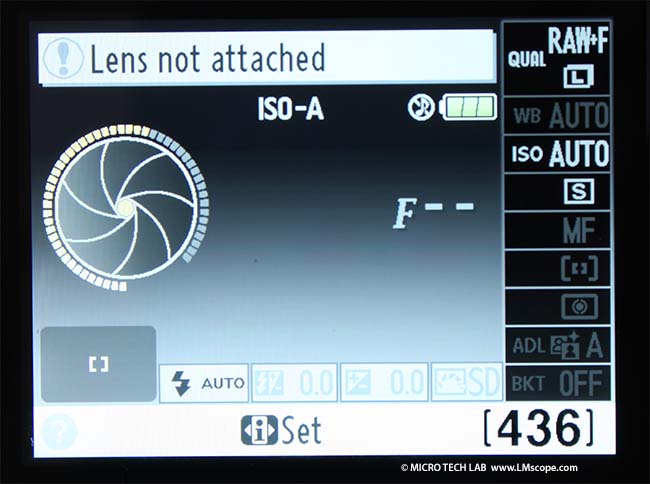 The Nikon D5100 has the same CMOS image sensor in APS-C size as the Nikon D7000. A regulating noise filter ensures that the signal-to-noise ratio is good. However, the disadvantage of this rather intrusive filter is that the camera displays weaknesses when it comes to detail accuracy in low-contrast subject areas. In terms of detail, the Nikon D5100's competitor, the Canon EOS 600D, performs better.
Another point of criticism is that the Live View image can only be displayed in playback mode on an external monitor (via HDMI output). Furthermore, the Live View time is limited to a maximum of 15 minutes, which is very short – only for "quick shooters", so to speak. Everyone else would need to switch the Live View function on again every 15 minutes.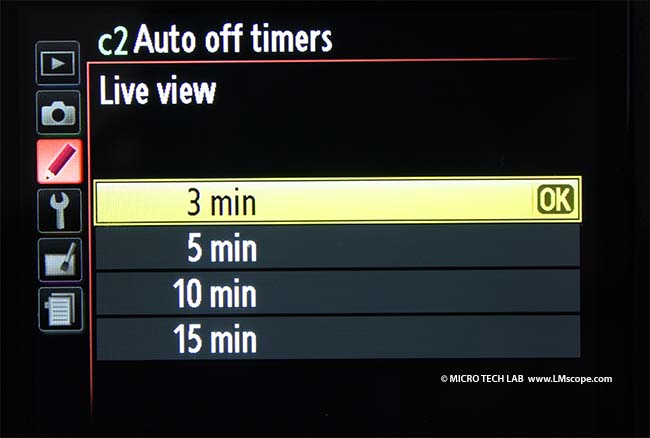 Vibration is a very frequent problem in microphotography, leading to blurred images. To reduce vibration blurring, use the mirror lock-up function and select the quiet shutter-release mode (Q) in Live View.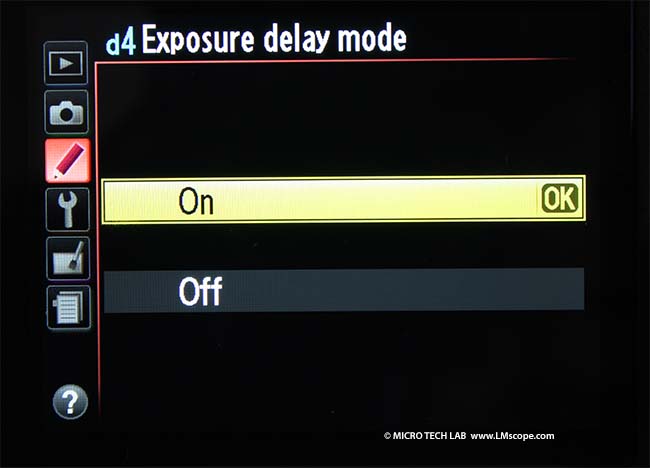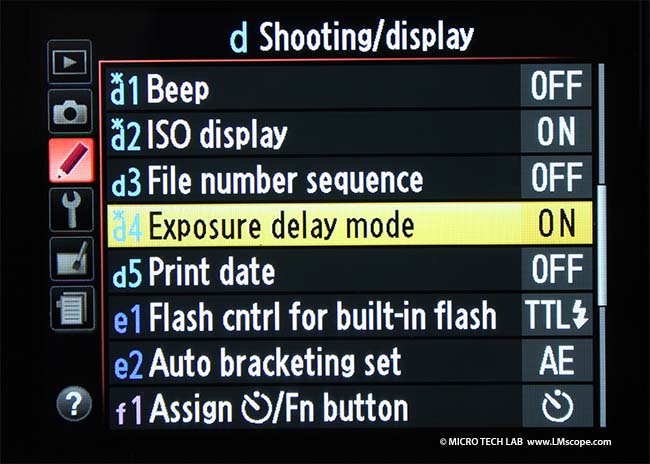 Of course, the Nikon D5100 has an HDMI connection. However, as already mentioned previously, the Live View mode via HDMI interface to an external monitor only works in playback mode and cannot be used for the actual taking of images.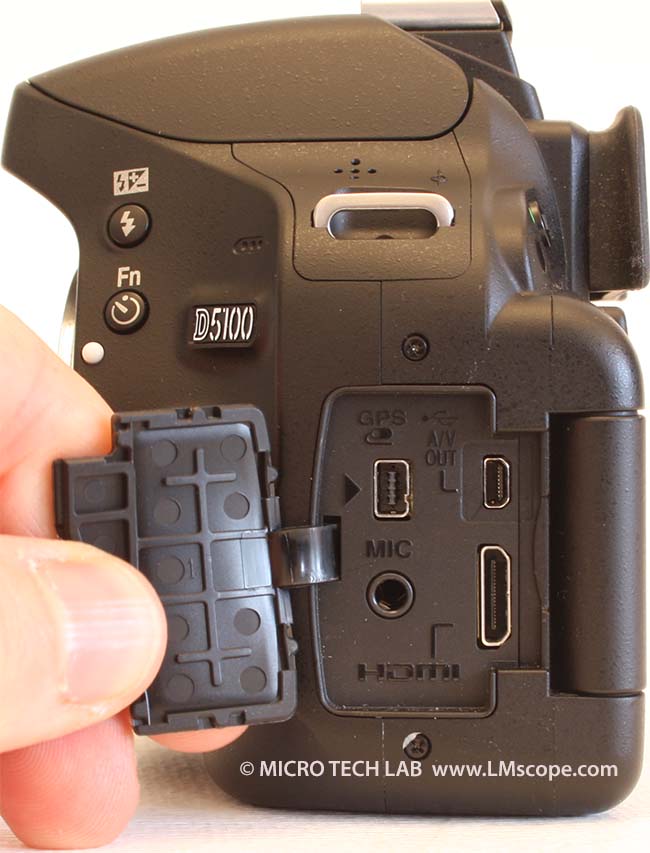 The Nikon D5100 has some additional functions, such as the "Special effects" that are even available in video mode. If you choose the "Selective colour" option, for example, all colours other than the selected colours are recorded in black and white. These are certainly interesting additional features, but they are only of limited use in microphotography.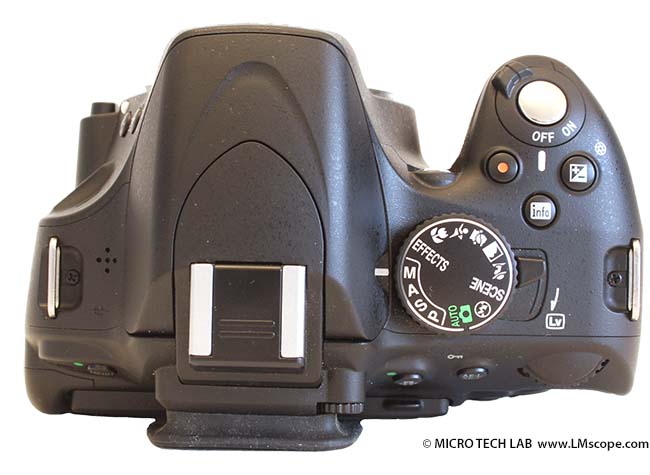 Other features, however, are far more important for microscope photos, for example that the Camera Control Pro 2 remote software works flawlessly with the Nikon D5100. If the software is used, the Live View function also works without problems.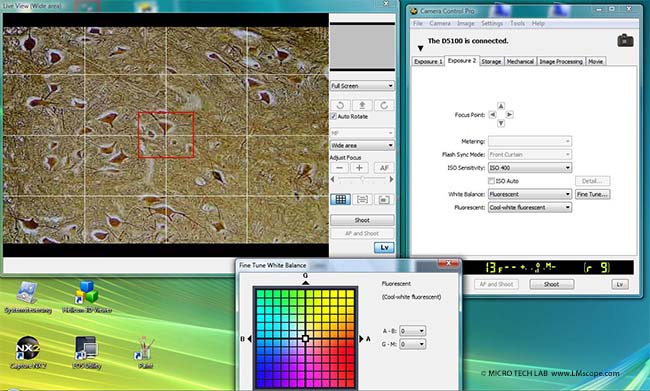 Conclusion

:
The Nikon D5100 is a very good consumer camera that has many useful features and special effects. However, for the very specialised area of microphotography, we can only recommend it to a limited extent. The biggest failing is that it does not support non-CPU lenses, or at least only a small selection of lenses that are not CPU enabled. For this reason, it is only possible to take images through a microscope in manual setting, and no auto functions can be used. The Live View limitation to 15 minutes is also impractical, as is the fact that the Live View function only works in playback mode on an external monitor. The Camera Control Pro 2 remote software, on the other hand, works impeccably.
06.12.2012
update: 30.09.2015
New LM Digital Adapter for:
Nikon Z fc / Nikon D850 / Nikon D780 / Nikon D5 / Nikon D4s / Nikon D4 / Nikon D750 / Nikon D500 / Nikon D810 / Nikon D800 / Nikon D800E /