544
Olympus E-330: the world's first Live View DSLR, introduced by Olympus in 2006, on the microscope
A milestone in camera technology
In 2006, Olympus launched the very first removable-lens digital SLR with a live LCD preview and thus sparked a revolution in digital photography. A DSLR with an interchangeable lens mount and a flip-out, vari-angle LCD monitor that was able to provide a full-time live preview gave photographers a host of new options and a previously unknown degree of flexibility, especially for microscopy applications. The Live View feature not only made working on the microscope much more ergonomic and efficient, but Olympus also offered a software for controlling the camera remotely from the PC.
Key features of the E-330:
First DSLR with live preview mode

CMOS sensor with 7.5 MP in four-thirds format (17.3 × 13.0 mm)

Four-thirds interchangeable lens mount system

Articulated LCD screen

Video port to connect a large external monitor for displaying the Live View image
By today's standards, 7.5 megapixels seems ridiculously low, but this resolution is actually perfectly fine if you want to start exploring basic photomicrography. Using our LM digital adapters, the camera can be attached to either the photo tube (preferred option) or the eyepiece tube of the microscope. The LM adapter solution required for this fits the entire series of Olympus cameras with four-thirds bayonet mount: E-1 / E-3 / E-30 / E-300 / E-330 / E-400 / E-410 / E-420 / E-450 / E-5 E-500 / E-510 / E-520 / E-600 / E-620.
We offer different adapter solutions depending on the specific microscope used. In general, users can choose between a standard adapter and a wide-field adapter solution.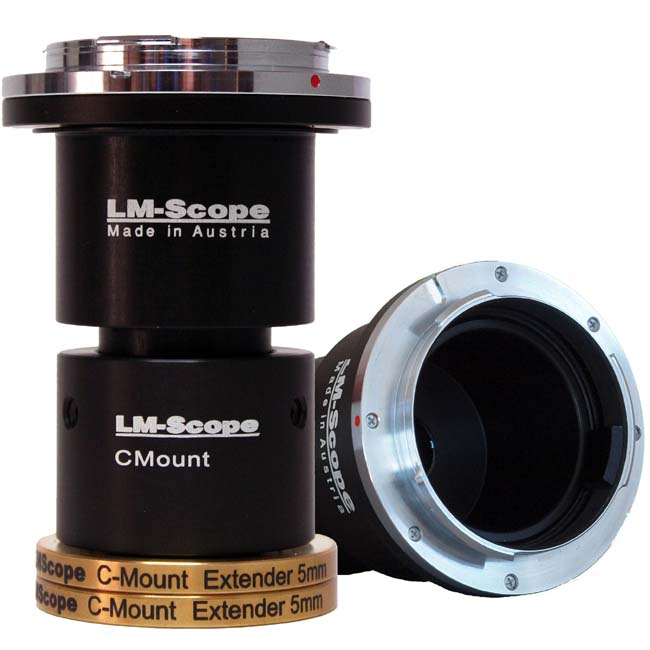 The wide-field adapter enables the camera to capture the largest possible field of view (FoV) without any vignetting, and its modular design offers considerably more flexibility.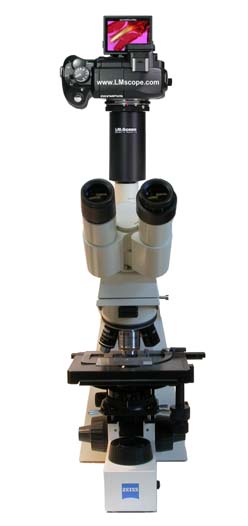 In photomicrography, it is particularly important to check image quality and focus before taking each shot. The Olympus E-330 offers a 10x magnification of the image on the LCD screen.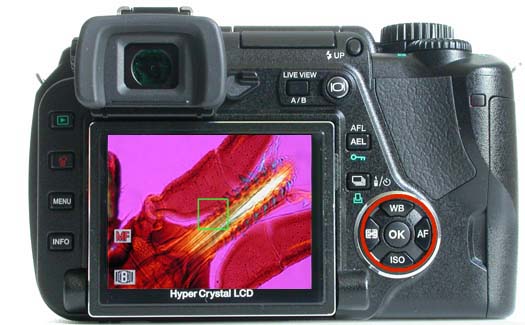 With this zoom function it is possible to optimally adjust the focus using the micrometer screw.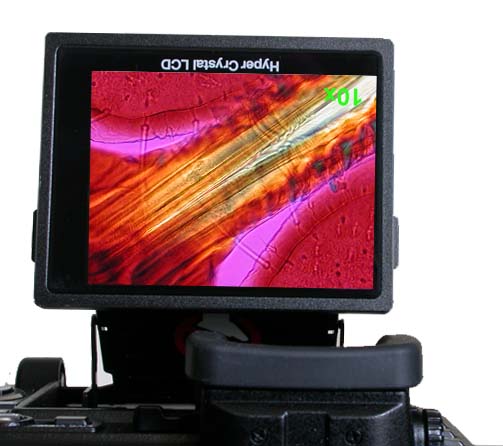 The first image shows the specimen under normal microscope magnification. At the press of a button, the magnification can be set to 10x (image 2) to facilitate more accurate manual focus.
If the 2.5-inch screen is not quite big enough for your needs, you can connect the E-330 to a larger monitor using the video cable bundled with the camera. The delayed timer can be set to 2 or 10 seconds for remote capture or shooting in self-timer mode. This avoids any unwanted vibrations due to shutter motion, which would significantly degrade the image quality.
Conclusion: In its day, the Olympus E-330 was a great camera for microscopy applications and marked a milestone in digital SLR technology. Anyone who still has an E-330 or is able to get one for a good price on the used-camera market can attach it to a variety of different microscopes in a few easy and uncomplicated steps with our adapter solutions. Considering its age, the E-330 delivers a surprisingly good image quality. Our adapter system has a modular design and therefore fits modern cameras with just a few accessory parts for an easy mounting solution. Further information on making a camera selection can be found on the following two info pages: current camera recommendations and camera ranking.
06.06.2006 Update:26.09.2019