548
Test: the Olympus OM-D E-M5 Mark II on the microscope
The OM-D E-M5 Mark II from Olympus is a small, powerful outdoor camera that can be attached to almost any type of microscope with our adapter solutions. We offer adapter solutions that work on phototubes as well as eyepiece tubes. Of course, we can also custom-develop and manufacture an adapter for your specific requirements. LM adapter solutions deliver a wide field of view with sharp focus all across the field. They are quality-built from the very best materials and have an integrated precision optical system.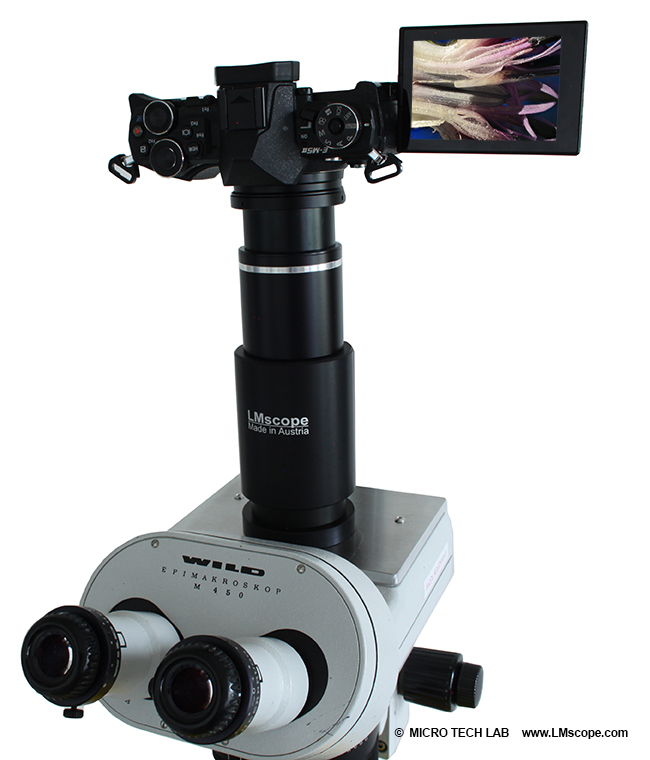 The Olympus OM E-M5 Mark II is a mirrorless compact system camera. It weighs only 496 grams (battery included), and its small size and dust- and splash-proof construction make it an ideal companion for photography on the go. The smaller four-thirds sensor format means that the camera is very compact and small, and the lenses are correspondingly smaller and lighter too, in comparison with APS-C or full-frame sensors. Especially for outdoor/nature macro shots, this is a plus in terms of aperture and depth of field. When used with Olympus ZUIKO lenses, the camera has a special macro mode for focus stacking (bracketing): multiple images are taken at different focus distances and combined into a stack, which is then merged on the PC or Mac using a focus stacking software (such as Helicon) to create one perfect composite image with an extended depth of field.
The OM E-M5 Mark II features a very powerful and effective image stabiliser, which can also be used for pixel shift imaging to maximise resolution.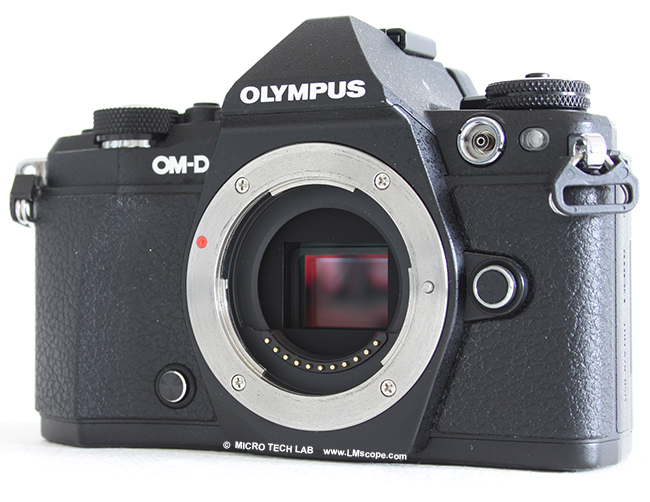 The four-thirds Live MOS image sensor has a resolution of 16.1 MP. The mechanical shutter is very quiet and soft; shutter speed ranges between 1/8000 and 30 seconds. The camera also offers a fully-electronic shutter mode with speeds of up to 1/16000 second. Thus, you can use the shutter mode that is best suited for your shooting situation to get the highest possible image quality.
In burst mode, the OM E-M5 Mark II can capture up to 10 fps at maximum resolution. ISO sensitivity can be set between 100 and 25,600 (manual).
An upgrade from its predecessor, the OM-D E-M5, is the Mark II's 3-inch (7.6 cm) touch-sensitive, vari-angle LCD screen with a resolution of 1.037 million dots, which allows convenient focusing and shutter release.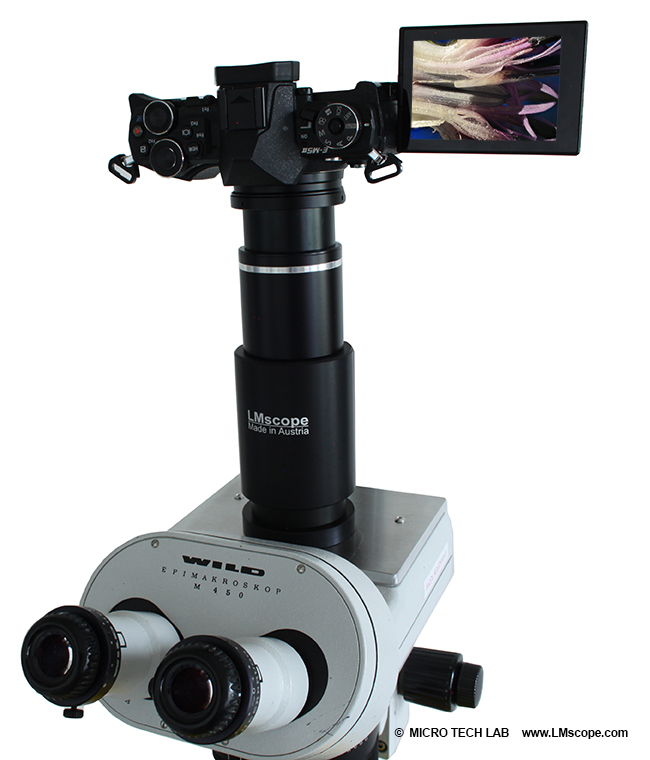 Because the screen is large and can be moved into different positions, it makes working with the microscope a lot more hassle-free. The image above shows a Wild M450 photomicroscope with phototube and the matching LM adapter solution.
For microscopes without phototube, we also offer LM digital adapter solutions with integrated optics that work on eyepiece tubes with an inner diameter of 23.2 or 30 mm.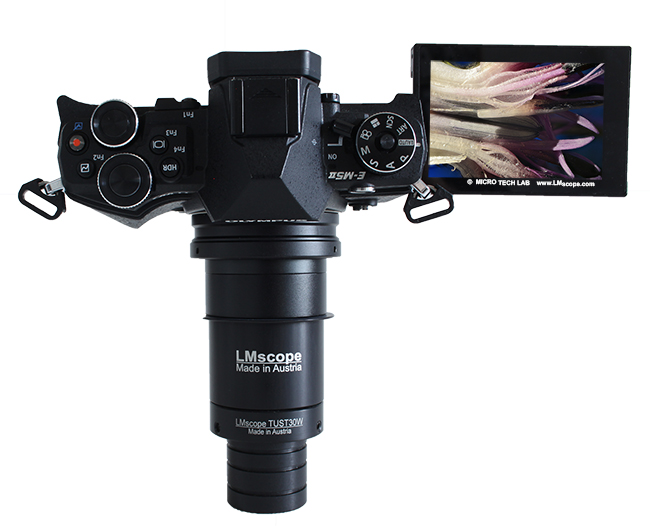 The menu functions of the OM E-M5 Mark II are quite sophisticated. In addition to the HDR mode, we particularly liked the built-in focus bracketing (stacking) feature. Using an original lens, the camera creates stacks (comprising between 3 and 999 frames) of images taken at different focus distances, which can be saved to a separate folder. Using a stacking software (such as Helicon) these stacks can then be processed to generate an image with more depth of field than would be possible with a single exposure.
To boost resolution, the E-M5 Mark II comes with a new feature: the 40M High Res Shot, which captures eight shots sequentially and then combines them into one. In this mode, the image sensor is shifted slightly up and sideways with each shot, to generate a single image with up to 40 MP resolution.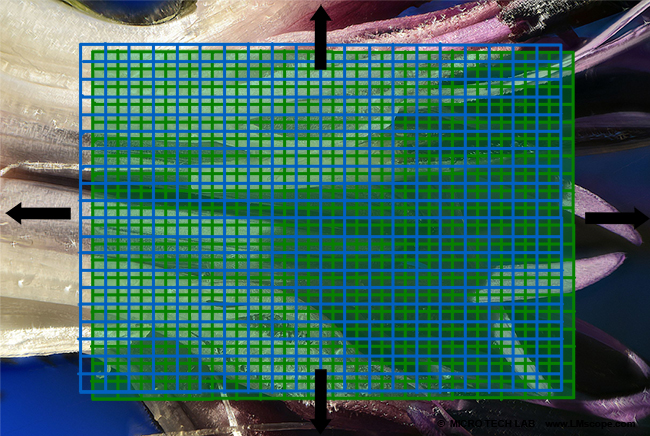 Video has not been a priority for Olympus when developing this camera. The E-M5 Mark II can record video in full HD, but unfortunately not in 4K (Ultra HD). The maximum video clip length is 29 minutes. An HDMI interface is available for external recording, which is not bound to the 29-minute limit. Uncompressed video output to a larger screen is also possible.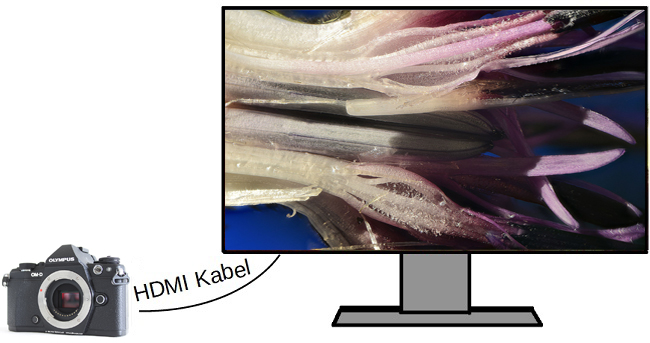 Attached to a microscope, the camera delivers good image quality. We recommend – as is shown in the image above – attaching the camera to the phototube. If the microscope doesn't have a phototube, connection via the eyepiece tube is also possible: one eyepiece is removed and the camera-adapter combination is put into its place. The image quality is as good as that achieved using the phototube solution.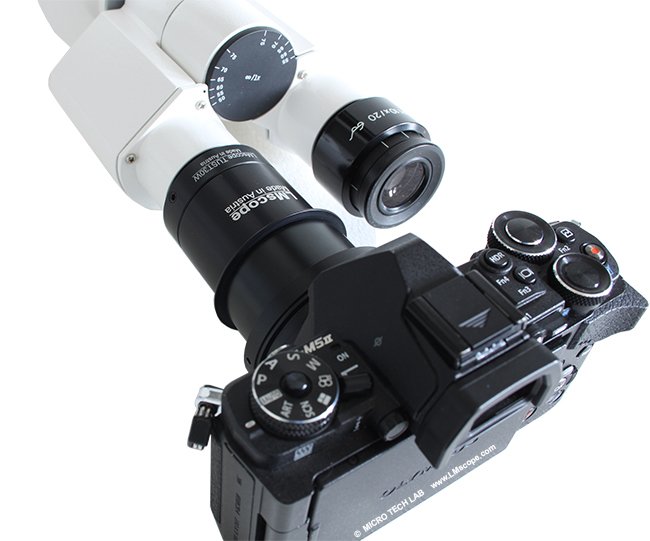 For an efficient workflow, we recommend controlling the camera remotely by connecting it to the computer via the camera's USB2 port. The required remote control software can be downloaded for free from the Olympus server. The E-M5 Mark II also has built-in Wi-Fi for remote sharing of recorded images with tablets or smartphones and to control the camera remotely with the OI.Share app.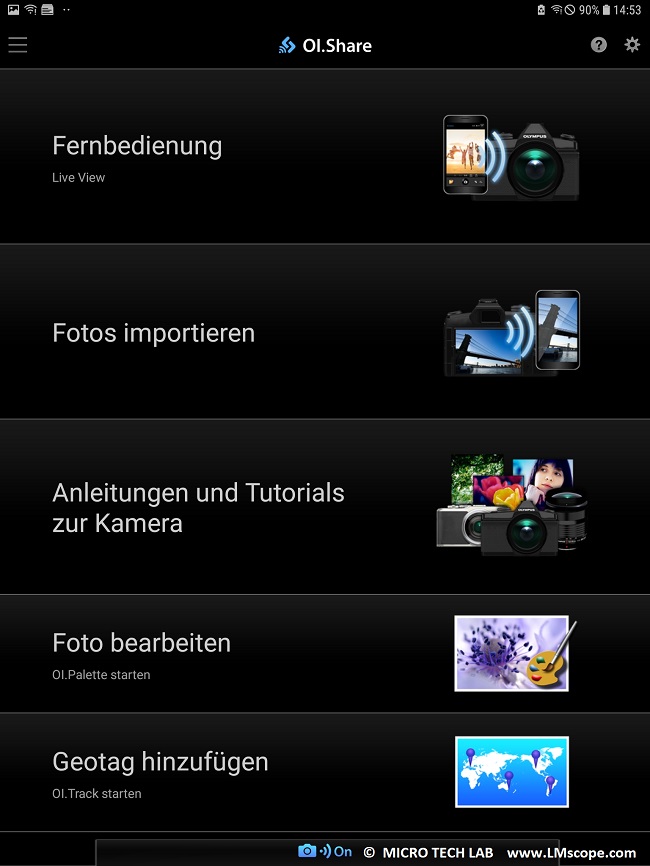 This app supports the basic camera functions. The main camera settings can be changed in the Live View window, and remote shutter release also works well.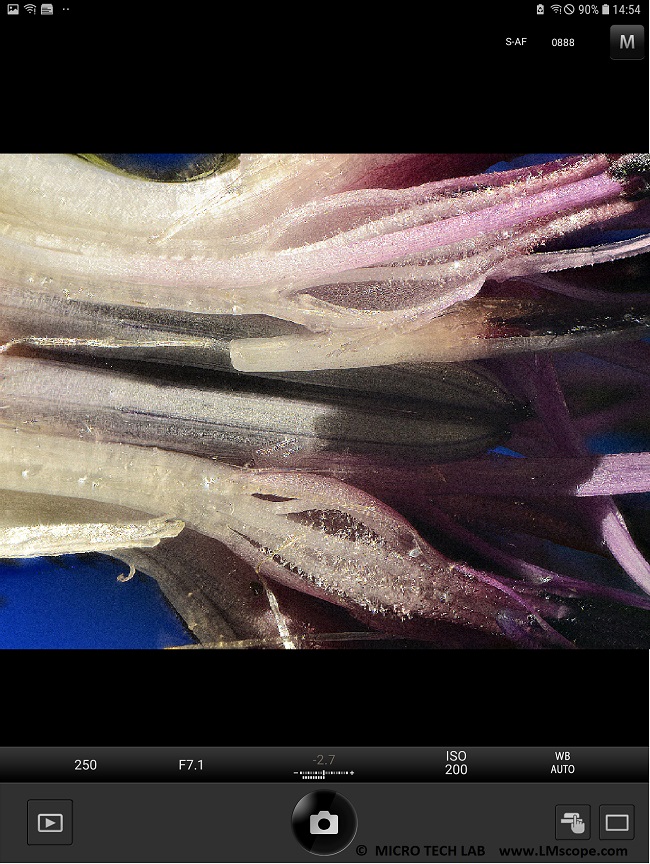 Sadly, the camera lacks a separate USB standard connection for a standardised plug. A connection is only possible with a combination plug.
Conclusion: The Olympus OM-D E-M5 Mark II is a good option if you want to use it both outdoors and in a studio setting. Its strong suit, however, is clearly outdoor photography. If studio and laboratory use is a priority, competitor models with larger APS-C and full-frame sensors are definitely a better choice. Shooting macro images using the focus stacking technique is one area where the camera performs exceptionally well. Especially when photographing nature, for example, you can get truly stunning results – all the more so when you add our LM close-up lenses for even higher magnification.
We would like to thank the company Opernfoto Hausleitner Graz for kindly providing the camera for our camera test.
25.20.2019