340
The retro style Olympus OM-D E-M5 system camera extensively tested for microscopy
Launched in 2012, the Olympus OM-D E-M5 system camera is not a newcomer to the market. However, as users are becoming increasingly interested in system cameras, we wanted to find out how the Olympus OM-D E-M5 performs in photomicrography.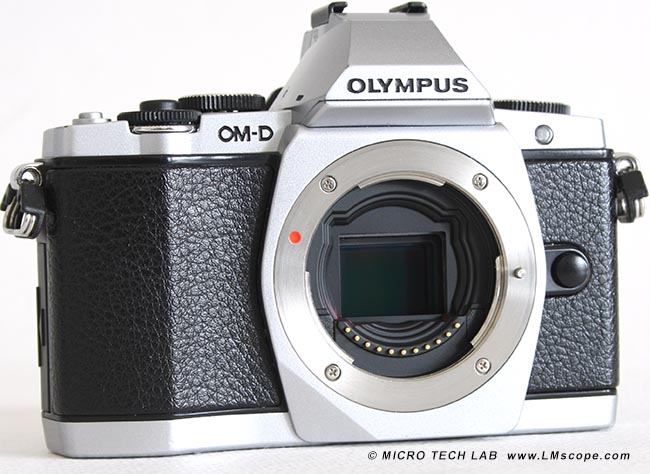 The mirrorless Olympus OM-D E-M5 system camera features a sleek retro design. The camera body is very sturdy and well-built. Olympus has even made it splash-proof. Without lens, it weighs a mere 420 grams.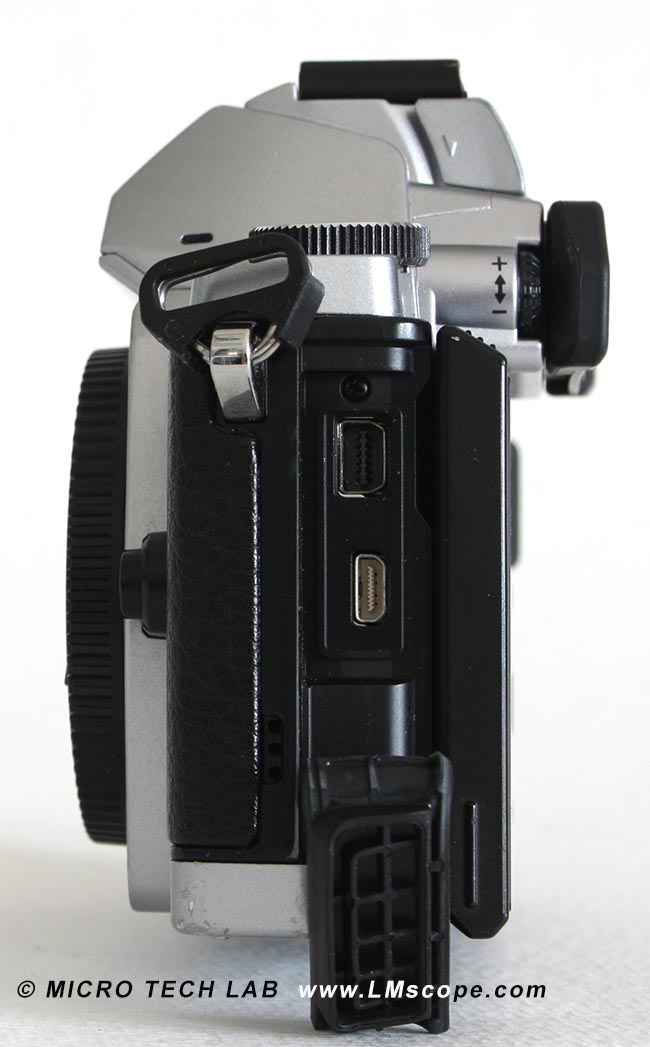 Thanks to its light and compact design it is ideally suited for outdoor use.
The sensor packs a 16 megapixel resolution. The colour depth is 36 bits and the light sensitivity is adjustable within a range of ISO 100 to 25,600. The Olympus OM-D E-M5 has a fantastic digital viewfinder and a superfast autofocus. In microscopy, however, those features are not relevant.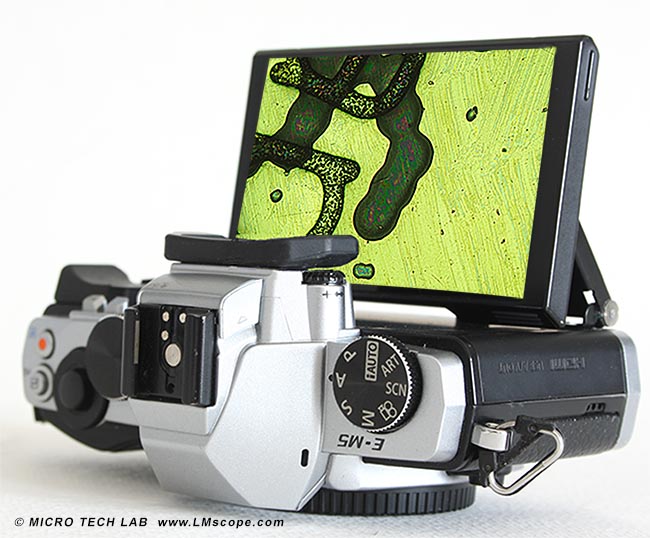 The display is foldable and even has touchscreen functionality.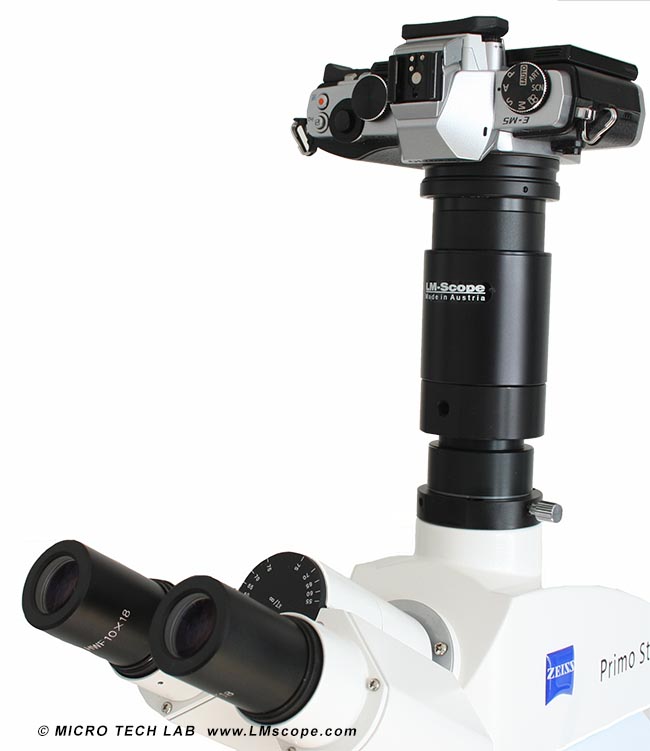 Attaching the OM-D E-M5 to the photo tube of a microscope is no trouble at all with our LM digital adapters.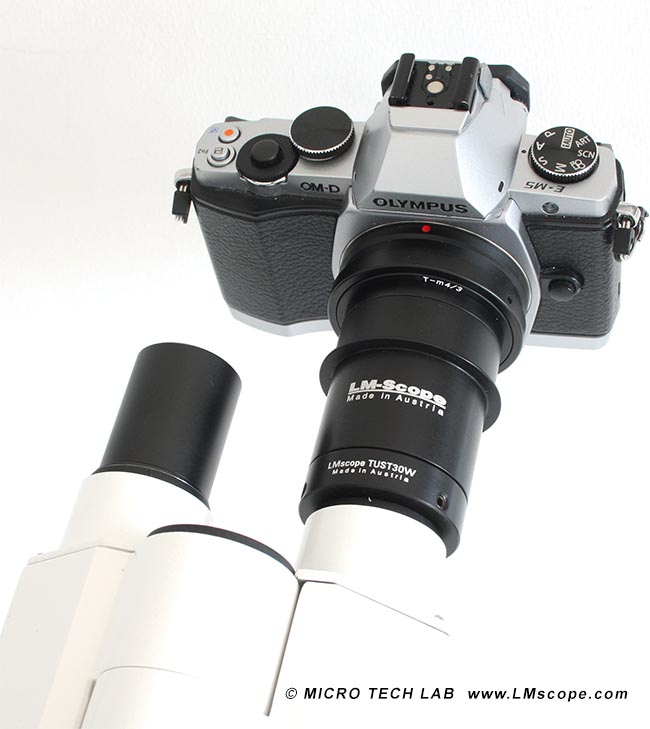 Even if the microscope does not have a photo tube, our LM digital adapters make it just as easy to fit the Olympus OM-D E-M5 to the eyepiece tube. The optical quality is equally good with both adapter solutions (photo tube and eyepiece tube).
Unfortunately, the Olympus OM-D E-M5 cannot be controlled by software on a PC or Mac. As a result, we can only recommend it to a limited extent for professional applications, since it would make the workflow much less efficient. In addition, it is not possible to display a Live View image on an external monitor via the HDMI port. That is something to consider if you are planning to use the camera for presentations. A positive aspect of the camera is that it delivers good image quality.
However, it does not have a WLAN interface.
Conclusion:
The Olympus OM-D E-M5 is a well-built mirrorless system camera designed for mobile applications. The image quality is good and the foldable touchscreen display is particularly handy for practical use. That aside, however, we still think that some features are missing for professional microscopy applications, such as the option of remote control from a PC or a Live View output through HDMI. We therefore suggest that four-thirds fans are better advised to use the Olympus E-M1 for microscopy and macroscopy applications.
16.01.2015
New LM Digital Adapter for:
Olympus OM-D E-M1 Mark III / Olympus OM-D E-M1X / Olympus OM-D E-M5 III / Olympus OM-D E-M1 Mark II / Olympus OM-D E-M5 II / Olympus OM-D E-M1 / Olympus E-5 / Olympus E-3 / Olympus E-30 / Olympus E-620 / Olympus Pen E-PL7 / Olympus OM-D E-M5 / Olympus Pen E-PL5 / Olympus OM-D E-M10 / Olympus Pen E-PM2 / Olympus E-330 / Olympus E-520 / Olympus E-420 / Olympus E-450 / Olympus E-510 / Olympus E-410 / Olympus Pen E-PL8 / Olympus Pen E-PL6 / Olympus Pen E-PL3 / Olympus Pen E-PM1 / Olympus Pen E-P1 / Olympus Pen E-P2 / Olympus E-600 / Olympus Pen E-PL1 / Olympus Pen E-PL2 / Olympus E-400 / Olympus SP-610UZ / Olympus C-7070 Wide Zoom / Olympus SZ-20 / Olympus SZ-30MR / Olympus C-5060 Wide Zoom / Olympus FE-47 / Olympus FE-4040 / Olympus FE-5035 / Olympus mju-5010 /