30
Using the Olympus E-420 digital SLR camera in microscopy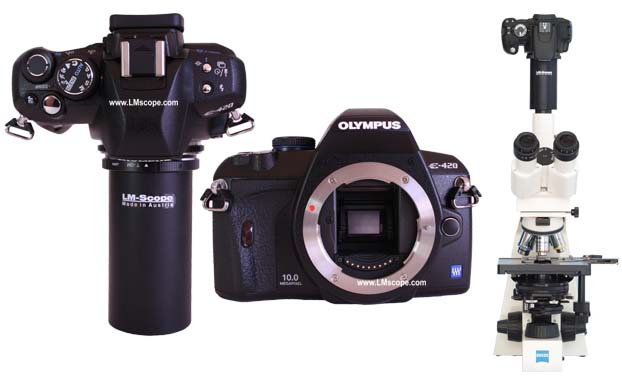 The key features at a glance:
110 megapixel Live MOS sensor

Camera control via PC (OLYMPUS Studio 2 software)

Live preview image on the 2.7" LCD display

Four Thirds standard

LM digital adapter available for the Olympus E-420
As is the case with its precursor model (the Olympus E-410), the Olympus E-420 is also very well suited for working with a microscope.
The desired focal plane can be optimally selected using the camera's Live View mode. The model is also very attractive in terms of price. If the camera is to be used exclusively for microscopy, then it is not necessary to purchase an additional lens, as the LM digital adapter can be used to directly connect the camera housing and the microscope.
Advantages of the LM DSLR adapter:
Optimal optical adaptation to the respective sensor size

Best optical quality through use of the hard-coated corrected optical elements

Fixed mechanical connection between the microscope and the camera

Long-term usability – when using other cameras only the T2 adapter ring needs to be changed
Functions of other camera models that the Olympus E-420 does not possess:
Swivel-mounted camera display as found on the Olympus E5, Olympus E3 / E-330; Sony Alpha 350, etc. (no need for an external LCD monitor)

Image stabiliser

HDMI video output (see Nikon D3 and D300)

Higher number of pixels on sensor (in microscopy, this is not relevant as the resolution is limited by the numerical aperture of the microscope lens)
Only the camera housing is required for use on the microscope.
New LM Digital Adapter for:
Olympus OM-1 / Olympus OM-D E-M1 Mark III / Olympus OM-D E-M1X / Olympus OM-D E-M5 III / Olympus OM-D E-M1 Mark II / Olympus OM-D E-M5 II / Olympus OM-D E-M1 / Olympus E-5 / Olympus E-3 / Olympus E-30 / Olympus E-620 / Olympus Pen E-PL7 / Olympus OM-D E-M5 / Olympus Pen E-PL5 / Olympus OM-D E-M10 / Olympus Pen E-PM2 / Olympus E-330 / Olympus E-520 / Olympus E-420 / Olympus E-450 / Olympus E-510 / Olympus E-410 / Olympus Pen E-PL8 / Olympus Pen E-PL6 / Olympus Pen E-PL3 / Olympus Pen E-PM1 / Olympus Pen E-P1 / Olympus Pen E-P2 / Olympus E-600 / Olympus Pen E-PL1 / Olympus Pen E-PL2 / Olympus E-400 / Olympus SP-610UZ / Olympus C-7070 Wide Zoom / Olympus SZ-20 / Olympus SZ-30MR / Olympus C-5060 Wide Zoom / Olympus FE-47 / Olympus FE-4040 / Olympus FE-5035 / Olympus mju-5010 /