2
Using the Olympus E-3 professional digital SLR camera in microscopy
The key features at a glance:
10 MP Live MOS sensor with high dynamic range

Swivel-mounted 2.5" HyperCrystal LCD with Live View and real-time display for the greatest possible flexibility

High sensitivity (ISO 100 – 3200)

High burst rate (5 images per second, RAW buffer for 19 images) with SanDisk Extreme III

Camera control via PC possible (OLYMPUS Studio 2 Software)

High-precision high-speed shutter times: 1/8000 seconds

Live preview image on the 2.5" LCD display

Four Thirds Standard

LM digital adapter available for the Olympus E-3
The current Olympus flagship product, the Olympus E-3, is a high-performance digital SLR camera which meets the needs of both professional photographers and demanding hobby photographers. The dust- and splash-protected camera body is made from a magnesium alloy and is very well manufactured. At present, it can be purchased for around € 1,350. In comparison to the substantially cheaper Olympus E-420, the Olympus E-3 is considerably better designed and built. Due to its more solid construction, at 810 grams the E-3 weighs more than twice as much as the Olympus E-420.

Together with the high-resolution LM DSLR adapter, the Olympus E-3 is ideally suited for microscopy. Its higher weight is of no significance when it comes to microscope imaging, while the Live View function, on the other hand, is very important for microscopy. With the Olympus E-330, Olympus was the first company to introduce this function, which enables the focal plane to be optimally adjusted, for digital SLR cameras

A particular advantage in microscopy is the swivel-mounted 2.5" LCD display, as this makes it easier to work when seated. The majority of other Olympus models, such as the E-410 / E-420 / E-510 and the E-520, do not have a swivel-mounted display. The Olympus E-3's high-speed Live MOS sensor is another impressive feature, which produces up to 5 multi-shots per second. For professional use, we also recommend purchasing the OLYMPUS Studio 2 software, with which the Olympus E-3 can be controlled from your PC.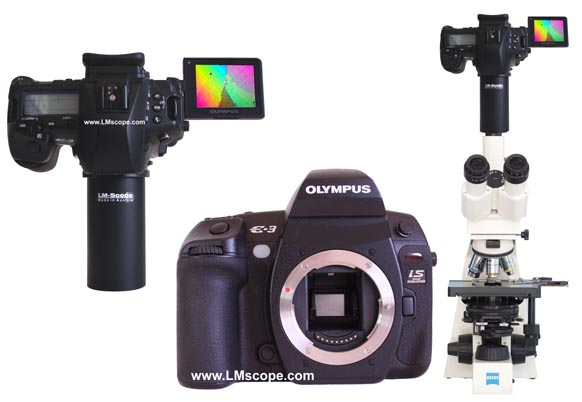 Swivel-mounted 2.5" HyperCrystal LCD with Live View and real-time display for the greatest possible flexibility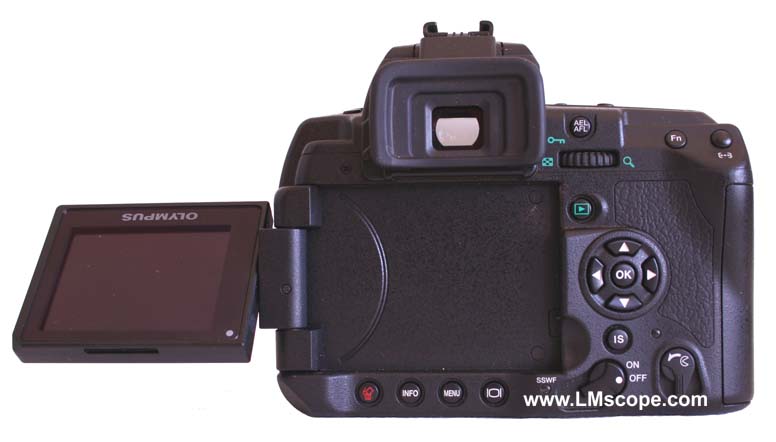 Functions of other camera models that the Olympus E-3 does not possess:
HDMI video output (see Nikon D3 and D300)

Higher number of pixels on sensor (in microscopy, this is not very relevant as the resolution is limited by the numerical aperture of the microscope lens)
Only the camera housing is required for use on the microscope.



Conclusion:
Very well produced digital SLR camera that is ideally suited for professional use with a microscope.The only thing we feel is missing from this camera is the HDMI video output.

New LM Digital Adapter for:
Olympus OM-1 / Olympus OM-D E-M1 Mark III / Olympus OM-D E-M1X / Olympus OM-D E-M5 III / Olympus OM-D E-M1 Mark II / Olympus OM-D E-M5 II / Olympus OM-D E-M1 / Olympus E-5 / Olympus E-3 / Olympus E-30 / Olympus E-620 / Olympus Pen E-PL7 / Olympus OM-D E-M5 / Olympus Pen E-PL5 / Olympus OM-D E-M10 / Olympus Pen E-PM2 / Olympus E-330 / Olympus E-520 / Olympus E-420 / Olympus E-450 / Olympus E-510 / Olympus E-410 / Olympus Pen E-PL8 / Olympus Pen E-PL6 / Olympus Pen E-PL3 / Olympus Pen E-PM1 / Olympus Pen E-P1 / Olympus Pen E-P2 / Olympus E-600 / Olympus Pen E-PL1 / Olympus Pen E-PL2 / Olympus E-400 / Olympus SP-610UZ / Olympus C-7070 Wide Zoom / Olympus SZ-20 / Olympus SZ-30MR / Olympus C-5060 Wide Zoom / Olympus FE-47 / Olympus FE-4040 / Olympus FE-5035 / Olympus mju-5010 /