Zeiss Axio Examiner – fixed-stage flexibility
The Zeiss Axio Examiner is a top-quality research microscope designed to meet the toughest demands when it comes to flexibility and performance. With four upper bodies and two lower bodies on a fixed stage, a large variety of additional modules and motorisation options, users can build a configuration that fits their individual requirements – from a pure transmitted-light stand to the most demanding laser scanning system.
Using our LM digital adapters, a camera can be attached to the 30mm eyepiece tube or the photo tube quickly and easily. DSLR and system cameras are ideally suited for microscopy. They can be controlled from a computer and deliver excellent image quality. We will be happy to advise you when selecting the right digital camera for your specific needs.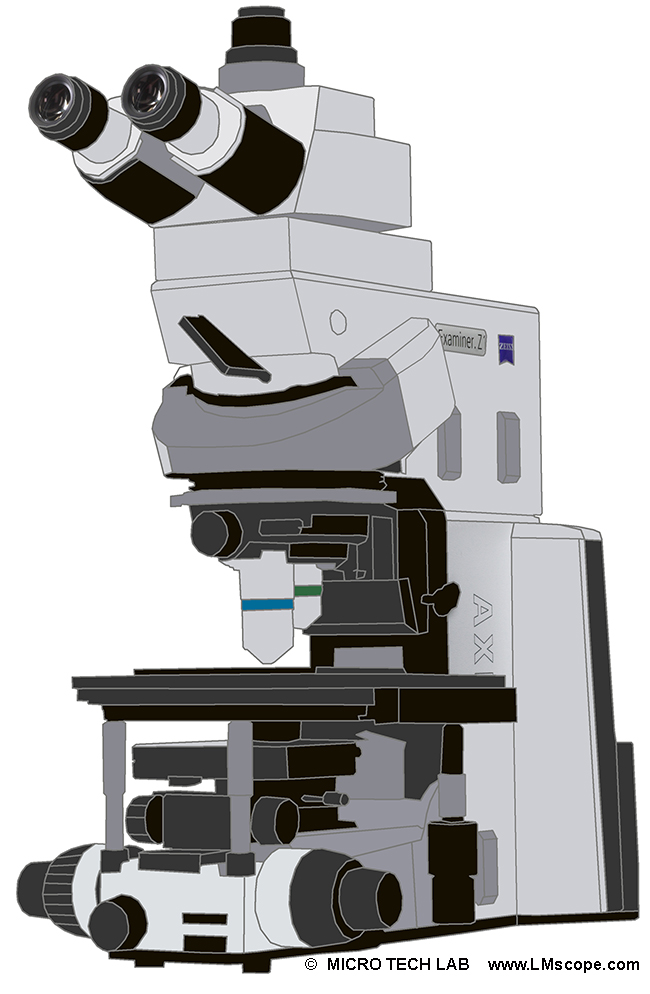 The Axio Examiner.A1 is equipped with either a manual or motorised lower body and has an objective parfocal length of 45mm. The Axio Examiner.D1 and Axio Examiner.Z1 stand versions feature an innovative reflector turret and have a specialised optical concept. The Axio Examiner.D1 is available in either a manual or motorised version, while the high-end Axio Examiner.Z1 has an optional motorised upper body with side port coupling in the infinity space and a motorised lower body. The motorised components are designed for minimum vibration and automatically switch off upon reaching their target position to avoid electrical disturbance effects.
For us, the two camera ports – located on the microscope head and at the side port – are especially important. With our LM digital adapters, users can either attach same-brand cameras or standard DSLR and system cameras of their choice to the microscope. Because all our adapters are excellently built and have a plan-achromatic optical system, the image quality that can be attained with these cameras is outstanding. High resolution, exceptional focus and remarkable colour contrasts are enough to win over any user.
Mounting on the binocular ergonomic photo port Art.Nr.425521.9050.000: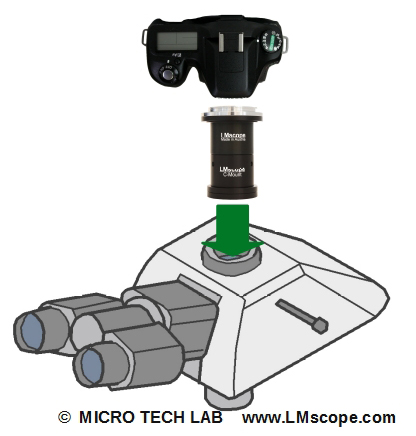 Further types of tubes:
| | |
| --- | --- |
| 1.) Binocular photo tube Art.Nr.425520.9020.000 | 2.) Binocular photo tube 425520.9030.000 |
| 3.) Binocular photo tube Art.Nr. 425503.9901.000 | 4.) Binocular photo tube 425521.9020.000 |
| 5.) Binocular photo tube 425521.9000.000 | 6.) Binocular photo tube 425521.9040.000 |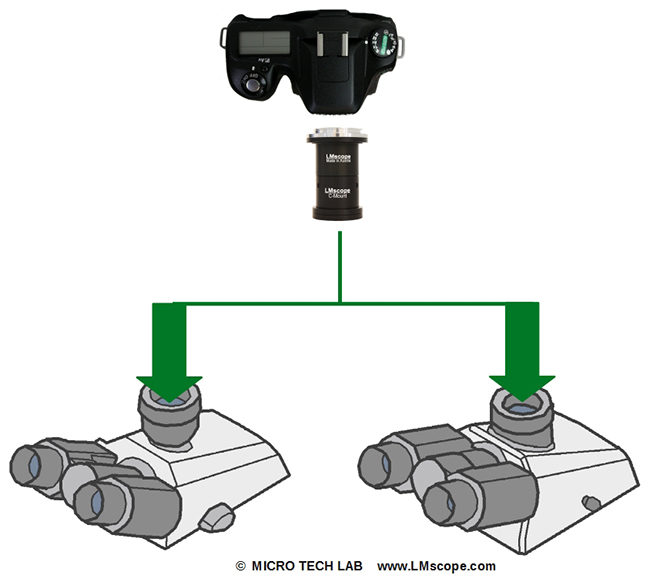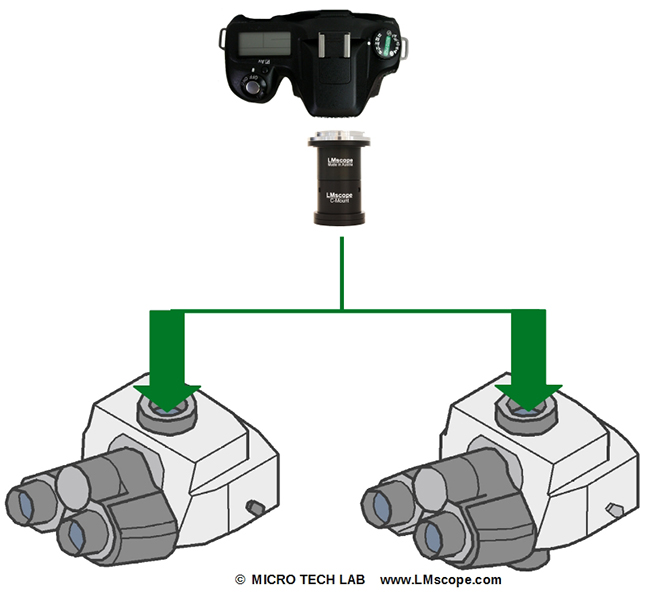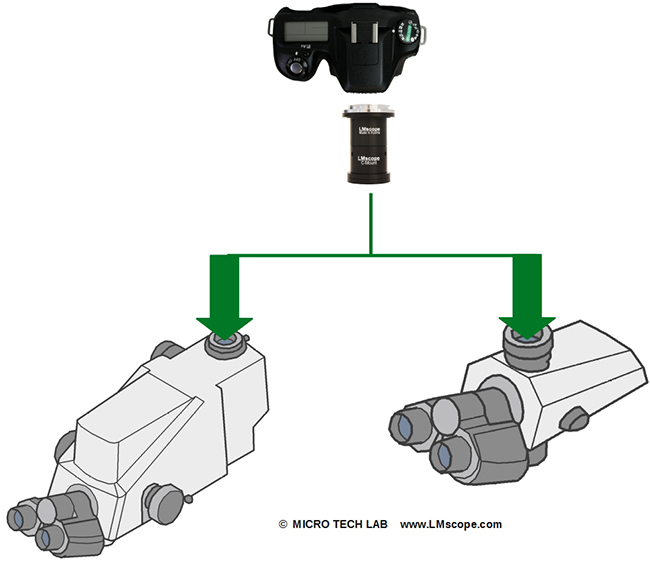 In addition, the Axio Examiner.Z1 has a side port coupling in the infinity space for the dual camera system described below.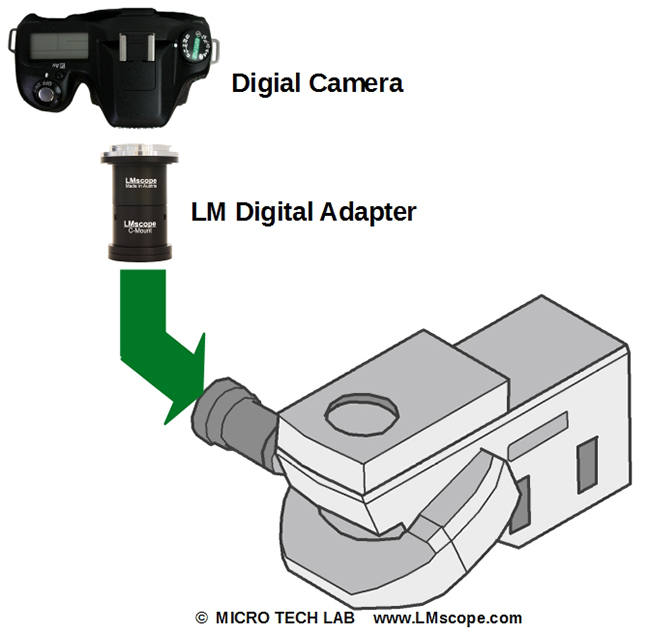 Depending on the specific requirements, users can chose among an interchangeable objective turret with 1, 2 or 4 positions. For large specimens, the stage and condenser carrier can be removed or a spacer can be inserted. All relevant control elements are located at the front and are therefore easily accessible. The motorised version can also be controlled via a docking station with touchscreen and the AxioVision software.
The Axio Examiner offers all major contrasting techniques for both visible or infrared light: simple oblique illumination, differential interference contrast (DIC) and Dodt gradient contrast (a special segment diaphragm that reduces the diffused light fraction in the specimen is combined with a diffusion screen).
A number of different condensers with stationary front optics and almost fully enclosed housing accommodate the different specimens.
The proven ICS optics system from Carl Zeiss is available for the Axio Examiner.A1. For the larger members of the Axio Examiner family, the Axio Examiner.D1 and the Axio Examiner.Z1, this optical concept has been extended and further improved to meet the demanding requirements of all transmitted light and reflected light applications. Two objective series are available: the cost-effective W N-ACHROPLAN series and the high-end W Plan-APOCHROMAT series. Objectives with a parfocal length of 75mm can be used as an alternative for the standard 45mm versions. Three solutions are available for changing the magnification independently of the objective:
Push&Click optovar modules in the reflector turret apply both to the eyepiece image and the camera image with factors of 1.25x, 1.6x and 2.5x.

4-position magnification changer turret with 5 different magnification factors.

Zoom tube for infinitely variable magnification options for two camera ports with identical image positions; the upper port is adjustable in x, y and z. In conjunction with the Push&Click module, IR-DIC and fluorescence channels can be imaged simultaneously.
Two different laser scanning systems for confocal microscopy are available; a detailed description can be found on the Zeiss website.
The AxioVision microscopy software includes a very interesting feature: the Dual Camera module allows the synchronous operation of two structurally identical cameras. This makes it possible to double the recording speed while guaranteeing perfect synchronisation, especially in the case of very rapid processes.
Photography:
Fitting the microscope to digital single-lens reflex (DSLR), system or C-mount cameras is easy with our LM digital SLR adapters, which feature a plan achromatic optical system. Our products make it possible to capture top-quality microscope images. To help you select the adapter that is right for your camera, we have set up an online configurator on our website. You can also email us – ideally with attached photographs of your microscope.
Modern DSLR and system cameras offer the latest technology and are generally very well suited for microscopy applications. Most of them can be controlled remotely via PC/Mac. Because of their high sales volumes, they offer an excellent price/performance ratio compared to special-purpose microscope cameras.
Features of top DSLR and system cameras:
- Large, powerful full-frame sensors (36 x 24 mm)
- Sensor resolution of 50 megapixels
- High light sensitivity (ISO 100,000+)
- Extensive dynamic range (up to 14 aperture stops/f-stops)
- Short exposure times (1/8000 second):
- Full/Ultra HD (4k) video function
- Live video capture on external monitors in ultra HD quality
In most cases, these cameras are significantly more powerful than microscope cameras with smaller sensors (1/2" or 2/3"). On our website you will find our current camera recommendations and a camera ranking which is specifically tailored to microscopy applications.

New LM Digital Adapter for:
Nikon D850 / Sony Alpha 7III / Sony Alpha 9 / Nikon D5 / Sony Alpha 7S II / Sony Alpha 7R II / Sony Alpha 7R III / Sony Alpha 7S / Canon EOS 5D Mark IV / Nikon D750 / Canon EOS 6D Mark II / Sony Alpha 6300 / Sony Alpha 6500 / Nikon D500 / Canon EOS 1D X / Nikon D810 / Nikon D4s / Nikon D800 / Nikon D800E / Nikon D4 / Nikon Df / Nikon D610 / Nikon D600 / Canon EOS 6D / Canon EOS 5DS R ( without low-pass filter) / Olympus OM-D E-M1 Mark II / Canon EOS 80D / Canon EOS 5DS / Sony Alpha 77 II / Canon EOS 70D / Nikon D7200 / Canon EOS 200D / Canon EOS 800D / Rebel T7i / Canon EOS 77D / Canon EOS 5D Mark III / Canon EOS 60D / Sony Alpha 7R / Sony Alpha 7 / Nikon DS-Qi2 (Microscope Camera) / Nikon D3x / Olympus OM-D E-M1 / Nikon D3S / Canon EOS 750D / Rebel T6i / Canon EOS 760D / Rebel T6s / Canon EOS 5D Mark II / Nikon D7100 / Pentax K-5 / Canon EOS 1D Mark IV / Nikon D7000 / Canon EOS 7D Mark II / Canon EOS 600D / Rebel T3i / Canon EOS 650D / Rebel T4i / Canon EOS 700D / Rebel T5i / Canon EOS 2000D / Rebel T7 / Canon EOS 7D / Canon EOS 550D / Rebel T2i / Kiss X4 Digital / Canon EOS 1300D / EOS Rebel T6 / Canon EOS 4000D / Canon EOS 100D / Nikon DS-Ri2 (Microscope Camera) / Canon EOS 50D / Canon EOS 1200D / EOS Rebel T5 / EOS Kiss X70 / Canon EOS 1100D / Rebel T3 / Olympus E-5 / Panasonic Lumix DMC-GH4 / Canon EOS 1D Mark III / Canon EOS 40D / Canon EOS 60Da for astrophotography / Sony SLT-A99 / Sony Alpha 7II / Pentax K-3 II / Olympus E-3 / Olympus E-30 / Olympus E-620 / Sony Alpha 6000 / Pentax K-500 / Canon EOS M100 / Canon EOS M6 / Nikon D700 / Nikon D3 / Canon EOS M5 / Sony Alpha 77V / Canon EOS 1000D / Digital Rebel XS / Sony Alpha 580 / Sony Alpha 5100 / Canon EOS 1Ds Mark III / Sony Alpha 5000 / Pentax K-S2 / Pentax K-r / Sony Alpha 55 / Olympus Pen E-PL7 / Olympus OM-D E-M5 / Olympus OM-D E-M10 / Panasonic Lumix DMC-GX7 / Pentax K-5 II / Pentax K-5 IIs / Pentax K-3 / Sony Alpha 33 / Nikon D5500 / Nikon D5200 / Nikon D5300 /

Related Links

--