The Leica DM1000 – DM3000 research microscopes and their practical use in photomicrography
Leica's DM1000 – DM3000 microscopes series includes the DM1000, DM2000, DM2500 and DM3000 models. Our LM microscope adapters allow state-of-the-art DSLR and system cameras to be attached to all models of this series, thus delivering outstanding resolution, dynamic range and light sensitivity.
Although the microscopes in the DM1000 – DM3000 series differ somewhat, depending on the tasks for which they are intended, they all adjust perfectly to the user's specific needs and share carefully thought-out design features such as right-left handed operation, a variety of ergo tubes and ergo modules, and different illumination options. Each model features Leica's excellent optics (including the brightness synchronised objective series HI Plan SL 4x, 10x, 40x and HI Plan 10x CY), but the range of features is adapted to different application areas. With the exception of the DM2500, all models are also available with LED illumination, which provides constant colour temperature at all light intensity levels without heating up the specimen. The specimen stages have a ceramic surface, and the adjustable torque facilitates fine positioning. A rotary specimen stage for two slides is also available. In addition, the DM2000 and DM3000 models are equipped with a sophisticated focus mechanism, featuring 2-gear or optional 3-gear focusing, with torque adjustment and adjustable stage height stop.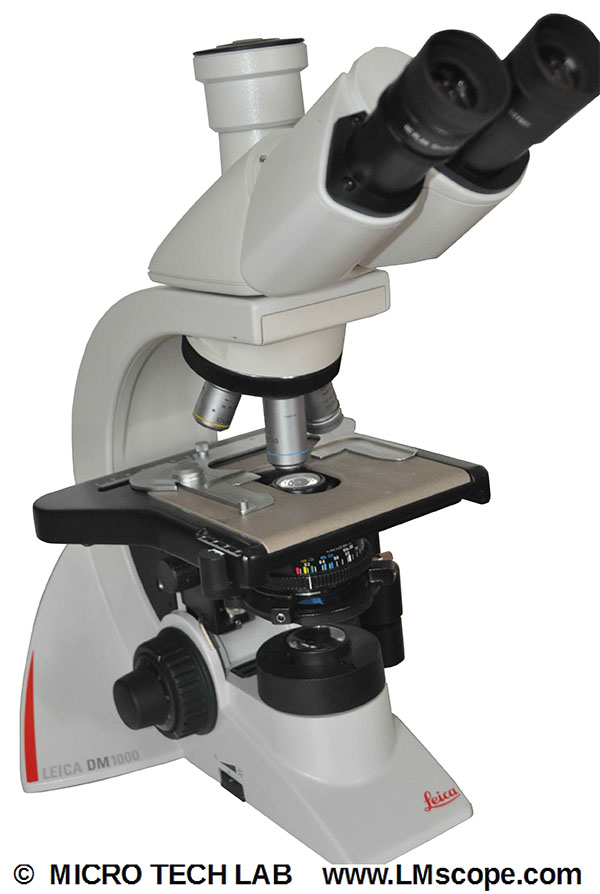 The DM1000 is the "smallest member" of Leica's DM1000 – DM3000 family of microscopes
Of course, the following trinocular phototubes are also available for these high-quality instruments:
Trinocular ergo tilting photo tube 50/50 FOV 22

​

Trinocular ergo tilting photo tube 100/100 FOV 25

Trinocular ergo tilting photo tube 50/50 FOV 25

BDT25 0/50/100 dual port option FOV 25

EDT22 50/50 FOV 22
Our LM digital adapters enable these microscopes to be attached to all types of DSLR cameras, mirrorless system cameras and C-mount cameras in no time at all. They are equipped with a high quality, plan-achromatic precision optical system which enables the production of photographs with excellent image quality (high resolution, focus and colour contrast) that yield a flat field of view without loss of focus at the edges.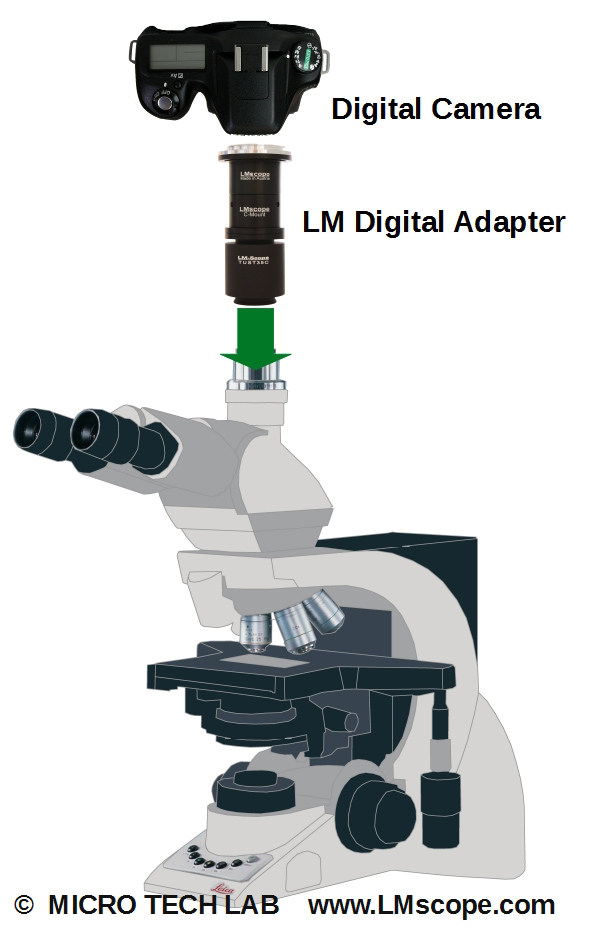 The simplest way to attach a camera to the Leica DM3000 is via the phototube.
Leica DM1000 and DM1000 LED
A comprehensive description of this microscope can be found here.
Leica DM2000 and DM2000 LED
The Leica DM2000 supports all common contrasting techniques: bright field, dark field, phase contrast, polarisation contrast, fluorescence and DIC. It is equipped with a 30 W halogen (or LED) lamp that can be replaced easily via the lamp socket. A fluorescence axis featuring five filter cube positions on an easy-to-turn disk is also available. The objective turret with top-quality Leica optics offers a choice of six or seven objective positions.
Leica DM2500
The unique features of the DM2500 are its 12 V/100 W halogen lamp with lamp house and a built-in filter magazine for 3 filters. This model is particularly well-suited for areas of pathology and biomedical research that require specialised contrast methods such as differential interference contrast (DIC).
Leica DM3000 and DM3000 LED
The DM3000 and DM3000 LED microscopes are designed for routine and research applications in clinical laboratories and biomedical fields. In addition to the features described above, this model has a motorised objective turret, automated condenser and automatic light intensity adjustment to the light requirements of individual objectives. The 6-position objective turret of the DM3000 features Leica's unique patented toggle mode, which allows the user to quickly switch between any two of the six objectives.
Photography:
Fitting the microscope to digital single-lens reflex (DSLR), system or C-mount cameras is easy with our LM digital SLR adapters, which feature a plan achromatic optical system. Our products make it possible to capture top-quality microscope images. To help you select the adapter that is right for your camera, we have set up an online configurator on our website. You can also email us – ideally with attached photographs of your microscope.
Modern DSLR and system cameras offer the latest technology and are generally very well suited for microscopy applications. Most of them can be controlled remotely via PC/Mac. Because of their high sales volumes, they offer an excellent price/performance ratio compared to special-purpose microscope cameras.
Features of top DSLR and system cameras:
- Large, powerful full-frame sensors (36 x 24 mm)
- Sensor resolution of 50 megapixels
- High light sensitivity (ISO 100,000+)
- Extensive dynamic range (up to 14 aperture stops/f-stops)
- Short exposure times (1/8000 second):
- Full/Ultra HD (4k) video function
- Live video capture on external monitors in ultra HD quality
In most cases, these cameras are significantly more powerful than microscope cameras with smaller sensors (1/2" or 2/3"). On our website you will find our current camera recommendations and a camera ranking which is specifically tailored to microscopy applications.

New LM Digital Adapter for:
Nikon D850 / Sony Alpha 7III / Sony Alpha 9 / Nikon D5 / Sony Alpha 7S II / Sony Alpha 7R II / Sony Alpha 7R III / Sony Alpha 7S / Canon EOS 5D Mark IV / Nikon D750 / Canon EOS 6D Mark II / Sony Alpha 6300 / Sony Alpha 6500 / Nikon D500 / Canon EOS 1D X / Nikon D810 / Nikon D4s / Nikon D800 / Nikon D800E / Nikon D4 / Nikon Df / Nikon D610 / Nikon D600 / Canon EOS 6D / Canon EOS 5DS R ( without low-pass filter) / Olympus OM-D E-M1 Mark II / Canon EOS 80D / Canon EOS 5DS / Sony Alpha 77 II / Canon EOS 70D / Nikon D7200 / Canon EOS 200D / Canon EOS 800D / Rebel T7i / Canon EOS 77D / Canon EOS 5D Mark III / Canon EOS 60D / Sony Alpha 7R / Sony Alpha 7 / Nikon DS-Qi2 (Microscope Camera) / Nikon D3x / Olympus OM-D E-M1 / Nikon D3S / Canon EOS 750D / Rebel T6i / Canon EOS 760D / Rebel T6s / Canon EOS 5D Mark II / Nikon D7100 / Pentax K-5 / Canon EOS 1D Mark IV / Nikon D7000 / Canon EOS 7D Mark II / Canon EOS 600D / Rebel T3i /

Related Links

--