Produce laser-sharp images using LM digital adapters with the Leica LMD6 and LMD7 microscope systems
The field of laser microdissection is highly specialised, and therefore top-quality images with pinpoint clarity are absolutely essential. With our LM digital adapters, this requirement can be met using commercially available DSLR cameras.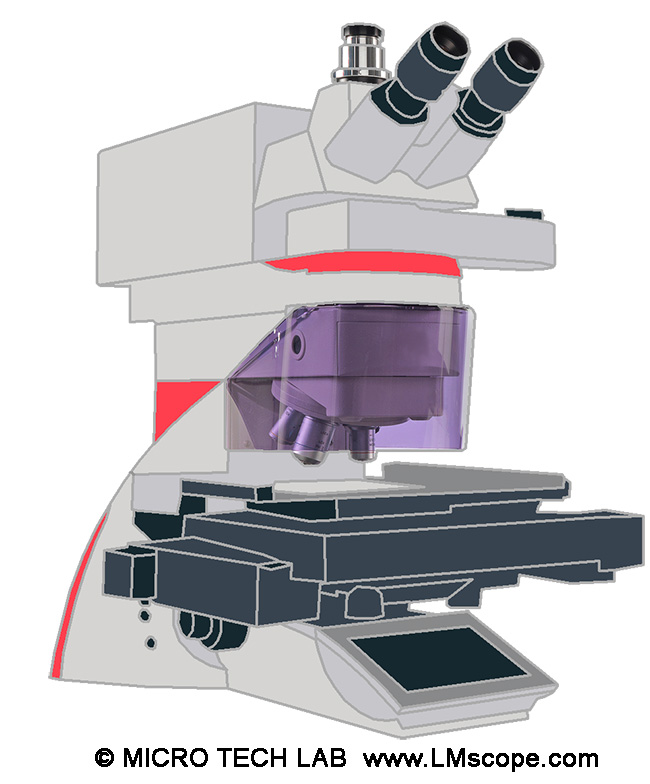 Laser microdissection is a method for isolating and analysing individual cells or tissue regions. It is widely used in bioanalytics. Generally, inverted microscopes are the most common instruments employed for live cell imaging. With its LMD6 (successor to the LMD6500) and LMD7 models, Leica offers two upright microscope systems for laser microdissection using LED transmitted illumination. Users can now choose between halogen and LED illumination. The Leica DM6 B upright microscope is integrated into both systems. It accommodates bright field, polarisation contrast, DIC, phase contrast and fluorescence observation (fluorescence filter cube). The major difference between the two systems is the laser power: while the Leica LMD6 is ideal for standard applications, the laser power of the LMD7 is designed to meet the most demanding requirements.
The instruments offer a choice of one or two camera ports, both located at the top of the instrument: the LMD6 has a dual camera port (ratio of observation:port = 100:0–0:100); the LMD7 comes with a single camera port.
With our LM digital adapters, users are free to attach either same-brand cameras or other cameras of their choice, including commercially available DSLRs and system cameras, to the LMD6/LMD7. Thanks to the specialised optics in our adapters, bright, sharp images with perfect detail can be produced.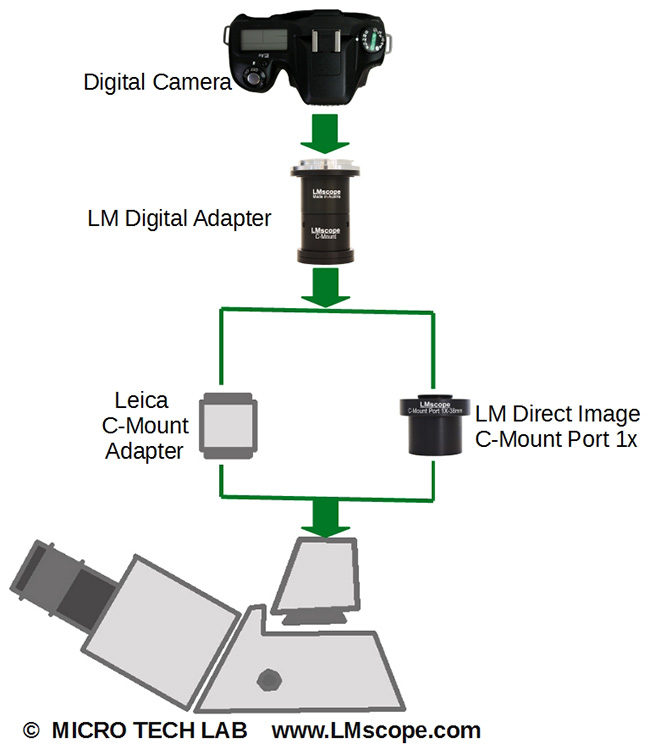 As with the previous versions, the Leica LMD6 and LMD7 collect samples by means of gravity. This collection method is especially gentle, because users can collect their samples contact-free, no matter what size and shape the material is. This ensures that samples remain free of contamination. These new microdissection systems move the laser – guided by high-precision optics – not the sample, to provide for clean cuts. Two different stage options are available (motorised or scanning stage).
Leica offers a portfolio of objectives specifically designed and optimised for laser applications called the Leica "SmartCut" series. It comprises a set of 10 dry objectives (5x to 150x): a 150x SmartCut dry objective to go into detail with high magnification and high resolution, and a range of low magnification objectives for a large field of view. Special objectives for oil immersion are available.
Photography:
Fitting the microscope to digital single-lens reflex (DSLR), system or C-mount cameras is easy with our LM digital SLR adapters, which feature a plan achromatic optical system. Our products make it possible to capture top-quality microscope images. To help you select the adapter that is right for your camera, we have set up an online configurator on our website. You can also email us – ideally with attached photographs of your microscope.
Modern DSLR and system cameras offer the latest technology and are generally very well suited for microscopy applications. Most of them can be controlled remotely via PC/Mac. Because of their high sales volumes, they offer an excellent price/performance ratio compared to special-purpose microscope cameras.
Features of top DSLR and system cameras:
- Large, powerful full-frame sensors (36 x 24 mm)
- Sensor resolution of 50 megapixels
- High light sensitivity (ISO 100,000+)
- Extensive dynamic range (up to 14 aperture stops/f-stops)
- Short exposure times (1/8000 second):
- Full/Ultra HD (4k) video function
- Live video capture on external monitors in ultra HD quality
In most cases, these cameras are significantly more powerful than microscope cameras with smaller sensors (1/2" or 2/3"). On our website you will find our current camera recommendations and a camera ranking which is specifically tailored to microscopy applications.

New LM Digital Adapter for:
Nikon D850 / Sony Alpha 7III / Sony Alpha 9 / Nikon D5 / Sony Alpha 7S II / Sony Alpha 7R II / Sony Alpha 7R III / Sony Alpha 7S / Canon EOS 5D Mark IV / Nikon D750 / Canon EOS 6D Mark II / Sony Alpha 6300 / Sony Alpha 6500 / Nikon D500 / Canon EOS 1D X / Nikon D810 / Nikon D4s / Nikon D800 / Nikon D800E / Nikon D4 / Nikon Df / Nikon D610 / Nikon D600 / Canon EOS 6D / Canon EOS 5DS R ( without low-pass filter) / Olympus OM-D E-M1 Mark II / Canon EOS 80D / Canon EOS 5DS / Sony Alpha 77 II / Canon EOS 70D / Nikon D7200 / Canon EOS 200D / Canon EOS 800D / Rebel T7i / Canon EOS 77D / Canon EOS 5D Mark III / Canon EOS 60D / Sony Alpha 7R / Sony Alpha 7 / Nikon DS-Qi2 (Microscope Camera) / Nikon D3x / Olympus OM-D E-M1 / Nikon D3S / Canon EOS 750D / Rebel T6i / Canon EOS 760D / Rebel T6s / Canon EOS 5D Mark II / Nikon D7100 / Pentax K-5 / Canon EOS 1D Mark IV / Nikon D7000 / Canon EOS 7D Mark II / Canon EOS 600D / Rebel T3i /

Related Links

--