442
Olympus SZX10 and SZX16 – stereo microscopes with top-notch optics
Get better image quality with LM adapter solutions for digital cameras – the perfect link between the Olympus SZX10 or SZX16 and DSLR or mirrorless system cameras.
The Olympus SZX10 and SZX16 stereo microscopes feature a Galilean optical system – they have only one optical path for both illumination and reflecting light. Both models are available in either a binocular or a trinocular version. For binocular tubes, the possible optical path switching ratios (camera:observation) are 0:100, 50:50, and 100:0. Using our LM digital adapters, cameras can be attached to the camera port of the trinocular tube and to the eyepiece, with the camera port of course being the preferred option.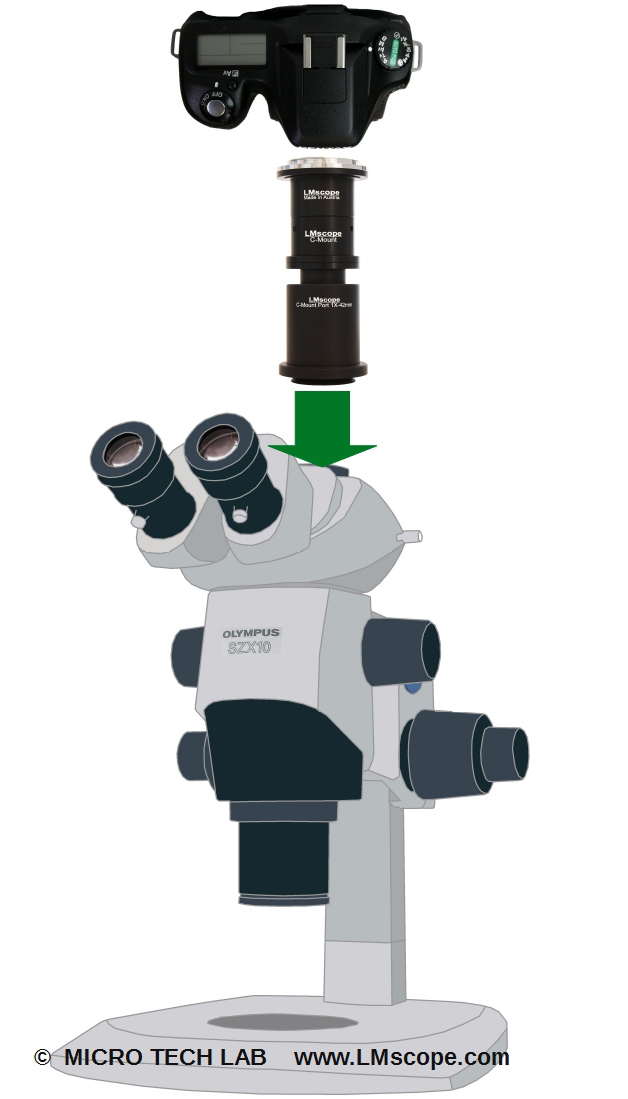 The SZX16 is designed for advanced research applications. It has a maximum numerical aperture (NA) of 0.3 and a wide 1:16.4 zoom ratio. The microscope's apochromatic lens system effectively reduces chromatic aberration. The six SDF objective lenses (four of which are parfocal plan apochromats) yield high-resolution images with excellent depth of field. The two-position revolving nosepiece allows easy switching between the two objective lenses (0.5x and 2.0x) and smooth zooming between 3.5x and 230x, i.e. from macro to micro range. The high NA increases fluorescence sensitivity, while the special design of the excitation light paths improves fluorescence properties, making images appear even more impressive.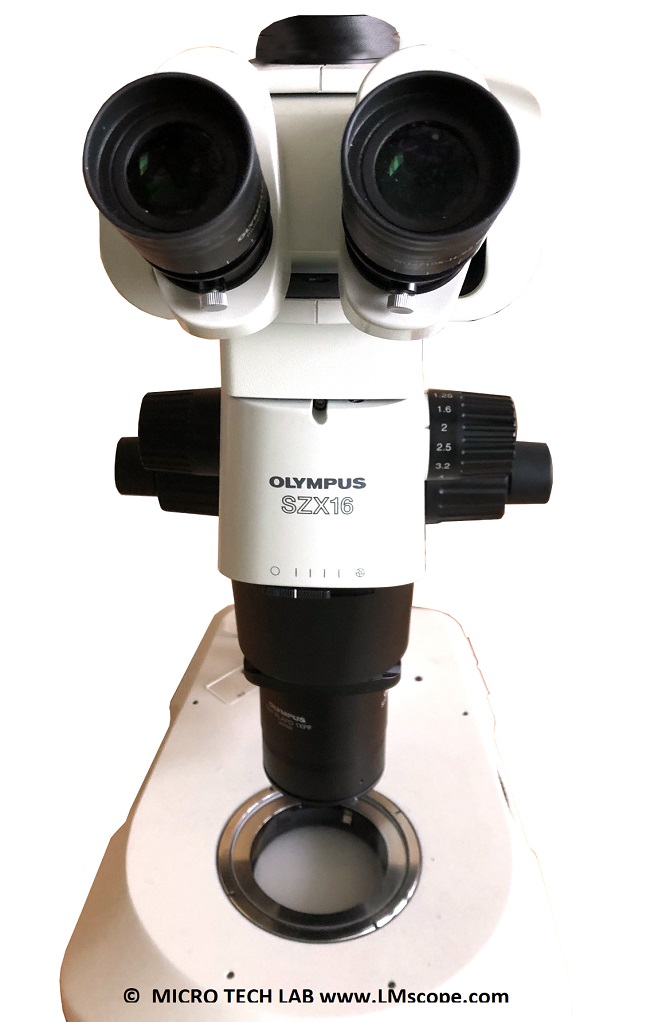 Motorised focus and zoom units, controlled by a hand switch, facilitate efficient and fully automated digital documentation with infinite depth of field (focus stacking). This even allows creation of pseudo 3D images and will, according to Olympus, resolve the universal problem with stereo microscopes (documentation is not the same as a visual image).
The instruments are designed to provide sufficient room for working with manual as well as automatic tools. Olympus also offers a varied selection of tube designs (ergonomic angle, tilting trinocular tube, height-adjustable intermediate tube) as well as its advanced ComfortView eyepieces, all of which allows users to work comfortably. A number of different stands with integrated illumination are available. The SZX16 accommodates the following contrasting methods: fluorescence (blue-green excitation and UV excitation), simple polarisation, bright field, dark field.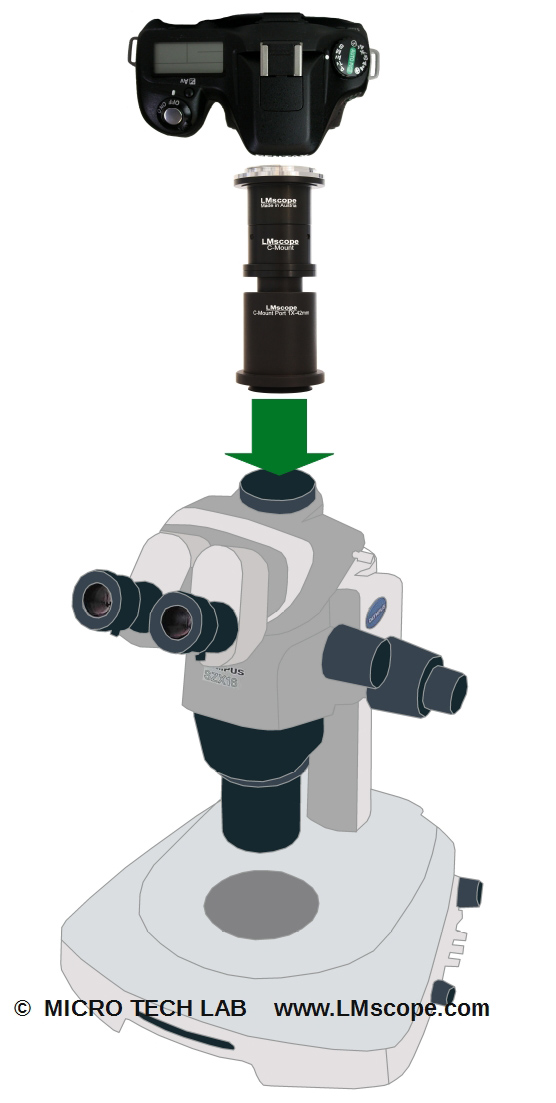 The image above shows the SZX16 with transmitted light illumination base and LM digital adapter
The SZX10 – the "little brother" of the SZX16 – was specifically designed for routine tasks in research environments. It is suitable for oblique and bright field illumination, and compatibility with different imaging devices enables use with fluorescence and flexible imaging stations. Depending on the objective selected, magnifications from 6.3x to 123x can be achieved. With a zoom ratio of 10:1 and a maximum NA of 0.2, the SZX10 is well equipped for use in life science imaging. A fluorescence unit is also available. High-resolution images can be created by attaching a DSLR camera to the trinocular tube using one of our LM digital adapters – assembly is a snap! The SZX10 can also be configured with ComfortView eyepieces and a choice of tube options. A discussion tube allows two observers to sit opposite one another during specimen observation.
10.06.2017
Photography:
Fitting the microscope to digital single-lens reflex (DSLR), mirrorless interchangeable-lens cameras (MILC ), digital single-lens mirrorless (DSLM) or C-mount cameras is easy with our LM digital SLR adapters, which feature a plan achromatic optical system. Our products make it possible to capture top-quality microscope images. To help you select the adapter that is right for your camera, we have set up an online configurator on our website. You can also email us – ideally with attached photographs of your microscope.
Modern DSLR and single-lens mirrorless (DSLM) offer the latest technology and are generally very well suited for microscopy applications. Most of them can be controlled remotely via PC/Mac. Because of their high sales volumes, they offer an excellent price/performance ratio compared to special-purpose microscope cameras.
Features of top DSLR and single-lens mirrorless cameras (DSLM):
- Large, powerful full-frame sensors (36 x 24 mm)
- Sensor resolution of 61 megapixels or 240 megapixels with Pixel Shift technology
- High light sensitivity (ISO 400,000+)
- Extensive dynamic range (up to 15 aperture stops/f-stops)
- Short exposure times (1/8000 second) up to 1/32,000 seconds using the digital shutter
- 4K Ultra HD or 8K Ultra HD video function
- Live video capture on external monitors in ultra HD quality
In most cases, these cameras are significantly more powerful than microscope cameras with smaller sensors (1/2" or 2/3"). On our website you will find our current camera recommendations and a camera ranking which is specifically tailored to microscopy applications.

New LM Digital Adapter for:
Nikon Z9 / Nikon Z8 / Sony Alpha 7R V / Sony Alpha 1 / Sony FX3 Cinema Line / Sony Alpha 9 II (ILCE-9M2) / Sony Alpha 9 / Nikon D6 / Canon EOS R3 / Canon EOS R6 Mark II / Canon EOS R8 / Sony Alpha 7R IV / Canon EOS R5 / Sony Alpha 7S II / Sony Alpha 7S III / Sony Alpha 7R III / Canon EOS R6 / Nikon Z6 / Nikon Z6II / Sony Alpha 7R II / Nikon Z7 / Nikon Z7II / Canon EOS R / Canon EOS Ra (Astro) / Nikon Z5 / Sony Alpha 7C / Canon EOS RP / Sony Alpha 7S / Canon EOS R7 / Leica SL2-S / Canon EOS R10 / Canon EOS 1D X Mark III / Nikon Z50 / Nikon Z30 / Nikon Z fc / Nikon D850 / Canon EOS 1D X Mark II / Nikon D780 / Olympus OM-1 / Sony Alpha 7III / Olympus OM-D E-M1 Mark III / Canon EOS R100 / Sony Alpha 6700 / Nikon D5 / Sony Alpha 6600 / Fujifilm X-H2S / Fujifilm X-S10 / Fujifilm X-E4 / Fujifilm X-Pro3 / Olympus OM-D E-M1X / Sony Alpha 6400 /