549
The Sony Alpha 6400 as a microscope camera: We really like this small and handy, mid-range camera with 24 MP resolution!
Using our LM microscope, the Sony Alpha 6400 can be connected to almost any microscope. It is an interesting alternative to USB microscope cameras and C-mount industrial cameras.
Sony's Alpha 6400 is a mirrorless system camera equipped with a fast, backside-illuminated Exmor APS-C image sensor with CMOS technology and a resolution of 24.2 megapixels. With a wide dynamic range, high-resolution 4K video recording, an extensive range of connection options and used with the matching tethering software, it also performs very well on the microscope.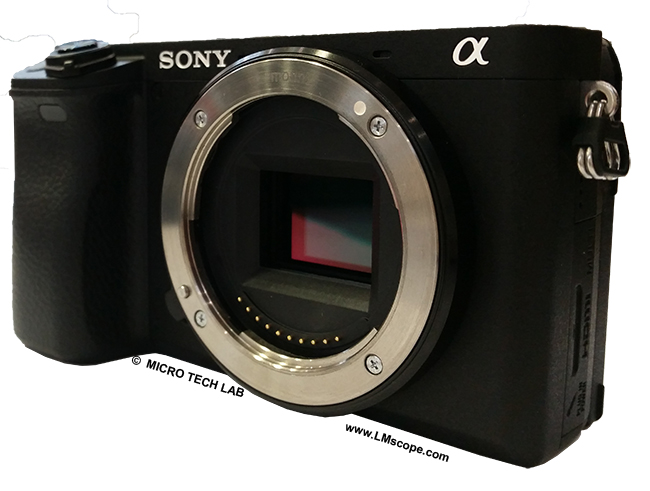 The Sony Alpha 6400 is a follow-up to the Alpha 6300. It was released in early 2019 and retails for around EUR 800 (body only, no lenses). The Alpha 6400 has a magnesium alloy body and at first glance appears to have changed over its predecessor, the Alpha 6300. The controls are arranged in a logical layout and clearly labelled; some can be customised to the user's individual shooting needs.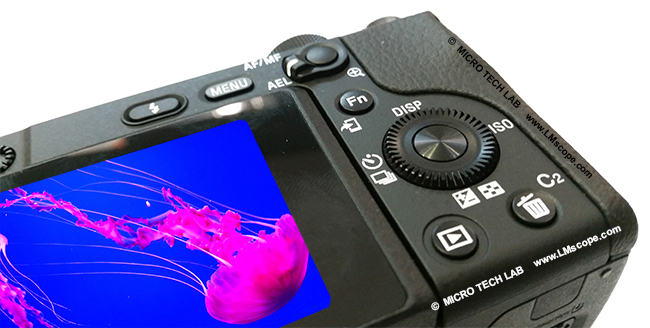 Using the standard Sony-E bayonet mount and one of our adapter solutions, the Alpha 6400 can be attached to a microscope in just a few easy steps. With its low weight of 403 g (body only) and small size of 120 x 67 x 60 mm (WxHxD), it really is a fit for any microscope! The camera body is directly attached to the LM adapter. This way, the best possible image quality can be achieved, because the camera can capture a large field of view without any vignetting and with sharp focus all the way to the edges.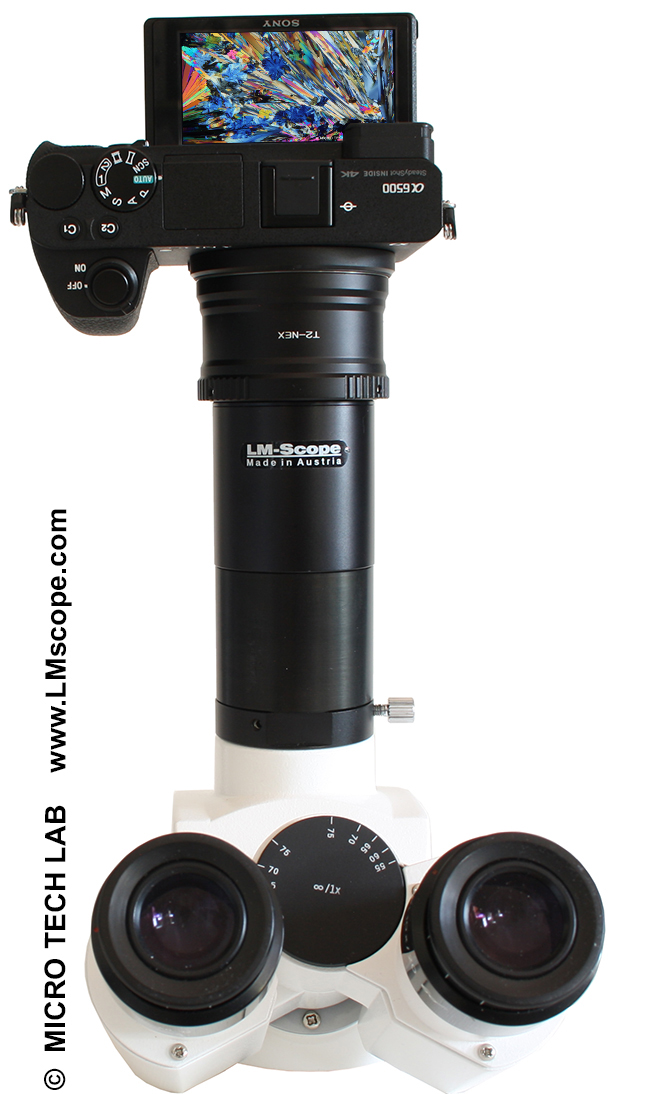 Symbol photo
To trigger an exposure, the "release without lens" feature has to be selected in the menu.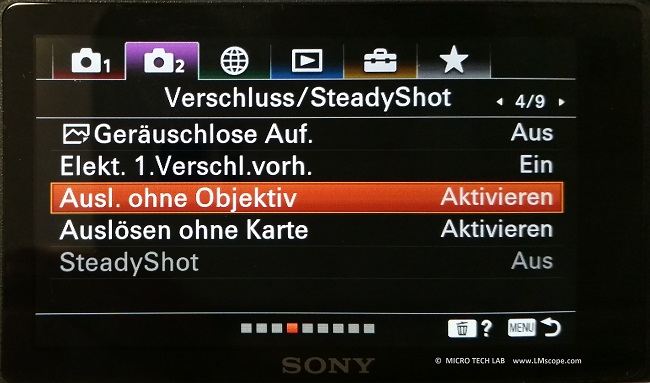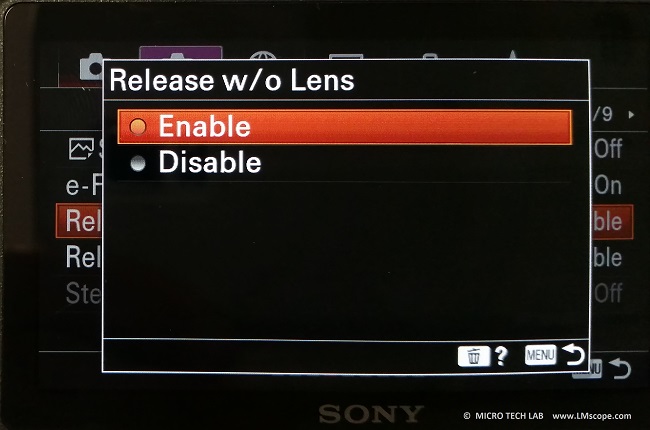 Although our preferred method is to attach the camera to the phototube of the microscope, it is not a problem if your microscope doesn't have one. In addition to adapter solutions that work on the phototubes of almost any microscope, we also offer adapters for standard-sized eyepiece tubes with 23.2 mm or 30 mm internal diameter. All adapter solutions are equipped with a high-quality, plan achromatic optical system and precision machined from solid aluminium. Thanks to the modular design of our products, changing the mounting method is not complicated at all, which means that the same camera can be used on different microscopes. Our "Pro" line LM microscope adapters offer outstanding versatility: with just one small accessory part – the C-mount extension – it is even possible to switch between eyepiece tube and phototube quickly and easily.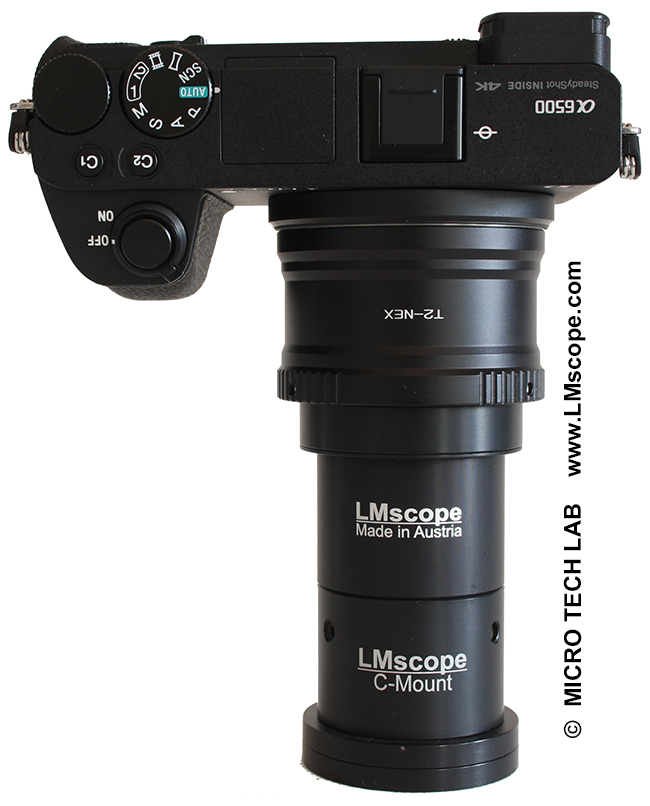 Symbol photo
The lower weight of mirrorless system cameras is especially advantageous for attaching them to the eyepiece tubes of smaller, lighter microscopes.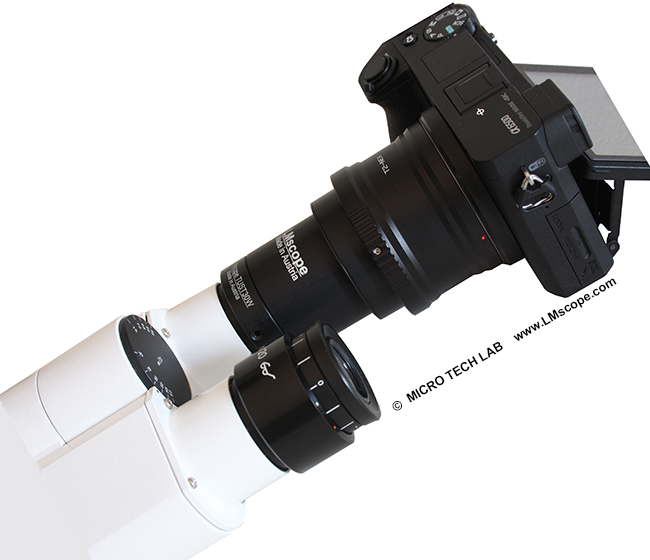 Symbol photo
The Sony Alpha 6400 has a mobile widescreen TFT monitor with a diameter of 7.5 cm and 921,600 pixels, which tilts up and down and thus makes working on the microscope without a computer or external monitor a lot easier. The touch function of the screen that supports touch focusing and shutter release is a new feature. The brightness of the screen can be adjusted to better support use in different lighting conditions.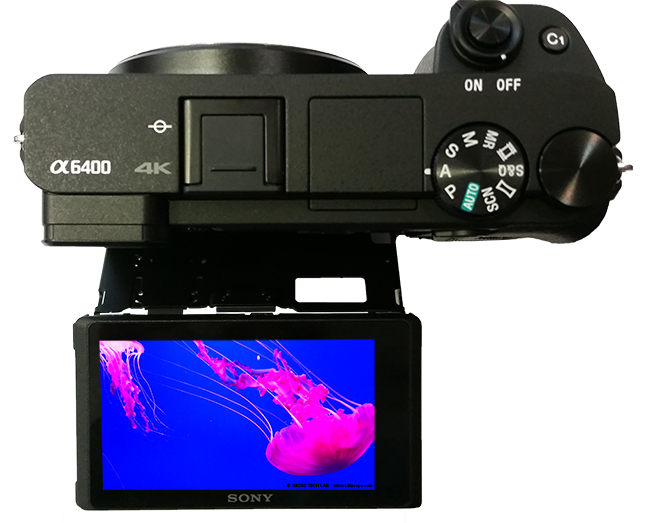 The APS-C image sensor is very sensitive: ISO can be set from 100 to 32,000 in native mode, with an expanded ISO of up to 102,400 in manual mode. Fluorescence observation is thus possible without any problems.
The image sensor delivers great dynamic range, but is no match for full-frame cameras such as the Sony Alpha 7R III, which, however, also come with a steeper price tag. Unlike the 7R III, the 6400 has an anti-aliasing (AA) filter, also known as an optical low-pass filter. This filter prevents unwanted image effects like moiré but also makes the image slightly less sharp.
Especially when the camera is attached to the phototube of the microscope (our preferred method), remote control via PC or tablet/smartphone is recommended from an ergonomic perspective (you no longer have to get up repeatedly and thus get a much smoother and more efficient workflow). A remote control software permits many camera settings to be adjusted remotely, and, of course, remote operation of the shutter button. This also eliminates image-degrading vibrations caused by physically pressing the shutter.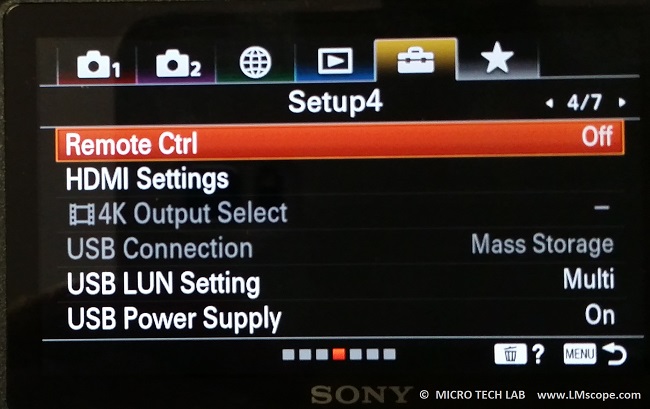 In addition to the mechanical shutter, the camera also has an electronic shutter for silent (vibration-free) shooting. Depending on the application and equipment available, either the mechanical or electronic shutter can be used. For single shots, the mechanical shutter has the advantage of being able to precisely set the shutter speed from 1/4000 to 30 seconds. The image signals are read out after the shot has been taken, which means that no more exposure takes place and the image is sharper.
Unfortunately, the Alpha 6400 has no built-in image stabiliser like professional models (such as the Alpha 7R IV), and it also does not support the pixel shift technology (see Alpha 7R IV).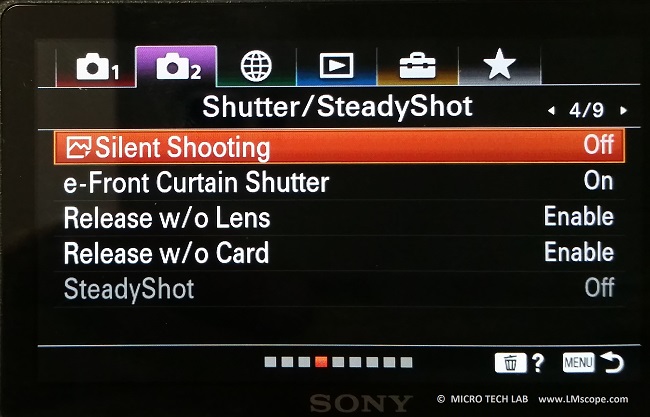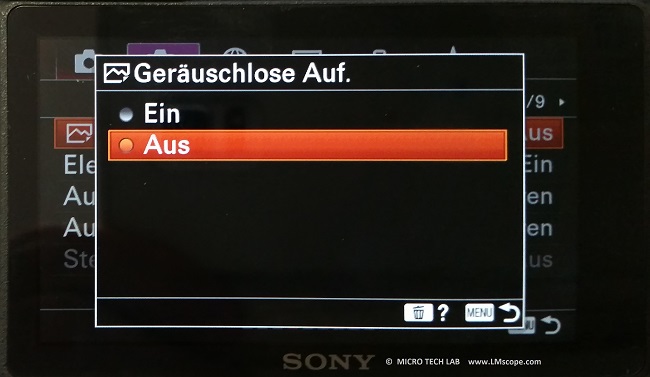 Images can be captured at eleven frames per second with the mechanical shutter and eight frames per second with the electronic shutter.
To prevent the camera from switching itself off automatically while working on the microscope, the auto power-off function needs to be disabled.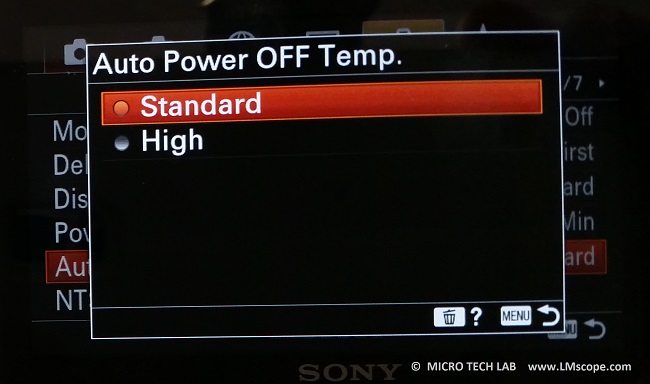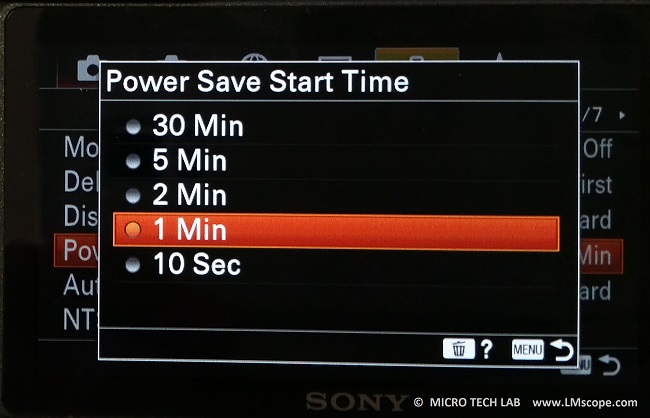 In video mode, the camera can record at 30 frames per second in 4K HDR (Ultra HD) resolution. This allows the user to achieve the level of video quality and detail resolution necessary for professional results. The 6K oversampling across full width of the sensor is a great feature: videos are recorded in 6K and scaled down to 4K, resulting in top-notch image quality. The videos can be saved in different qualities and formats. Full HD video recording is possible at up to 120 frames per second – sufficient for high-quality slow-motion shots, as well as time-lapse and high-speed recording.
The Alpha 6400 has HDMI and USB ports: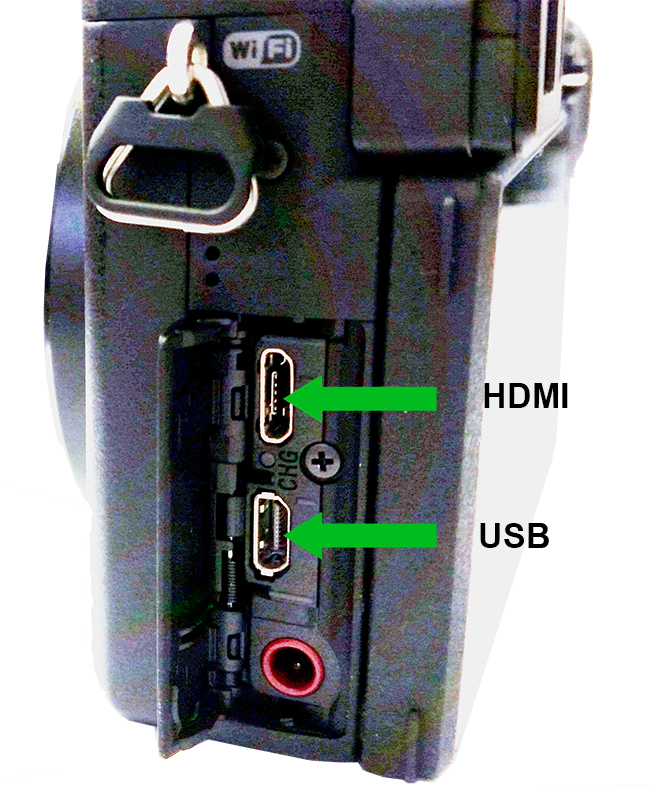 Using an HDMI cable (HDMI micro connection), the camera can be connected to a large 4K (3840 x 2160) monitor. Different HDMI resolutions can be selected in the menu.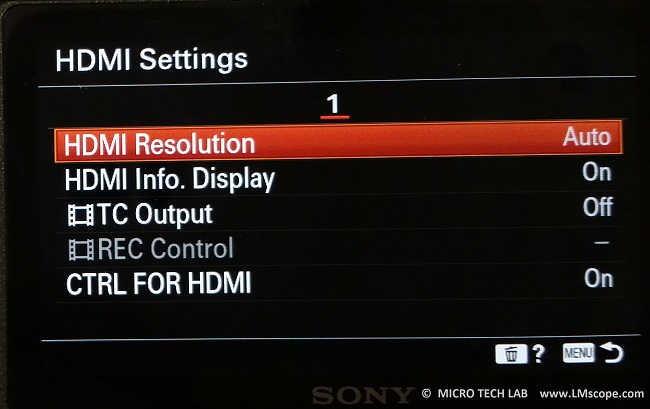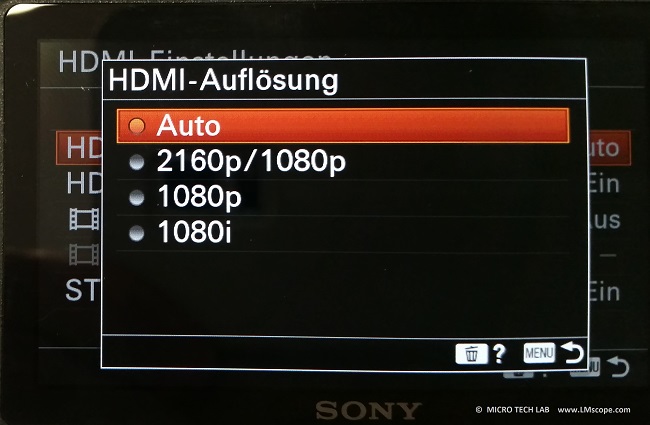 Images can be saved in .JPG or .RAW format. The advantage of RAW files is that they contain much more information. Of course, this also requires a lot of storage space, especially in the case of microscope photos, which are usually taken at the highest resolution. Therefore, it is important to be able to connect the camera to a PC/Mac to save the files directly to the hard drive.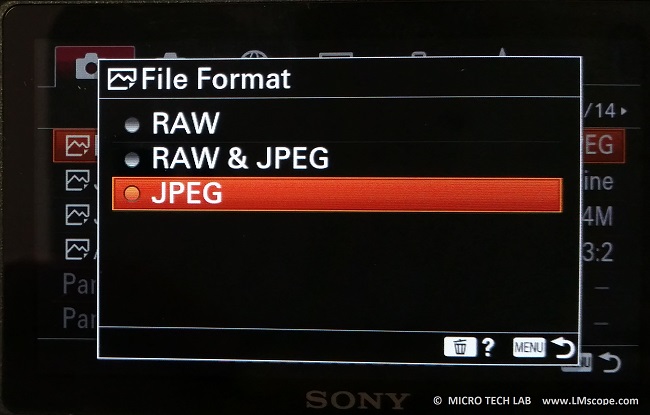 First select the file format …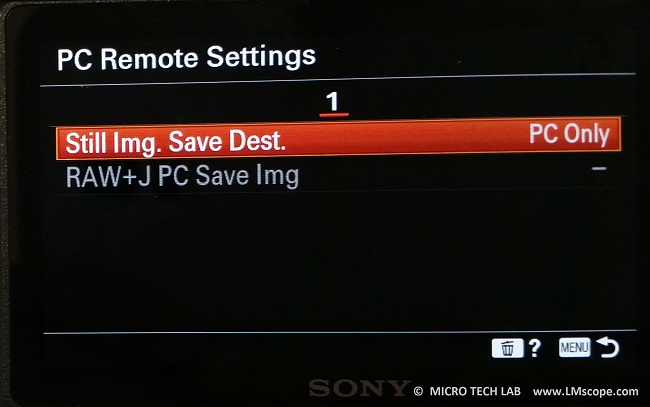 .... and then select the PC as save destination.
The camera can be connected to the PC/Mac with a micro USB cable (unfortunately only USB 2.0). Imaging Edge is Sony's proprietary suite of software to support remote control of the Alpha 6400. With it, the camera can be used like a normal USB and C-mount microscope camera:
With Imaging Edge, users can work on, focus and capture images in Live View mode. Alternatively, Phase One has developed a version of its Capture One Pro software specifically for Sony cameras. We have already tested this software in 2017 with a Sony 7R II; it offers an even more extensive range of features than Imaging Edge.
In addition to editing and transferring data, USB charging is also supported. An interesting detail for stationary use: the camera will still operate whenever the USB charging function is used, but not without battery (even when it's connected to the USB charger).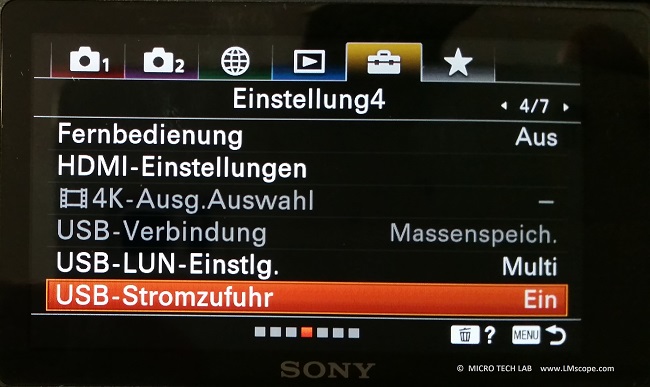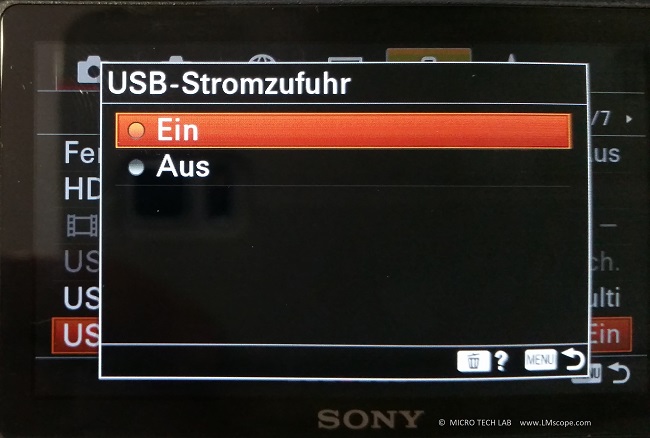 Shooting remotely from the PC via Wi-Fi connection is only possible with the Alpha 7R IV.
The Sony Alpha 6400 also offers plenty of connectivity options: it can connect with NFC, Bluetooth and Wi-Fi, which enables wireless communication with smartphones or tablets. This way, the user can control the camera remotely in Live View mode via smartphone or tablet and adjust the focus and several other settings. The only requirement for connecting a smartphone or tablet is Sony's "PlayMemories" app, which can be downloaded for free from Google Play.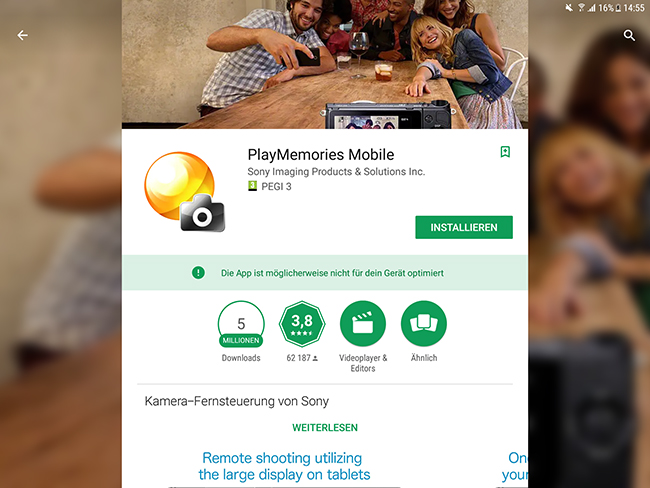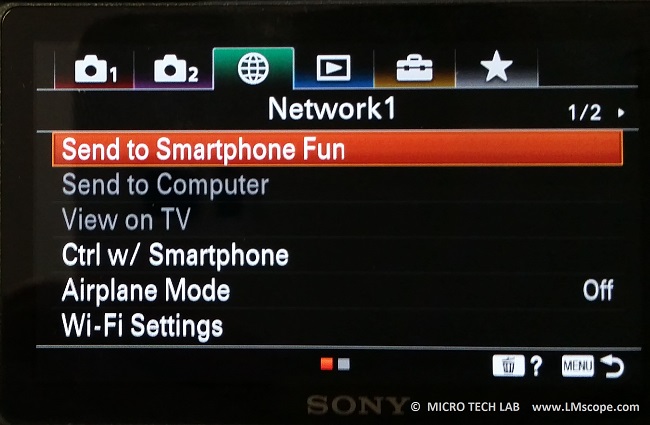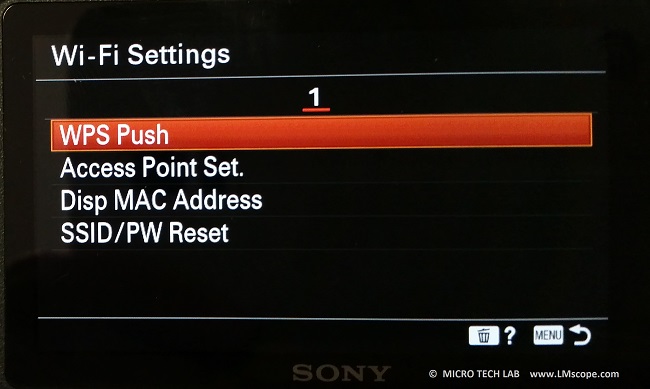 The app features all of the core functions needed:
Live View and remote shutter release

Change settings in the menu

Display grid lines for measuring specimens

Option to flip or rotate the image (an important feature for photomicrography)
Click here for a detailed test report on this app.
A feature that is pointed out in all advertisements for the Alpha 6400 is its "real-time eye AF", which employs AI (artificial intelligence) to automatically detect a subject's eyes in real-time, covers 84% of the image area and has 425 phase- and contrast-detection AF points. The reaction time of the AF is as little as 0.02 seconds. All these specs are not really that important for microscopy, however, because autofocusing is not used when taking microscope pictures.
Conclusion: The Sony Alpha 6400 is a small, powerful system camera that offers state-of-the-art camera technology at a moderate price tag of around EUR 800. It works very well with a microscope. Additional valuable information about selecting the camera that is best suited for use with a microscope can be found in our current camera recommendations.
At this point, we would like to extend special thanks to Opernfoto Hausleitner Graz, the camera store who kindly provided the camera we used in our test.
25.10.2019