LM Direct Image C-Mount Port 1x with C-mount connection (Ordering Code:TUST42C) for Olympus microscopes with trinocular head

Tube socket with C-mount connection for Olympus microscope tubes with 42 mm internal diameter

Universally applicable C-mount connection with 1X factor for C-mount cameras or video cameras with sensor sizes of 3/4" to 1". These cameras can be directly mounted onto the TUST42C. All other cameras with different sensor sizes or other connections (bayonet, filter thread, etc.) can be connected using the LM digital adapter.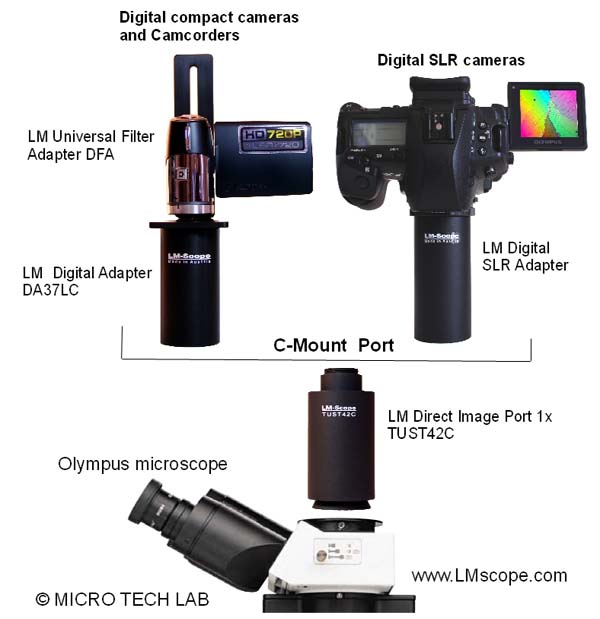 Compatible Olympus Microscopes
Microscope
Phototube
AX70
U-MPH Universal Tube
U-SWETR Wide-field binocular phototube
U-SWTR-2 Wide-field binocular phototube
CKX31 / CKX41
U-CTR30-2 Binocular phototube
U-TR30-2 Binocular phototube
CX 21 / CX31 / Cx41
U-CTR30 Binocular phototube
CX40
U-TR30 Wide-field binocular phototube
CX41
U-CTR30-2 Binocular phototube
BX41
U-ETR30 Binocular phototube
U-SWETR Wide-field binocular phototube
U-SWTR-2 Wide-field binocular phototube
U-TR30-2 Binocular phototube
U-TRU Intermediatetube with photo / video output
BX45
U-ETR3 Binocular phototube




U-TR30-2

Binocular phototube
BX40 / BX50
U-TR30

Binocular phototube
U-SWTR Wide-field binocular phototube
BX51 /BX 61
U-ETR3 Binocular phototube


U-SWETR Wide-field binocular phototube
U-SWTR-2 Wide-field binocular phototube
U-TRU Zwischentubus mit Foto/ Videoausgang


U-TR30-2

Binocular phototube
FV1000
U--TR30H Binocular phototube

BX52
U-SWETR Wide-field binocular phototube
IX50 / IX70
U--TR30H Binocular phototube
IX51 / IX71 / IX81
U--TR30H Binocular phototube

SZX2
SZX-TR30 Binocular phototube

SZX7
SZX-TR30 Binocular phototube

SZX10
SSZX2-TTR Binocular phototube
SZX2-TTRPTBinocular phototube
SZX12
SZX-TR30 Binocular phototube
SZX16
SZX2-TTR Binocular phototube
SZX2-TTRPTBinocular phototube
Nikon D850 / Sony Alpha 7III / Sony Alpha 9 / Nikon D5 / Sony Alpha 7S II / Sony Alpha 7R II / Sony Alpha 7R III / Sony Alpha 7S / Canon EOS 5D Mark IV / Nikon D750 / Canon EOS 6D Mark II / Sony Alpha 6300 / Sony Alpha 6500 / Nikon D500 / Canon EOS 1D X / Nikon D810 / Nikon D4s / Nikon D800 / Nikon D800E / Nikon D4 / Nikon Df / Nikon D610 / Nikon D600 / Canon EOS 6D / Canon EOS 5DS R ( without low-pass filter) / Olympus OM-D E-M1 Mark II / Canon EOS 80D / Canon EOS 5DS / Sony Alpha 77 II / Canon EOS 70D / Nikon D7200 / Canon EOS 200D / Canon EOS 800D / Rebel T7i / Canon EOS 77D / Canon EOS 5D Mark III / Canon EOS 60D / Sony Alpha 7R / Sony Alpha 7 / Nikon DS-Qi2 (Microscope Camera) / Nikon D3x / Olympus OM-D E-M1 /

Related Links

Digitalcamera , Digital camera , Digital cameras , digital SLR , Digital single lens reflex cameras , digicam , digicams , DSLR , HD Camcorder , HD Video , Webcam , USB-Camera , Compact digital cameras , DIN-standard 23,2mm microscope eyepiece tube , 30mm standard eyepiece adapter , T-mount adapter (M42x0,75) / T2 Camera Lens Mount Adapter , stereo-microscope / Stereomicroscopes , large format coupler , non standard microscope connections , photoeyepiece , Photoeyepiece: Mounting digitalkamera onto microscope , high resolution camera , mounting bayonet , bayonet mount , C-mount relay lens , ,