445
Is the Zeiss Axioskop 40 also the universal solution for photomicrography?
Zeiss refers to its Axioskop microscope as the universal solution for research, teaching and laboratory practice. It is supposed to meet users' requirements and expectations in all respects, including affordability. We tested the Axioskop 40 for its suitability for photomicrography applications and were absolutely thrilled by the results. Not only does it offer first-rate build quality, but it also has a sophisticated infinity colour-corrected system, which makes it very well suited for use with the camera systems currently available on the market. With our LM digital adapters, a camera can be attached to the Axioskop 40 quickly and easily using either the 30mm eyepiece tube or the photo tube. DSLR cameras and system cameras are ideally suited for microscopy. They can be controlled from a computer and deliver superb image quality. We will be happy to advise you when selecting the right digital camera for your specific needs.
The Axioskop 40 has a modular design, which makes it easy to customise the various components (tubes, intermediate tubes and condensers) to the user's requirements. It features a pyramid design with a T-shaped base. Typical areas of application include hospitals, medical practices, universities and industrial settings. The Axioskop 40 is equipped with an ergo tube, making long periods of concentrated work more comfortable. Although the viewing angle is fixed at 20 degrees, the tube height is adjustable. Other ergonomic details, such as positioning of control elements, etc., were taken into consideration and implemented accordingly.
The microscope's universal condenser covers a magnification range from 1.0x to 100x, and its 6-position nosepiece accommodates not only high-quality ICS objectives, but also an object marker. A wide range of ICS objectives is available – from the budget-priced basic series A-Plan and Achroplan all the way up to Fluar and Plan-Apochromat objectives.
With a field of view of 23mm, the Axioskop 40 offers all relevant contrasting techniques (bright field, dark field, phase contrast, polarisation contrast, Varel as an alternative to DIC, and oblique illumination for thicker specimens). The Axioskop 40 FL, which features epifluorescence equipment with a 5-position reflector turret and powerful HBO mercury vapour lamps, is available for fluorescence applications.
The Axioskop 40 comes with a 35 W halogen lamp as standard, but it can also be upgraded with an LED module.
But now let's turn to the features that are most important for us: A number of different binocular tubes and photo tubes, including ergo photo tubes with infinitely variable height adjustment, can be fitted to the Axioskop 40. With the help of our LM digital adapters, DSLR and system cameras can be attached to the microscope quickly and easily. Users can choose either same-brand cameras or other cameras of their choice.
Another option, albeit not an ideal one, is to mount the camera to the eyepiece of the microscope. In that case, the adapter is attached directly to the eyepiece tube.

However, a connection via the photo port is the preferred option. Thanks to the modular construction of the Axioskop 40, a wide selection of tubes is available for this purpose.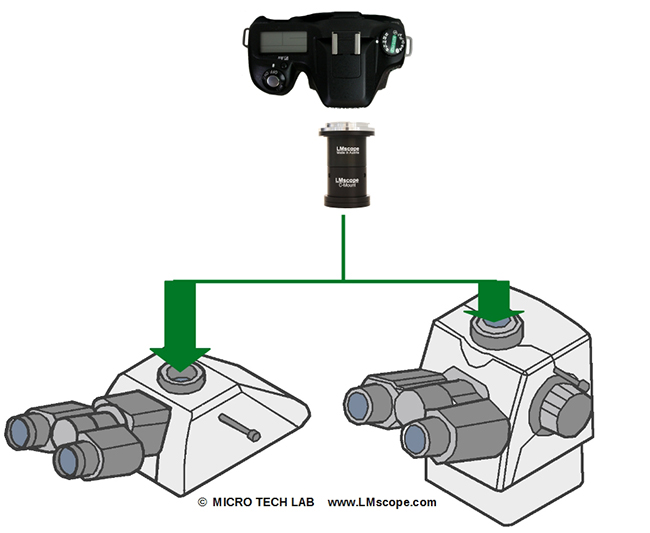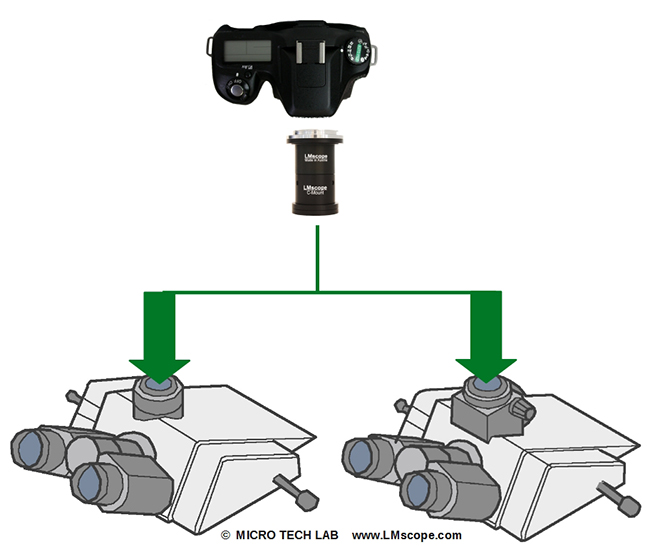 Selection of tubes:
Binocular ergonomy photo tube, Art. No. 452342-0000-000

Binocular ergonomy photo tube, height adjustable, Art. No. 000000-1104-296

Binocular photo tube with sliding prism, Art. No. 452143-0000-000

Binocular photo tube with two ports, Art. No. 452145-0000-000
We offer three adapter solutions for attaching a camera to a photo tube: the standard LM adapter solution, the extended adapter solution with focusable LM DSLR universal adapter, and the extended adapter solution with larger field of view (with wide-field adapter). As all of our products, these adapters come with a high-quality, plan-achromatic optical system and are very well built. Another distinguishing feature is the short, compact design.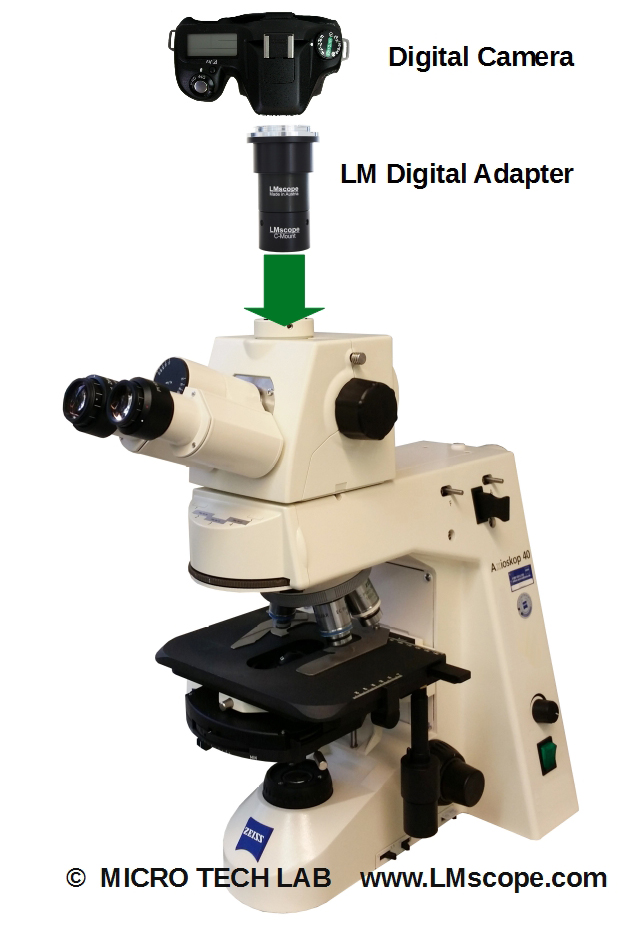 Conclusion: With its high-performance optical system and modular design featuring different tube options, the Zeiss Axioskop 40 is exceptionally well suited for photomicrography.
Photography:
Fitting the microscope to digital single-lens reflex (DSLR), system or C-mount cameras is easy with our LM digital SLR adapters, which feature a plan achromatic optical system. Our products make it possible to capture top-quality microscope images. To help you select the adapter that is right for your camera, we have set up an online configurator on our website. You can also email us – ideally with attached photographs of your microscope.
Modern DSLR and system cameras offer the latest technology and are generally very well suited for microscopy applications. Most of them can be controlled remotely via PC/Mac. Because of their high sales volumes, they offer an excellent price/performance ratio compared to special-purpose microscope cameras.
Features of top DSLR and system cameras:
- Large, powerful full-frame sensors (36 x 24 mm)
- Sensor resolution of 50 megapixels
- High light sensitivity (ISO 100,000+)
- Extensive dynamic range (up to 14 aperture stops/f-stops)
- Short exposure times (1/8000 second):
- Full/Ultra HD (4k) video function
- Live video capture on external monitors in ultra HD quality
In most cases, these cameras are significantly more powerful than microscope cameras with smaller sensors (1/2" or 2/3"). On our website you will find our current camera recommendations and a camera ranking which is specifically tailored to microscopy applications.

New LM Digital Adapter for:
Sony Alpha 9 II (ILCE-9M2) / Sony Alpha 9 / Nikon D6 / Sony Alpha 7R IV / Canon EOS R5 with Canon Adapter EF-EOS R / Sony Alpha 7S II / Sony Alpha 7R III / Canon EOS R6 with Canon Adapter EF-EOS R / Nikon Z6 / Nikon Z6II / Sony Alpha 7R II / Nikon Z7 / Nikon Z7II / Canon EOS R with Canon Adapter EF-EOS R / Canon EOS Ra (Astro) with Canon Adapter EF-EOS R / Nikon Z5 / Sony Alpha 7C / Canon EOS RP with Canon Adapter EF-EOS R / Sony Alpha 7S / Canon EOS 1D X Mark III / Nikon Z50 / Nikon D850 / Canon EOS 1D X Mark II / Nikon D780 / Sony Alpha 7III / Nikon D5 / Sony Alpha 6600 / Sony Alpha 6400 / Sony Alpha 6100 / Canon EOS 1D X / Nikon D4s / Olympus OM-D E-M5 III / Canon EOS 90D / Canon EOS 5D Mark IV / Nikon D4 / Nikon D750 / Canon EOS 6D Mark II / Fujifilm X-T4 / Fujifilm X-T3 / Sony Alpha 6300 / Sony Alpha 6500 / Nikon D500 / Nikon D810 / Nikon D800 / Canon EOS M6 Mark II / Nikon D800E / Nikon Df / Panasonic Lumix DC-G9 / Nikon D610 / Nikon D600 / Canon EOS 250D /