473
Olympus CX43 – top-quality photographic documentation with a routine microscope
The Olympus CX43 is a routine microscope for laboratory use. It has an infinity-corrected optical system, is relatively lightweight (approx. 7.5 kg) and comes at a rather affordable price (€ 2,500 and up for the trinocular version).
The design of the CX43 maximises ergonomics, but for our area of application, the optical system has higher priority. And here, the proven excellence of Olympus' UIS2 optics more than meets our needs. Up to five objectives from the manufacturer's broad line of accessories can be mounted on the revolving nosepiece of the CX43. Combined with our LM microscope adapters with plan-achromatic precision optics and a suitable camera, you can create impressive images of your specimens. Our digital adapters can be used to attach virtually any camera – not only C-mount cameras, but also DSLRs or DSLMs with large image sensors – to the CX43 in a few quick and easy steps. Modern DSLR cameras can also be conveniently controlled remotely from a PC, Mac, tablet or smartphone via Live View. Take a look at our camera ranking and/or camera recommendations to help you choose the camera that is best suited for your needs.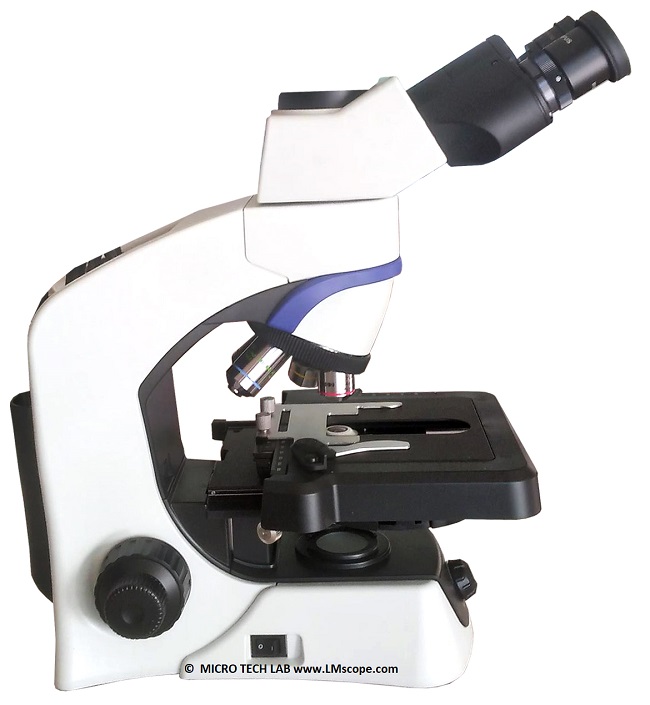 The Olympus CX43 supports all standard observation modes, such as brightfield, darkfield, phase contrast or fluorescence. For less demanding requirements using only brightfield and darkfield, the CX33 microscope is a great option. Both models are equipped with an LED light source for uniform illumination.
Ideally, the camera is mounted to the camera port of the trinocular tube. As an alternative, the camera can also be attached to an eyepiece tube with an inside diameter of 30 mm.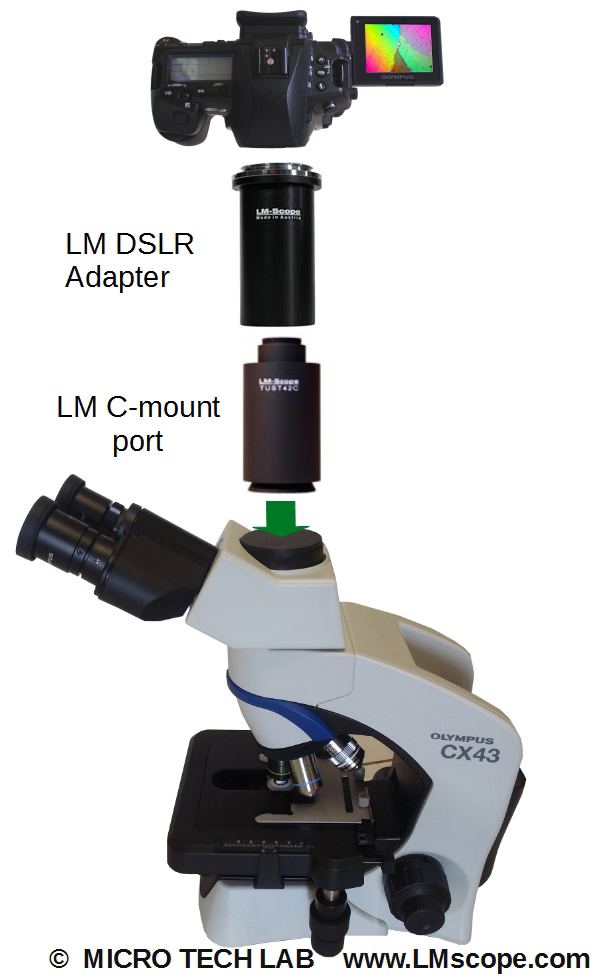 Conclusion: The Olympus CX43 is a rather affordable, handy laboratory microscope that supports the most common observation methods. The trinocular tube allows a DSLR or DSLM camera to be attached without losing one of the eyepieces for normal viewing.

Photography:
Fitting the microscope to digital single-lens reflex (DSLR), mirrorless interchangeable-lens cameras (MILC ), digital single-lens mirrorless (DSLM) or C-mount cameras is easy with our LM digital SLR adapters, which feature a plan achromatic optical system. Our products make it possible to capture top-quality microscope images. To help you select the adapter that is right for your camera, we have set up an online configurator on our website. You can also email us – ideally with attached photographs of your microscope.
Modern DSLR and single-lens mirrorless (DSLM) offer the latest technology and are generally very well suited for microscopy applications. Most of them can be controlled remotely via PC/Mac. Because of their high sales volumes, they offer an excellent price/performance ratio compared to special-purpose microscope cameras.
Features of top DSLR and single-lens mirrorless cameras (DSLM):
- Large, powerful full-frame sensors (36 x 24 mm)
- Sensor resolution of 61 megapixels or 240 megapixels with Pixel Shift technology
- High light sensitivity (ISO 400,000+)
- Extensive dynamic range (up to 15 aperture stops/f-stops)
- Short exposure times (1/8000 second) up to 1/32,000 seconds using the digital shutter
- 4K Ultra HD or 8K Ultra HD video function
- Live video capture on external monitors in ultra HD quality
In most cases, these cameras are significantly more powerful than microscope cameras with smaller sensors (1/2" or 2/3"). On our website you will find our current camera recommendations and a camera ranking which is specifically tailored to microscopy applications.