560
Start exploring the world of photomicrography with the Motic SMZ 161 microscope and a commercially available DSLR or mirrorless system camera
The SMZ 161 is a relatively low-priced stereo microscope from Motic. Combined with our LM microscope adapters, it offers a genuine alternative to expensive stereo microscopes from big name brands such as Zeiss or Nikon when it comes to photomicrography applications. The SMZ 161 is mainly used in biology and materials science (e.g. for quality control purposes) and in education (schools, universities). It is also a good fit for hobby researchers.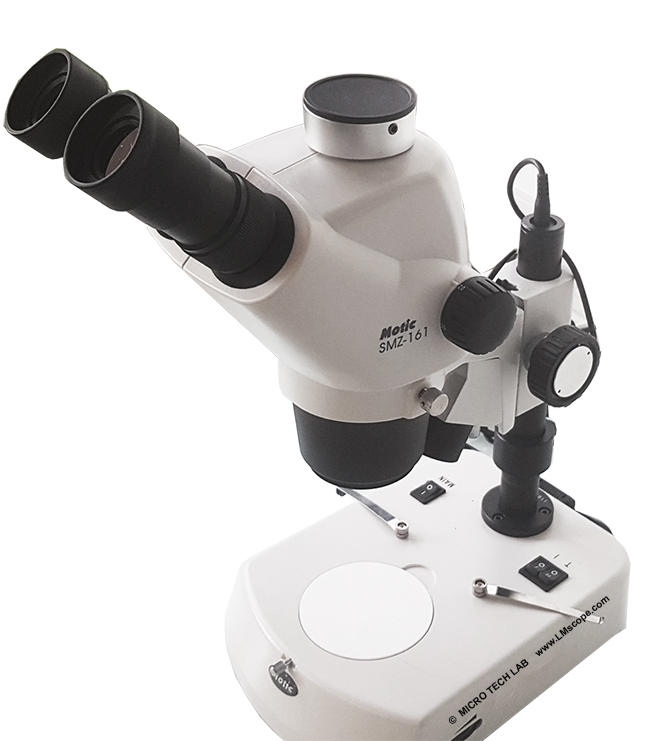 As a stereo microscope, the SMZ 161 employs the Greenough optical system, which has two parallel viewing paths. The 6:1 zoom ratio delivers a standard magnification range of 7.5x to 45x, and with auxiliary objectives and eyepieces, the total magnification range can be extended from 2.25x up to 180x.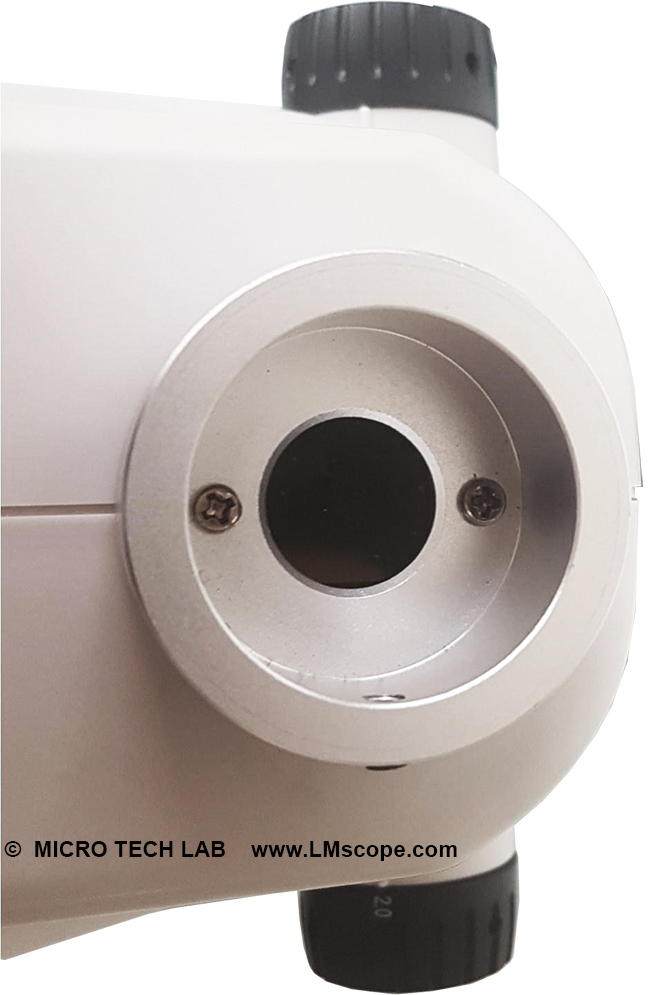 Photoport
With our customised LM adapter solution for Motic microscopes, the camera can be stably attached to the phototube of the SMZ 161, which has an inner diameter of 38 mm. The planachromatic precision optics of our adapter solution are the cornerstone for high-quality microscope photos. The best results are achieved with DSLR and mirrorless system cameras, of which a wide selection is available at different price points.
The trinocular tube of the SMZ 161 has a viewing angle of 45 degrees and can be rotated through 360 degrees. Adjustable interpupillary distance and dioptre adjustment on the eyepiece tubes are standard features anyway. Besides the standard WF10x/20 mm eyepiece, alternative eyepieces (up to WF20x/13 mm) are available as well. The maximum working distance (without close-up lens) is 110 mm.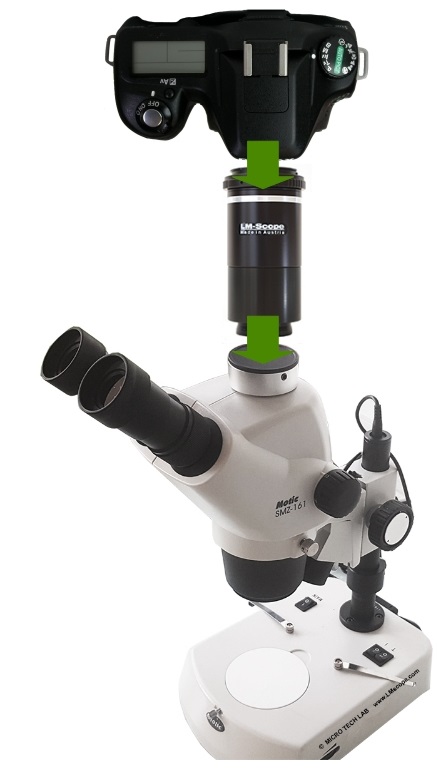 In addition to the solution for the phototube, we also offer a high-quality adapter for attaching the camera to the eyepiece tube of the microscope. The image quality is as good as that achieved using the phototube solution, but work is not quite as comfortable because the camera takes up the space of one of the eyepieces. The advantage of this option: the adapter solution is universal because it enables compatibility with a wide range of microscopes from major commercial brands.
The SMZ 161 weighs only 3.7 kg and is equipped with adjustable LED incident and transmitted light illumination. In addition, the SMZ 161 system offers modular components for individual configuration, such as stands with other illumination options, darkfield attachments and polarization add-ons.
Conclusion: Like its sister models (SMZ 171 and SMZ 168), the Motic SMZ 161 is an interesting alternative to expensive microscopes from leading manufacturers, such as the Zeiss Stemi 305, Nikon SMZ 800/1000 or Olympus SZ61. The Motic SMZ 171 is a bit more powerful than the SMZ 161, but in consideration of its price point, which is considerably higher, especially for this price segment, the performance improvements are rather marginal. The SMZ 161 therefore definitely deserves a serious look from prospective buyers.
24.04.2020
Photography:
Fitting the microscope to digital single-lens reflex (DSLR), mirrorless interchangeable-lens cameras (MILC ), digital single-lens mirrorless (DSLM) or C-mount cameras is easy with our LM digital SLR adapters, which feature a plan achromatic optical system. Our products make it possible to capture top-quality microscope images. To help you select the adapter that is right for your camera, we have set up an online configurator on our website. You can also email us – ideally with attached photographs of your microscope.
Modern DSLR and single-lens mirrorless (DSLM) offer the latest technology and are generally very well suited for microscopy applications. Most of them can be controlled remotely via PC/Mac. Because of their high sales volumes, they offer an excellent price/performance ratio compared to special-purpose microscope cameras.
Features of top DSLR and single-lens mirrorless cameras (DSLM):
- Large, powerful full-frame sensors (36 x 24 mm)
- Sensor resolution of 61 megapixels or 240 megapixels with Pixel Shift technology
- High light sensitivity (ISO 400,000+)
- Extensive dynamic range (up to 15 aperture stops/f-stops)
- Short exposure times (1/8000 second) up to 1/32,000 seconds using the digital shutter
- 4K Ultra HD or 8K Ultra HD video function
- Live video capture on external monitors in ultra HD quality
In most cases, these cameras are significantly more powerful than microscope cameras with smaller sensors (1/2" or 2/3"). On our website you will find our current camera recommendations and a camera ranking which is specifically tailored to microscopy applications.

Ordering code

Product description

Price

Price

Available




DD2XMO38

LM Digital SLR Adapter with special hard anti-reflection coating, plan achromatic optics for Motic phototubes with an inner diameter of 38 mm, inclusive Camera Lens Mount Adapter



Operating Instructions0
Data Sheet1

For EU (European Union) VAT (IVA, TVA) not included