519
The Zeiss Stemi 305 stereo microscope: taking close-up pictures with DSLR and DSLM cameras
At long last, it is now possible to attach the digital camera of your choice to the Zeiss Stemi 305 using the microscope's phototube. This way, you can benefit from the cutting-edge technology in DSLR and DSLM cameras, which deliver excellent image quality and are incredibly versatile, and save money at the same time.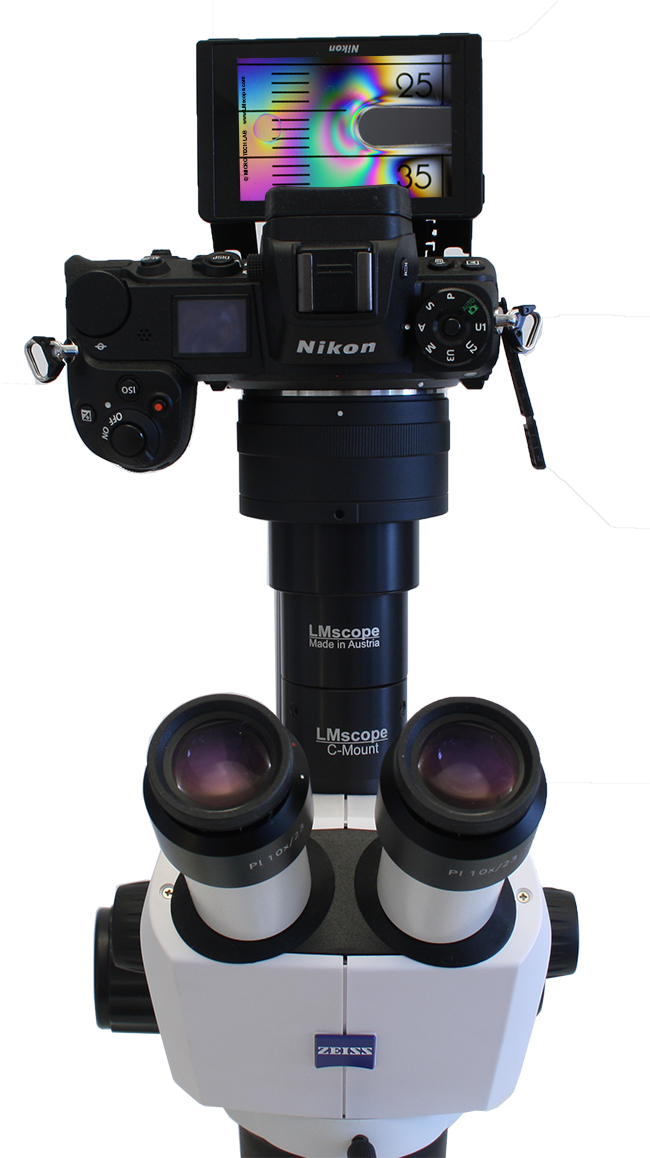 The Zeiss Stemi 305 is a small, lightweight stereo microscope with a Greenough optical system. Depending on the model version, it is suitable for education, laboratory or industrial use. It supports transmitted and incident light techniques (brightfield, onesided darkfield, polarisation contrast), and the zoom body (5:1) features integrated LED illumination. At the push of a button, the user can switch between vertical illumination, oblique spot or mixed light. Gooseneck LED illuminators and a segmentable ring light provide maximum flexibility in viewing samples. The microscope has a magnification range between 8x and 50x.
The Stemi 305 comes in three different versions:
Zeiss Stemi 305 (binocular) - art. no. 435063-9000-000
Zeiss Stemi 305 trino with integrated phototube (with integrated c-mount camera adapter 0.5x) - art. no. 435063-9010-000
Zeiss Stemi 305 cam (with integrated C-mount camera) – art. no. 435063-9020-000
The Stemi is positioned as an entry-level model within the Zeiss product range. In order to provide an attractive price point for cost-conscious customers, it is manufactured in China. The model with phototube and without stand costs around € 1,000; if you add the stand, the price is around € 2,000.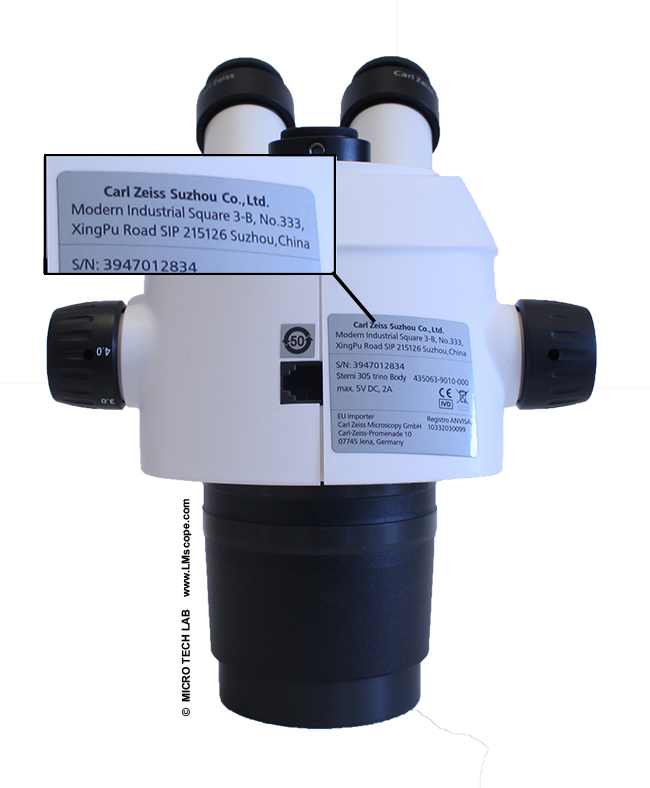 In the course of our tests, we found out that the microscope body measures 75 mm on the outside, which is very common and thus enables the use of other, lower-priced stands from other manufacturers.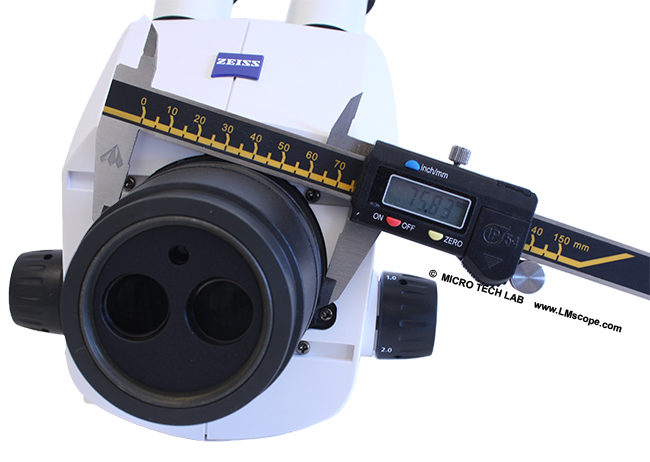 The Zeiss Stemi 305 is a Greenough-type stereo microscope: two separate beam paths face the object from two directions. Looking through the eyepieces with both eyes, the brain compiles the information it receives from the two optical paths into a three-dimensional, plastic image which is upright and unreversed – the perfect conditions for specimen preparation and manipulation with scalpels, tweezers or micro tools.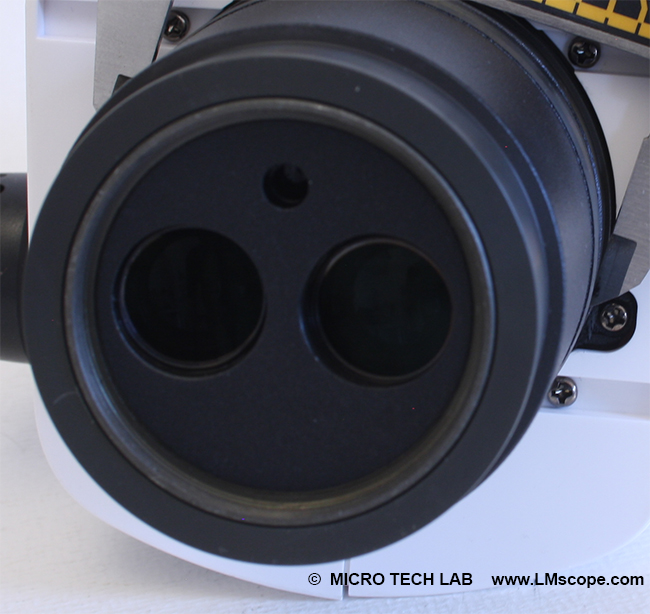 The phototube version of the microscope – the Zeiss Stemi 305 trino – has an integrated C-mount camera adapter with a reduction factor of 0.55x.
Although Zeiss offers the Stemi 305 with an integrated 1.2 megapixel C-mount camera or with a phototube for access to any Zeiss Axiocam microscope camera and Zeiss ZEN lite imaging software, we recommend using DSLR or DSLM cameras with up to 60 megapixels because their sensors are much larger than those of microscope cameras and will therefore give you significantly better image quality. The standard C-mount connection (thread with a nominal diameter of 25.4 mm), together with our LM digital adapters with integrated precision optics, enables easy mounting of DSLRs and DSLMs to a microscope. Because the market offers a wide array of cameras from top brands such as Sony, Nikon, Olympus, Canon and others, users can get the camera that is best suited to their specific imaging needs for the best value in terms of cost-vs-performance. We recommend DSLR and DSLM cameras with large sensors, because they deliver excellent image quality at a very reasonable price point.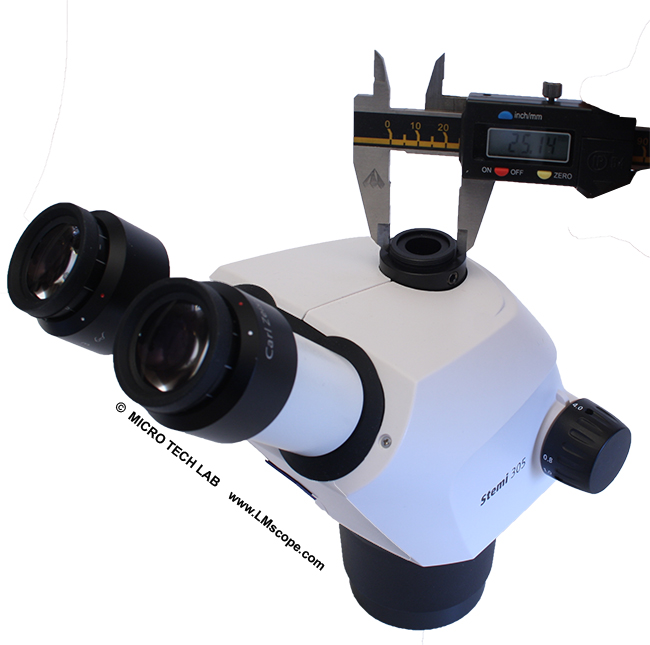 If a camera is attached to the phototube of the microscope, only the image information of the left optical path is directed to the camera. The Zeiss Stemi has a fixed 50/50 split of the amount of light between eyepiece and camera.
For customers who choose the version without phototube (Stemi 305 binocular) but still want to attach a camera to the microscope, we offer a very effective alternative: our eyepiece adapter solutions with integrated wide-field optics are focusable and provide the largest possible field of view without any vignetting.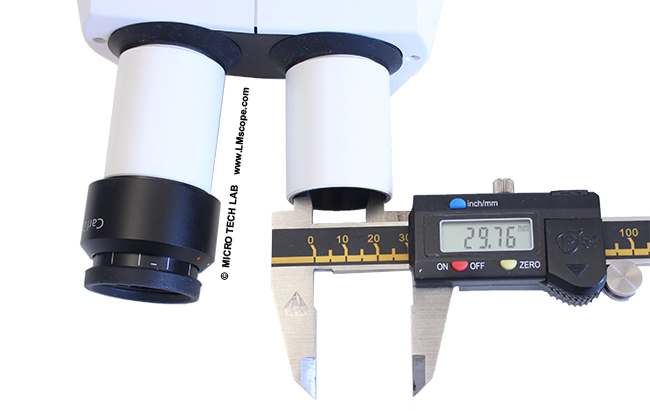 The eyepiece tube of the microscope has an inside diameter of 30 mm. To attach the camera to the microscope, you just need to remove one eyepiece and then slide the camera, together with the adapter, into the tube where the eyepiece was. When done, you can immediately start taking pictures.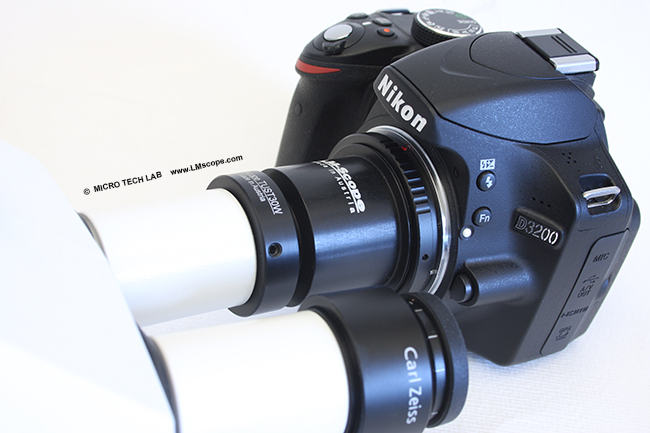 Both connection options – via the phototube or the eyepiece tube – deliver good image quality with high contrast and focus all the way to the edges. If you also work with an LM adapter solution with an integrated filter, great pictures like this one arise: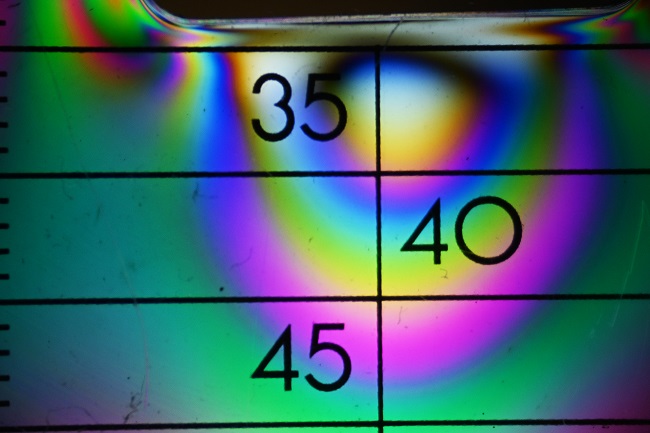 The Zeiss Stemi 305 has a 5:1 zoom from 0.8 to 4x. In the standard configuration, the lowest magnification provides an object field of 23 x 15 mm. At max zoom, the object field is 4.5 x 3 mm.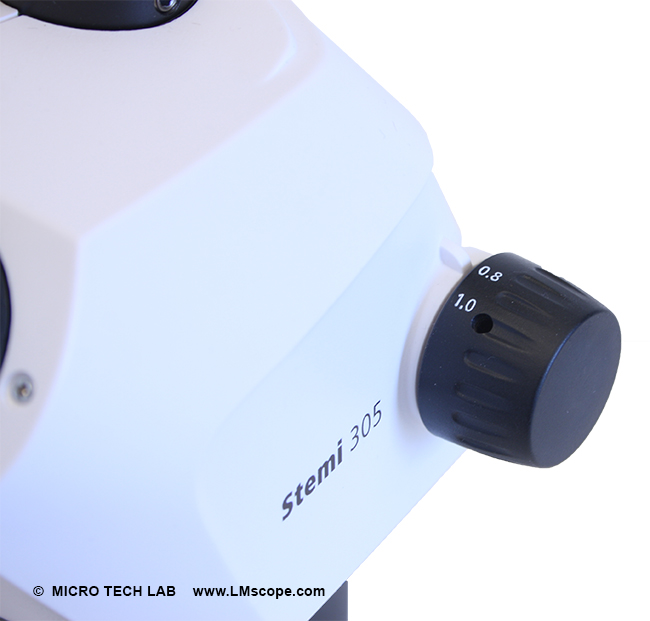 Zoom 0.8x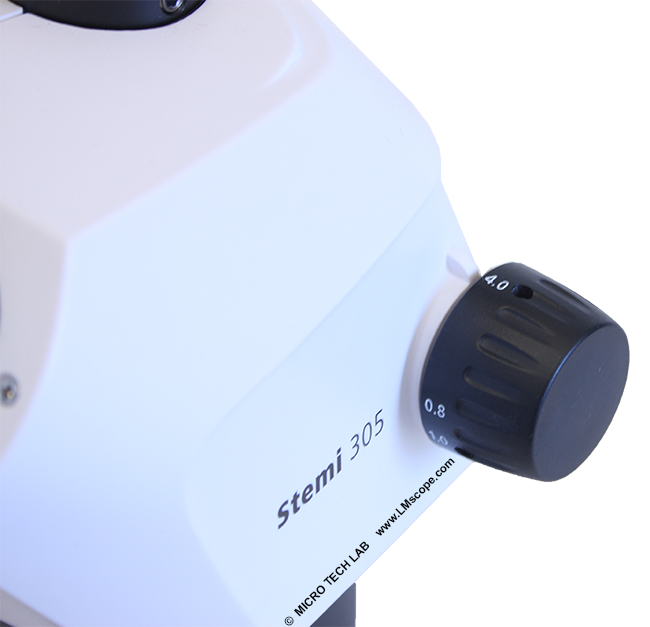 Zoom 4.0x
Another advantage of DSLR and DSLM cameras is that they can be controlled remotely from a computer and have Live View capability along with many other functions. Remote control can be via USB cable or a wireless network (Wi-Fi). DSLRs and DSLMs are also capable of sending the live image output to a large external monitor without any loss of quality (Full HD/Ultra HD/4K). Of course, it is also possible to work without a computer – the cameras can be operated fully autonomously. Many models also have a screen that flips or tilts.
Further information on cameras that are best suited to your application can be found in our camera recommendations or our camera ranking. Please contact us for tailored advice.
Conclusion: With the Stemi 305, Zeiss is able to offer a good microscope in the lower price range. The Stemi 305 scores high marks for its price-to-performance ratio and also delivers the kind of quality needed for demanding imaging tasks. With a wide variety of accessories, built-in illumination and an optional transmitted light unit, it offers a well-rounded package of options and features. To take full advantage of the microscope's features when capturing under-the-microscope photographs, we recommend cameras with larger sensors (Micro Four Thirds or APS-C format) or even better full-frame sensors. Large sensors have greater dynamic range and thus bring out more detail in both bright and dark areas of the image. Especially at lower magnifications, the higher number of pixels offered by DSLRs and DSLMs is required to make even the smallest details clearly visible in the photograph.
21.03.2019
Ordering code

Product description

Price

Price

Available




DD6XC

LM Digital SLR Adapter for full frame sensor with special hard anti-reflection coating, plan achromatic optics with C-Mount thread, inclusive Camera Lens Mount Adapter



Info




DSLR22FTC_Pro

LM Digital SLR Universal Adapter for Sensor format APS-C and Micro Four Thirds with special hard anti-reflection coating, plan achromatic optics with tube adapter and C-Mount thread, inclusive camera lens mount adapter







DSLR22TW

LM Digital SLR Widefield Adapter for Sensor format APS-C and Micro Four Thirds with special hard anti-reflection coating, plan achromatic optics for 30mm eyepiece tube, inclusive camera lens mount adapter



Data Sheet0
Operating Instructions1
Operating Instructions2

For EU (European Union) VAT (IVA, TVA) not included