519
The Zeiss Stemi 305 stereo microscope: taking close-up pictures with DSLR and DSLM cameras
At long last, it is now possible to attach the digital camera of your choice to the Zeiss Stemi 305 using the microscope's phototube. This way, you can benefit from the cutting-edge technology in DSLR and DSLM cameras, which deliver excellent image quality and are incredibly versatile, and save money at the same time.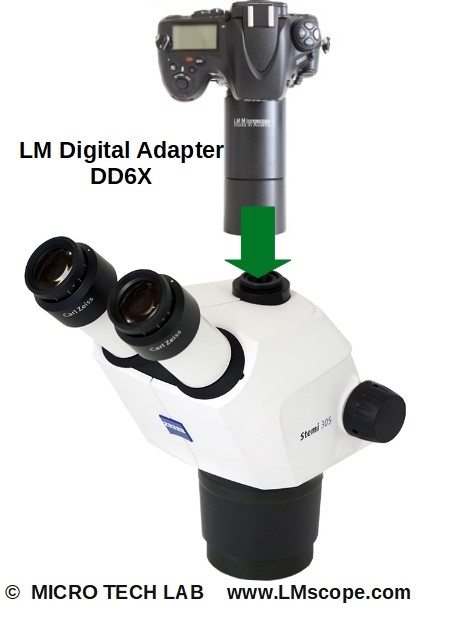 With our new LM adapter solution DD6X, which is designed to connect high-grade cameras to microscope phototubes, you can now overcome the limitations previously experienced with the Zeiss Stemi 305.
The Zeiss Stemi 305 is a small, lightweight stereo microscope with a Greenough optical system. Depending on the model version, it is suitable for education, laboratory or industrial use. It supports transmitted and incident light techniques (brightfield, onesided darkfield, polarisation contrast), and the zoom body (5:1) features integrated LED illumination. At the push of a button, the user can switch between vertical illumination, oblique spot or mixed light. Gooseneck LED illuminators and a segmentable ring light provide maximum flexibility in viewing samples. The range of magnification is between 4x and 200x, and a special stand allows a working distance of up to 185 mm. Users can choose from five different stands to fit their specific application.
The Stemi 305 comes in three different versions:
Zeiss Stemi 305 (binocular)

- art. no. 435063-9000-000

Zeiss Stemi 305 trino with integrated phototube (with integrated c-mount camera adapter 0.5x) -

art. no. 435063-9010-000

Zeiss Stemi 305 cam (with integrated C-mount camera)

– art. no. 435063-9020-000
Although Zeiss offers the Stemi 305 with an integrated 1.2 megapixel C-mount camera or ready for combination with a Zeiss Axiocam microscope camera, we recommend using DSLR or DSLM cameras with up to 50 megapixels because their sensors are much larger than those of microscope cameras and will therefore give you significantly better image quality. Furthermore, DSLR and DSLM cameras can be controlled remotely from a computer, have Live View and many other features that microscope cameras don't offer. Remote control can be via USB cable or a wireless network (Wi-Fi). DSLRs and DSLMs are also capable of sending the live image output to a large external monitor without any loss of quality (Full HD/Ultra HD/4K). Of course, it is also possible to work without a computer – the cameras can be operated fully autonomously. Many models also have a screen that flips or tilts.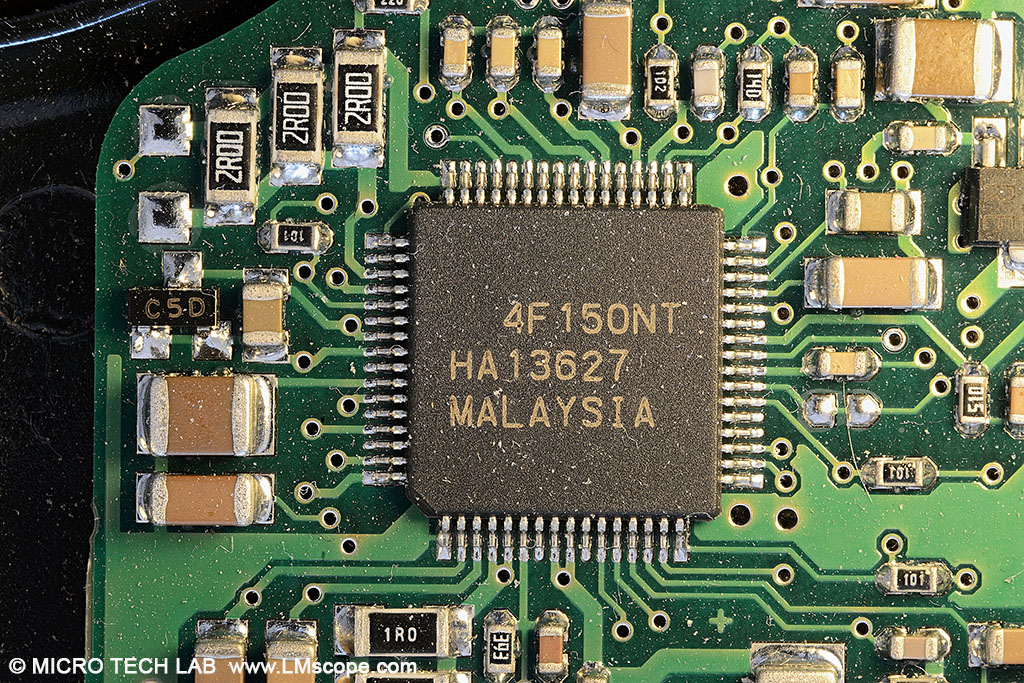 Further information on cameras that are best suited to your specific application can be found in our camera recommendations or our camera ranking. Please contact us for tailored advice.
We have developed an adapter solution which makes it possible to attach almost any DSLR or DLSM camera to the Zeiss Stemi 305.
For a long time, cameras could only be attached to the eyepiece tube (30 mm inside diameter) of the Stemi 305 because the microscope's C-mount tube, which features a built-in lens with a reduction factor of 0.5x, could not be removed and it was therefore impossible to use cameras with a sensor format other than 1/2 inch. Integrated C-mount optical systems with factors of less than 1x reduce the field of view, which is necessary for C-mount cameras with small (1/2 inch) sensors.
The sensor size of the camera and the optical factor of the adapter solution must be an exact match; otherwise image quality will be compromised and you'll get vignetting, blurring and colour fringing at the edge of the frame. More expensive microscopes, for example the Zeiss Stemi 508 doc, have a phototube with a C-mount that accommodates different reduction factors (0.5x, 0.63x, 0.7x, 1x ...). The Stemi 305, on the other hand, only has the non-removable 0.5x C-mount tube.
So far, "standard" adapter solutions have failed to adequately deal with this problem. However, our new LM adapter solution DD6X, which we developed with this inefficiency in mind, eliminates the limitations of the built-in C-mount reduction optics and makes it possible to use large-sensor cameras (such as DSLRs with full-frame sensors or mirrorless system cameras) for taking pictures through the Zeiss Stemi 305 and achieve much better image quality than with the microscope's integrated C-mount camera or a Zeiss Axiocam microscope camera.
The LM adapter solution is focusable and enables an optical alignment of the image observed through the eyepiece with the image the camera sees through the phototube. A large field of view can be captured even with full-frame cameras.
Of course, you can also attach your camera to the eyepiece tube (30 mm inner diameter) of the microscope using our LM wide-field universal adapter with plan achromatic optics, which connect directly to the eyepiece. A plus point of an eyepiece adapter solution is that it can be mounted and removed quickly and easily, which makes it very versatile, as the adapter can be used on different microscopes with little hassle. Most microscopes have an eyepiece tube with an inner diameter of 30 mm or 23 mm. Our LM adapter solution works for both diameter sizes. Simply remove one eyepiece and plug the camera adapter unit into the eyepiece tube, and you're ready to take under-the-microscope photos and videos. The camera can be conveniently controlled from a computer, tablet or smartphone, either via USB cable or over Wi-Fi. Zooming in active Live View, which is a standard feature on most cameras, also works perfectly when the camera is connected to the eyepiece of the microscope.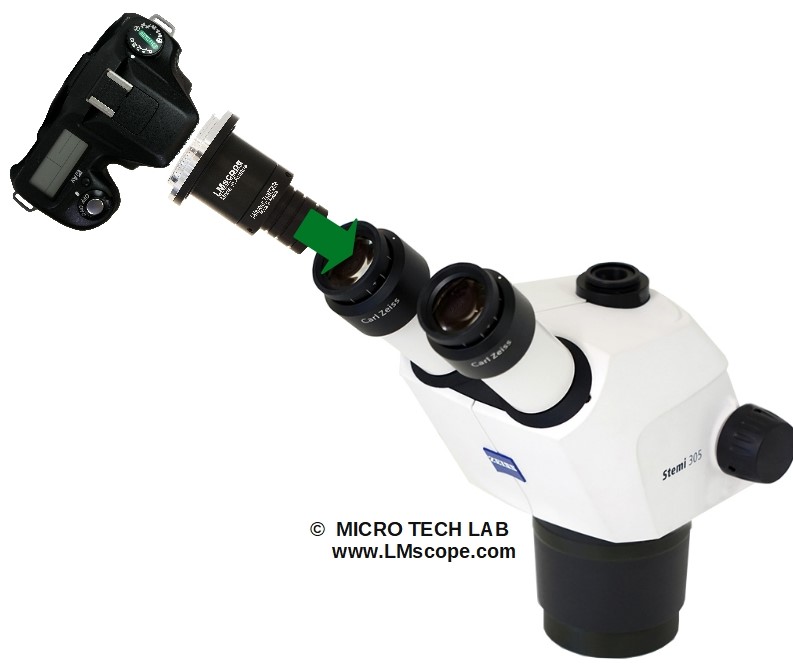 21.03.2019
Ordering code

Product description

Price

Price

Available




DD6XC2

LM Digital SLR Adapter with special hard anti-reflection coating, plan achromatic optics with C-Mount thread, inclusive Camera Lens Mount Adapter



Info

For EU (European Union) VAT (IVA, TVA) not included