182
Use of Nikon's entry-level single lens reflex (DSLR) cameras at the microscope
Nikon disables for strategic reasons the automatic functions of the entry-level DSLR cameras when not using the original lens.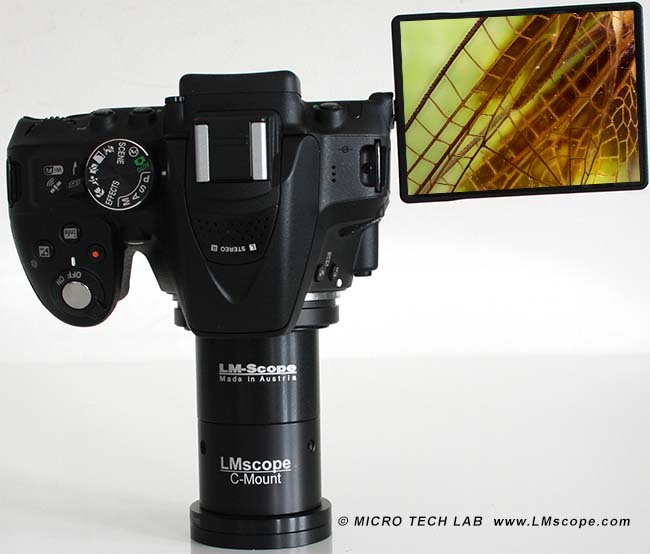 With the lower-priced Nikon D40 / D40x / D50 / D60 / D90 / D100 / D3000 / D3100 / D3200 / D5000 / D5100 / D5200 / D5300 models, only limited exposure is possible without the original lens. The automatic exposure control only works with Nikon digital lenses.
If you wish to use an analogue lens, camera adapter or bellows, the camera housing will not allow you to control the automatic exposure in manual mode. Only with the histogram display, or even more laboriously with exposure bracketing, is it possible to determine the ideal exposure time. The automatic functions such as automatic aperture priority or automatic exposure time calculation are not possible without the original AF lens being in place.
Especially in use with a telescope or microscope, where the microscope adapter is fitted directly to the camera body, this is a considerable disadvantage.

The better Nikon models D200 / D300 / D600 / D610/ D700 / D800 / D810 / D7000 / D7100 / Df / D3 / D3x / D4 also have a fully automatic exposure control function without the original AF lens. Even without the original lens being fitted or when using the camera at the microscope, the camera body carries out an automatic exposure.
Conclusion: These Nikon camera models are not very well suited for microscopy.It is smarter to use a "better" Nikon model. Please contact us for more details.
Perfect automatic exposure control is very important for microscopy. Other manufacturers, such as Canon or Olympus, even equip their entry-level cameras with fully functioning automatic exposure control for use without camera lenses.

A guide to find the best suitable camera for your application
Which digital camera functions best on a microscope?



30.09.2015


Caution! This manual is protected by copyright. Unauthorised reproduction thereof, in whole or in part, is punishable by law. Only use with MICRO TECH LAB's approval.
New LM Digital Adapter for:
Nikon Z9 / Nikon Z8 / Sony Alpha 7R V / Sony Alpha 1 / Sony FX3 Cinema Line / Sony Alpha 9 II (ILCE-9M2) / Sony Alpha 9 / Nikon D6 / Canon EOS R3 / Canon EOS R6 Mark II / Canon EOS R8 / Sony Alpha 7R IV / Canon EOS R5 / Sony Alpha 7S II / Sony Alpha 7S III / Sony Alpha 7R III / Canon EOS R6 / Nikon Z6 / Nikon Z6II / Sony Alpha 7R II / Nikon Z7 / Nikon Z7II / Canon EOS R / Canon EOS Ra (Astro) / Nikon Z5 / Sony Alpha 7C / Canon EOS RP / Sony Alpha 7S / Canon EOS R7 / Leica SL2-S / Canon EOS R10 / Canon EOS 1D X Mark III / Nikon Z50 / Nikon Z30 / Nikon Z fc / Nikon D850 / Canon EOS 1D X Mark II / Nikon D780 / Olympus OM-1 / Sony Alpha 7III / Olympus OM-D E-M1 Mark III /