Olympus CKX41 – ease of operation combined with user convenience
The Olympus CKX41 is a routine microscope that delivers high-quality images easily and effectively. With our LM microscope adapters, state-of-the-art cameras can be attached to this microscope to produce photo and video recordings with outstanding resolution, dynamic range and light sensitivity. The system's flexible modular approach allows users who have committed to the CKX series to incorporate add-on units and features later on, in order to adapt the microscope workplace to their specific, changing needs. Enhancing the CKX41 for photomicrography is thus easily accomplished, and our LM digital adapters are perfect for obtaining the optimal microscope/camera combination.
The inverted research microscopes of Olympus's CKX series were developed to accommodate a variety of cell culture and imaging needs, including live cell observations, sample preparation, image capture and fluorescence observation. The dependable Olympus UIS-2 objectives (universal infinity-corrected) guarantee high-quality images when combined with most of the modern DSLR and system cameras currently on the market.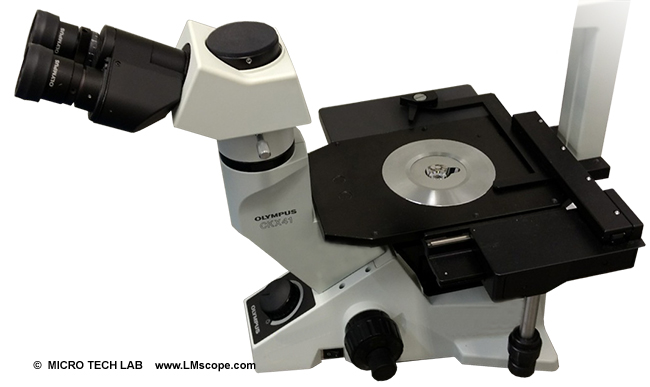 In addition to a good-quality microscope, choosing the best camera for the job is quite essential. The following parameters are particularly important:
​

Live View mode with magnifying function

High pixel number

Movable or pivoting screen

Good ISO sensitivity

Ultra HD video
Click here for a camera selection guide.
The Olympus CKX41 supports bright field, phase contrast and fluorescence imaging.
Illumination is provided by a 6-volt halogen lamp. Two eyepiece options are available, with a field number of 20 and 22 respectively. A variety of tubes with different viewing angles (30º–60º with the tilting binocular tube, for example) are available to fit the ergonomic needs of different users.
For our area of application – photomicrography – the Olympus CKX41 is ideally equipped with a trinocular tube (U-TR30-2 or U-CTR30-2) with a dovetail ring (see images). With our LM digital adapters, most DSLR and system cameras can be attached to the microscope in a few easy steps. If the microscope does not have a trinocular tube, we also offer adapter solutions that work on the eyepiece tube (30mm internal diameter). The optical quality is equally good with both tube versions, but when it comes to flexibility and working comfort, the trinocular tube is definitely the better option.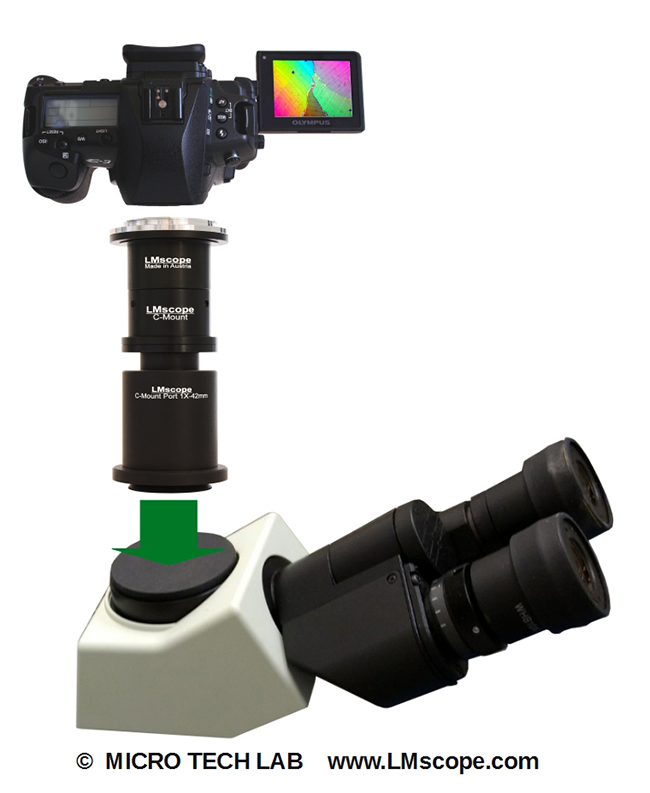 The slim, compact design (8kg) minimises the depth of the microscope, allowing easy installation right beside an incubator for quick, efficient inspection of the specimens. Thanks to the pre-centered phase contrast slider, there is no need to repeat centering each time the objective magnification is changed. Likewise, ring slit exchange when swapping between objectives is also unnecessary, since the ring slit is standardised for 10x, 20x and 40x magnifications. Phase contrast observations are thus a quick and easy task, without the need for optical adjustments.
Photography:
Fitting the microscope to digital single-lens reflex (DSLR), system or C-mount cameras is easy with our LM digital SLR adapters, which feature a plan achromatic optical system. Our products make it possible to capture top-quality microscope images. To help you select the adapter that is right for your camera, we have set up an online configurator on our website. You can also email us – ideally with attached photographs of your microscope.
Modern DSLR and system cameras offer the latest technology and are generally very well suited for microscopy applications. Most of them can be controlled remotely via PC/Mac. Because of their high sales volumes, they offer an excellent price/performance ratio compared to special-purpose microscope cameras.
Features of top DSLR and system cameras:
- Large, powerful full-frame sensors (36 x 24 mm)
- Sensor resolution of 50 megapixels
- High light sensitivity (ISO 100,000+)
- Extensive dynamic range (up to 14 aperture stops/f-stops)
- Short exposure times (1/8000 second):
- Full/Ultra HD (4k) video function
- Live video capture on external monitors in ultra HD quality
In most cases, these cameras are significantly more powerful than microscope cameras with smaller sensors (1/2" or 2/3"). On our website you will find our current camera recommendations and a camera ranking which is specifically tailored to microscopy applications.

Related Links
--