601
The Bresser Science TFM-301 entry-level microscope: digital photography with modern digital C-mount cameras, SLR cameras and mirrorless system cameras
The Bresser Science TFM-301 is a trinocular laboratory microscope with a finite optical system designed for imaging applications in biology and education that comes at a very affordable price point of around € 800. We took a closer look at it to see if it can hold its own against conventional brand-name microscopes.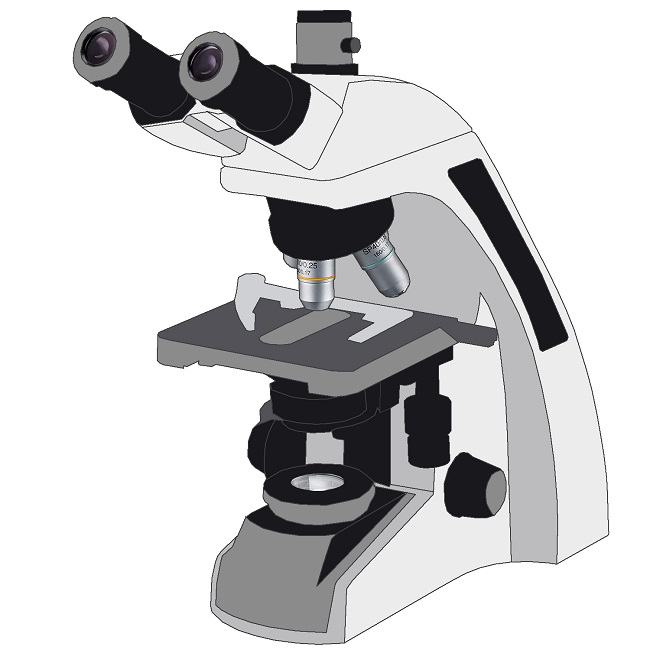 The TFM-301 is equipped with a trinocular head. The eyepieces have a fixed incline of 30 degrees, the head can be rotated 360 degrees. The eyepiece tube has a standard internal diameter of 30 mm. The microscope has a binocular tube with WF 10x eyepieces that offer a visual field of 22 , plus a trinocular tube with a standard diameter of 23.2 mm. A C-mount 1x connection is also included, which is ideal for attaching digital cameras with high-quality, large sensors (Micro Four Thirds, APS-C or full-frame (35 mm format)) to the microscope.
We recommend digital SLR or mirrorless system cameras, as these provide much better image quality plus a larger field of view compared to C-mount cameras with small sensor formats. These camera systems have a very good price-performance ratio and they can usually also be controlled remotely from a computer. For more information on making a camera selection, please see our info page: Camera recommendation
Our LM adapter solutions with integrated plan-achromat precision optics are tailored to the sensor size and can be used to attach almost any commercially available camera to the microscope in no time at all. The adapter gets the maximum image quality out of the microscope and ensures that the camera can capture a large field of view without any vignetting. Our wide-field adapter solution is priced slightly higher but provides the largest possible field of view and enables an optical alignment of the image observed through the eyepiece with the image the camera sees through the phototube. Thanks to its modular design, this adapter solution can also be used on other microscope brands with just a few accessory parts.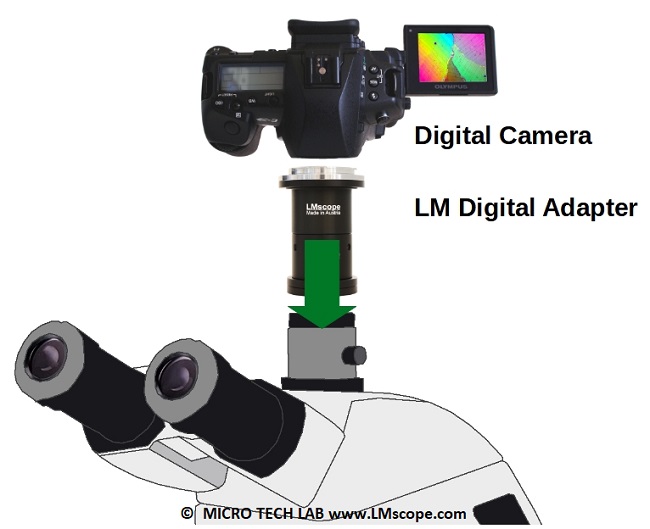 We can also offer suitable adapter solutions for anyone who already has a high-quality microscope camera with a C-mount connection. The built-in reduction optics adjusts the field of view to the smaller sensor format, which maximises the field of view without changing the magnification. For high-quality C-mount cameras, special microscope software tools are often available, which can increase performance and extend the range of applications.

Depending on the sensor format of the C-mount cameras, we offer the following two adapter solutions:
For C-mount cameras with a sensor size of about 1/2 inch: RelayLens05TC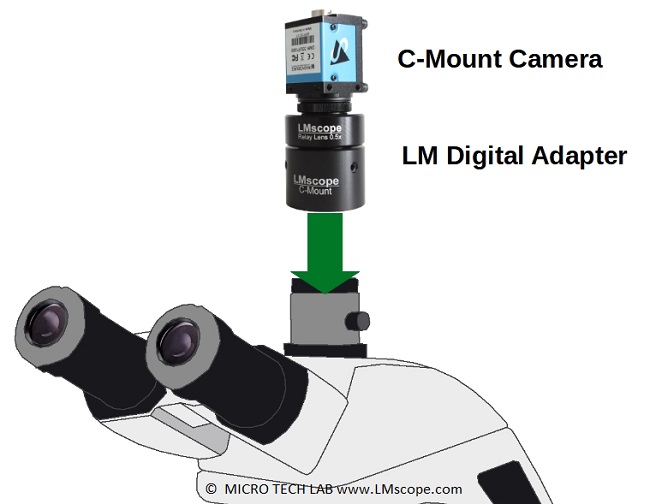 For C-mount cameras with a sensor size of about 2/ inch: RelayLens07TC
As an alternative to using the phototube, the camera can also be attached to the eyepiece tube of the microscope by removing one eyepiece and putting the camera-adapter combination into its place. The image quality is as good as that achieved using the phototube solution. The high-quality design of our eyepiece adapter solution guarantees uncomplicated handling and a solid connection between microscope and camera, even with heavy camera systems.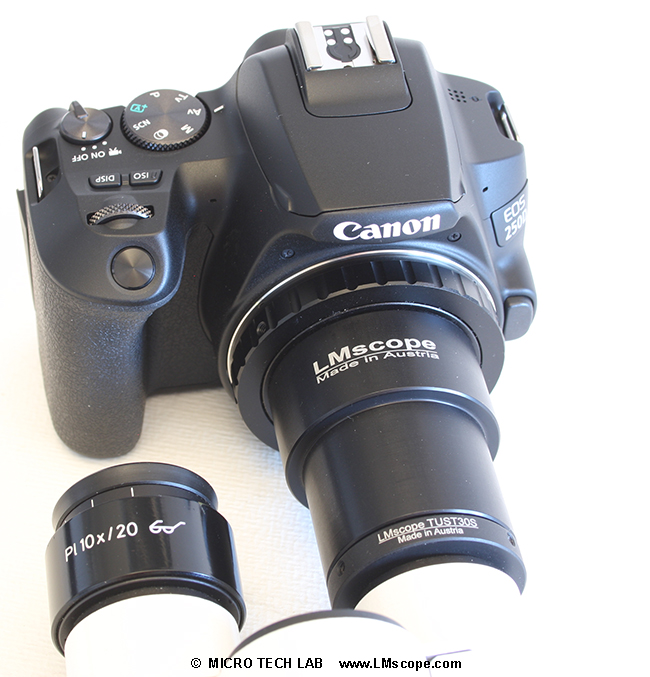 The TFM-301 comes with finite semi-plan objectives (4x, 10x, 40x, 100x oil), which produce total magnifications of up to 1000x (oil). They are held in a quadruple revolving nosepiece. Since LM microscope adapters are not equipped with specific corrective optics (optical compensation), the image flaws associated with the microscope's lens also appear in the photographs taken with the camera. This is the downside compared to microscope systems with infinity-corrected optics.
The TFM-301 weighs around 6.3 kilograms, which helps to reduce blur caused by camera shake.
A powerful, long-lasting illumination source is a key factor for image quality in microscopy.
The TFM-301's 3 watt LED illuminator has a variable-intensity adjustor and is also suitable for darkfield microscopy (accessory parts are required).
Conclusion: As with most microscopes that have a finite optical system, the image quality of the Bresser Science TFM-301 is average. Truly excellent image quality can be achieved by using branded, infinity-corrected microscopes equipped with high-quality plan objective lenses. However, these carry a much heftier price tag (starting at around € 3,000). In these systems, residual image flaws are corrected by the elements inside the body of the microscope. The Bresser Science TFM-301 is very well suited for microscopy beginners or for use in schools. With our LM adapter solutions, it can be coupled with modern digital cameras in just a few simple steps and in no time at all.
17.02.2022
Photography:
Fitting the microscope to digital single-lens reflex (DSLR), system or C-mount cameras is easy with our LM digital SLR adapters, which feature a plan achromatic optical system. Our products make it possible to capture top-quality microscope images. To help you select the adapter that is right for your camera, we have set up an online configurator on our website. You can also email us – ideally with attached photographs of your microscope.
Modern DSLR and system cameras offer the latest technology and are generally very well suited for microscopy applications. Most of them can be controlled remotely via PC/Mac. Because of their high sales volumes, they offer an excellent price/performance ratio compared to special-purpose microscope cameras.
Features of top DSLR and system cameras:
- Large, powerful full-frame sensors (36 x 24 mm)
- Sensor resolution of 50 megapixels
- High light sensitivity (ISO 100,000+)
- Extensive dynamic range (up to 14 aperture stops/f-stops)
- Short exposure times (1/8000 second):
- Full/Ultra HD (4k) video function
- Live video capture on external monitors in ultra HD quality
In most cases, these cameras are significantly more powerful than microscope cameras with smaller sensors (1/2" or 2/3"). On our website you will find our current camera recommendations and a camera ranking which is specifically tailored to microscopy applications.

New LM Digital Adapter for:
Nikon Z9 / Sony Alpha 1 / Sony FX3 Cinema Line / Sony Alpha 9 II (ILCE-9M2) / Sony Alpha 9 / Nikon D6 / Canon EOS R3 / Sony Alpha 7R IV / Canon EOS R5 / Sony Alpha 7S II / Sony Alpha 7R III / Canon EOS R6 / Nikon Z6 / Nikon Z6II / Sony Alpha 7R II / Nikon Z7 / Nikon Z7II / Canon EOS R / Canon EOS Ra (Astro) / Nikon Z5 / Sony Alpha 7C / Canon EOS RP / Sony Alpha 7S / Canon EOS R7 / Canon EOS R10 / Canon EOS 1D X Mark III / Nikon Z50 / Nikon Z30 / Nikon D850 / Canon EOS 1D X Mark II / Nikon D780 / Olympus OM-1 / Sony Alpha 7III / Olympus OM-D E-M1 Mark III / Nikon D5 / Sony Alpha 6600 / Olympus OM-D E-M1X / Sony Alpha 6400 / Sony Alpha 6100 / Sony ZV-E10 / Canon EOS 1D X / Nikon D4s / Olympus OM-D E-M5 III / Canon EOS 90D / Canon EOS 5D Mark IV / Nikon D4 / Nikon D750 / Canon EOS 6D Mark II / Fujifilm X-T4 / Fujifilm X-T3 / Sony Alpha 6300 /