413
The Olympus IX3 series: vivid photomicrography at the highest level
Maximum image quality can be obtained by using cameras equipped with large sensors (DSLRs with full-frame or APS-C sensors), and our LM microscope adapters can be coupled to state-of-the-art cameras for use on Olympus's IX3 series microscopes. This combination guarantees the highest resolution, dynamic range and light sensitivity.
Thanks to the extensible modular construction used in its IX3 series (consisting of the IX53, IX73 and IX83 microscopes), Olympus introduced inverted microscopes that are suitable for many different fields of application. These microscopes were developed primarily for live cell imaging, which involves the observation of live cells and cell cultures.
Shown here is the Olympus IX83 with side port. Note the camera attached to that port using one of our LM digital adapters.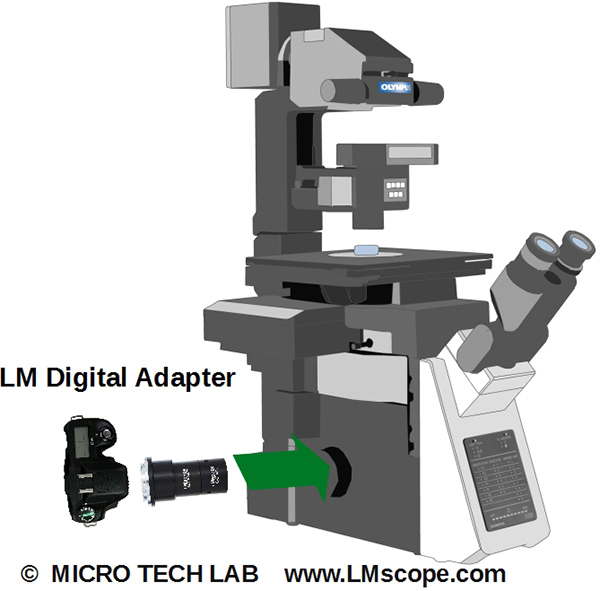 All of the IX3 series models share high quality construction, stable stands and the UIS2 infinity corrected optical system developed by Olympus, which also provides an excellent solution for cameras with large sensors. In fact, Olympus promises reliable, clear and high-resolution images regardless of the contrast method used, and its high numerical aperture apochromatic lenses, fluorescence illumination systems and other features help make that assurance a reality.
Silicone objectives whose refractive index of approximately 1.4 is very similar to that of cell cultures (1.38) were developed specifically to support long-term imaging. This means that exceptional images of live tissues can be captured with minimal spherical aberration. Another advantage of silicone objectives is that the silicone oil does not dry and solidify, thus making repeated applications virtually unnecessary.
All essential optical methods of observation are possible with the IX3 series instruments. These include fluorescence, differential interference contrast (DIC), phase contrast, relief contrast, simple polarisation and bright field.
Notably, Olympus supplies its cellSens software for this series. This comprehensive, user-friendly software package saves microscope settings together with the image data. Beyond taking and processing images, cellSens also makes it possible to conduct analyses, generate reports and make editing changes in a database. The software also supports deconvolution and image stitching (the creation of a large image from various smaller, individual photographic images).
The Koehler transmitted light illumination in the IX3 series is produced with LED lamps or optional 100 watt halogen lamps (30 watt lamps are also available with the IX53). Additionally, a condenser lock and readily accessible control knobs ensure optimal illumination at all times. Fluorescence illumination is also available as an option.
The Olympus IX53 system is the ideal solution for routine analysis, and at 32 kilograms, it is the lightest option in this range. The IX53 has a six-position objective turret, condensers with various working distances and different stage options. Even the least expensive option within the IX3 series is suitable for bright field and fluorescence applications.
Thanks to the modular construction of the IX73 and IX83 microscopes, they offer a new two-deck view mode. The specimens are situated on the top deck (which can be exchanged "on the fly"), while the available technical units – motorised fluorescence modules, motorised side port with C-mount, encoded magnification changer (1x, 1.6x and 2x), a motorised filter changer and lock, etc. – can be inserted into the second deck. These options translate to maximum extensibility and distinguish the IX83 as the top model in this range.
With the two-deck option and the additional modules that provide enhanced functionality, the semi-motorised IX73 offers maximum upgradability. The contrast method can be changed with one touch using a manual switch. Thanks to its modular construction, the IX73 is suitable not only for simple microscopy, but also for high-end applications. The single-deck option weighs in at 35 kilograms.
The fully motorised IX83 offers the greatest range of configuration choices, but at 47 kilograms, it is also the heaviest instrument in the IX3 series. The open stand of the IX83 facilitates access to the optical path. In addition, the two-deck system mentioned above is ideal for live cell experiments and challenging image techniques, while the single-deck system offers a large field number (FN 22) in the left side port.
The fully motorised Olympus Z drift compensation module combined with the Olympus ultrasonic stage holds samples exactly in focus and prevents focus drift during long-term time-lapse series. These and other features make the IX83 perfect for conducting experiments at several levels with relative ease.
A high-performance confocal module is available as an upgrade.
Another practical feature is the removable drip tray that helps to prevent contamination and simplifies maintenance of the optical system.
A trinocular tube is available for the IX73 and IX83 microscopes, and the IX73 can even be equipped with an infrared-capable trinocular tube. Almost any DSLR camera can be attached to these tubes using one of our modern LM digital adapters.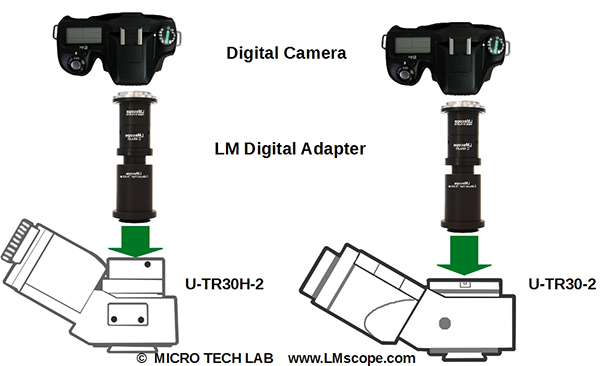 Photography:
Fitting the microscope to digital single-lens reflex (DSLR), mirrorless interchangeable-lens cameras (MILC ), digital single-lens mirrorless (DSLM) or C-mount cameras is easy with our LM digital SLR adapters, which feature a plan achromatic optical system. Our products make it possible to capture top-quality microscope images. To help you select the adapter that is right for your camera, we have set up an online configurator on our website. You can also email us – ideally with attached photographs of your microscope.
Modern DSLR and single-lens mirrorless (DSLM) offer the latest technology and are generally very well suited for microscopy applications. Most of them can be controlled remotely via PC/Mac. Because of their high sales volumes, they offer an excellent price/performance ratio compared to special-purpose microscope cameras.
Features of top DSLR and single-lens mirrorless cameras (DSLM):
- Large, powerful full-frame sensors (36 x 24 mm)
- Sensor resolution of 61 megapixels or 240 megapixels with Pixel Shift technology
- High light sensitivity (ISO 400,000+)
- Extensive dynamic range (up to 15 aperture stops/f-stops)
- Short exposure times (1/8000 second) up to 1/32,000 seconds using the digital shutter
- 4K Ultra HD or 8K Ultra HD video function
- Live video capture on external monitors in ultra HD quality
In most cases, these cameras are significantly more powerful than microscope cameras with smaller sensors (1/2" or 2/3"). On our website you will find our current camera recommendations and a camera ranking which is specifically tailored to microscopy applications.

New LM Digital Adapter for:
Nikon Z9 / Sony Alpha 1 / Sony FX3 Cinema Line / Sony Alpha 9 II (ILCE-9M2) / Sony Alpha 9 / Nikon D6 / Canon EOS R3 / Sony Alpha 7R IV / Canon EOS R5 / Sony Alpha 7S II / Sony Alpha 7S III / Sony Alpha 7R III / Canon EOS R6 / Nikon Z6 / Nikon Z6II / Sony Alpha 7R II / Nikon Z7 / Nikon Z7II / Canon EOS R / Canon EOS Ra (Astro) / Nikon Z5 / Sony Alpha 7C / Canon EOS RP / Sony Alpha 7S / Canon EOS R7 / Leica SL2-S / Canon EOS R10 / Canon EOS 1D X Mark III / Nikon Z50 / Nikon Z30 / Nikon D850 / Canon EOS 1D X Mark II / Nikon D780 / Olympus OM-1 / Sony Alpha 7III / Olympus OM-D E-M1 Mark III / Nikon D5 / Sony Alpha 6600 / Fujifilm X-H2S / Fujifilm X-S10 / Fujifilm X-E4 / Fujifilm X-Pro3 / Olympus OM-D E-M1X / Sony Alpha 6400 / Sony Alpha 6100 / Sony ZV-E10 / Canon EOS 1D X / Nikon D4s / Olympus OM-D E-M5 III / Canon EOS 90D / Canon EOS 5D Mark IV / Nikon D4 / Nikon D750 / Canon EOS 6D Mark II / Fujifilm X-T4 / Fujifilm X-T3 / Sony Alpha 6300 / Sony Alpha 6500 / Nikon D500 / Nikon D810 / Nikon D800 / Canon EOS M6 Mark II / Nikon D800E / Nikon Df / Panasonic Lumix DC-G9 / Nikon D610 / Nikon D600 / Canon EOS 250D / Canon EOS 850D / Rebel T8i / Canon EOS 6D / Sony Alpha 99 II (SLT-A99 II) / Canon EOS M200 / Canon EOS 5DS R ( without low-pass filter) / Olympus OM-D E-M1 Mark II / Canon EOS 80D / Canon EOS M50 Mark II / Canon EOS 5DS / Canon EOS M50 / Sony Alpha 77 II / Canon EOS 70D / Nikon D7200 / Pentax K-1 Mark II / Canon EOS 200D / Canon EOS 800D / Rebel T7i / Canon EOS 77D / Canon EOS 5D Mark III / Canon EOS 60D / Sony Alpha 7R / Sony Alpha 7 / Nikon DS-Qi2 (Microscope Camera) / Olympus OM-D E-M5 II / Nikon D3x / Olympus OM-D E-M1 / Pentax KP / Nikon D3S / Canon EOS 750D / Rebel T6i / Canon EOS 760D / Rebel T6s / Canon EOS 5D Mark II / Nikon D7100 / Pentax K-5 / Canon EOS 1D Mark IV /