410
The Leica S series – economical stereo microscopes offering versatile areas of use
Coupled with state-of-the-art camera technology, the Leica S series makes it easy to achieve professional photo documentation – simply by using an LM microscope adapter. Our adapters enable a large number of digital cameras (DSLRs or system cameras) to be paired with these microscopes, thus delivering outstanding image quality.
The Leica S series offers tremendous flexibility thanks to its modular construction. The two parallel beam paths (Greenough principle) that define all stereo microscopes make the Leica S6 particularly well suited for work in the areas of quality control, observation and documentation.
Thanks to its lean configuration with a low footprint – the objective pairs are positioned close together – the microscope has a small space requirement. Especially in laboratory and industrial settings, the Leica S6 D is an outstanding and affordable option (priced from around € 2,100).
In its standard version, the Leica S6 D comes with achromat objectives. Six different options – 0.32x to 2.0x – are available. Its ergonomic 38º viewing angle and ergo objectives that accommodate varied viewing heights ensure a comfortable, fatigue-free posture.
Eyepieces that include attachable soft eyecups are available, an option that is quite practical for eyeglass wearers. The 110 mm working distance provides excellent access to the specimen, and the overview is especially large thanks to its 36.5 mm object field. In addition, the microscope can also be laterally rotated by 360º.
With its integrated photo tube, the Leica S6 D is also a good fit for photomicrography applications. For instance, it is possible to switch the beam path between 100% visual (left eyepiece) and 100% documentation (photo tube). The integrated beam splitter channels 100% of the available light into the camera. With our proven LM digital adapters, attaching a digital camera to the microscope is exceptionally easy.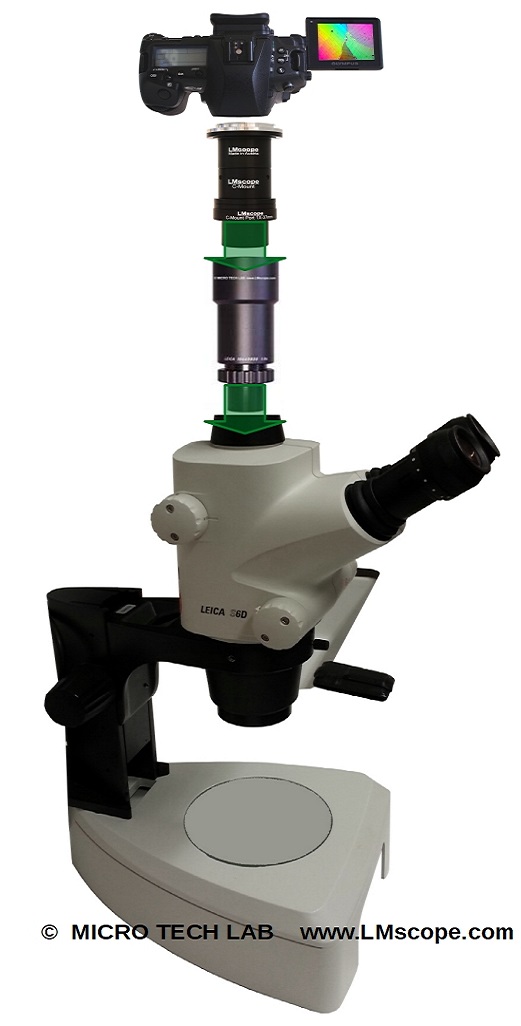 Several magnifications can be set quickly using the zoom stops that enable measurements to be reproduced (zoom range: 6.3:1). In addition, the focus drive's ease of movement can be adjusted according to personal preferences.
Leica offers an extensive range of accessories for the S6 D, including the Leica MATS thermocontrol system (for live cell biology), cross stages, a large selection of stands (incident light stand, optional transmitted light base) and swing-arm systems.
In addition, several different types of illumination are available:
- Cold light source
- LED 6-point ring light (KL 200, suitable for the demands of a routine stereo microscope)
- LED 1000 (a spotlight/ring light combination suitable for all clinical applications)
- LED 3000 (vertical illumination with control over individual segments, including semicircles and quadrants)
- Cold light fluorescence
- Coaxial incident light
The Leica S6 D offers a large object field at an excellent price-to-performance ratio, thus delivering focused, undistorted, high-contrast images on a moderate budget. Although the S6 D guarantees high resolution, the S8 APO – the high-powered model of the Leica S line – is equipped with an apochromatically corrected optical system and is thus even better suited for photomicrography uses. To be seen here: Leica S8 Apo with LM adapter solution: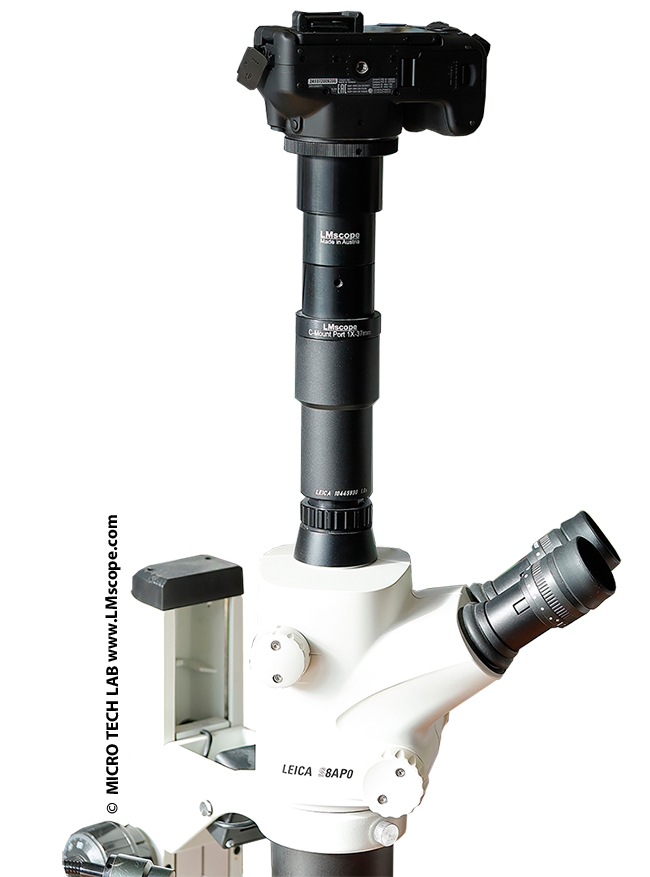 Microscopy methods:
Transmitted light: no, alternative microscope: Leica TL 4000 RC/ RCI
Incident light: bright field
Microscope stand: upright microscope, no display
Types of stands: incident light stand, optional transmitted light module, swinging arm stand available
Optics: Greenough design
Focus adjustement: manually with focus-stop
Stage: manually
Light source: cold light, Led, flourescence, koaxial incident light
Magnification range:: 6,3x to 40x
Objectives: achromate, Leica S8 APO: apochromate
Eyepieces: Eyepieces for spectacle wearers available
Price: depending on accessories € 2.000 plus
Photography:
Fitting the microscope to digital single-lens reflex (DSLR), mirrorless interchangeable-lens cameras (MILC ), digital single-lens mirrorless (DSLM) or C-mount cameras is easy with our LM digital SLR adapters, which feature a plan achromatic optical system. Our products make it possible to capture top-quality microscope images. To help you select the adapter that is right for your camera, we have set up an online configurator on our website. You can also email us – ideally with attached photographs of your microscope.
Modern DSLR and single-lens mirrorless (DSLM) offer the latest technology and are generally very well suited for microscopy applications. Most of them can be controlled remotely via PC/Mac. Because of their high sales volumes, they offer an excellent price/performance ratio compared to special-purpose microscope cameras.
Features of top DSLR and single-lens mirrorless cameras (DSLM):
- Large, powerful full-frame sensors (36 x 24 mm)
- Sensor resolution of 61 megapixels or 240 megapixels with Pixel Shift technology
- High light sensitivity (ISO 400,000+)
- Extensive dynamic range (up to 15 aperture stops/f-stops)
- Short exposure times (1/8000 second) up to 1/32,000 seconds using the digital shutter
- 4K Ultra HD or 8K Ultra HD video function
- Live video capture on external monitors in ultra HD quality
In most cases, these cameras are significantly more powerful than microscope cameras with smaller sensors (1/2" or 2/3"). On our website you will find our current camera recommendations and a camera ranking which is specifically tailored to microscopy applications.

New LM Digital Adapter for:
Sony Alpha 7R V / Sony Alpha 1 / Sony FX3 Cinema Line / Sony Alpha 9 II (ILCE-9M2) / Sony Alpha 9 / Nikon D6 / Canon EOS R3 / Canon EOS R6 Mark II / Canon EOS R8 / Sony Alpha 7R IV / Canon EOS R5 / Sony Alpha 7S II / Sony Alpha 7S III / Sony Alpha 7R III / Canon EOS R6 / Nikon Z6 / Nikon Z6II / Sony Alpha 7R II / Nikon Z7 / Nikon Z7II / Canon EOS R / Canon EOS Ra (Astro) / Nikon Z5 / Sony Alpha 7C / Canon EOS RP / Sony Alpha 7S / Canon EOS R7 / Leica SL2-S / Canon EOS R10 / Canon EOS 1D X Mark III / Nikon Z50 / Nikon Z30 / Nikon Z fc / Nikon D850 / Canon EOS 1D X Mark II / Nikon D780 / Olympus OM-1 / Sony Alpha 7III / Olympus OM-D E-M1 Mark III / Nikon D5 / Sony Alpha 6600 / Fujifilm X-H2S / Fujifilm X-S10 / Fujifilm X-E4 / Fujifilm X-Pro3 / Olympus OM-D E-M1X / Sony Alpha 6400 / Sony Alpha 6100 / Sony ZV-E10 / Canon EOS 1D X / Nikon D4s / Olympus OM-D E-M5 III / Canon EOS 90D / Canon EOS 5D Mark IV / Nikon D4 / Nikon D750 / Canon EOS 6D Mark II / Fujifilm X-T4 / Fujifilm X-T3 / Sony Alpha 6300 / Sony Alpha 6500 / Nikon D500 / Nikon D810 / Nikon D800 / Canon EOS M6 Mark II / Nikon D800E / Nikon Df / Panasonic Lumix DC-G9 / Nikon D610 / Nikon D600 / Canon EOS 250D / Canon EOS 850D / Rebel T8i / Canon EOS 6D / Sony Alpha 99 II (SLT-A99 II) / Canon EOS M200 / Canon EOS 5DS R ( without low-pass filter) / Olympus OM-D E-M1 Mark II / Canon EOS 80D / Canon EOS M50 Mark II / Canon EOS 5DS / Canon EOS M50 / Sony Alpha 77 II / Canon EOS 70D / Nikon D7200 / Pentax K-1 Mark II / Canon EOS 200D / Canon EOS 800D / Rebel T7i / Canon EOS 77D / Canon EOS 5D Mark III / Canon EOS 60D / Sony Alpha 7R / Sony Alpha 7 / Nikon DS-Qi2 (Microscope Camera) / Olympus OM-D E-M5 II / Nikon D3x / Olympus OM-D E-M1 / Pentax KP / Nikon D3S / Canon EOS 750D / Rebel T6i / Canon EOS 760D / Rebel T6s /