458
Attaching DSLR and mirrorless system cameras to the Krüss MBL2000 series of laboratory microscopes in a few simple, easy steps
The binocular and trinocular microscopes of the MBL2000 series have been developed for universal applications in research, medicine, education and industry. Especially in these areas, photomicrographic images of the specimens are often very useful. And with our LM microscope adapter solutions, such images can be produced with regular DSLRs and system cameras. You just need to install the customised adapter solution between the microscope and the camera and you're all set up and ready to go.
All microscopes of the MBL2000 series are equipped with an optical head that offers interpupillary distance adjustment and a dioptre adjustment scale. A phase contrast device is available as an accessory, and coaxial coarse and fine focus controls on both sides are provided for precise specimen focusing.
The MBL2100 is a trinocular laboratory microscope that has the same features as the MBL2000, but is equipped with a 23.2 mm internal diameter phototube for photography and video as well as a video eyepiece. Our LM adapter solutions with integrated plan-achromatic precision optics allow users to attach their DSLR cameras to a microscope in no time at all, thus enabling them to shoot vivid, razor-sharp images. The connection is made by inserting the LM digital adapter into the tube along with the camera. For a fixed mechanical connection, we offer another adapter called "TUSTB".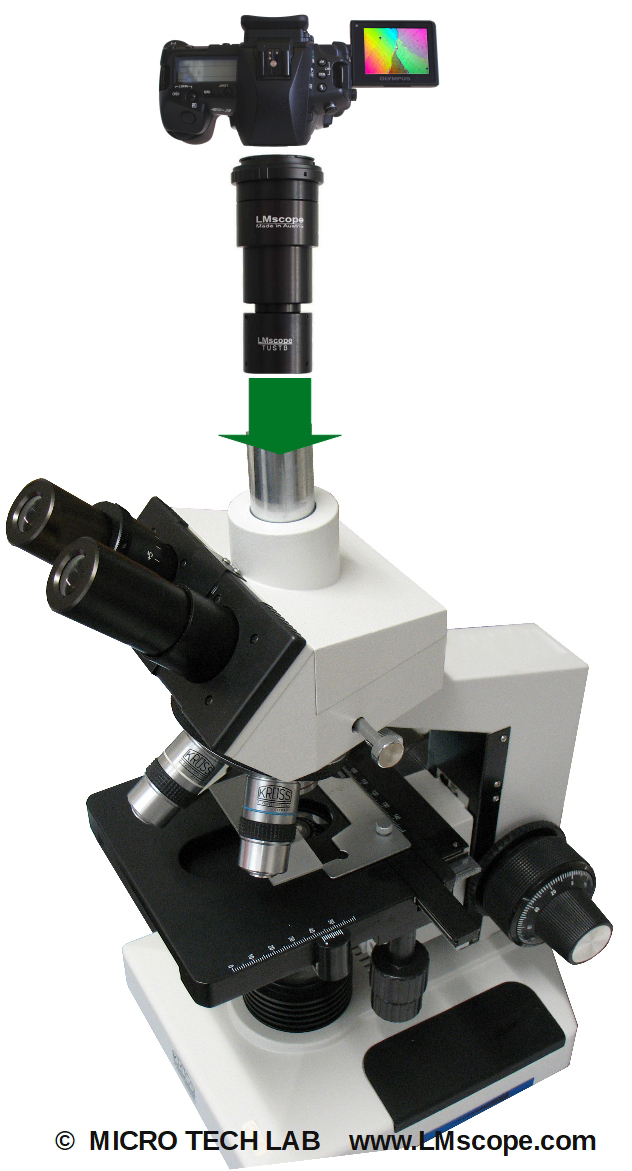 Our adapter for the eyepiece tube is an alternative to the phototube adapter, and the optical quality is just as good. If you want to attach a Canon EOS to the eyepiece tube, for example, you only need the "DSLRCT" adapter. Thanks to the modular construction of our adapter solutions, you can switch to another camera model at any time. And with just a small add-on module, you can even switch to another camera brand.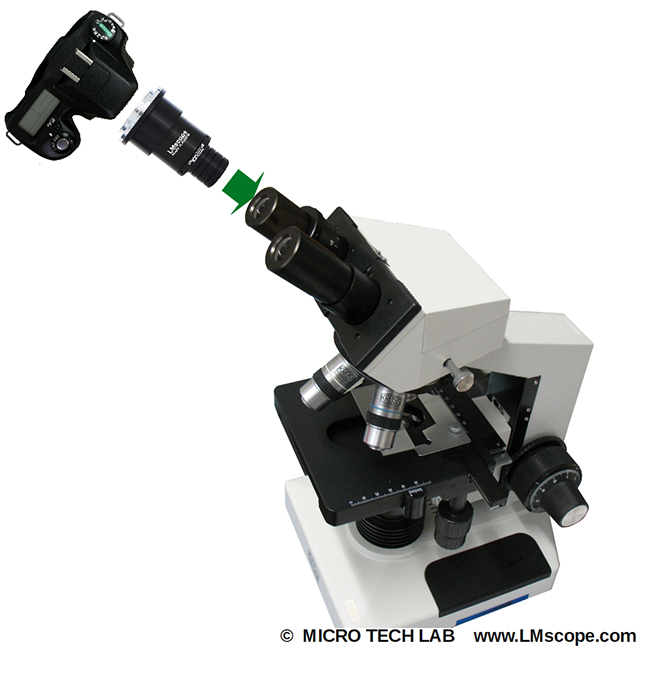 We offer customised adapter solutions that are tailored to your specific camera and camera brand. More information about the performance features of our products is available here.

Photography:
Fitting the microscope to digital single-lens reflex (DSLR), system or C-mount cameras is easy with our LM digital SLR adapters, which feature a plan achromatic optical system. Our products make it possible to capture top-quality microscope images. To help you select the adapter that is right for your camera, we have set up an online configurator on our website. You can also email us – ideally with attached photographs of your microscope.
Modern DSLR and system cameras offer the latest technology and are generally very well suited for microscopy applications. Most of them can be controlled remotely via PC/Mac. Because of their high sales volumes, they offer an excellent price/performance ratio compared to special-purpose microscope cameras.
Features of top DSLR and system cameras:
- Large, powerful full-frame sensors (36 x 24 mm)
- Sensor resolution of 50 megapixels
- High light sensitivity (ISO 100,000+)
- Extensive dynamic range (up to 14 aperture stops/f-stops)
- Short exposure times (1/8000 second):
- Full/Ultra HD (4k) video function
- Live video capture on external monitors in ultra HD quality
In most cases, these cameras are significantly more powerful than microscope cameras with smaller sensors (1/2" or 2/3"). On our website you will find our current camera recommendations and a camera ranking which is specifically tailored to microscopy applications.

New LM Digital Adapter for:
Nikon Z9 / Sony Alpha 1 / Sony FX3 Cinema Line / Sony Alpha 9 II (ILCE-9M2) / Sony Alpha 9 / Nikon D6 / Canon EOS R3 / Sony Alpha 7R IV / Canon EOS R5 / Sony Alpha 7S II / Sony Alpha 7R III / Canon EOS R6 / Nikon Z6 / Nikon Z6II / Sony Alpha 7R II / Nikon Z7 / Nikon Z7II / Canon EOS R / Canon EOS Ra (Astro) / Nikon Z5 / Sony Alpha 7C / Canon EOS RP / Sony Alpha 7S / Canon EOS 1D X Mark III / Nikon Z50 / Nikon D850 / Canon EOS 1D X Mark II / Nikon D780 / Sony Alpha 7III / Nikon D5 / Sony Alpha 6600 / Sony Alpha 6400 / Sony Alpha 6100 / Sony ZV-E10 / Canon EOS 1D X / Nikon D4s / Olympus OM-D E-M5 III / Canon EOS 90D / Canon EOS 5D Mark IV / Nikon D4 / Nikon D750 / Canon EOS 6D Mark II / Fujifilm X-T4 / Fujifilm X-T3 / Sony Alpha 6300 / Sony Alpha 6500 / Nikon D500 / Nikon D810 / Nikon D800 / Canon EOS M6 Mark II / Nikon D800E /