How to simply and securely attach the LM digital adapter to phototubes with an internal diameter of 23.2 mm and an external diameter of 25.3 mm using the TUSTB tube adapter
Many microscopes are offered with phototubes that have an internal diameter of 23.2 mm. If you want to use a digital camera with a microscope of this kind, then you need an LM digital microscope adapter with a 23.2 mm tube connector.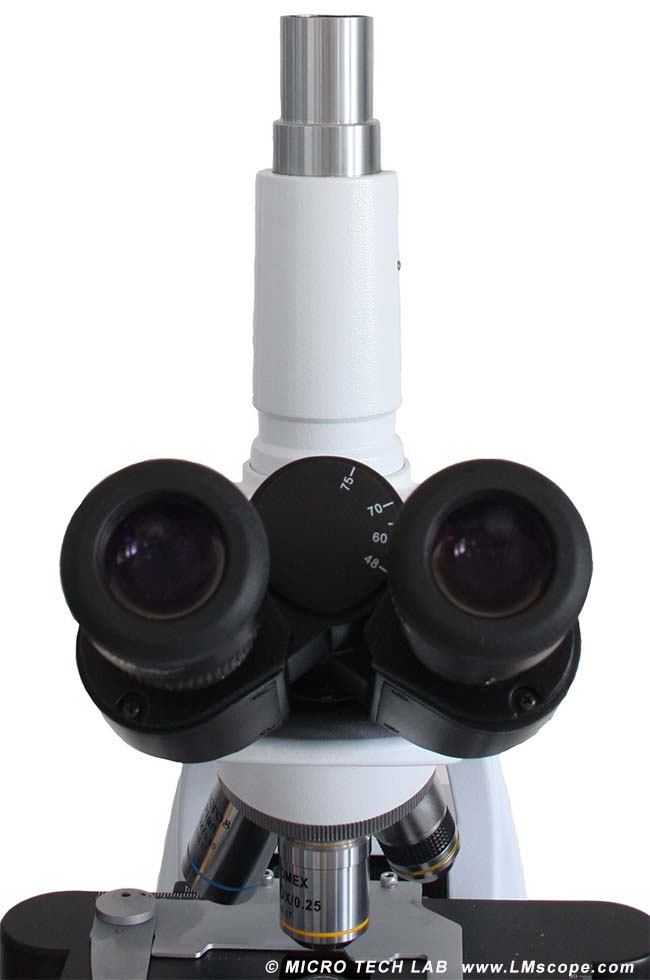 The LM digital adapter is inserted into the tube along with the camera. The assembly is then immediately ready to use. The image on the left shows a digital SLR camera in use; the image on the right a USB camera in use.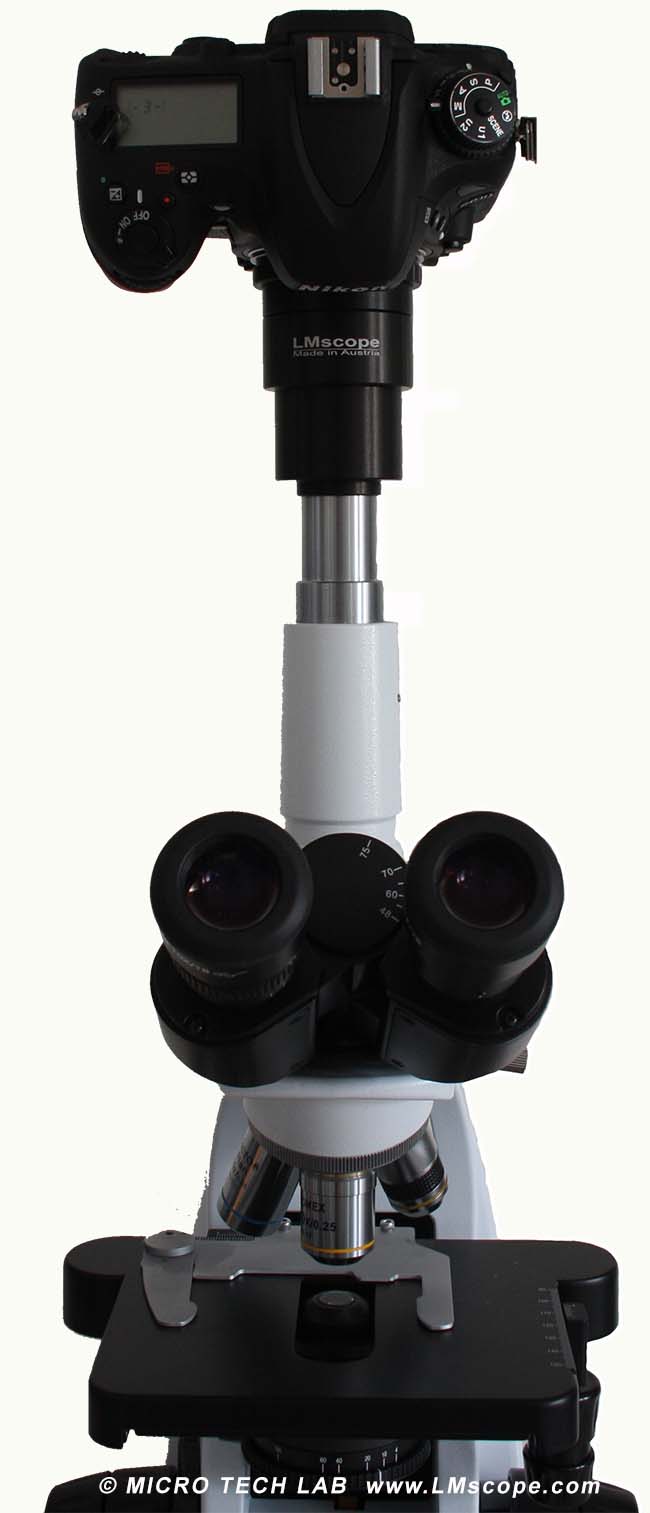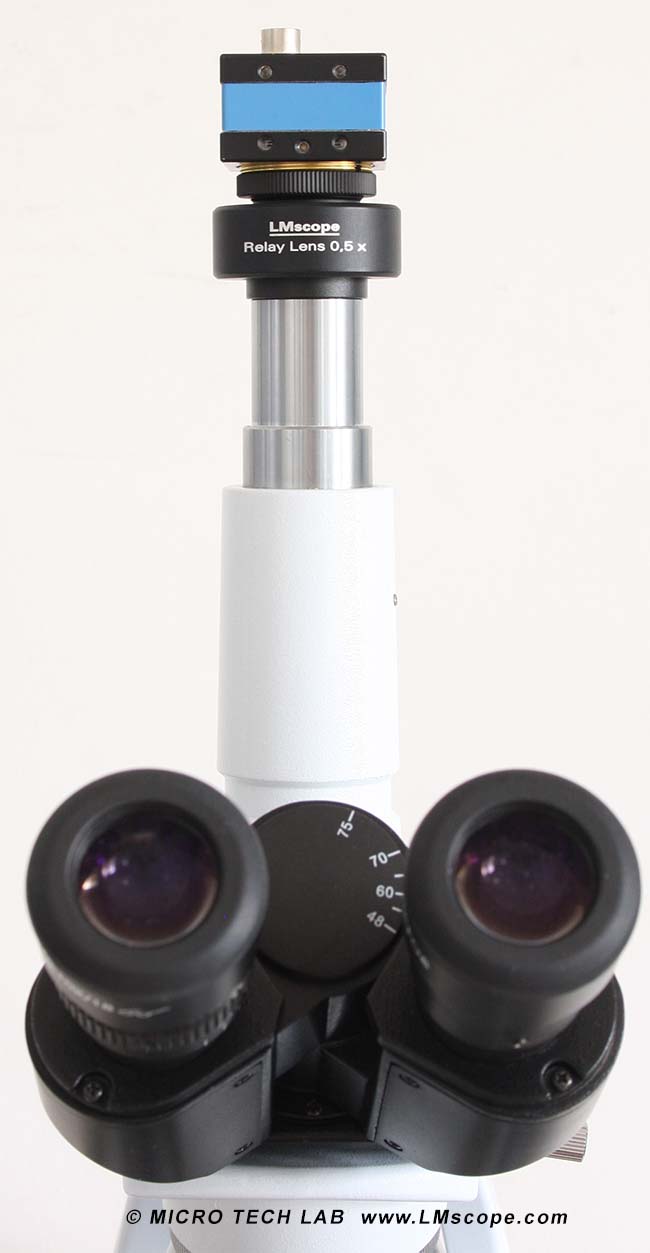 In both solutions, the adapter fits into the phototube and can be rotated manually. For a fixed mechanical connection, we offer another adapter – the TUSTB – as an option.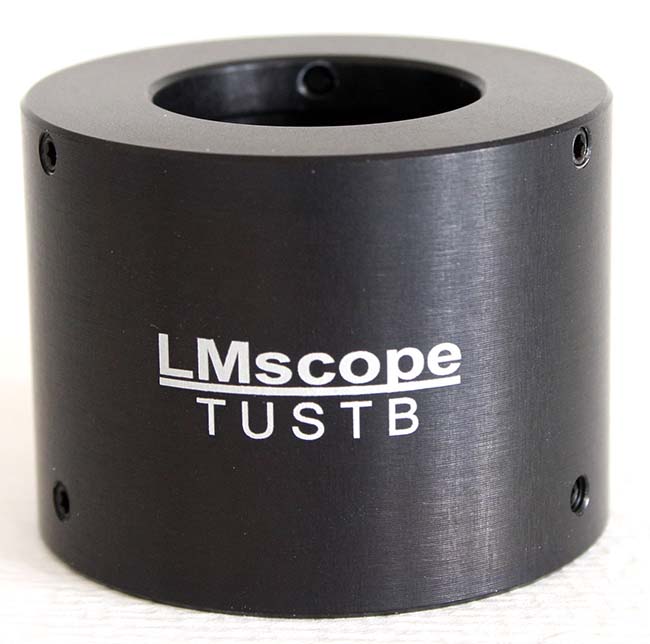 The TUSTB consists of a CNC cut and turned aluminium block and has six Allen head screws. A suitable Allen screw key is included with the purchase of the TUSTB. It connects the LM digital adapter to the phototube of the microscope. By tightening the Allen screws, the adapter can be fastened to the phototube so that no more play (rotation) is possible.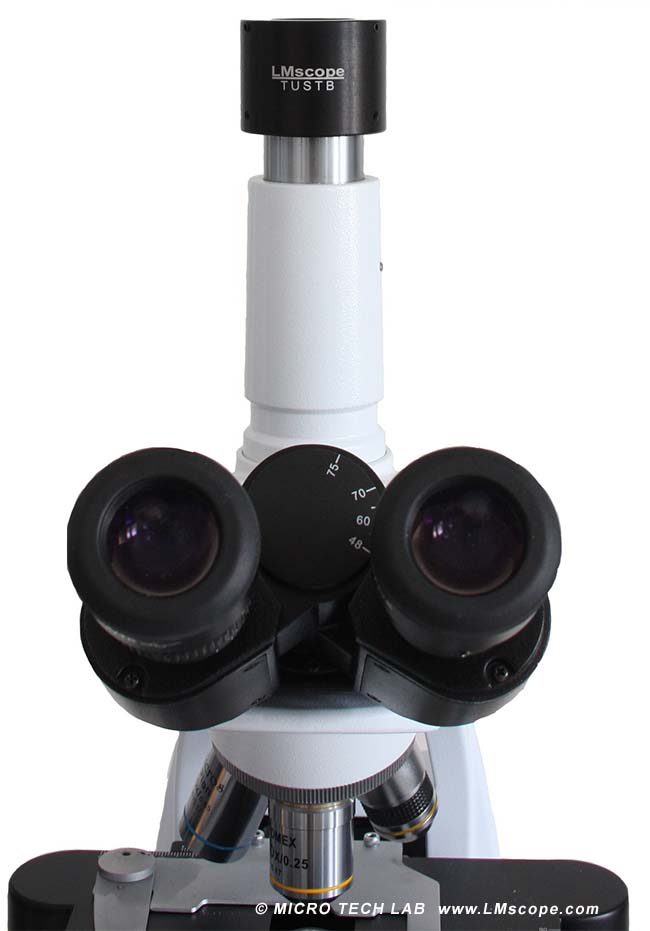 A further advantage of the TUSTB is that by slackening and retightening the Allen screws, it is possible to slightly raise the LM digital adapter and thus very easily carry out an optical adjustment if the focus of the image viewed through the eyepiece does not match that of the camera image (parfocality).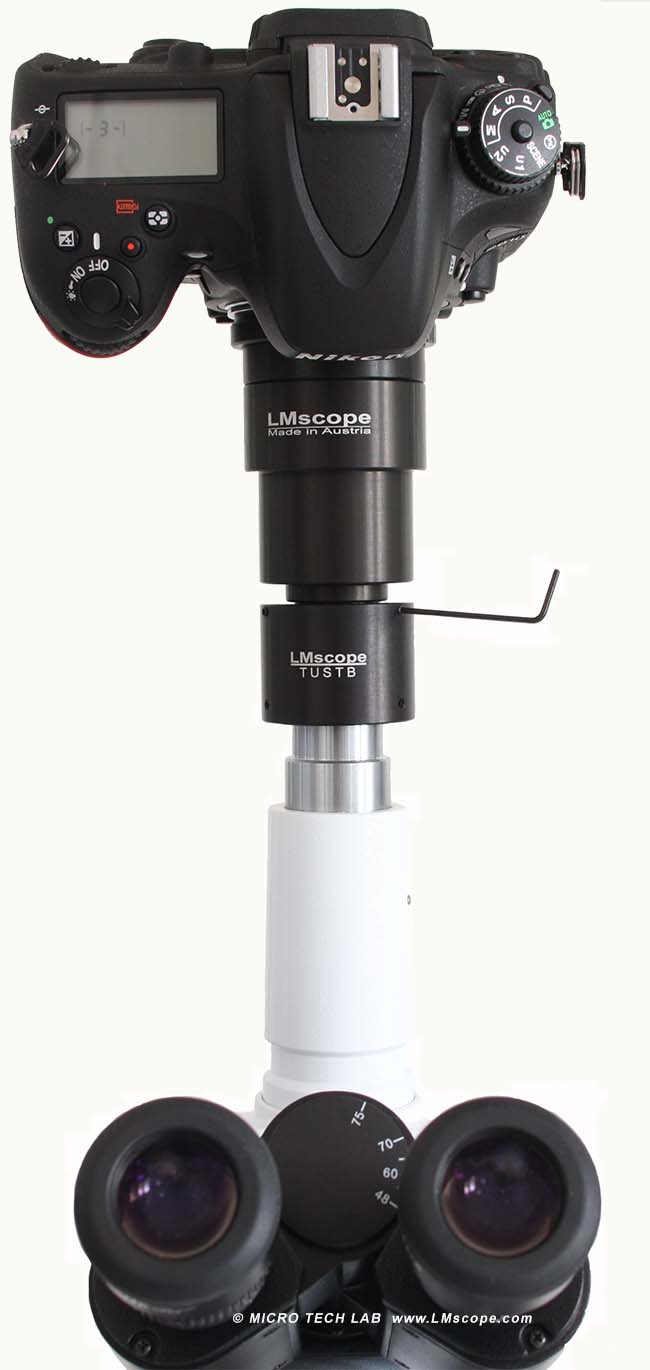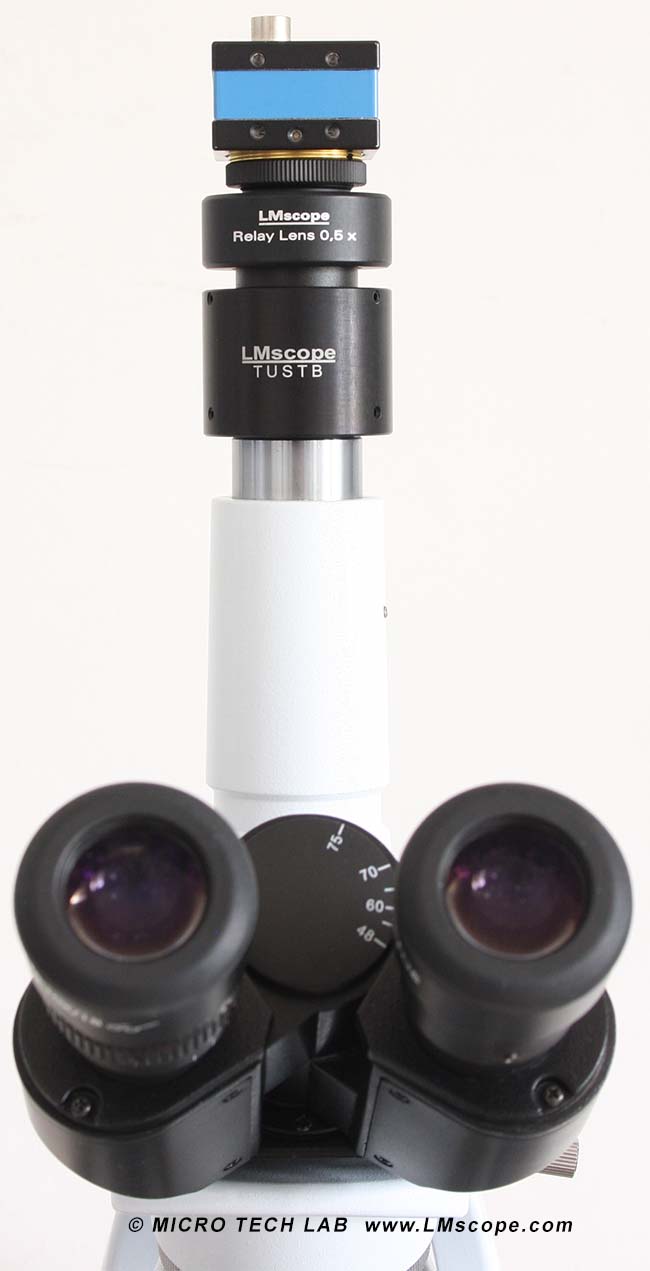 The advantages of the TUSTB in summary:
Firm mechanical connection of the LM digital adapter to the phototube. There is no slipping and twisting, and no more blurred images caused by vibrations due to an unstable connection.

Adjustment of parfocality is easily possible with the help of the Allen screws.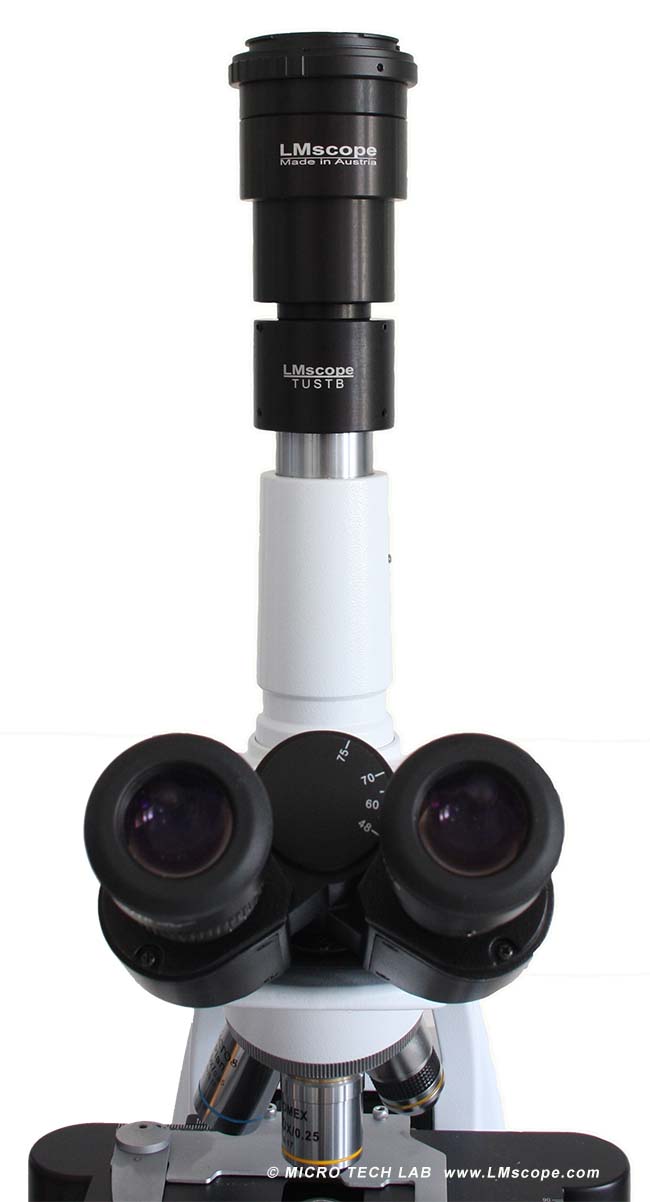 27.02.2014
New LM Digital Adapter for:
Canon EOS R with Canon Adapter EF-EOS R / Sony Alpha 7S II / Sony Alpha 7R III / Nikon Z6 with F-Mount Adapter FTZ / Sony Alpha 7R II / Nikon Z7 with F-Mount Adapter FTZ / Sony Alpha 7S / Nikon D850 / Canon EOS 1D X Mark II / Sony Alpha 7III / Nikon D5 / Canon EOS 1D X / Nikon D4s / Canon EOS 5D Mark IV / Nikon D4 / Nikon D750 / Canon EOS 6D Mark II / Sony Alpha 6300 / Sony Alpha 6500 / Nikon D500 / Nikon D810 / Nikon D800 / Nikon D800E / Nikon Df / Panasonic Lumix DC-G9 / Nikon D610 / Nikon D600 / Canon EOS M50 / Canon EOS 6D / Sony Alpha 99 II (SLT-A99 II) / Canon EOS 5DS R ( without low-pass filter) / Olympus OM-D E-M1 Mark II / Canon EOS 80D / Canon EOS 5DS / Sony Alpha 77 II / Canon EOS 70D / Nikon D7200 / Pentax K-1 Mark II / Canon EOS 200D / Canon EOS 800D / Rebel T7i /

Related Links

--