369
The Canon Rebel T6i (EOS 750D) and the Canon Rebel T6s (EOS 760D) – two cameras from the Canon entry-level range tested for suitability in microscopy
With the EOS 750D (Rebel T6i) and the EOS 760D (Rebel T6s), Canon has brought two successor models to the Canon EOS (Rebel T5i) 700D on the market at the same time. Both models are almost identical, only differing in user interface and price. The question in our particular case is: Which of the cameras is better suited to the specific needs of microscopy/macroscopy and what are the differences between them and the Canon EOS 700D (Rebel T5i)?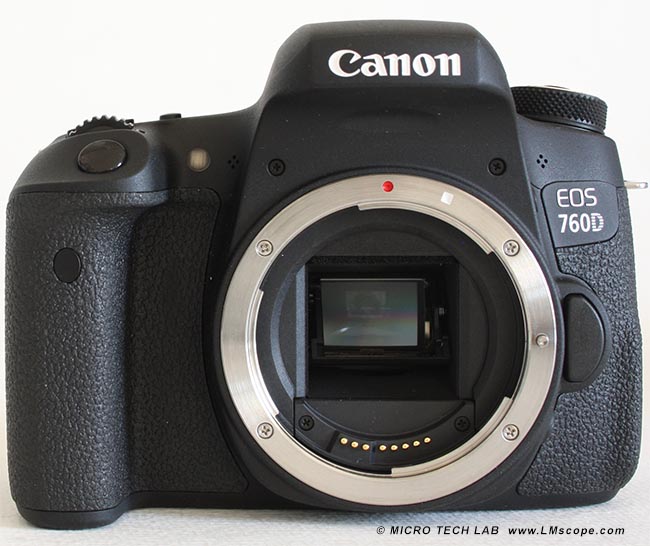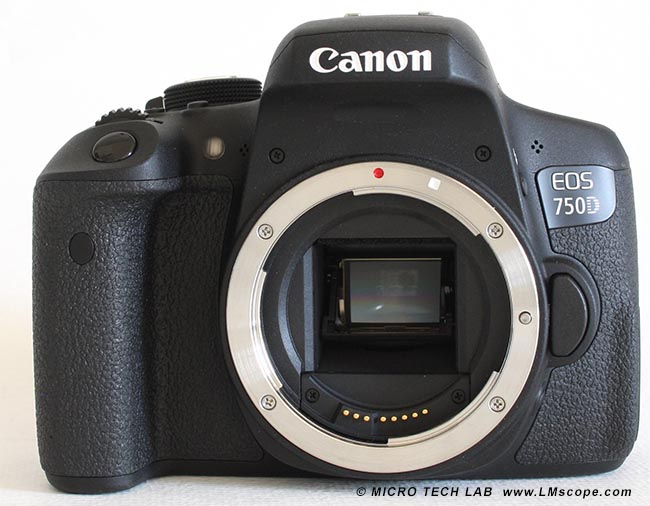 If both cameras are placed next to one another, it immediately becomes apparent that their operating controls differ. The mode selector dial is located on opposite sides, and the Canon EOS 760D (Rebel T6s) has a control dial on the rear, while the Canon EOS 750D (Rebel T6i) only has four simple arrow keys.
The camera body of both models is made of plastic, weighs around 560 grams and has a robust build.
Both cameras feature a 3" display that rotates and tilts and is packed with over a million pixels. In addition, the monitor is touch-sensitive on both models.
Both the Canon EOS 750D (Rebel T6i) and the Canon EOS 760D (Rebel T6s) have an APS-C sensor with 24.2 megapixels, while their predecessor, the Canon EOS (Rebel T5i) 700D, only has 18 megapixels. Overall, this translates into a small improvement in dynamic performance.
In standard mode, ISO sensitivity can be adjusted from 100 to 12,800; in manual mode, ISO can be expanded to up to 25,600.
A new feature in comparison with the predecessor model is the built-in WiFi, an upgrade to meet the requirements of modern users.
Videos can be recorded in full HD in MP4 format.
Both the Canon Rebel T6i (EOS 750D) and the Canon Rebel T6s (EOS 760D) have an HDMI port for Live View output on a large external monitor.
Of course, both cameras have a magnification function in Live View mode and both can be controlled remotely via PC or Mac with the tried and tested Canon EOS Utility software.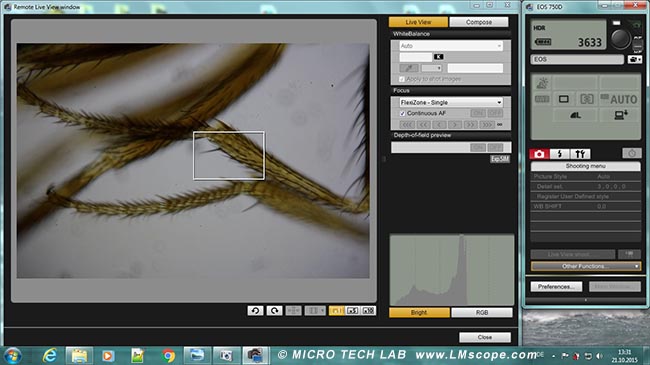 Using our LM digital adapters, both cameras can be easily attached to the eyepiece tubes or photo tubes of almost every conventional microscope.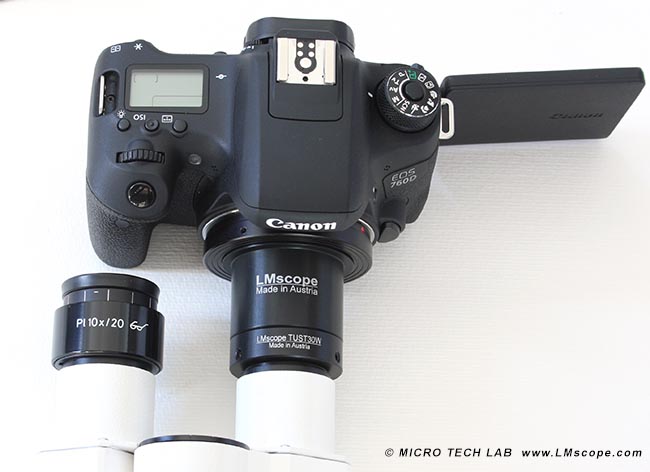 For our test series, we connected the cameras to the photo tube (38 mm with C-mount port) of a Nikon Eclipse E600 microscope using an LM wide-field microscope adapter.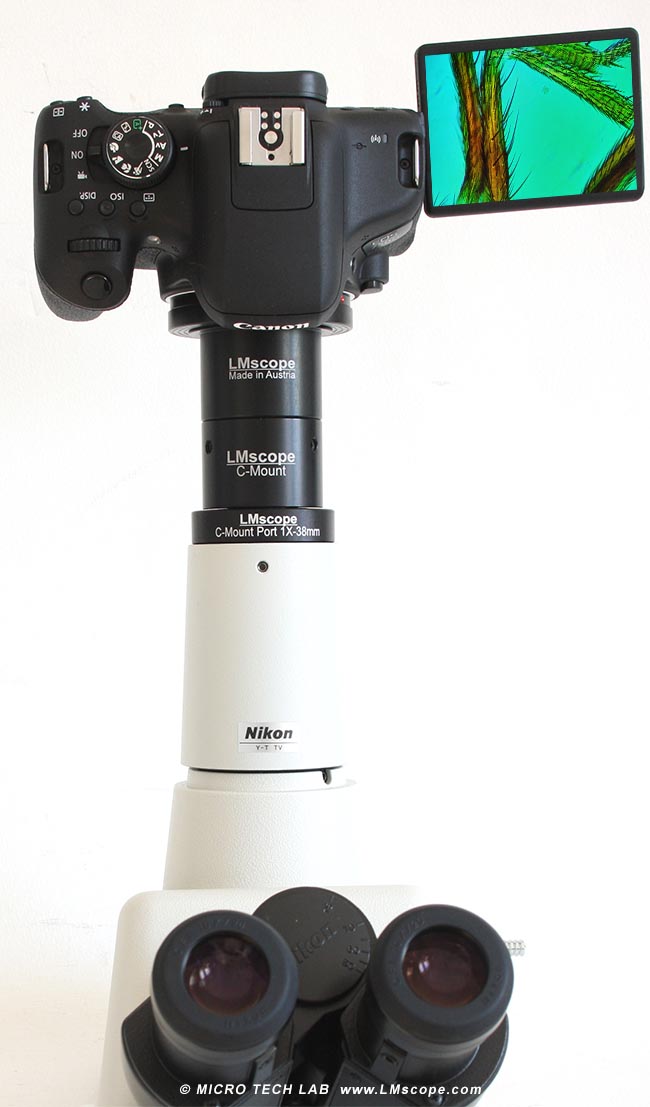 Our test specimen was a fruit fly (drosophila), specifically the legs. The focusing optics was a Plan Neofluar 10x microscope objective, and we used our LM UV-Matrix mounting medium to prepare the specimen.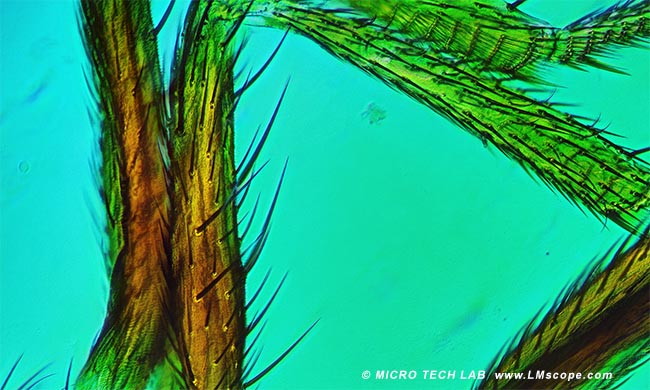 Conclusion: Both cameras offer a good price/performance ratio and are very well suited for microscopy applications. If you are only working in the laboratory, the Canon (Rebel T6i) EOS 750D is entirely adequate, as cameras are usually controlled via PC in a stationary setting and the enhanced operating controls of the Canon (Rebel T6s) EOS 760D are therefore not really a bonus. In comparison with the predecessor models, the sensor has been slightly improved, resulting primarily in a higher number of pixels. A guide to help you select the camera that is best suited to your needs can be found at the following link: Camera selection guide
22.12.2015
New LM Digital Adapter for:
Canon EOS R6 Mark II / Canon EOS R8 / Canon EOS R5 / Canon EOS R6 / Canon EOS R / Canon EOS Ra (Astro) / Canon EOS RP / Canon EOS R7 / Canon EOS R10 / Canon EOS 1D X Mark III / Canon EOS 1D X Mark II / Canon EOS R100 / Canon EOS 1D X / Canon EOS 90D / Canon EOS 5D Mark IV / Canon EOS 6D Mark II / Canon EOS M6 Mark II / Canon EOS 250D / Canon EOS 850D / Rebel T8i / Canon EOS 6D / Canon EOS M200 / Canon EOS 5DS R ( without low-pass filter) / Canon EOS 80D / Canon EOS M50 Mark II / Canon EOS 5DS / Canon EOS M50 / Canon EOS 70D / Canon EOS 200D / Canon EOS 800D / Rebel T7i / Canon EOS 77D /