214
Test report: the Zeiss Primo Star laboratory microscope
The Zeiss Primo Star microscope is very popular – particularly in the educational field, as well as in laboratories. Designed for frequent use, it has a very sturdy construction. It is intended as an entry-level microscope, which means that the controls are easy to use. Costwise, in comparison with the other Zeiss microscopes, it falls into the lower price segment.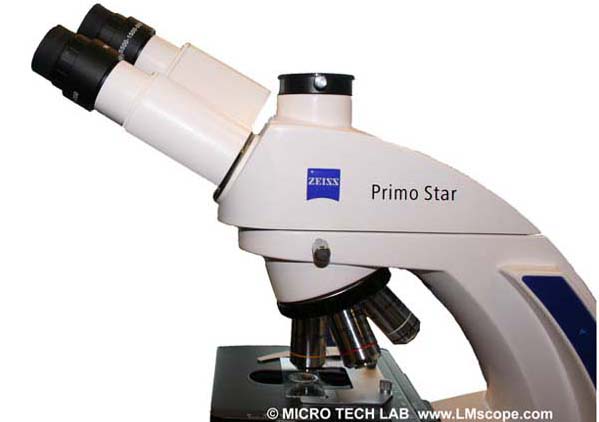 The Zeiss Primo Star microscope is a solid, well-constructed instrument. It is highly flexible and can be quickly adapted to the requirements of any given application. The following contrast methods can be used: bright field, dark field, phase contrast and, optionally, fluorescence imaging.
Various halogen lights and LEDs are available for illumination purposes.
The Zeiss Primo Star is also very well suited for photomicrography applications. Using high-grade lenses superlative image quality can be achieved. WF 10x/18 Br and WF 10x/20 Br are available as eyepieces.
The Primo Star is available with or without a photo tube. If you plan to produce photographic documentation on a regular basis, you should invest in a trinocular tube, as working with a separate photo tube is much more efficient and convenient.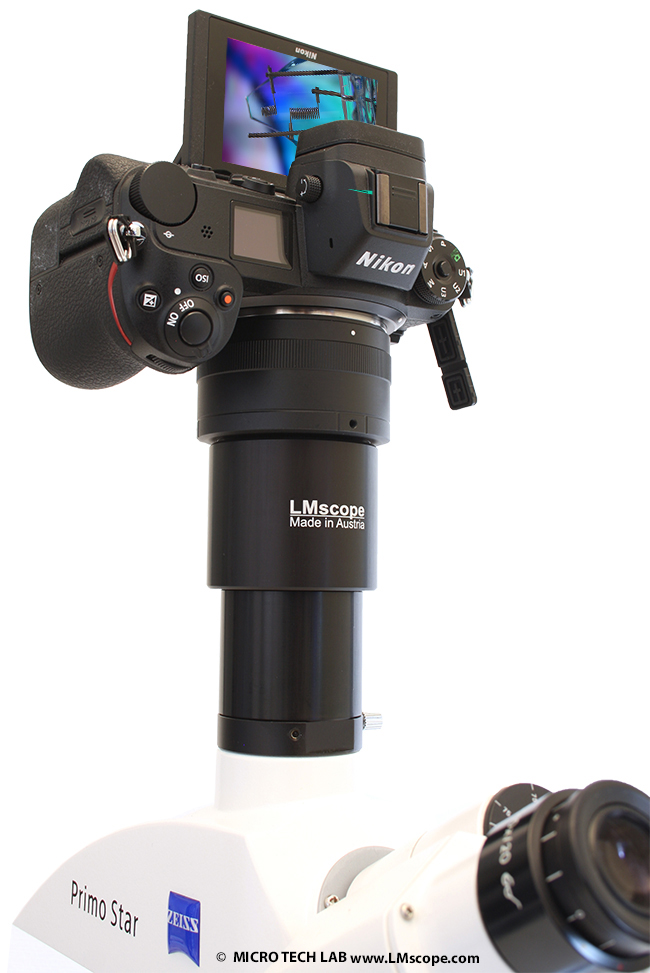 If you will only occasionally take photographs through the microscope, you can use a binocular tube instead.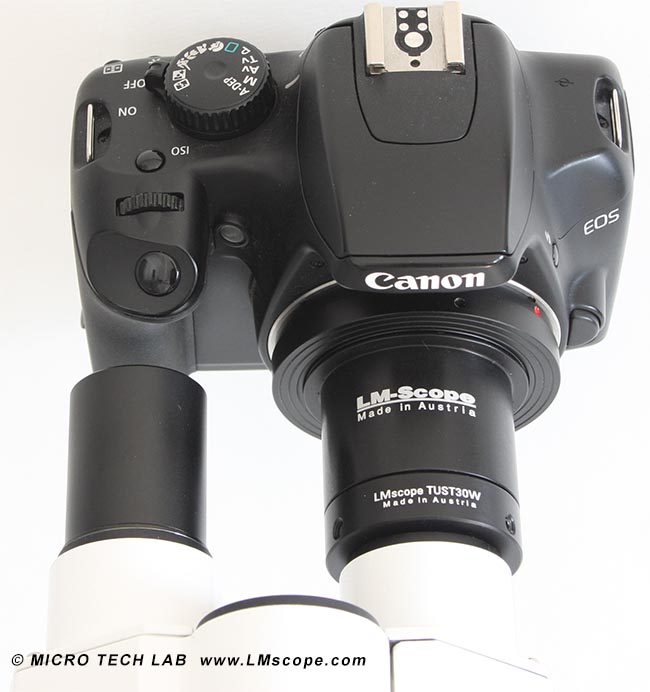 Attaching a camera (DSLR, system or USB camera) to either photo tube or eyepiece tube is very easy. We offer attractively priced adapter solutions for most conventional cameras. Please contact us for specific inquiries.
The image quality is equally good with both options (photo tube and eyepiece tube). The only difference is that the photo tube solution is more convenient to use.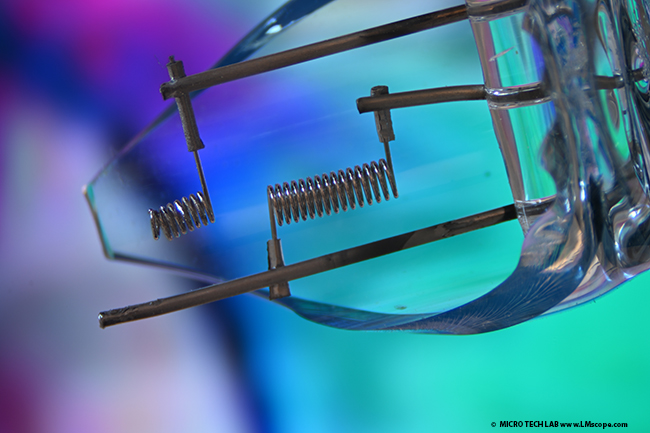 However, the condenser system is somewhat awkward. Phase rings and dark field diaphragms are inserted in the condenser with a slider. This is impractical if dark field and phase contrast imaging are used on a routine basis. Other, somewhat more expensive Zeiss models (e.g. the Zeiss Axiolab) offer more ergonomic solutions.
Conclusion:
The Zeiss Primo Star features an excellent price-performance ratio and is very well suited for beginners. It is sturdily built and of excellent quality. It is available in various formats: with or without a photo tube, LED illumination, fluorescence option and phase contrast setup. The optical quality of the images taken depends very much on the type of microscope lenses used.
Photography:
Fitting the microscope to digital single-lens reflex (DSLR), system or C-mount cameras is easy with our LM digital SLR adapters, which feature a plan achromatic optical system. Our products make it possible to capture top-quality microscope images. To help you select the adapter that is right for your camera, we have set up an online configurator on our website. You can also email us – ideally with attached photographs of your microscope.
Modern DSLR and system cameras offer the latest technology and are generally very well suited for microscopy applications. Most of them can be controlled remotely via PC/Mac. Because of their high sales volumes, they offer an excellent price/performance ratio compared to special-purpose microscope cameras.
Features of top DSLR and system cameras:
- Large, powerful full-frame sensors (36 x 24 mm)
- Sensor resolution of 50 megapixels
- High light sensitivity (ISO 100,000+)
- Extensive dynamic range (up to 14 aperture stops/f-stops)
- Short exposure times (1/8000 second):
- Full/Ultra HD (4k) video function
- Live video capture on external monitors in ultra HD quality
In most cases, these cameras are significantly more powerful than microscope cameras with smaller sensors (1/2" or 2/3"). On our website you will find our current camera recommendations and a camera ranking which is specifically tailored to microscopy applications.

Ordering code

Product description

Price

Price

Available




DD2XZPrimo

LM Direct Imager SLR Adapter with special hard anti-reflection coating, plan achromatic optics for Zeiss Primo Star und Primo Vert with phototube with an inside diameter of 30 mm (Interface P95), with Camera Lens Mount for Canon or Nikon



Data Sheet0
Operating Instructions1

For EU (European Union) VAT (IVA, TVA) not included
New LM Digital Adapter for:
Nikon Z9 / Sony Alpha 1 / Sony FX3 Cinema Line / Sony Alpha 9 II (ILCE-9M2) / Sony Alpha 9 / Nikon D6 / Canon EOS R3 / Sony Alpha 7R IV / Canon EOS R5 / Sony Alpha 7S II / Sony Alpha 7R III / Canon EOS R6 / Nikon Z6 / Nikon Z6II / Sony Alpha 7R II / Nikon Z7 / Nikon Z7II / Canon EOS R / Canon EOS Ra (Astro) / Nikon Z5 / Sony Alpha 7C / Canon EOS RP / Sony Alpha 7S / Canon EOS R7 / Canon EOS R10 / Canon EOS 1D X Mark III / Nikon Z50 / Nikon D850 / Canon EOS 1D X Mark II / Nikon D780 / Olympus OM-1 / Sony Alpha 7III / Olympus OM-D E-M1 Mark III / Nikon D5 / Sony Alpha 6600 / Olympus OM-D E-M1X / Sony Alpha 6400 / Sony Alpha 6100 / Sony ZV-E10 / Canon EOS 1D X / Nikon D4s /