Combining forensic comparison technology and digital imaging – an easy task with our LM digital adapters and the Leica DM C macroscope
The Leica DM C comparison macroscope has two imaging light paths, which allow structural comparisons of samples and – using our LM digital adapters and any type of DSLR or system camera – the production of photographic documentation. This capability is particularly relevant for forensic laboratories, but also when performing comparisons of documents, banknotes or coins under the microscope. In these sensitive areas of application, the quality of the equipment used plays a key role. For this reason, all of our microscope adapters are equipped with a high quality, plan-achromatic optical system which enables users to capture photographs with excellent image quality (high resolution, focus and colour contrast) that yield a flat field of view without loss of focus at the edges.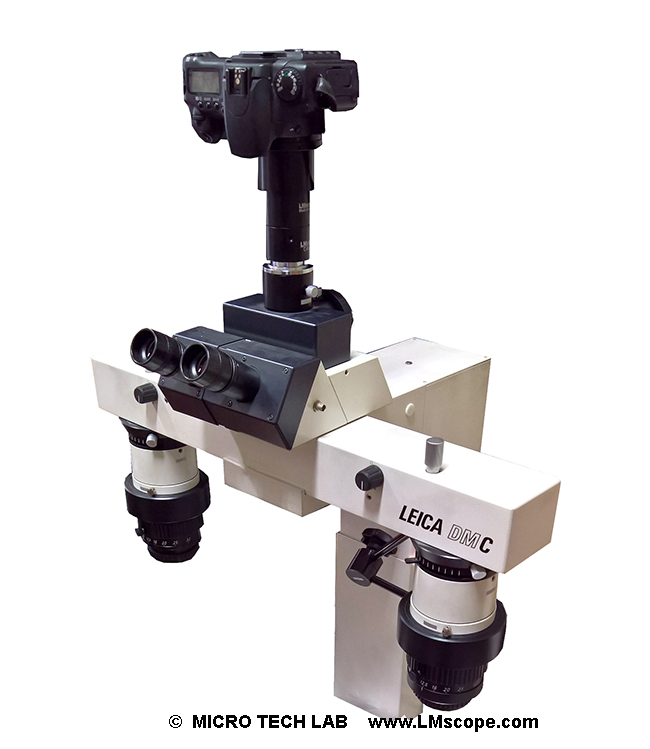 Our LM digital adapters are attached to the phototube of the macroscope. Leica offers two different tube types: a binocular observation and phototube FSA 25 P with a 30 degree viewing angle and an ergonomic binocular observation and phototube with a 45 degree viewing angle. The clickstop positions of the beam splitter in the tube are 0/100, 50/50 or 100/0. Photo adapter tubes with both vertical and horizontal exits or with a vertical exit only are available.
Each of our adapter solutions is optimised to the sensor size of the respective camera. As a result, the sensor achieves the best effect and the largest possible field of view (FoV). For cameras with full-frame and APS-C sensors, we also offer adapter solutions with a special wide-angle lens for an extra-large FoV. More information here. Please compare the following pictures: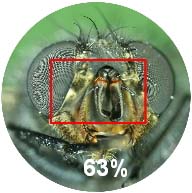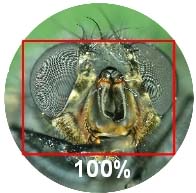 standard solution vs. widefield solution
Incident light illuminators for the DM C macroscope include 6 V 20 W halogen bulbs, cold light sources, coaxial illumination and UV light. The transmitted light illumination method allows objects to be imaged in bright field, oblique light and polarisation contrast.
The modular construction of our adapter solutions facilitates maximum flexibility. Even when switching to another manufacturer's camera (e.g. from Nikon to Canon), our products can still be used after a simple and cost-effective bayonet adapter change.
Photography:
Fitting the microscope to digital single-lens reflex (DSLR), system or C-mount cameras is easy with our LM digital SLR adapters, which feature a plan achromatic optical system. Our products make it possible to capture top-quality microscope images. To help you select the adapter that is right for your camera, we have set up an online configurator on our website. You can also email us – ideally with attached photographs of your microscope.
Modern DSLR and system cameras offer the latest technology and are generally very well suited for microscopy applications. Most of them can be controlled remotely via PC/Mac. Because of their high sales volumes, they offer an excellent price/performance ratio compared to special-purpose microscope cameras.
Features of top DSLR and system cameras:
- Large, powerful full-frame sensors (36 x 24 mm)
- Sensor resolution of 50 megapixels
- High light sensitivity (ISO 100,000+)
- Extensive dynamic range (up to 14 aperture stops/f-stops)
- Short exposure times (1/8000 second):
- Full/Ultra HD (4k) video function
- Live video capture on external monitors in ultra HD quality
In most cases, these cameras are significantly more powerful than microscope cameras with smaller sensors (1/2" or 2/3"). On our website you will find our current camera recommendations and a camera ranking which is specifically tailored to microscopy applications.

New LM Digital Adapter for:
/ / /

Related Links

--