415
Microscope cameras on the Motic BA 210 and BA 310 – upgrading routine microscopes for photomicrography tasks
The BA310 from Motic is a microscope with infinity optics for the most varied microscopic tasks. It was designed for routine work in research, clinical and laboratory situations and offers bright field, dark field and phase contrast capabilities. It can also be very easily equipped for digital documentation: using our high-quality LM microscope adapters with plan achromatic precision optics, even the most sophisticated digital SLR systems, such as those at the top of our camera ranking, can be attached to the BA310.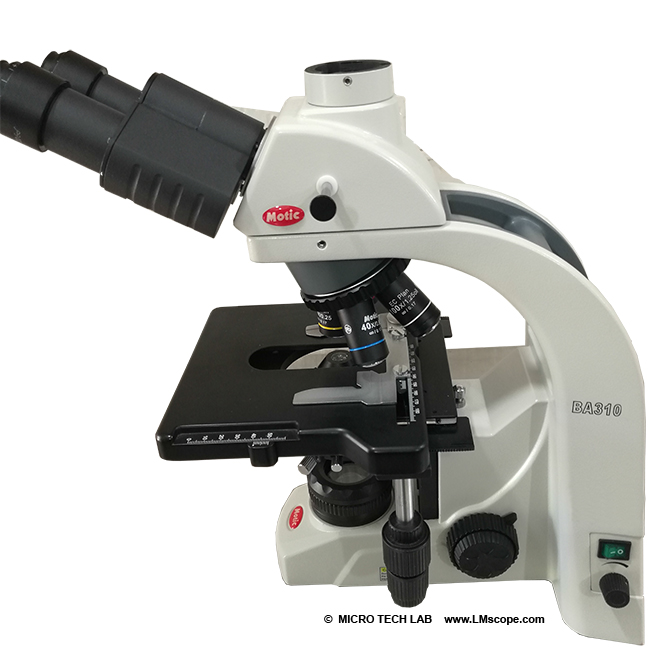 The Motic team has developed a particularly flexible and high-performing optical system named CCIS® (Colour Corrected Infinity System). The advantages of the new generation of CCIS® plan achromats are greater system flexibility and a chromatically corrected intermediate image. The quintuple nosepiece can fit up to 5 objectives. Koehler illumination can be achieved using a 6V/30W halogen lamp or an LED light source.
The control elements for the BA 310 are arranged ergonomically: coaxially arranged control knobs on the cross stage and coarse and fine drive for focussing the specimens simplify work just like the 30 degree observation tube. The standard wide-field eyepieces (field number 20) are also suitable for eyeglass wearers. The pre-focusing for coarse adjustment, with a set focussing plane that can be immediately reset, is a particularly useful feature that saves time and concentration.
The universal condenser for bright field, phase contrast and dark field microscopy is a great time saver, particularly when different contrasting methods are being performed at the same time.
The availability of a trinocular head is, of course, an important criterion when it comes to photomicrography. The trinocular head has a beam splitting ratio of 80:20 – the 20% that remain for visual microscopy provides a pleasantly bright image, but may be lacking when demanding photography tasks are performed.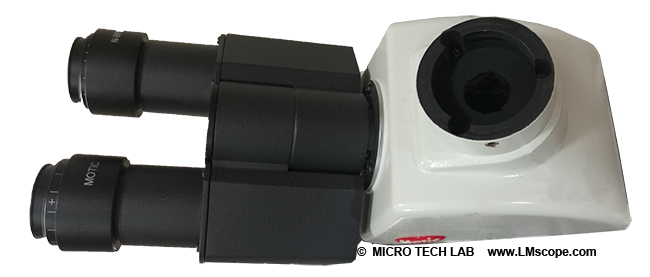 With our LM digital adapters, attaching a digital SLR or C-mount camera to the microscope is a quick and easy process.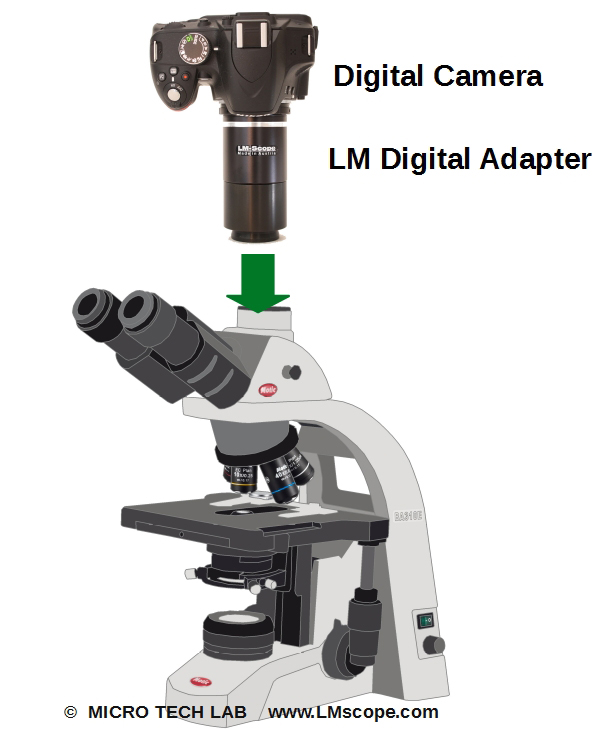 Photography:
Fitting the microscope to digital single-lens reflex (DSLR), mirrorless interchangeable-lens cameras (MILC ), digital single-lens mirrorless (DSLM) or C-mount cameras is easy with our LM digital SLR adapters, which feature a plan achromatic optical system. Our products make it possible to capture top-quality microscope images. To help you select the adapter that is right for your camera, we have set up an online configurator on our website. You can also email us – ideally with attached photographs of your microscope.
Modern DSLR and single-lens mirrorless (DSLM) offer the latest technology and are generally very well suited for microscopy applications. Most of them can be controlled remotely via PC/Mac. Because of their high sales volumes, they offer an excellent price/performance ratio compared to special-purpose microscope cameras.
Features of top DSLR and single-lens mirrorless cameras (DSLM):
- Large, powerful full-frame sensors (36 x 24 mm)
- Sensor resolution of 61 megapixels or 240 megapixels with Pixel Shift technology
- High light sensitivity (ISO 400,000+)
- Extensive dynamic range (up to 15 aperture stops/f-stops)
- Short exposure times (1/8000 second) up to 1/32,000 seconds using the digital shutter
- 4K Ultra HD or 8K Ultra HD video function
- Live video capture on external monitors in ultra HD quality
In most cases, these cameras are significantly more powerful than microscope cameras with smaller sensors (1/2" or 2/3"). On our website you will find our current camera recommendations and a camera ranking which is specifically tailored to microscopy applications.

Ordering code

Product description

Price

Price

Available




DD2XMO38

LM Digital SLR Adapter with special hard anti-reflection coating, plan achromatic optics for Motic phototubes with an inner diameter of 38 mm, inclusive Camera Lens Mount Adapter



Operating Instructions0
Data Sheet1

For EU (European Union) VAT (IVA, TVA) not included